Ingredients
2 large

Boneless chicken breasts

Sauce
Directions
This Black Pepper Chicken stir fry tastes just like what you would order from in the restaurants. With plenty of vegetables that are packed full of fiber, such as broccoli, peppers, onions and celery you are sure to feel satisfied after this meal.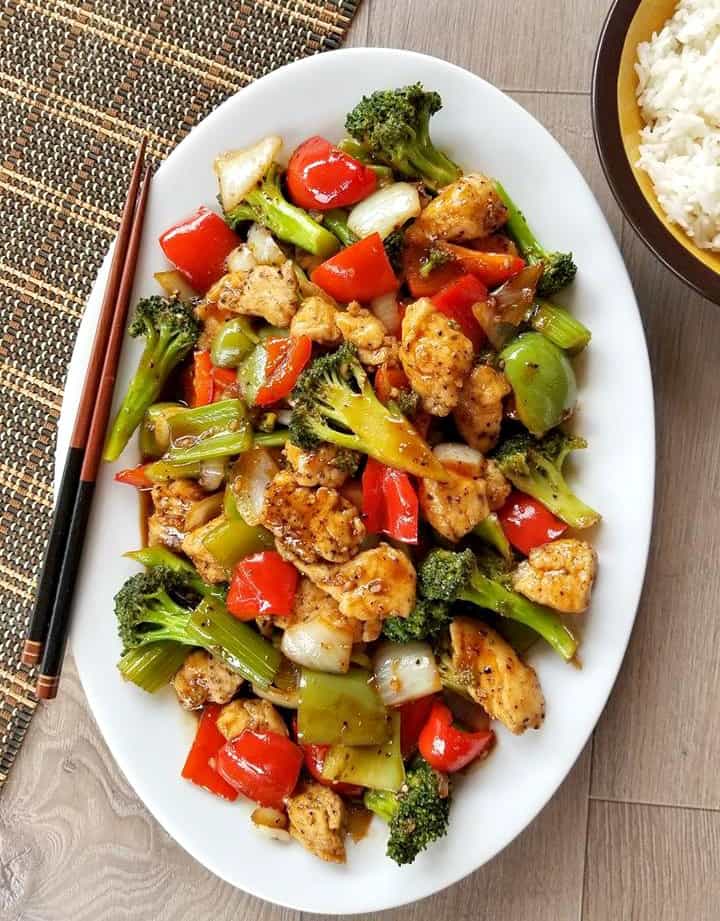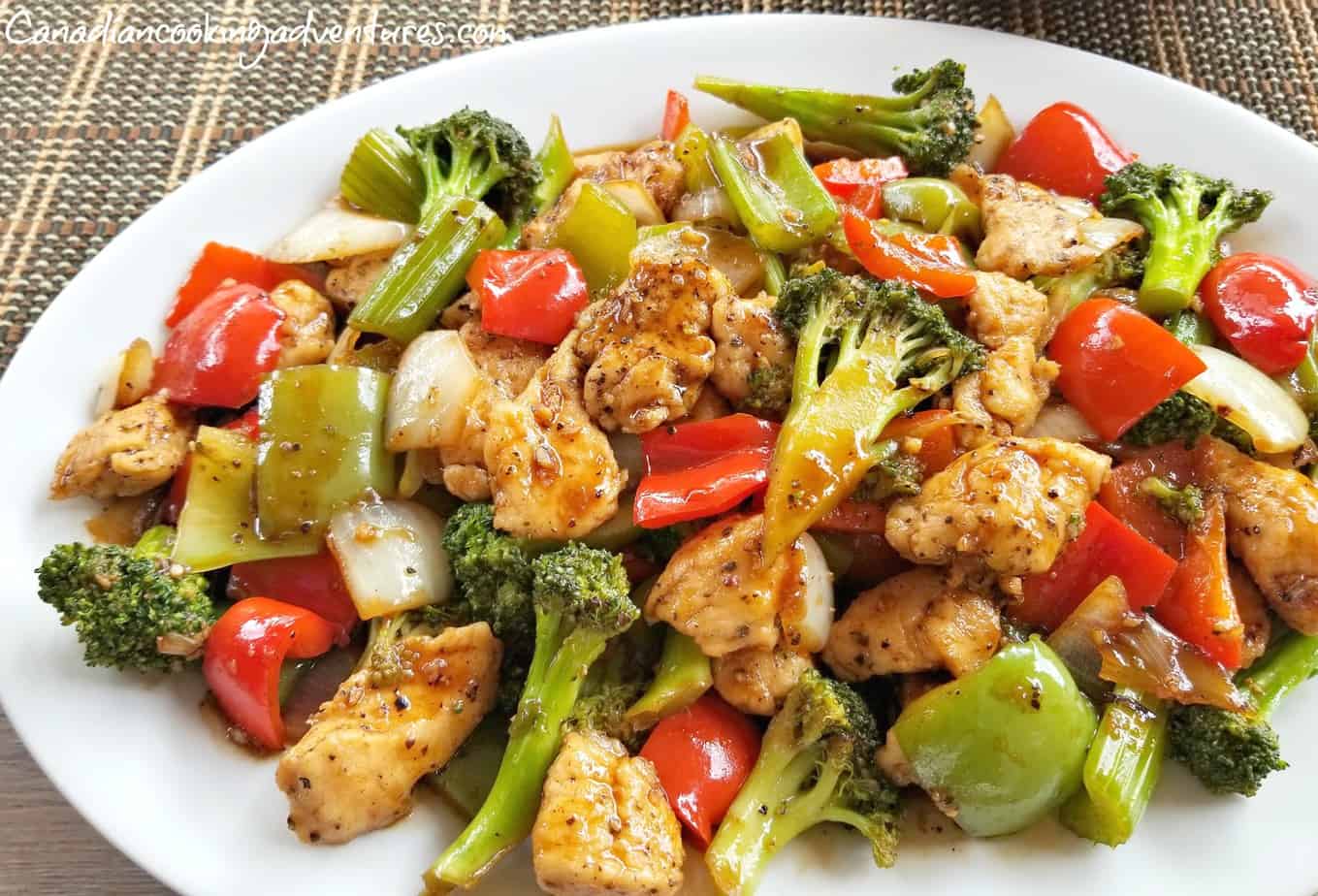 Plus if your trying to get your family to eat healthier, try this recipe tonight and you may not have to try anymore. Because your family is sure to be requesting this on a more regular basis.
Plus with just two chicken breasts you can feed a family of four easily. So what are you waiting for? By the time you dial up your local restaurant, you can have this delicious and authentic stir fry on the table. Truthfully this is the best homemade Black Pepper Chicken Stir Fry out there.
How can I make claims like that? Well first off this is one of my favorite asian dishes, and so I have tried many different recipes throughout the years.
Not to mention I have ordered this dish at many of the asian restaurants. The only difference is that the restaurants tend to serve it on a sizzling hot plate, but really that is the only difference. And unlike my black pepper and beef recipe that is on this blog, we do not have to tenderize the chicken so that step is omitted here.
You are sure to see how authentic this one tastes. I hardly evey order this from the chinese restaurants anymore, because mine is better. Plus you do not need to feel guilty overindulging here, because this is a super healthy dish that is packed full nutrients.
I like to serve this with jasmine rice on the side, and will use a mini rice cooker to cook the rice. Just set it and it will be ready when the dish is completed. I hope you give it a try there really isn't much too it!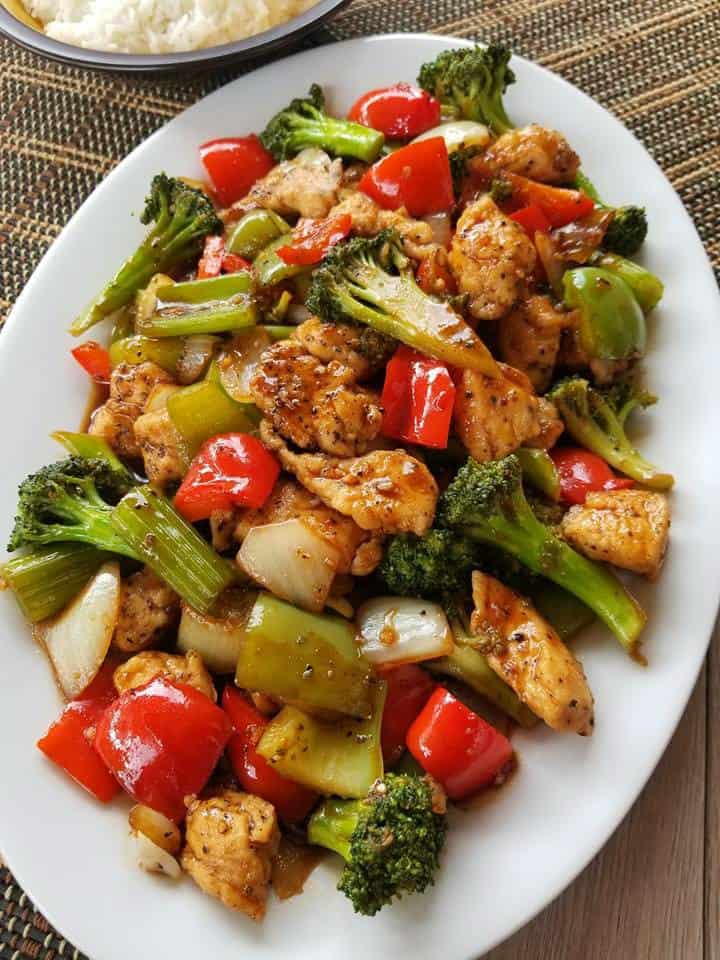 Stay tuned to this blog for more Healthy Chinese Recipes to come in the following months 🙂
Meal Prep Idea: Make enough to create a few meal prep bowls for the week ahead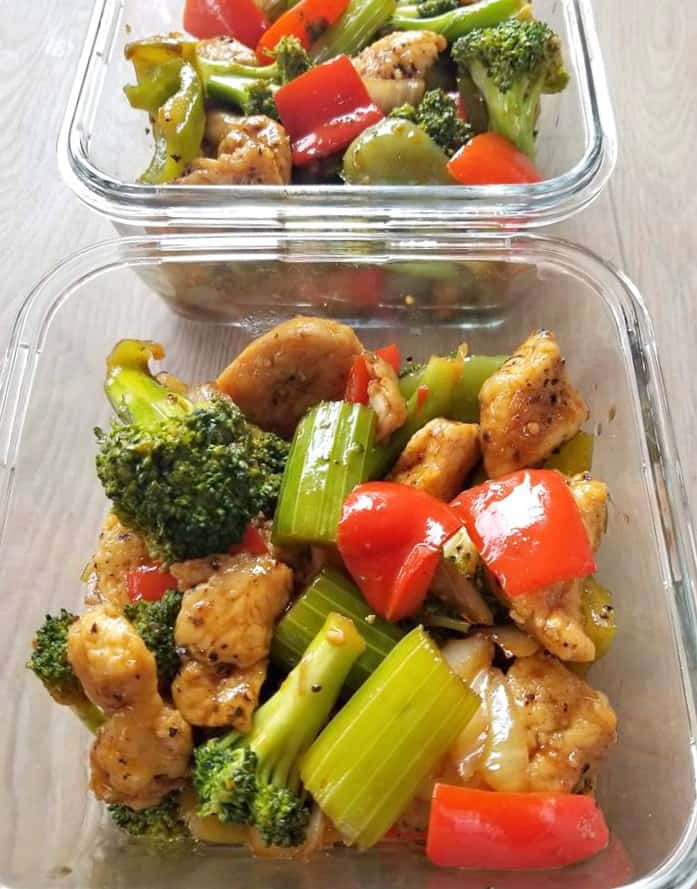 Notes: Make it with shrimp, beef or tofu too. Also you may use any other vegetables you have on hand such as snow peas, red onions etc. Also you can replace the black pepper with white pepper if desired. 
I am so thrilled you are reading one of my recipes, I appreciate every single one of you! If you made this recipe i'd love to hear how it turned out. You can post a review/picture below or via Instagram and let me know. And by doing so you will be automatically entered into our seasonal CONTEST  to win one of our great prizes. Winner will be notified via email within a week after the contest closes. Thank you very much for reading and until next time see ya in the kitchen. Don't want to miss a recipe? Sign up for our NEWSLETTER delivered right to your inbox!
PIN IT FOR LATER
Steps
| | |
| --- | --- |
| | To make the Black Pepper Chicken Stir Fry: |
| | Slice up your chicken breasts and place in a bowl. Add with 1 tbsp of black pepper, 1/2 tsp salt stir to combine and set aside. |
| | |
| | In a large frying pan, heat 1 cup of water and bring to a boil. Turn down the heat to medium and add the chopped the broccoli, celery, green and red peppers. Let the vegetables steam/cook for one minute on low heat then stir and cook just one more minute before removing from the heat to strain and set aside. "Your just wanting to steam the vegetables lightly" |
| | |
| | In the same frying pan, add 1 tbsp of oil along with the chopped onion. Cook the onion for one minute, before adding in the minced garlic and ginger saute another few minutes till fragrant. Then add back in the vegetables and cooked chicken. |
| | |
| | |