Directions
These Creamy Peanut Butter Noodles are delicious! Plus they are vegan and packed full of protein a must try!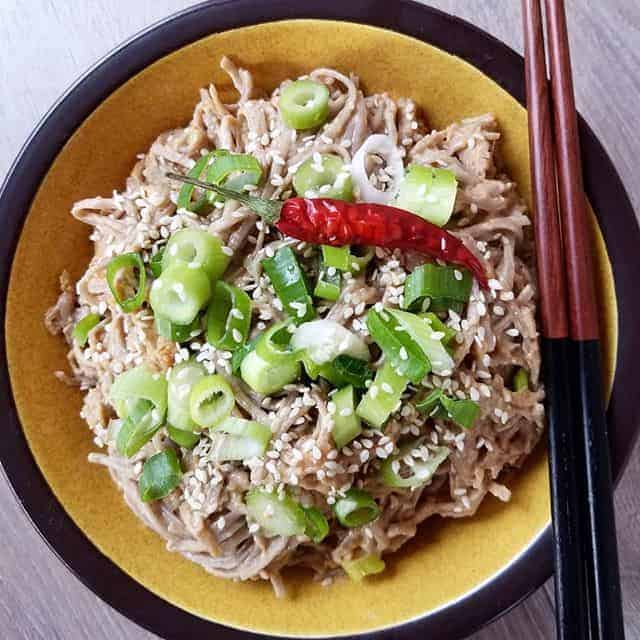 This recipe is very easy to prepare since all we are doing is cooking the noodles till tender then tossing them in a creamy peanut butter sauce.
I added a red chili pepper just for this picture, however they are a bit spicy do to the sriracha chili in the sauce.
So follow along for this tasty recipe that can be on the table in under 15 minutes.
You can pretty much use any type of noodles you want for this recipe, I did choose gluten free buckwheat noodles for mine.
However we aware not all buckwheat noodles are gluten free so please read the labels.
If you're looking for another gluten free option, try vermicelli rice noodles instead. Once the noodles have been cooked you will simply remove and drain them.
Then in a non stick frying pan add the peanut butter, sesame oil, honey, soya sauce, sriracha sauce and water and that is all that is needed to make the creamy sauce.
Today you can find many different types of ways to prepare these noodles. Some recipes call for sugar, I feel that the peanut butter has enough in it even if your using an all natural kind.
However if you want it to be a bit sweeter go ahead and add 1 tsp of sugar or maple syrup. I hope you give it a try and let me know what you and your family think.
ENJOY!
I am so thrilled you are reading one of my recipes, if you made this recipe i'd love to hear about it! Thank you very much for reading and until next time see ya in the kitchen. Don't want to miss a recipe? Sign up for our NEWSLETTER delivered right to your inbox every Month!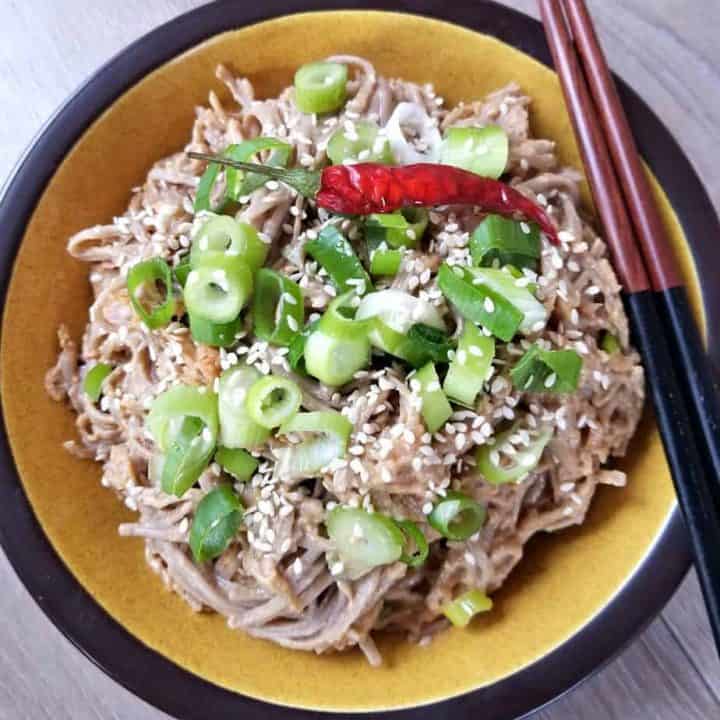 Creamy Peanut Butter Noodles
Ingredients
7 oz Buckwheat Noodles
1 large Green Onions
1 tbsp Sesame seeds
SAUCE
4 tbsp Creamy Peanut Butter
1 tsp Sesame oil
1 tbsp Sriracha sauce
1 tsp Medium Soya sauce
1 tsp Honey
2 tbsp Water
Instructions
Start by cooking the buckwheat noodles (or your favorite noodles) till tender and according to package instructions. Drain the noodles and set aside
MAKE THE PEANUT BUTTER SAUCE:
In a non stick frying pan, add the peanut butter, garlic powder, soya sauce, honey, sriracha sauce and water. Mix over low heat till creamy and hot.
Add the noodles back into the sauce and toss. once coated. Add in one chopped green onion and top with sesame seeds. Enjoy!
Nutrition Information:
Yield:

2
Serving Size:

1
Amount Per Serving:
Calories:

387
Total Fat:

21g
Saturated Fat:

4g
Trans Fat:

0g
Unsaturated Fat:

14g
Cholesterol:

1mg
Sodium:

723mg
Carbohydrates:

41g
Fiber:

4g
Sugar:

10g
Protein:

14g