Directions
This

Chicken Vermicelli

dish is inexpensive to make and is ready in less than 30 minutes!
Wanting another Vermicelli rice dish? Try my Singapore Shrimp Noodles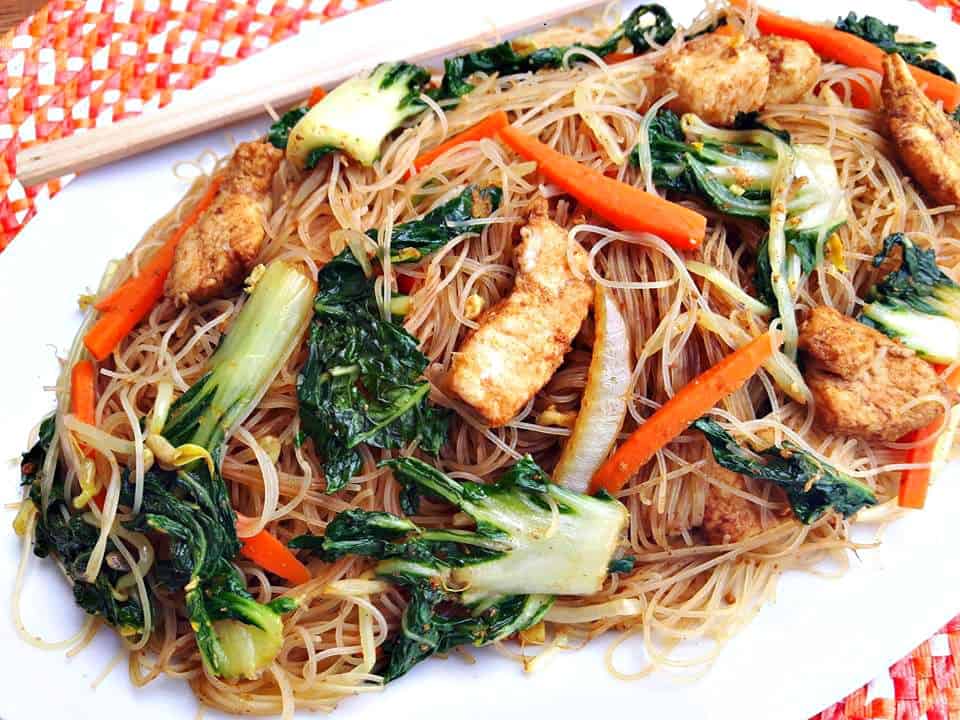 This Chicken Vermicelli recipe can be served with just about any type of vegetable you have on hand. Traditionally though it typically has julienned carrots, Bok choy and green onions.
is chicken vermicelli healthy
IS CHICKEN VERMICELLI HEALTHY
Yes, it has carbohydrates, protein and healthy fats.
Chicken Vermicelli is also known as Singapore Noodles
Where do Singapore Noodles Originate
Despite it's name it was not created in Singapore.
Singapore is known to be the hub of many cultures and many of their dishes today have been influenced by many different types of foreigners over the centuries.
Today you can find many different types of dishes eaten in Singapore. These noodles however are well known worldwide and are eaten by all types of people.
Some like them with meat such as shrimp, chicken, pork or beef. And others like it purely vegetarian, which is good also.
This dish is also very easy to prepare and can be ready to serve in under 30 minutes.
I used to order this often from my local Chinese restaurant, now I make it myself.
Singapore noodles are made with vermicelli rice noodles, chicken breasts and seasoned with curry powder, and some other popular Asian ingredients.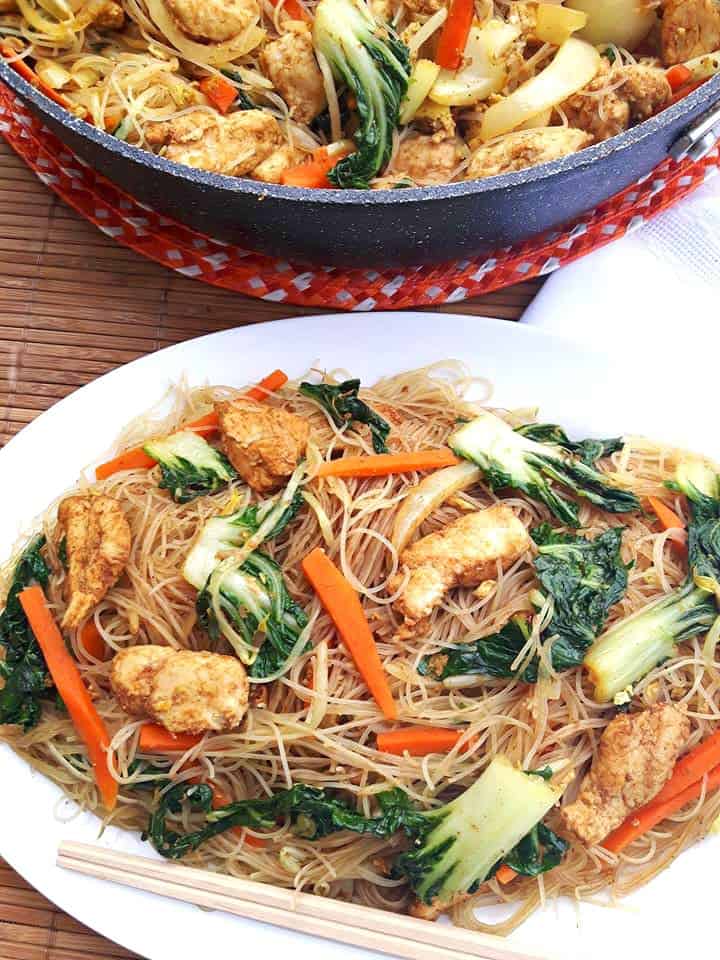 You will want to start with sauteing the chicken first, and meanwhile soaking the vermicelli noodles around the same time.
Preparing the vegetables ahead of time, and setting aside when you're ready to make the dish.
The fantastic flavors of this dish is what has made it so popular all across singapore and now internationally.
The balance of flavors is so good here, and even though we are adding minced red chili paste for a little heat.
You will hardly notice it since the balance of the other flavors mellows it out nicely, so don't be afraid to add that heat.
Feel like adding shrimp, go ahead it's your dinner after all!
I don't know about you but this vegetable mixture is perfect, some people like to add red peppers but that is so wrong if you ask me.
The varieties of vermicelli rice noodles are endless, so choose your favorite brand and let's get to cooking this delicious recipe!
You may want to add more soya sauce near the end, stir everything together well and taste before adjusting the flavor.
Looking for some added heat? Simply add in more of the minced chili paste, but be careful you only want a little more, it's hot stuff.
If you liked this recipe? Then you will want to try my other ASIAN inspired recipes below!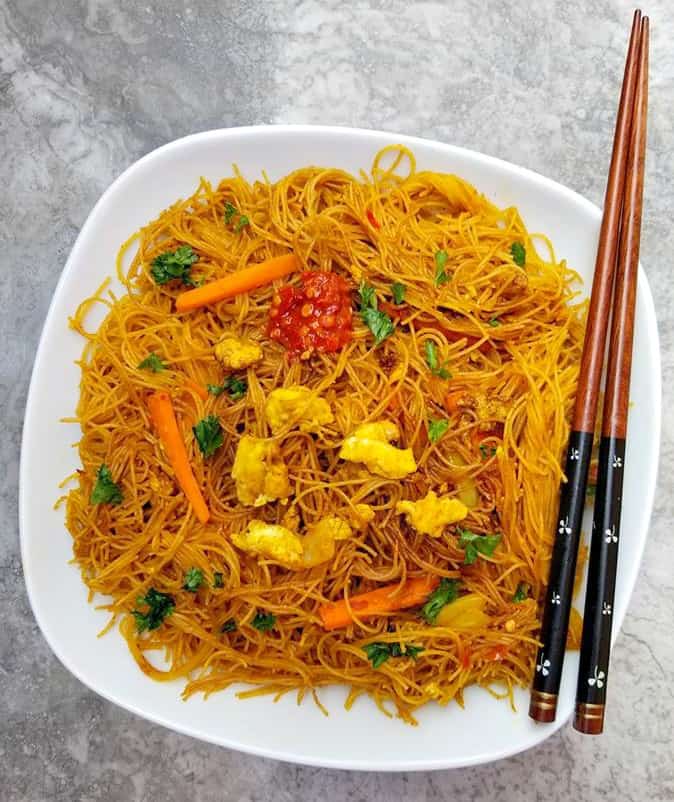 Note: You can make this with beef, Chinese pork, chicken if you prefer or just vegetables.
I am so thrilled you are reading one of my recipes, if you made this recipe id love to hear about it! Thank you very much for reading and until next time see ya in the kitchen. Don't want to miss a recipe? Sign up for our NEWSLETTER delivered right to your inbox every Month!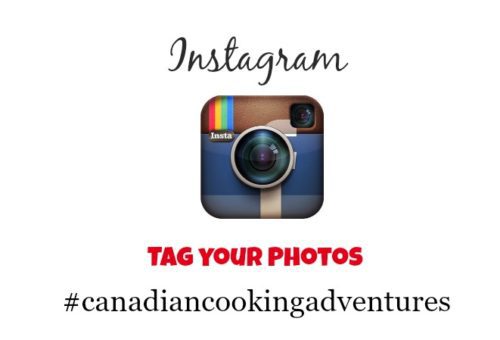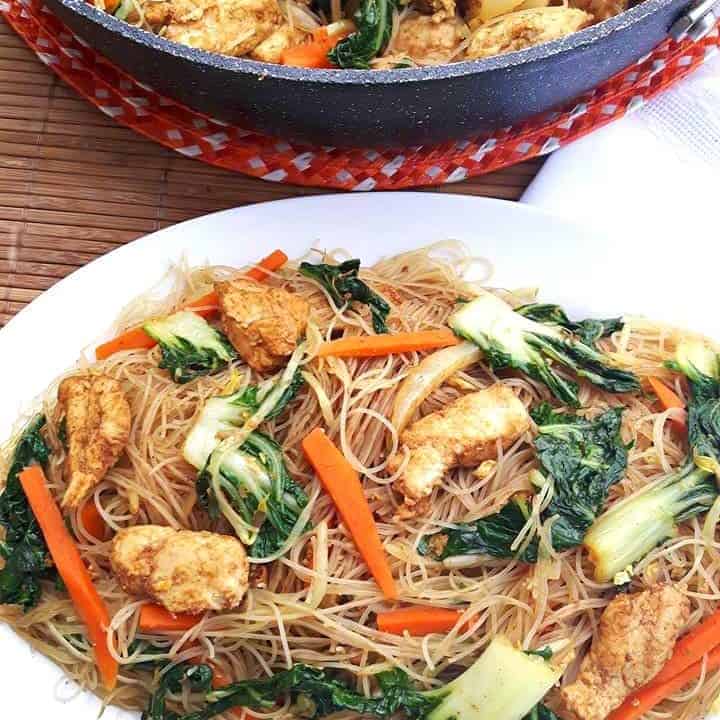 Chicken Vermicelli
Ingredients
3 tbsp Sesame oil
2 Boneless chicken breasts
1 8 ounce package Rice vermicelli noodles 1, 8-ounce package
2 cups Baby boy choy
3 Carrots
1 tbsp Ginger
2 Eggs
1 tbsp Shaoxing wine
4 cloves Garlic
1/2 large Onion
SEASONINGS
3 tbsp Curry powder
2 tbsp Soya sauce
1/2 tsp Minced Red Chili Paste
1 tbsp Oyster sauce
Pepper and Salt to taste
Instructions
Place the vermicelli rice noodles in a large pot and cover with hot water, let is soak for 10 minutes till soft. Drain in a colander and set aside.
Wash your bok choy, bean sprouts, carrots, onion, garlic, and ginger. Julienne the carrots carefully with a knife and chop the remaining vegetables then set aside.
Dice your chicken breasts into bite sized pieces, then add your sesame oil into a large pan or wok. Add some salt for taste and saute till the chicken is just cooked.
Add 2 tbsp of curry, chopped onion, ginger, garlic sauteing for another 3 minutes all together. Remove everything from heat and set aside.
Scramble the eggs then set on top the cooked chicken mixture.
Add the bok choy, julienned carrots into the pan/wok and add the shaoxing wine, minced red chili paste, 1 tbsp the remaining curry, and stir fry till all the vegetables are soft yet crispy.
Add in the bean sprouts, soya sauce, oyster sauce and saute for 5 minutes then serve.
Nutrition Information:
Yield:

2
Serving Size:

1
Amount Per Serving:
Calories:

800
Total Fat:

34g
Saturated Fat:

6g
Trans Fat:

0g
Unsaturated Fat:

25g
Cholesterol:

289mg
Sodium:

1166mg
Carbohydrates:

64g
Fiber:

14g
Sugar:

11g
Protein:

59g
These calculations are based off Nutritionix