Directions
This

Black Bean Beef Stir fry

is made with a pre-made black bean sauce making it an easy dish that comes together in less than 30 minutes.
Want another Black Bean recipe? Try my black bean chicken stir fry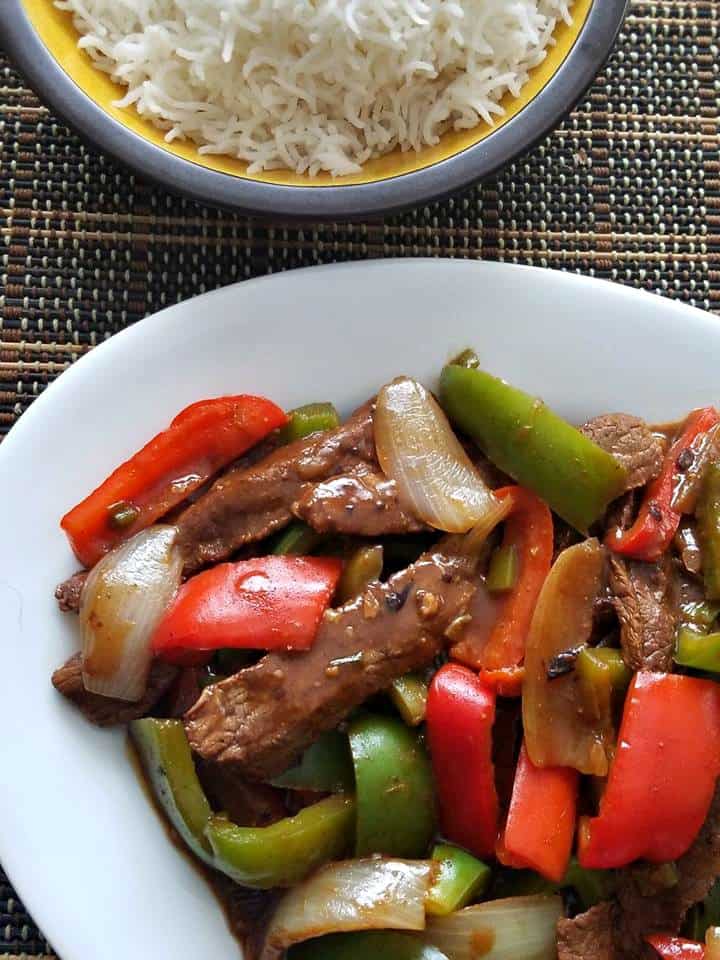 Making this Black Bean Beef Stir fry is easy because it uses a pre-made sauce. There are a few pre-made black bean sauces on the market. My favorite is Lee Kum Kee Black Bean Garlic Sauce.
I used to order this dish every time from our local Chinese restaurant,
Making at home myself save a ton of money vs ordering takeout. Plus, I like to add more peppers than most restaurants add, making it all the more better.
You can add more peppers or onions as desired. Make them thin or thick as preferred!
WHAT IS BLACK BEAN BEEF
It is a popular Chinese dish that has marinated beef and vegetables all cooked together in fermented black bean sauce.
HOW TO MAKE BLACK BEAN BEEF
You want to use either a Wok or Large frying pan
Then you will want to either have sliced beef or slice it yourself and place it into a shallow bowl to marinade (see recipe card below for marinating instructions)
Once the beef has marinaded add it to the wok and sauté till cooked, remove and set aside
Add in the vegetables along with beef stock and black bean sauce and sauté on medium heat till the vegetables are tender
Toss back in the beef and toss all together to serve!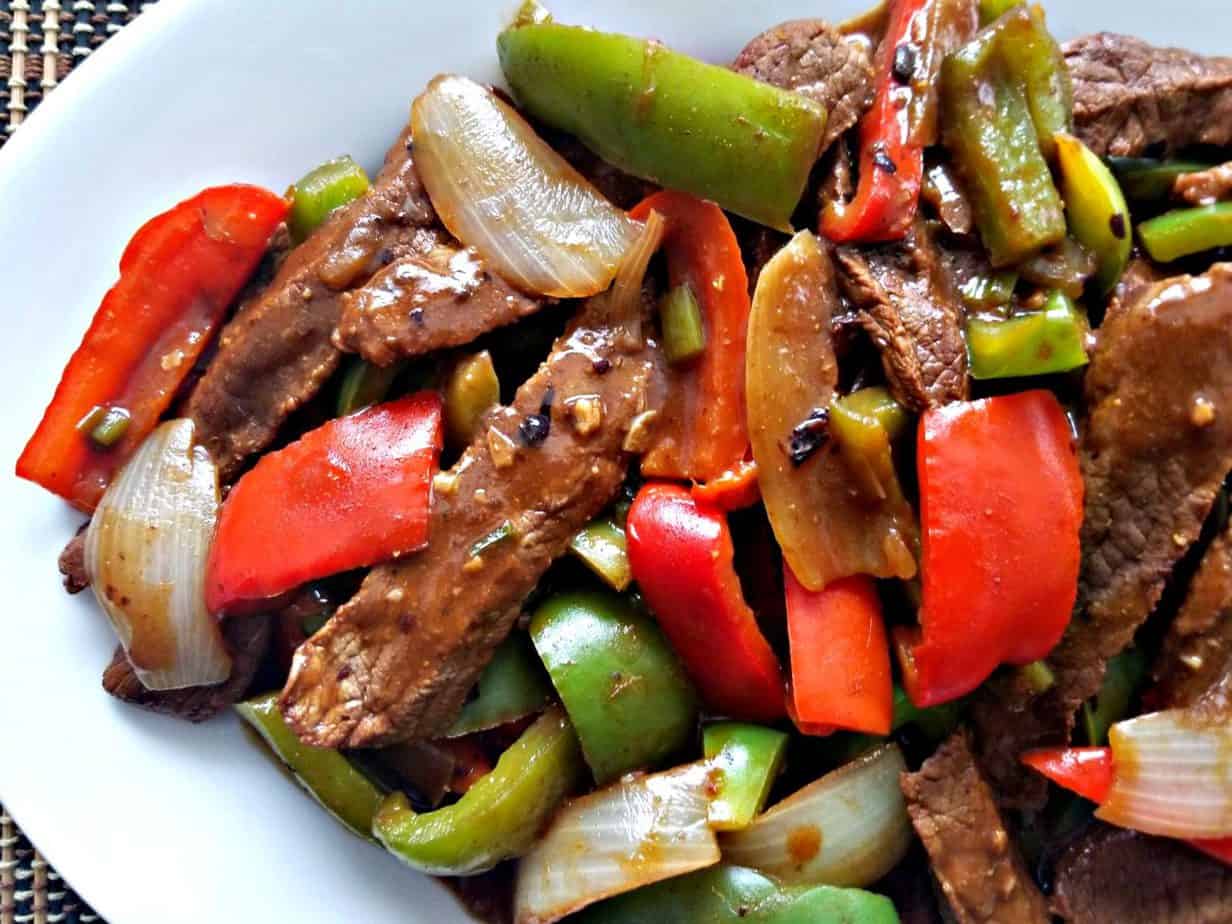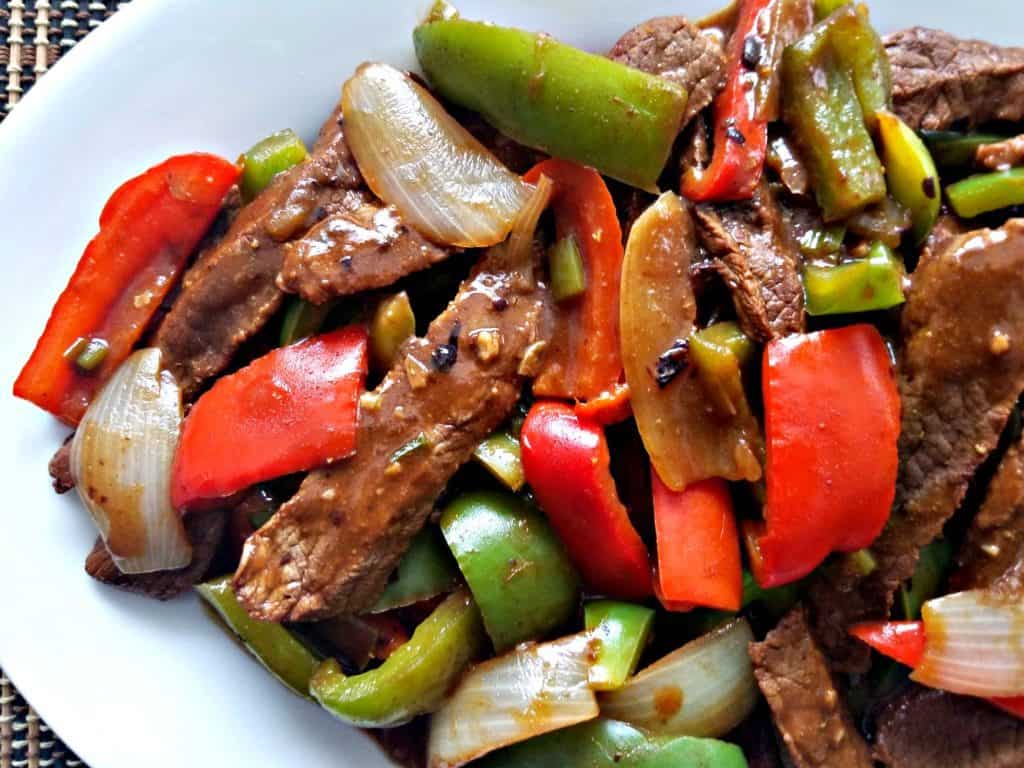 This delicious and authentic stir fry takes less than 30 minutes to make too, so what are you waiting for.
IS BLACK BEAN BEEF HEALTHY
Yes, it is packed full of fermented black beans, veggies and lean beef.
Follow along for a mouthwatering dinner that everyone is sure to love.
This dish can be made with shrimp or chicken too which is also amazing. I had to do this dish right, so I tried it a couple dozen recipes from many sources to come up with my favorite version.
It has all the flavors you have come to know and love in a black bean sauce, and goes great served over rice.
Start by cooking your rice, because the rest takes less than 15 minutes. I like to use a mini rice cooker, just set it and forget it.
Then you will want to start with chopping the vegetables first, then setting them aside. Cut your steak into slices and place in a large frying pan or wok, sauteing till the beef is no longer pink.
I don't know about you but this vegetable mixture is perfect, some people like to add snow peas, and other veggies but that is not very authentic if you ask me. This is one of my favorite dishes and healthy too!
The fantastic flavors of garlic and black bean sauce gives this dish it's amazing flavor, and the cornstarch helps to thicken it up just right. Even though there is garlic already in the black bean sauce, it is still nice to add 2 more cloves.
You will hardly notice it since the balance of the other flavors mellows it out nicely, so don't be afraid to add more garlic.
I hope you give it a try. There really isn't much too it!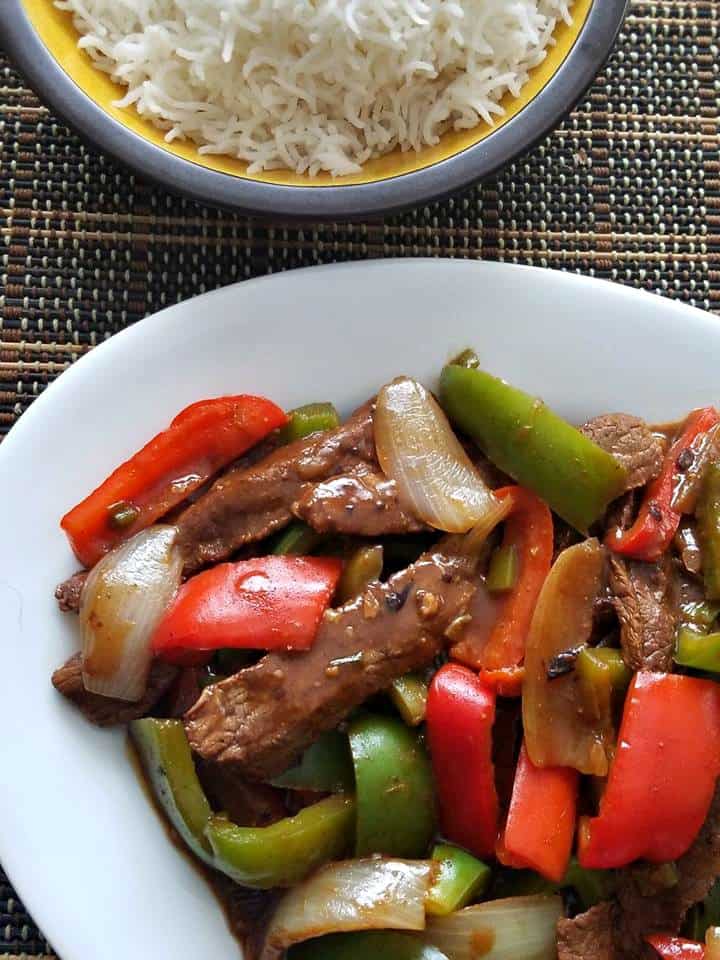 This healthy meal is sure to impress even the pickiest of eaters, serve alongside a big bowl of jasmine rice.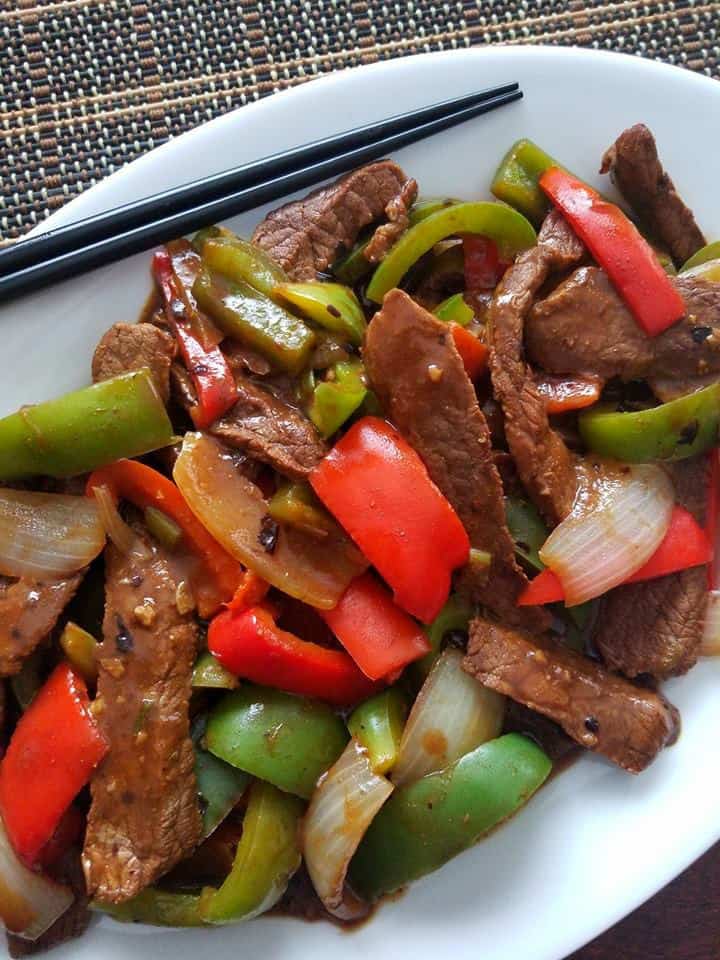 I am so thrilled you are reading one of my recipes, if you made this recipe I'd love to hear about it! Thank you very much for reading and until next time see ya in the kitchen. Don't want to miss a recipe? Sign up for our NEWSLETTER delivered right to your inbox every Month!
If you liked this recipe? Then you will want to try my other ASIAN inspired recipes below!
Black Bean Beef Stir fry
Ingredients
1 tbsp Sesame oil
500 grams Beef inside round steak
1 large sliced Red Pepper
1 large sliced Green Pepper
1 large sliced Onion
3 Green Onions
1 tsp Fresh Ginger Root
2 cloves Garlic
SAUCE
1/2 cup Chicken Stock, low sodium
1 tbsp Oyster sauce
1 tbsp Shaoxing wine
2 tbsp Cornstarch
1 tsp Sugar
1 tsp Rice Wine
1 tbsp Soya sauce
2 tbsp Black Bean Sauce
1 tsp black pepper
OPTIONAL
2 cups Jasmine Rice
Instructions
In a bowl add the soya sauce, rice wine, salt and pepper and mix till combined and set aside.
Slice up your beef and place in the soya sauce bowl mixture and mix till combine, let it marinade for 10 minutes.
While your beef is marinating, cut up your green and red pepper into slices and do the same with the onion.
In a large frying pan or wok, heat 1 tbsp of sesame oil and saute the sliced beef till no longer pink but do not cook fully yet remove and set aside.
In the same pan add in your sliced vegetables and saute for 2 minutes. Then add in the ginger and garlic and saute another few minutes till fragrant.
In a small bowl mix the cornstarch with water, and then add it to the pan. Add in the Black bean sauce, Shaoxing wine, Oyster sauce and simmer on low heat, turning often for 5 minutes or until the sauce thickens up.
Serve with rice. Enjoy!
Nutrition Information:
Yield:

4
Serving Size:

1
Amount Per Serving:
Calories:

592
Total Fat:

28g
Saturated Fat:

10g
Trans Fat:

1g
Unsaturated Fat:

15g
Cholesterol:

129mg
Sodium:

452mg
Carbohydrates:

38g
Fiber:

3g
Sugar:

6g
Protein:

44g
These calculations are based off Nutritionix