Ingredients
2 cups (4 sticks) butter, softened

Room Temp Butter

1 cup

White chocolate chips

1 tsp

Pure vanilla extract

1-1/2 cups

Dried Cranberries
Directions
The Magic of Christmas is upon us, can you feel it in the air? I just love the Christmas season because this is about the only time I start to really embrace the colder months.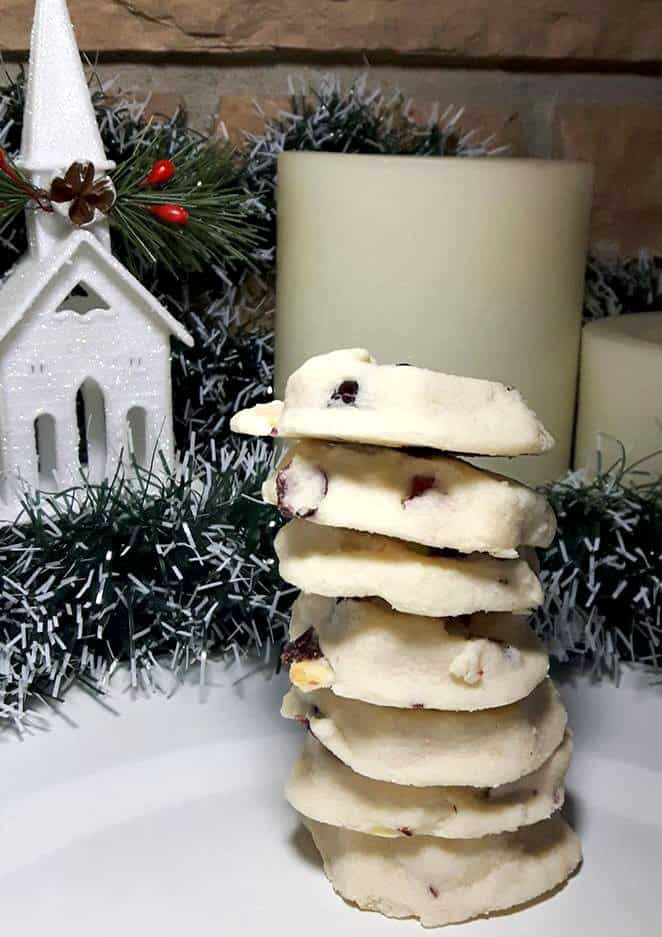 The nights get darker fast, however people start to decorate their houses with pretty lights that light the way all across the nations.
Which creates a warm glow in the dark of night, it's so pretty when the snow hits these lights because it literally glistens. Creating a magical joyful feeling that is hard to ignore, I have even seen many Ebenezer Scrooge's change overnight with the help of someone's warm touch.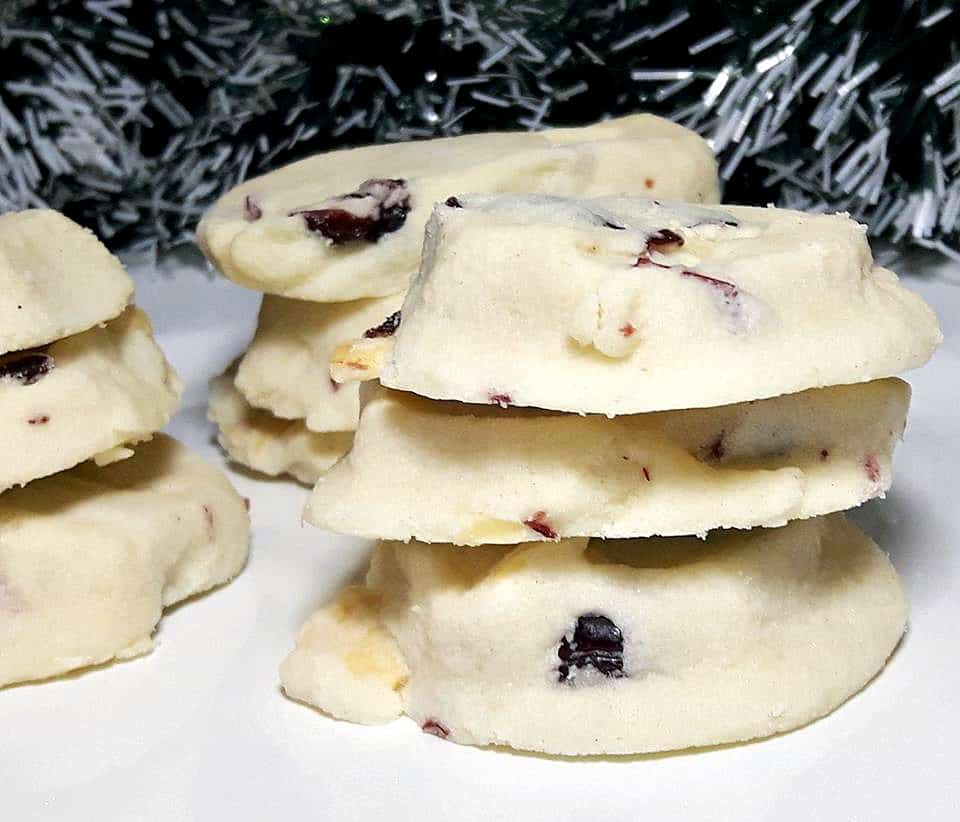 For most of us this is also a time where we do most of our baking, and start preparing our homes to be the most cozy they can be for when company make their way through. I am always seeking out the best recipes around this time of year.
Having tried several shortbread recipes throughout the years, I'm now sharing one of my favorites with you. The combination of the soft and flaky shortbread, along with the tartness from the cranberries and sweetness from the white chocolate make this cookie so lovely.
Shortbread always brings back memories of Christmas for me, having grown up in a large family it was always sure to be there on the living room table for everyone to enjoy. I miss those days honestly, when my grandma was around and the family all lived in one place.
Now that my family has grown and spread out over the years, we no longer have those BIG family gatherings. Rather we manage to have few little ones here and there, and new guests are always welcome. What is Christmas without a little home baking? If you ask me shortbread is definitely something that can't be skipped.
Nothing beats homemade shortbread, so I encourage you to try them this year. Once you try these cookies, I'm certain you'll be requested to make them again. And the nice thing is you can make these ahead of time and store them in an airtight container in the fridge for up to a month, where you can bring them along for others to enjoy wherever you may go this holiday season. Wishing you and your's a joyful and peaceful Christmas and New Year.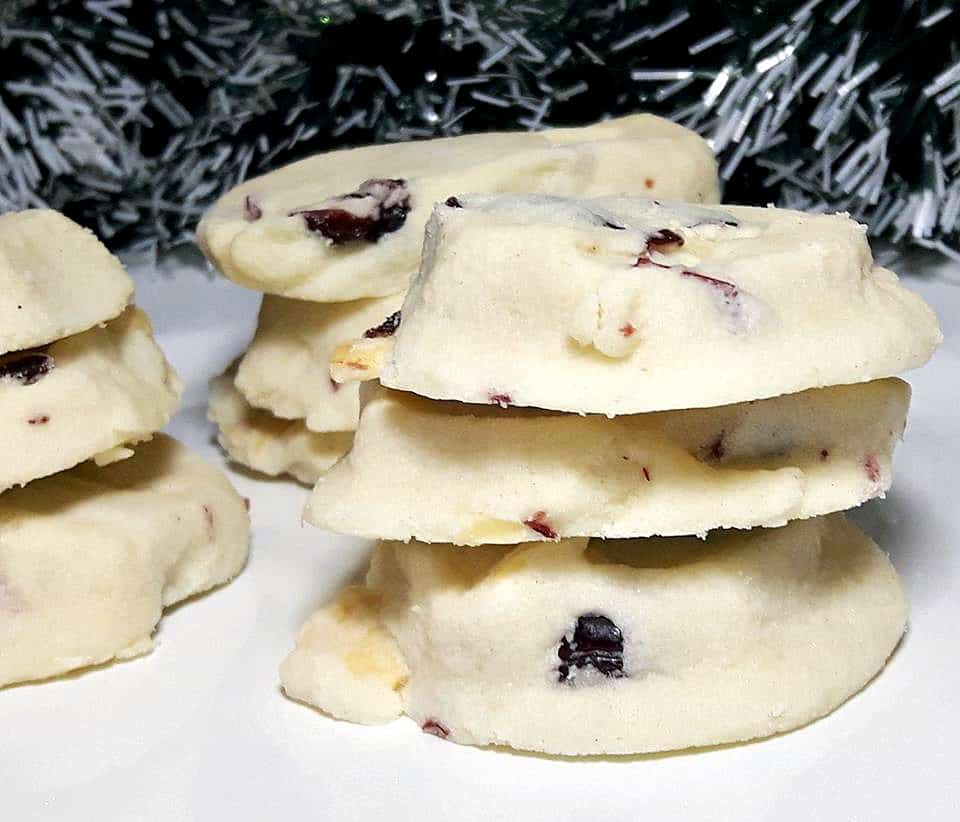 Super easy to make, you can have these done in under 30 minutes.
Notes: After cookies are completely cooled, place in airtight container or plastic freezer bag. Keep the dough refrigerated if you are going to be making these in batches. Also keep in mind the dough is not meant to be sticky like other cookies this is shortbread after all.
I am so thrilled you are reading one of my recipes, if you made this recipe i'd love to hear about it! You can post a review, picture below or via Instagram and let me know how it turned out. And by doing so you will be automatically entered into our seasonal CONTEST to win one of our great prizes. Winner will be notified via email within a week after the contest closes. Thank you very much for reading and until next time see ya in the kitchen. Don't want to miss a recipe? Sign up for our NEWSLETTER delivered right to your inbox every Month!
Print Recipe
White Chocolate Cranberry Shortbread
Ingredients
4

cups

All purpose flour

2

cups

4 sticks butter, softened Room Temp Butter

1

cup

White chocolate chips

1

cup

Sugar

1

tsp

Pure vanilla extract

1-1/2

cups

Dried Cranberries
Instructions
In a large mixing bowl, add your room temperature butter and sugar and beat till fluffy.

Add in the flour slowly and mix to combine.

Add in the white chocolate and dried cranberries, vanilla extract and mix to combine.

Using a tablespoon, drop rounded tbsp of dough onto a non stick baking pan roughly 2 inches apart, or use baking paper if you pan tends to stick.

Flatten the shortbread with the spoon, just a little.

Bake at 350 F for 14 minutes or until lightly browned.

Allow them to cool down on the baking sheets before serving. Enjoy!