Directions
These

Thai Green Curry Noodles

are made with boneless chicken breasts, bok choy, red peppers and vermicelli noodles.

And this whole dish can be brought together in less than 30 minutes! So Skip the takeout tonight and make this quick and easy dish right in the comfort of your own home.
The reason it takes only 30 minutes to make is because we are using "pre-made" Thai Green Curry paste".
Now there's only one brand I will use as I have tried them all and it has everything you need in it to make it truly authentic.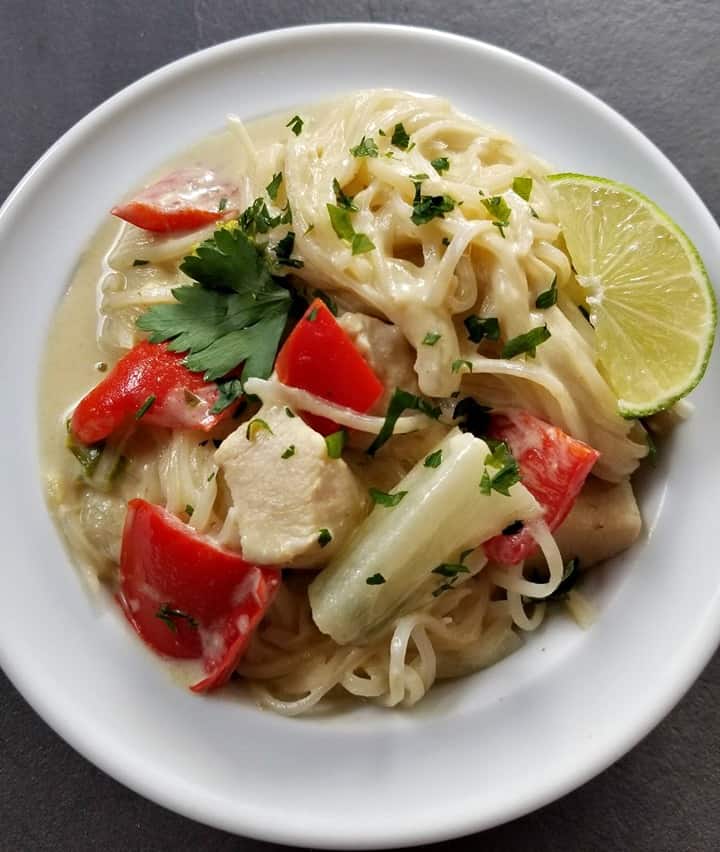 VEGETABLES THAT GO GREAT IN GREEN THAI CURRY
Kale
Spinach
Red, Green, Yellow or Orange peppers
Swiss chard
Asparagus
Mushrooms
PROTEINS THAT GO GREAT IN GREEN THAI CURRY
WHAT DOES GREEN THAI CURRY TASTE LIKE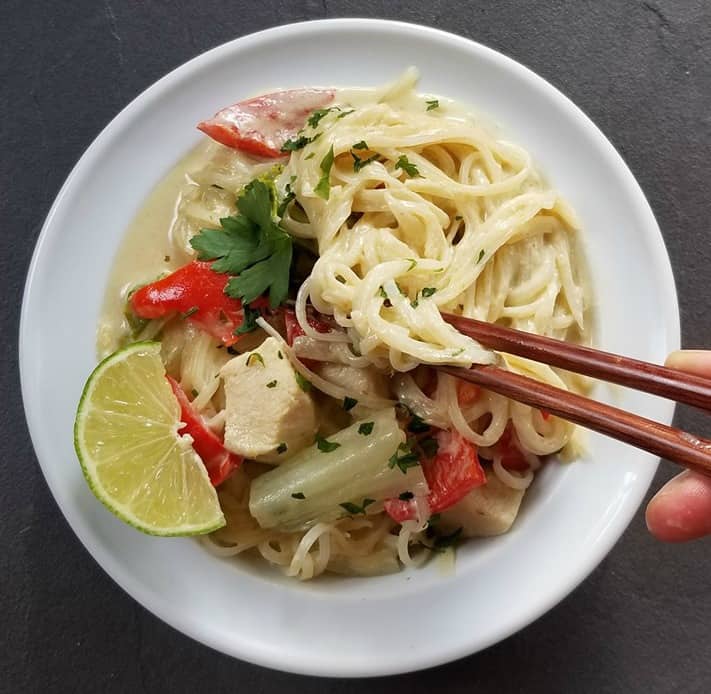 Green Thai Curry has hints of spice, tang and sweet flavors. It really is something special and this recipe has all the same tastes that you would find at your local Thai restaurants too!
You may have thought that making Thai curry at home would be complicated, but I am here to tell you it is not.
However I have found a healthy paste product that contains all those foreign ingredients that is out of this world amazing.
It will not only taste the exact same way as making it all from scratch, it will save you all the hassle of learning to do that and time.
What am I talking about? My favorite GREEN THAI CURRY PASTE! You can see that below!
Green Thai Curry is just a bit milder than Red Thai Curry, however both taste similar. There are plenty different ways to make Thai curry and that is because you can add just about any type of vegetable or meat protein to your dishes.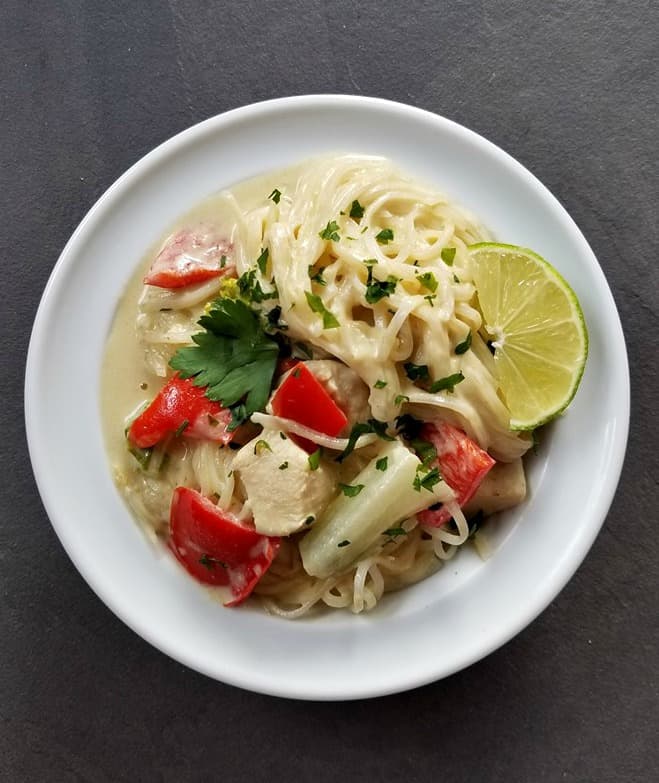 WHAT IS IN GREEN THAI CURRY
Thai Green Curry consists of some kind of protein, some kind of vegetable, lime juice, fish sauce, sugar and Coconut milk and Green Curry Paste.
Traditionally that paste is made in a mortar and is comprised of shallots, garlic, green chilies, galangal, lemongrass, kaffir lime leaves among some other ingredients and spices.
This one here is made with Chicken breasts, Asparagus and Swiss Chard.
As you may know I love Thai food and make it a lot in our home. Actually I make it every week, because I crave it that much. With any of my Thai recipes, you will learn that you really only need a few ingredients in your fridge and pantry to make any of them easily.
And that is because, I have been making homemade Thai recipes for years. And have learned all the tricks to making it quickly and healthily for just about anyone who loves it.
Making homemade Thai curry at home is really easy once you have all the basic ingredients!
WHAT'S IN GREEN THAI CURRY PASTE
Fresh Green Chilli
Lemongrass
Garlic
Shallots
Galangal
Cumin
Coriander seeds
HOW MUCH GREEN THAI CURRY PASTE TO USE
2 tbsp per 400 grams of Coconut Milk
The ONLY brand I will use!!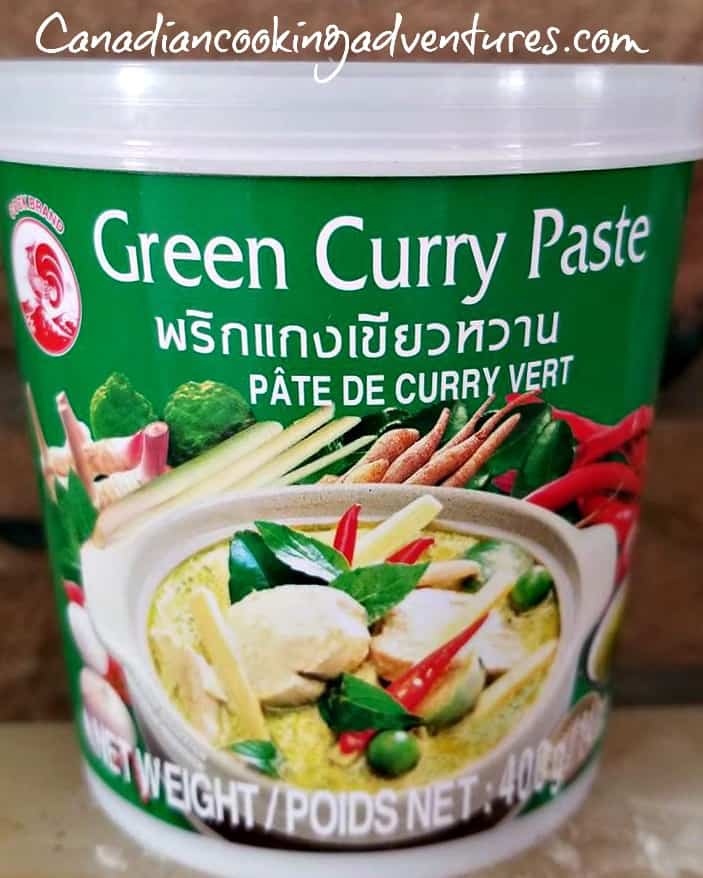 IS GREEN THAI CURRY GLUTEN FREE
IS GREEN THAI CURRY KETO
IS GREEN THAI CURRY HEALTHY
YES, Thai Curry is very healthy for you!
Some people like to use one can of coconut for their Thai curries. I will do that at times too, however for this recipe I used two cans as it really helps to cook those noodles.
WHAT GOES WITH GREEN THAI CURRY
Jasmine Rice
Vermicelli Rice
If you love Thai food as much as me, then you will want to try my other thai dishes! All are AMAZING and really are some of the best ways to make Thai at home in a fraction of the time.
Note: Want more heat, simply add in more Thai Green Curry Paste.
I'm thrilled you are reading one of my recipes, if you made this recipe i'd love to hear about it! Thank you and until next time see ya in the kitchen. Don't want to miss a recipe? Sign up for our NEWSLETTER delivered right to your inbox!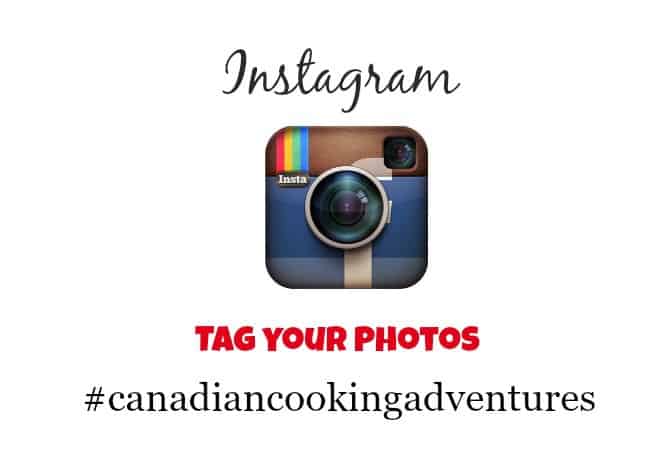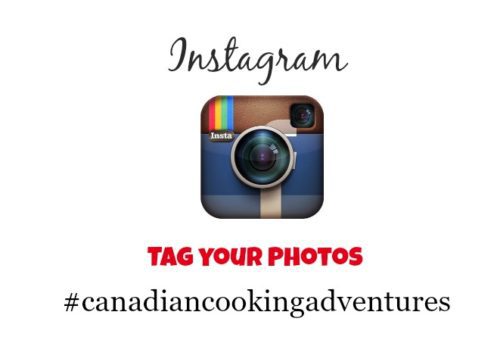 Red Thai Curry with Jumbo Shrimp
Ingredients
2 tbsp Coconut oil OR vegetable oil
3 tbsp RED THAI CURRY Paste
2 cans (810 ml) Full Fat Coconut Milk
1 pd of Jumbo Shrimp/Shells On
2 tsp Fish Sauce
1 tbsp Sugar
pinch Salt
2 cups of broccoli heads
1 Large Green Peppers Chopped
1 cup of bean sprouts
SERVE
1 lime Fresh Lime Juice
3 cups Jasmine Rice
1 tsp Cilantro
Instructions
Start by washing and cutting up your vegetables and slice all according to the size you want.
Wash the shrimp and set aside. You do not want to add frozen shrimp to the pot.
In pot, wok or pan, heat up the oil on medium high and in your "RED THAI CURRY PASTE" saute for 2 minutes till blended.
Next add in the coconut milk and cook for another 2 minutes on medium-high.
Add in your ginger/garlic paste and cook for 2 minutes all together..
Then add in your fish sauce and sugar then simmer for another 2 minutes over low heat.
Next add in the jumbo shrimp/whole.
Add your remaining vegetables. "Broccoli" then the "Green pepper" cook to crispy tender around 2 minutes over medium heat.
Serve with fresh lime juice, fresh bean sprouts over jasmine rice if desired. Enjoy!
Nutrition Information:
Yield:

3
Serving Size:

1
Amount Per Serving:
Calories:

685
Total Fat:

42g
Saturated Fat:

36g
Trans Fat:

0g
Unsaturated Fat:

3g
Cholesterol:

0mg
Sodium:

778mg
Carbohydrates:

72g
Fiber:

6g
Sugar:

9g
Protein:

12g