Directions
This

Baked Brie with Pistachios

also is topped with Pomegranates and Honey and is a great appetizer to serve around the holidays, it's super delicious and easy to make.
I'm so excited to be sharing this recipe with you, because it's one of those impressive appetizers that everyone is sure to love.
It really can't get any simpler than this, from start to finish you can have this served up in less than 20 minutes.
WHAT IS IN THIS BAKED BRIE RECIPE
Four simple ingredients: Brie cheese, honey, pistachios & pomegranate.
This snack is sure to be a crowd pleaser when it's served hot straight from your oven. This Baked Brie with Pistachios, Pomegranates and Honey is super festive looking, don't you think?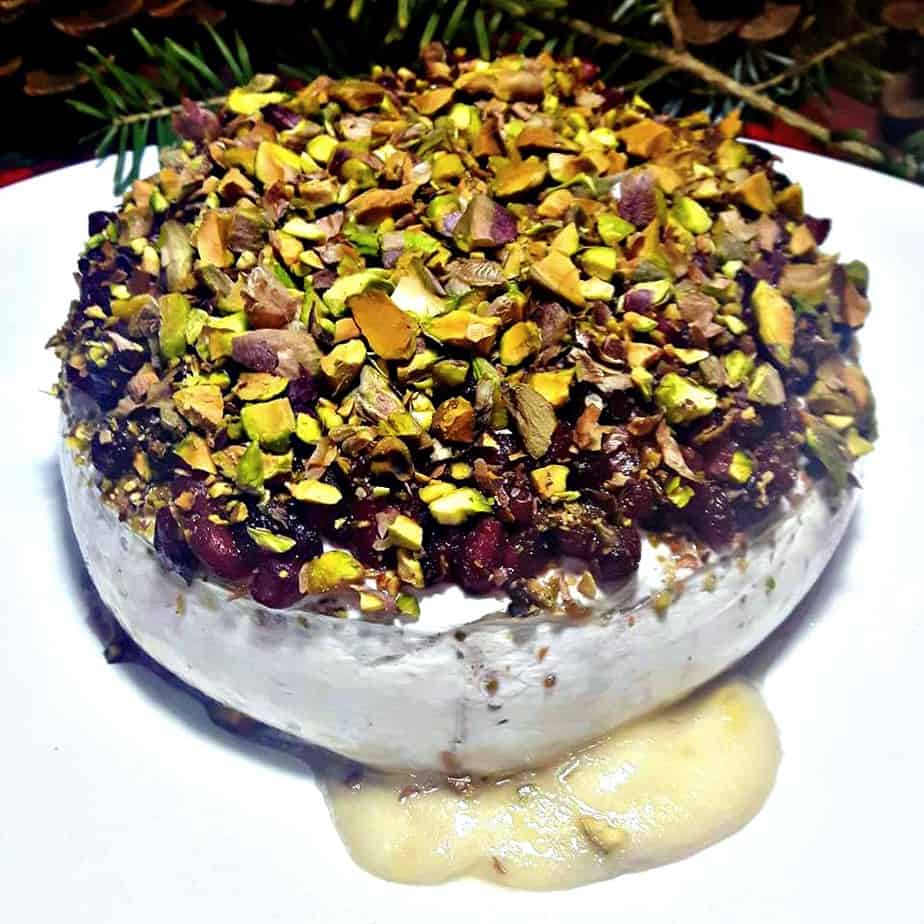 Curb everyone's appetite in a healthy way while they wait for the main course or serve this on New Year's eve for you and that someone special.
Goes well also with a glass of white wine and water cracker!
HOW TO MAKE BAKED BRIE FOR THE HOLIDAYS
Once the Brie has been baking for 5 minutes, baste the top and sides with honey and place your toppings on, then return to the oven for another 10 minutes and serve hot.
Oozing goodness this brie cheese goes fantastic on water crackers and paired with white wine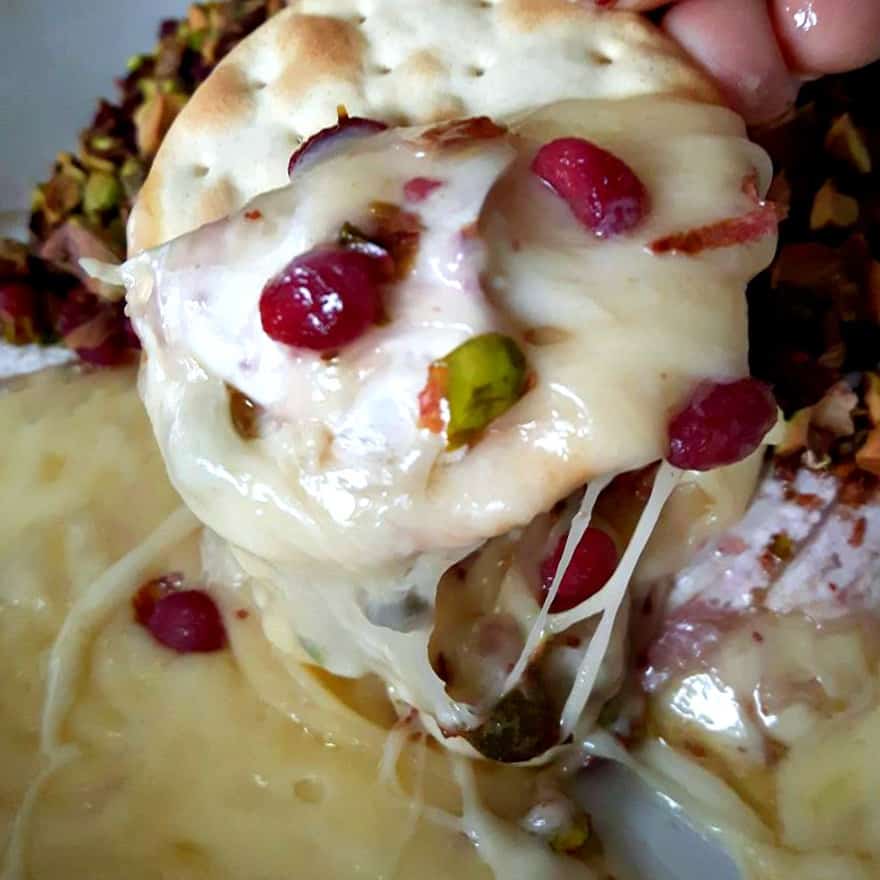 I'm so thrilled you are reading one of my recipes, if you made this recipe I'd love to hear about it! Thank you very much for reading and until next time see ya in the kitchen. Don't want to miss a recipe? Sign up for our NEWSLETTER delivered right to your inbox every Month!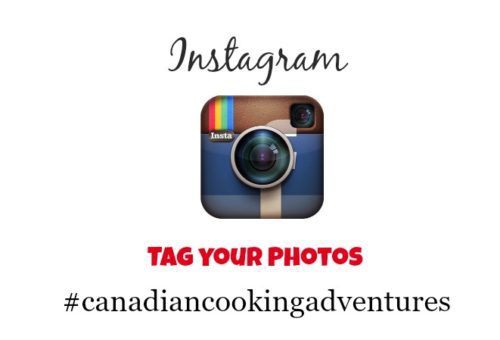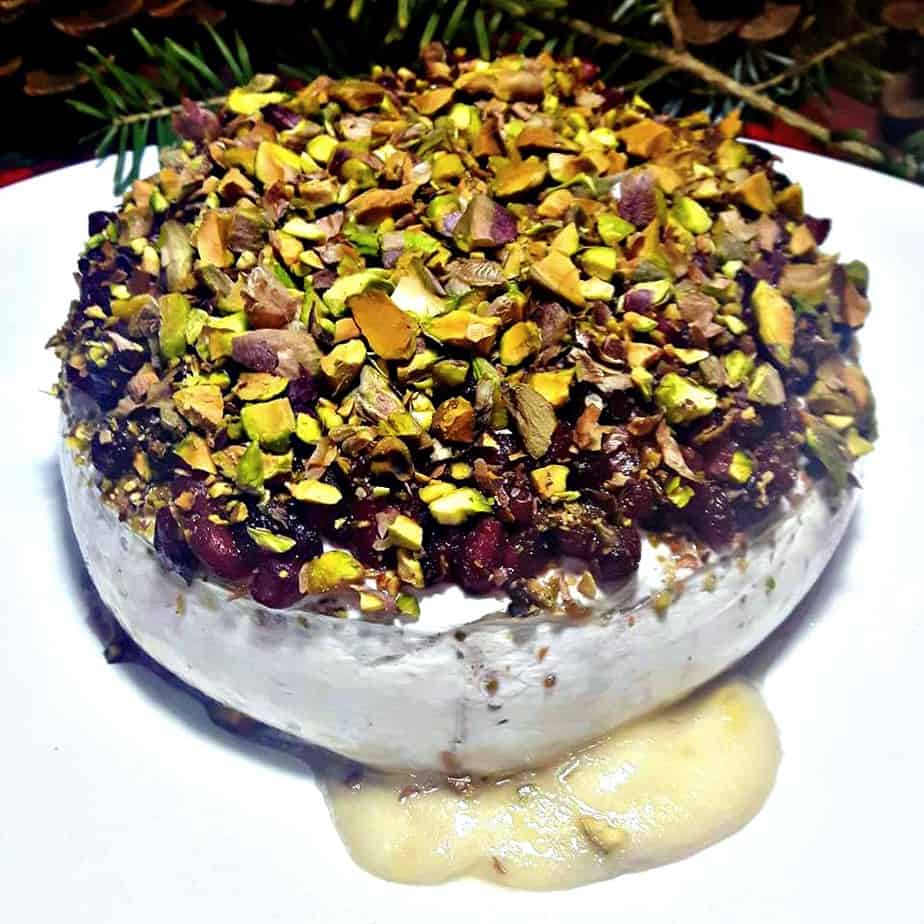 Baked Brie with Pistachios
Ingredients
Large Brie Cheese
2 tbsp Honey
1/2 cup Fresh Pomegranate seeds
1/2 cup Pistachios
Instructions
Remove the Brie cheese from the wrapping and place on a baking sheet or in brie cheese baker.
Preheat the oven to 350 F and once it reaches 350F place in the oven for 5 minutes.
Remove from the oven, and baste the top and sides with honey, covering the top afterward with pomegranates and then the crushed/chopped pistachios.
Bake for another 10 minutes. Serve hot with water crackers, enjoy!