Ingredients
1 tsp

Extra Virgin Olive Oil

6 cups

Chicken Stock (salted)

2 large

Boneless chicken breasts

boiled then shredded
Directions
This Thai Chicken Noodle Soup is allot like basic chicken noodle soup, in the sense that it has chicken broth and shredded chicken along with noodles in it.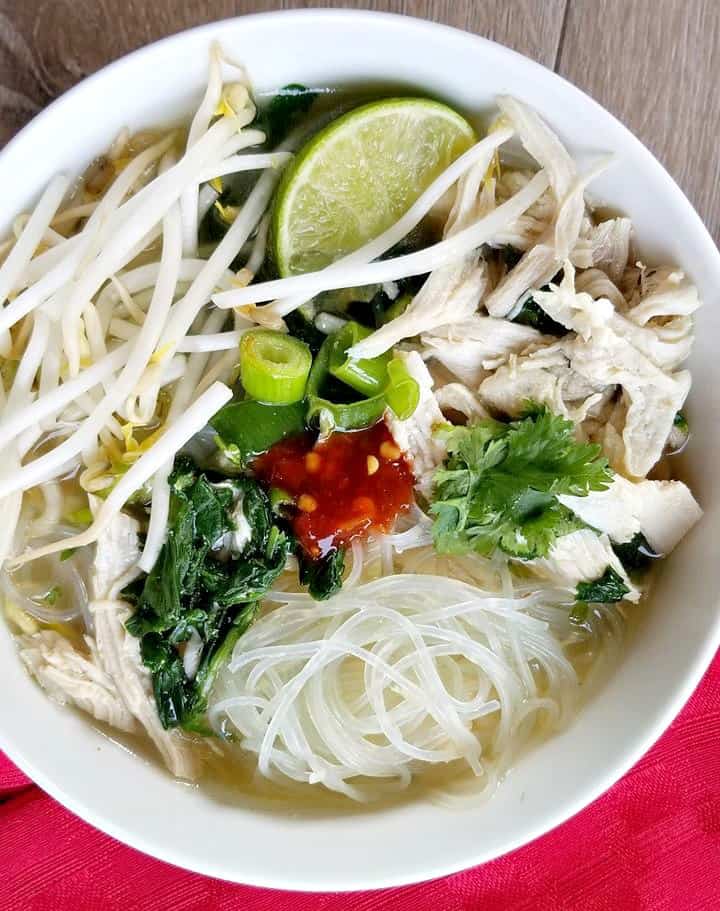 The main differences here are the addition of bean sprouts, spinach, lime juice, and chili paste that helps to spicen it up! If you don't like spice just omit the chili paste, simply enough.
Now there is a possibility that you were searching for a basic chicken noodle soup recipe and accidently stumbled upon this recipe. And you may be thinking… "Thai Chicken Noodle" never heard of it? but that sounds good.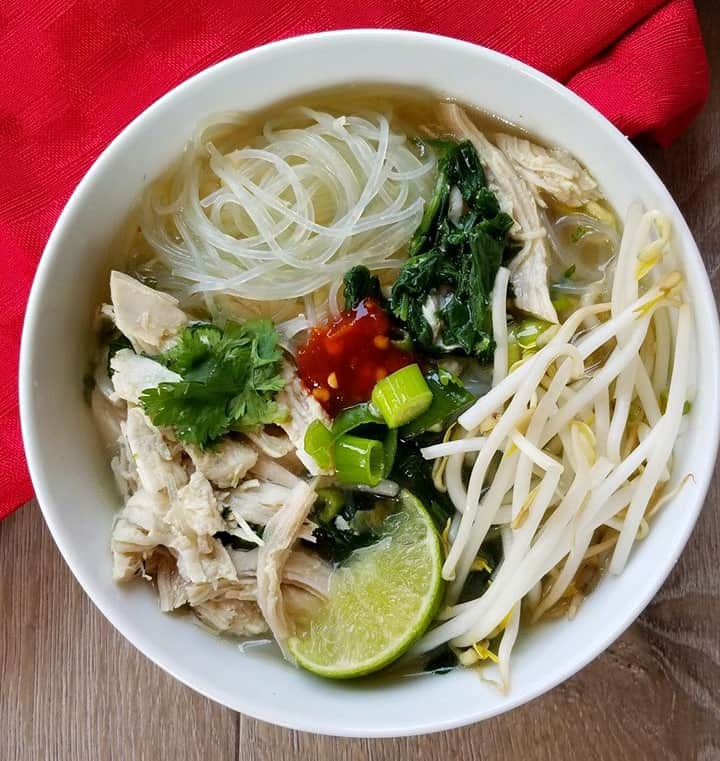 Well don't let the name scare you, even if your not feeling so great this soup is sure to make you feel just as good as the traditional chicken noodle soups out there.
There are several ways to make a Thai chicken noodle soup, you can also make it with some red or green thai paste and coconut milk also if you'd like.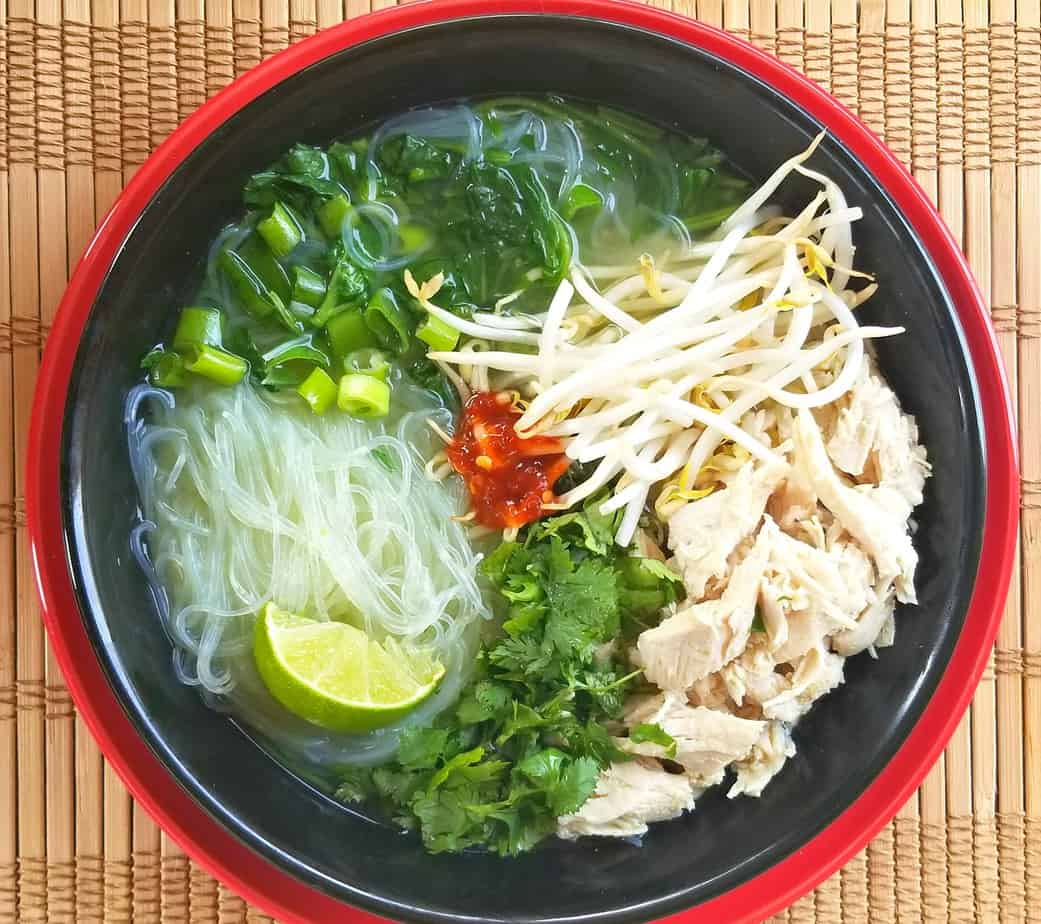 I have done that before and so you can find that recipe below! Otherwise if your looking for just a clear and more close to the original chicken broth soup you will want to follow this recipe.
I tend to make this soup more over the traditional chicken noodle these days. The elements of this soup are chicken broth, shredded chicken, rice noodles, green onions, bean sprouts, cilantro, chili paste and lime juice.
So if you like all those Thai flavors your sure to enjoy this soup.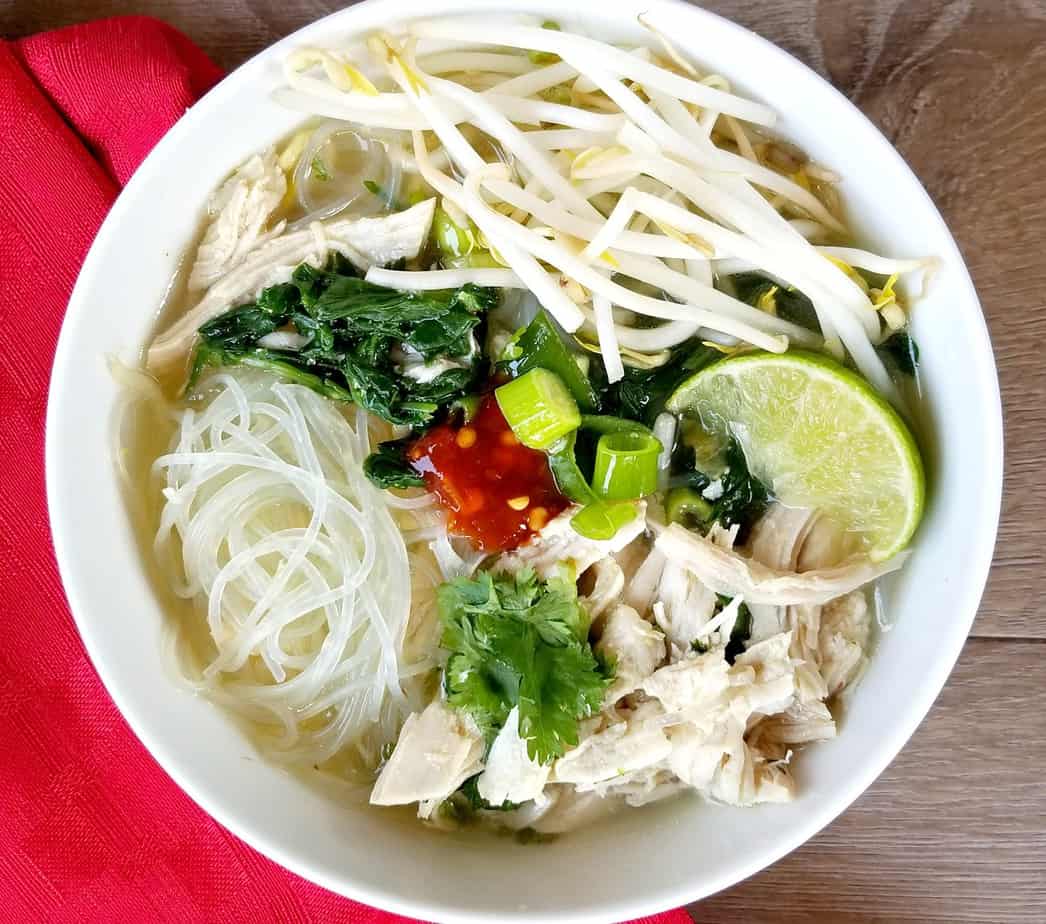 I can literally eat this for days, it's that good! So if you like Thai food as much as me then you are sure to enjoy this soup. Don't forget the lime juice it just works, trust me.
I am so thrilled you are reading one of my recipes, if you made this recipe i'd love to hear how it turned out! You can post a review/picture below or via Instagram and let me know. And by doing so you will be automatically entered into our seasonal CONTEST to win one of our great prizes. Winner will be notified via email within a week after the contest closes. Thank you very much for reading and until next time see ya in the kitchen. Don't want to miss a recipe? Sign up for our NEWSLETTER delivered right to your inbox!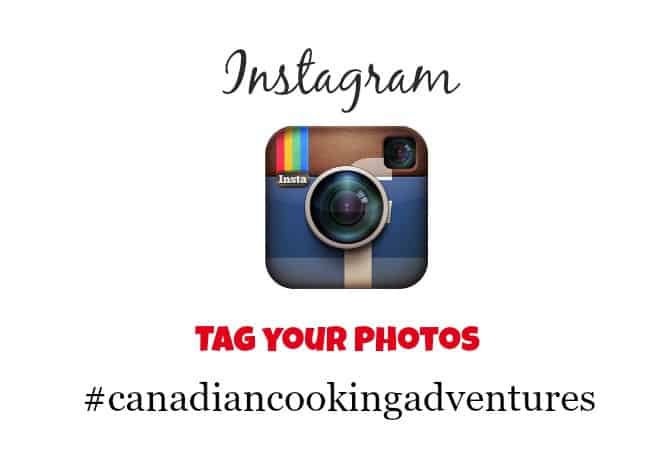 PIN IT FOR LATER
Steps
| | |
| --- | --- |
| | Start by placing the tsp of olive oil into a medium to large size pot, the saute the minced ginger for one minute before adding in the chicken stock. |
| | On a large cutting board cut each chicken breasts in half diagonally. Then add in the washed and cleaned chicken to the stock/pot. Boil the chicken on medium heat till cooked, reduce the heat to low and remove the chicken. |
| | On a cutting board, take two forks and shred the chicken. Then place back in the stock, on the same cutting board. Rinse and chop the spinach and green onions. |
| | Add 1 tsp of fish sauce and soya sauce to the stock along with the spinach and green onion. Simmer over a low to medium heat. Then add in the noodles, simmer till the noodles are tender and or according to package instructions. |
| | Serve the soup hot with freshly squeezed in lime juice, cilantro, bean sprouts and *chili sauce (to taste). Enjoy! |