Ingredients
5 tbsp

Extra Virgin Olive Oil
Directions
These super simple baked mini potatoes are such a good snack idea. Baked to perfection in olive oil, garlic powder, parsley and salt. Really there isn't much to making them, but oh are they good.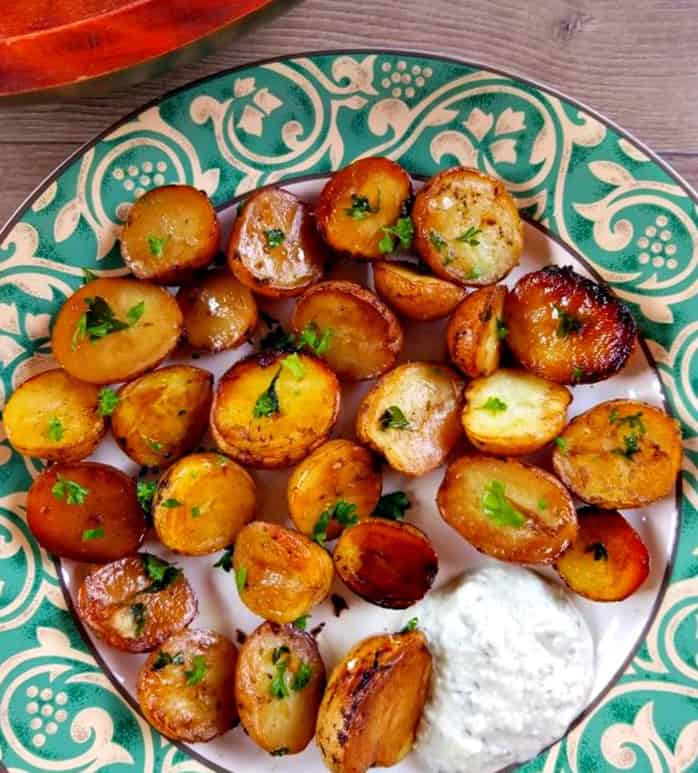 You will want to start by slicing each mini potato in half before tossing to coat in olive oil and seasonings. Then bake for 30 minutes till tender, crispy and browned.
Each serving contains feel good fiber and when paired with my Greek Tzatziki also gives you a good amount of protein. See my favorite recipe below for homemade Tzatziki.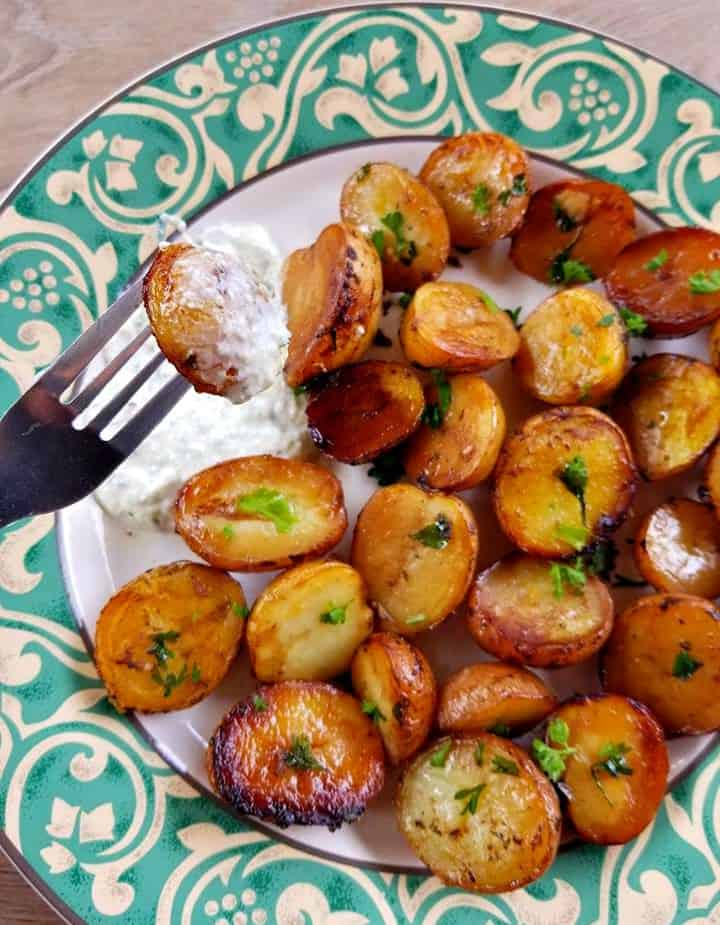 If Tzatziki is not your favorite dip, you can always try ranch dressings or ketchup instead. This tasty little appetizer reminds me of a healthier potato chip, because they are baked not fried. There are a few ways to enjoy these mini potatoes, see below for a few more recipe ideas.
I hope you give these tasty little bite size potatoes a try!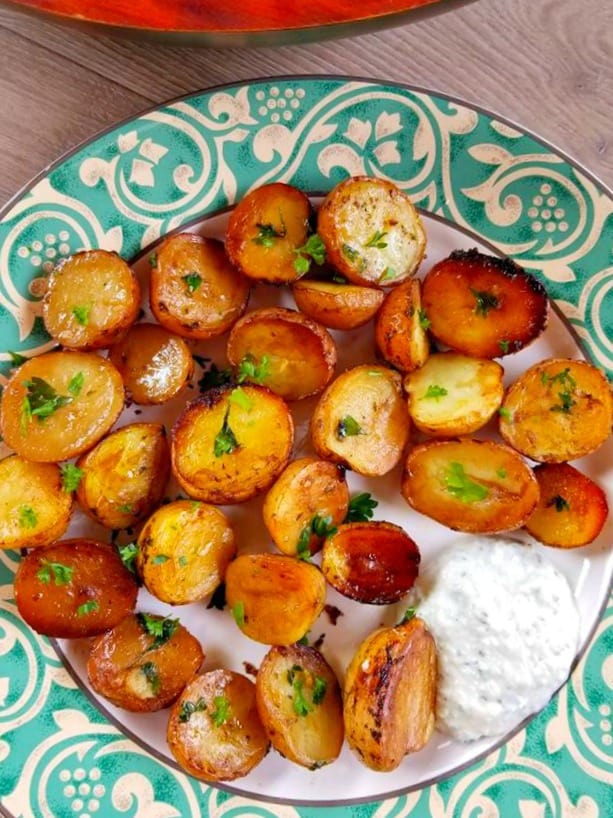 Looking for another Mini Potato Recipe Idea: Try "Salt and Vinegar potatoes" once the potatoes have cooked, toss them in a bowl with 2 tbsp of white vinegar and salt.
Dip: Make my authentic homemade "Greek Tzatziki" to serve on the side.
Other Dip ideas: Ranch dressing, Ketchup etc
I am so thrilled you are reading one of my recipes, if you made this recipe i'd love to hear about it! You can post a review below or on Instagram to let me know how it turned out. And by doing so you will be automatically entered into our seasonal CONTEST to win one of our great prizes. Winner will be notified via email within a week after the contest closes. Thank you very much for reading and until next time see ya in the kitchen. Don't want to miss a recipe? Sign up for our NEWSLETTER delivered right to your inbox every Month!
Print Recipe
BAKED MINI POTATOES
Ingredients
1.5

lb

bag Mini Potatoes

5

tbsp

Extra Virgin Olive Oil

1

tbsp

Garlic Powder

3

tbsp

Fresh Parsley

1

tsp

Salt
Instructions
Preheat your oven to 400 f. Then start by rinsing your mini potatoes, then cut each mini potato in half.

Place all the potatoes into a large bowl with 1 tbsp of olive oil, garlic powder, salt and chopped parsley. Toss to coat, then on a large baking pan add 4 tbsp of olive oil.

Place each halved potato face side down on the tray, to allow the oil to crisp them nicely.

Bake for 30 minutes, turning half way through.

Once cooked, remove from the oven and taste to see if more salt is needed.

Serve with your favorite dip and enjoy!
PIN IT FOR LATER