Directions
These Pan Seared

Rosemary Garlic Butter Pork Chops

are super easy to make and are really really delicious!
LOOKING FOR MORE GREAT RECIPES FOR PORK CHOPS? Try my Dijon Mustard Honey Pork Chops or my Rosemary Pork Chops with Peach Salsa or my Salsa Verde Pork Chops!

I like to serve these pork chops with a side of mash potatoes and some kind of vegetable.
Most likely, you will be looking for a side dish to serve alongside these chops as well.
So, I have linked a few of my most popular side dish recipes at the bottom of this post for you to check out!
CAN YOU USE ANY KIND OF PORKCHOP?
Absolutely! Any kind of porkchop will work for this recipe. Such as bone in pork chops, pork loin or ribs.
I used boneless pork chops here, however sometimes I will use bone in which gives it an even richer flavor.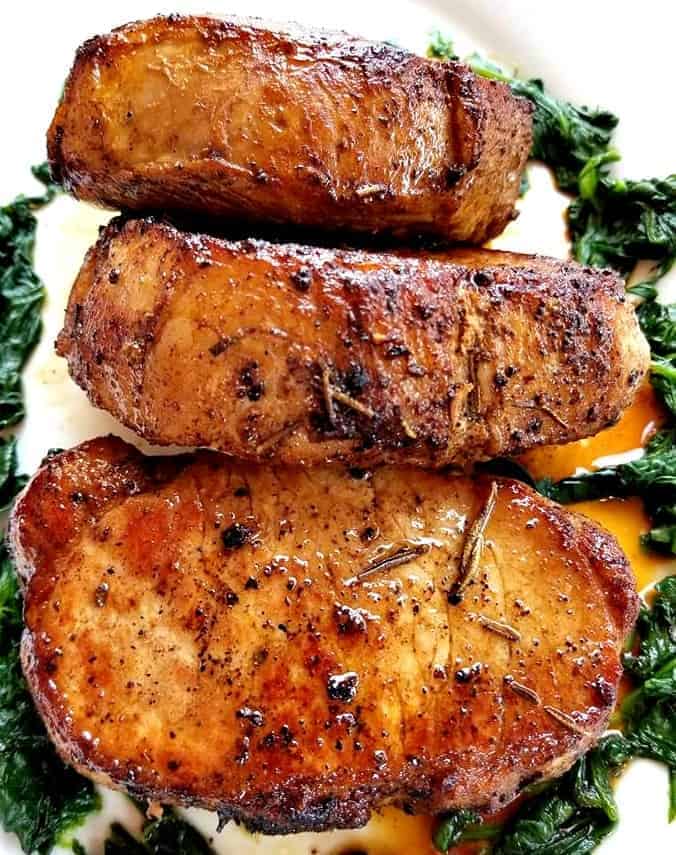 I made these pork chops for my partner a few months ago for the first time and he liked it so much that he made them for his parents, who then asked for the recipe.
His Dad is a self taught chef. So that tells ya something!
Plus, I'm pretty sure that anyone can make these as it is prepared in one pan.
HOW TO PAN FRY PORK CHOPS?
The trick to cooking the best pan fried pork chops is to use ample butter, because you are going to be basting the pork chops in the butter while it cooks with a spoon.
The second trick is to season the pork chops generously on both sides with salt and pepper prior to cooking.
If you follow those two tips alone you are sure to prepare the best pork chops ever.
Each side will take about 8 minutes to cook, while cooking baste constantly with butter in the pan.
These chops can be done on the grill as well, they just won't be as juicy. I have done that before as well, it does leave them a bit dry.
So what I tend to do is use bone in for when i'm cooking these on thee bbq.
Then will serve them alongside a Caesar salad or something like that.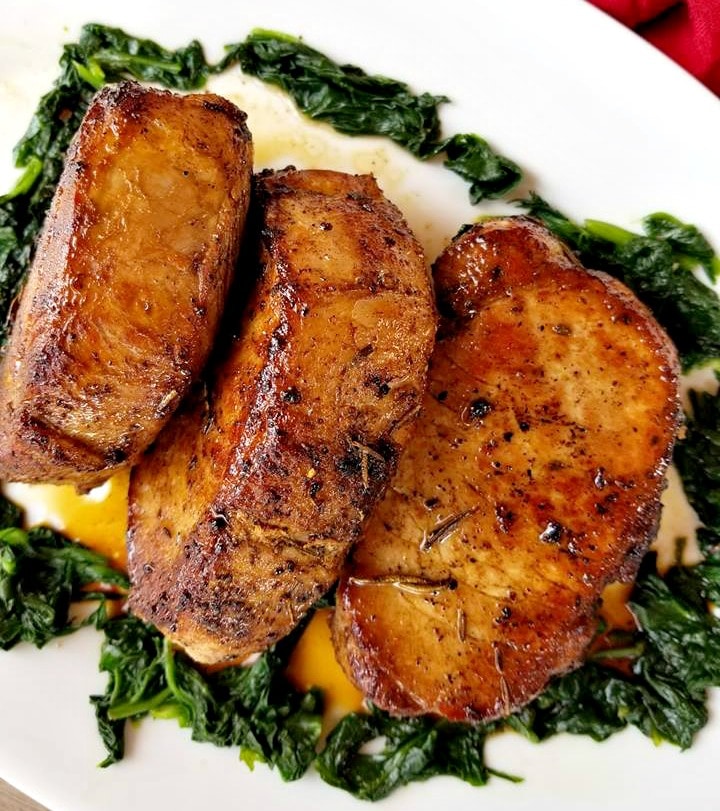 WHAT TYPE OF PORK CHOP IS GOOD FOR FRYING?
All types of pork chops work well for frying!
However with this recipe, I highly recommend pan frying them and basting continuously in a rosemary garlic butter.
ROSEMARY GARLIC PORK CHOPS
I just love the way the rosemary and garlic butter flavors the pork, it melts in your mouth and to be honest we have yet to try something this good in the restaurants.
The Most Moist and delicious Pan Fried Pork Chops!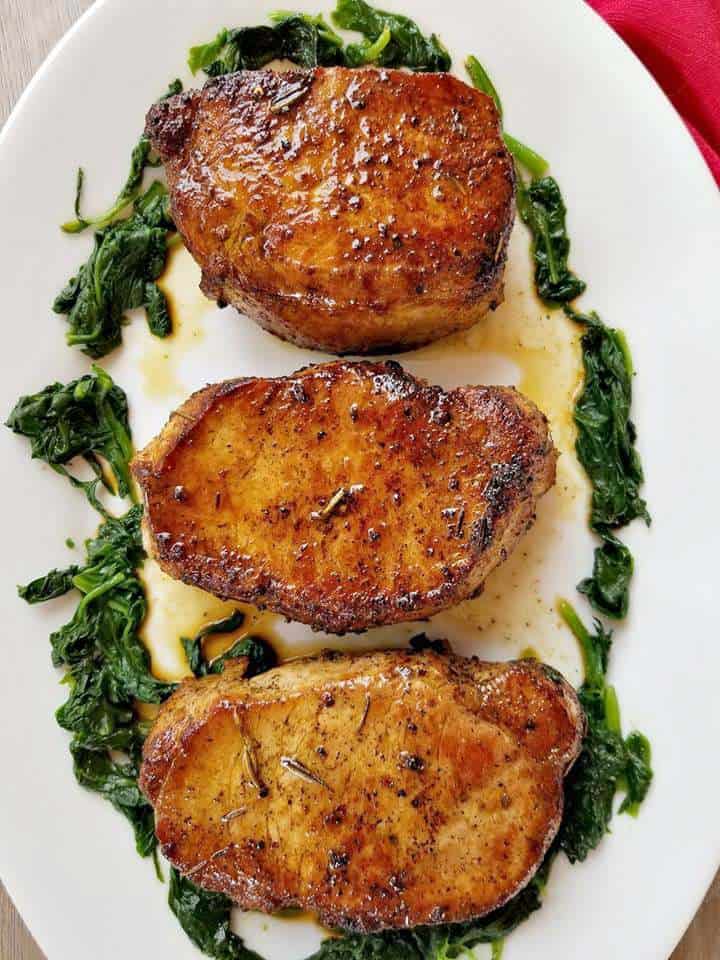 I really like to serve these with spinach and sometimes rice.
If you are on a keto diet that would really work for you too!
Other vegetables that go well with these pork chops
Asparagus
Broccoli
Brussel Sprouts
Corn on the Cob
Have you already started to picture your dinner tonight yet?
If you're wanting to serve them with some gravy.
Then just simply add 1/2 a cup of water to the frying pan once the chops have been removed and scrape the sides down to infuse the water with flavor.
You can always add a dash of Worcestershire sauce as well to add even more flavor.
The Pork Chops are Ready!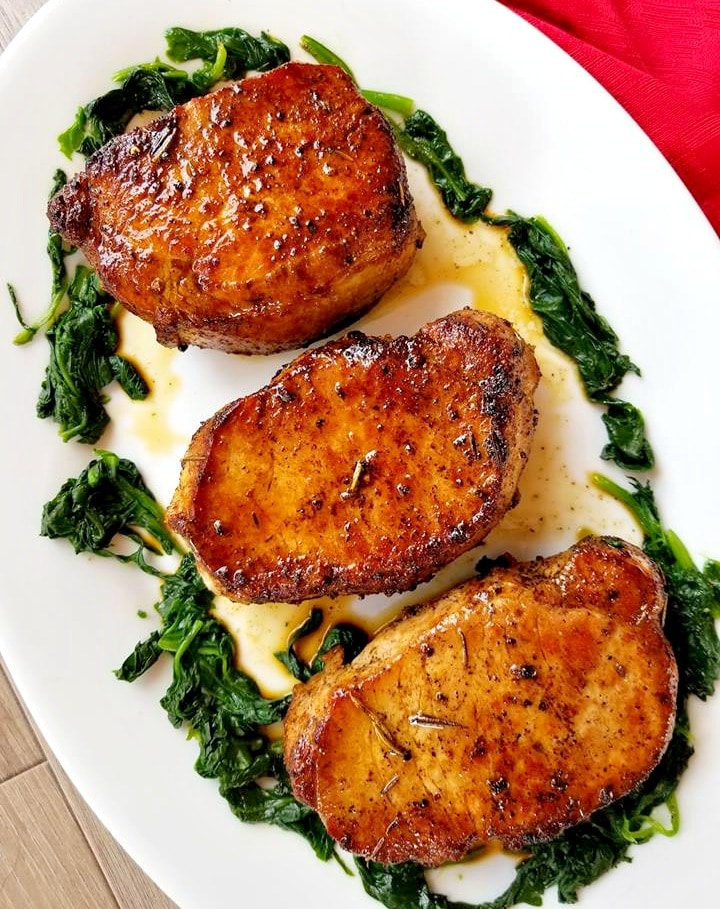 Now I don't know of any restaurants that serve chops just like this, do you?
And even if there was one.
Why would you spend $20 plus dollars dining out when you can make enough for four people for way less.
OH YEAH YOUR CHOPS ARE GOING TO BE AMAZING!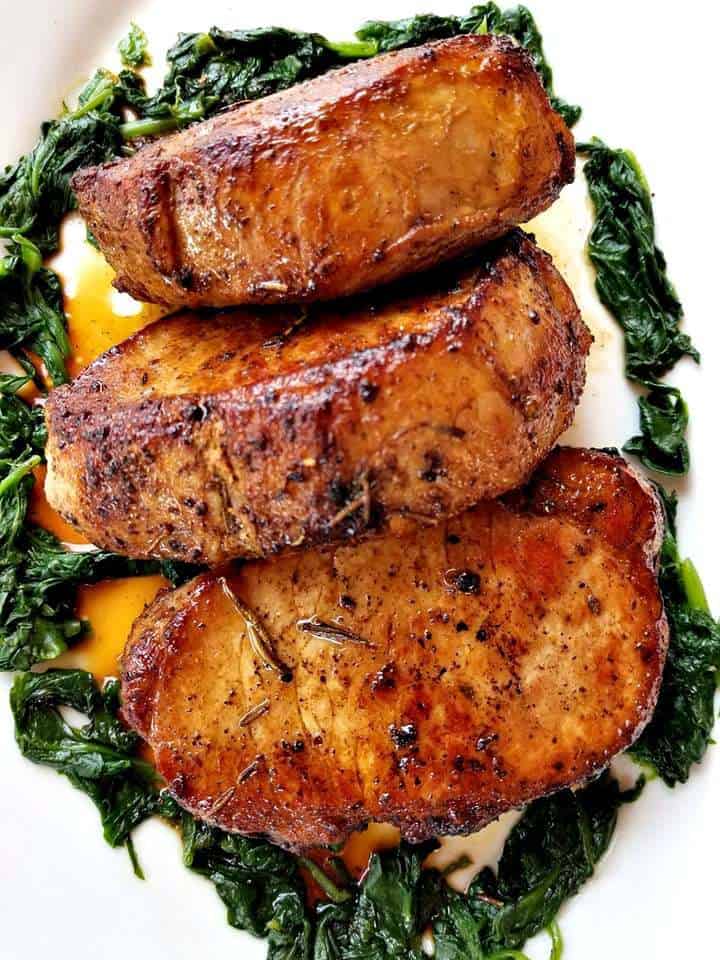 Don't skimp on the butter, it really helps to give it it's depth of flavor and also helps to keep it moist and juicy.
Butter just makes everything better! Especially panned fried pork chops like these.
Looking for another awesome pork recipe?
Then you will want to try my Grilled Bbq Pork Tenderloin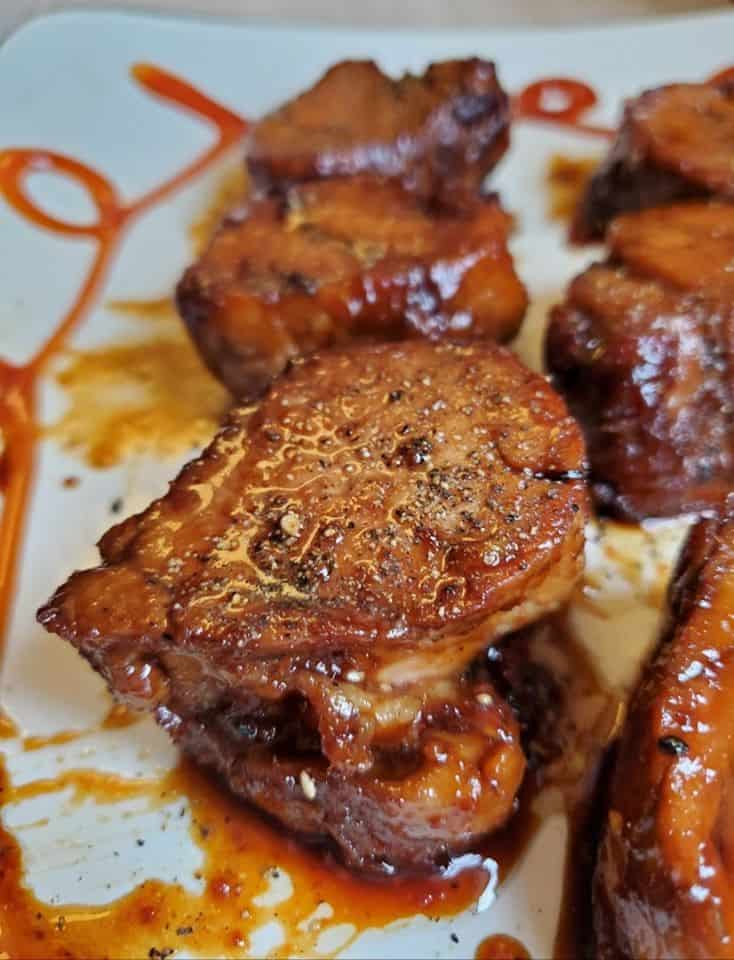 Below you will find some side dish recipes that would go so well with these "Pork Chops"
Note: These chops can be done on the grill as well, they just won't be as juicy. Also before serving make sure the internal temperature reaches 145 °F before consuming.
★ Did you make this recipe? Please give it a star rating below! ★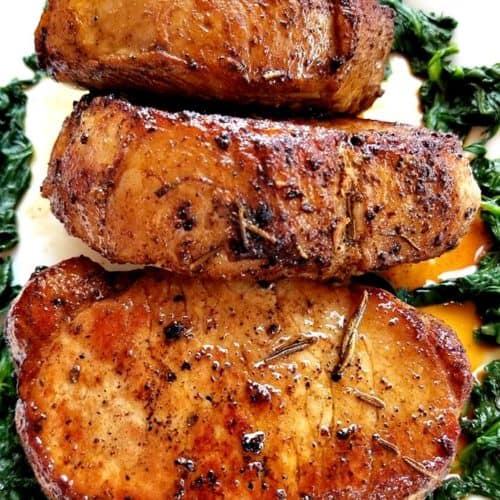 Rosemary Garlic Butter Pork Chops
Ingredients
3 boneless pork chops
1 tbsp of dried rosemary
5 tbsp of butter
1 tbsp olive oil
3 garlic cloves minced
1 tsp garlic powder
salt and pepper to taste
Instructions
In a large skillet add 3 tbsp of butter and olive oil and your seasoned pork chops with garlic powder.
Sear on both sides for ruffly 8 minutes or until cooked to your liking.
Remove the chops and add 2 tbsp of the remaining butter to the pan along with the fresh garlic and rosemary.
Saute till fragrant and back the chops and baste with butter mixture.
Serve and enjoy!
Nutrition Information:
Yield:

3
Serving Size:

1
Amount Per Serving:
Calories:

535
Total Fat:

43g
Saturated Fat:

20g
Trans Fat:

1g
Unsaturated Fat:

21g
Cholesterol:

154mg
Sodium:

370mg
Carbohydrates:

3g
Fiber:

1g
Sugar:

0g
Protein:

37g
These calculations are based off Nutritionix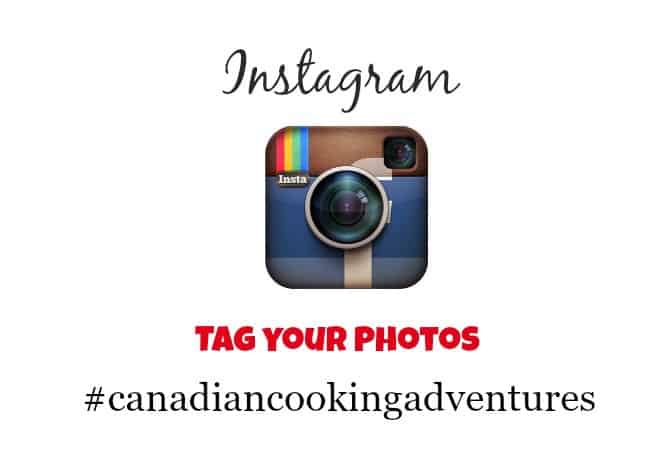 LOOKING FOR MORE GREAT RECIPES FOR PORK CHOPS?