Directions
These
Mustard Honey Pork Chops

are super easy to make and are really really delicious! Go ahead and serve these pork chops with mash potatoes or a vegetable of your liking.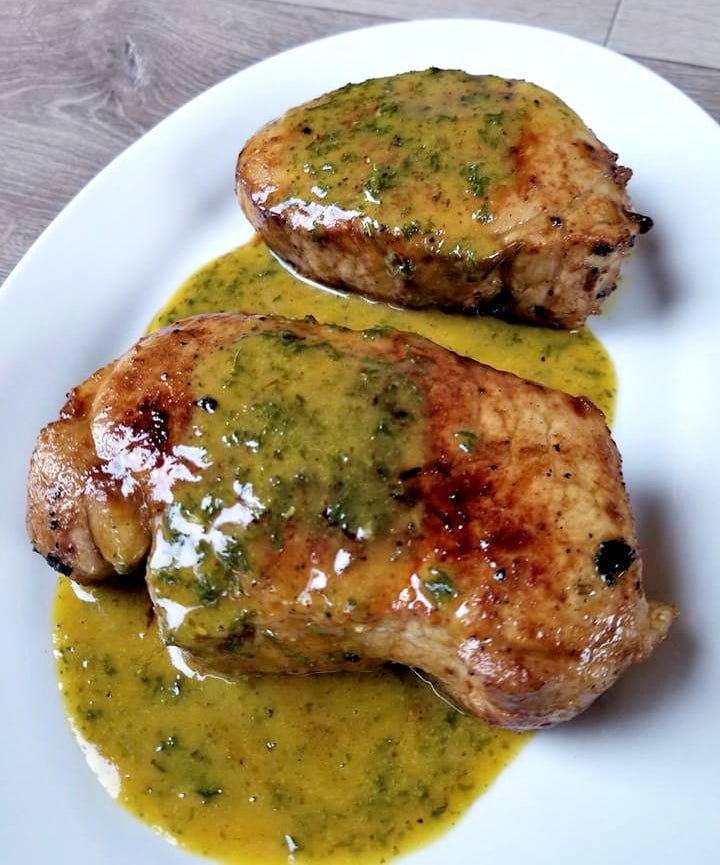 CAN YOU USE ANY KIND OF PORKCHOP?
Absolutely! Any kind of porkchop will work for this recipe. Such as bone in pork chops, pork loin or ribs.
I just love the way the dijon mustard, vinegar and honey coats the pork, it creates a sweet yet tangy taste that is absolutely delicious!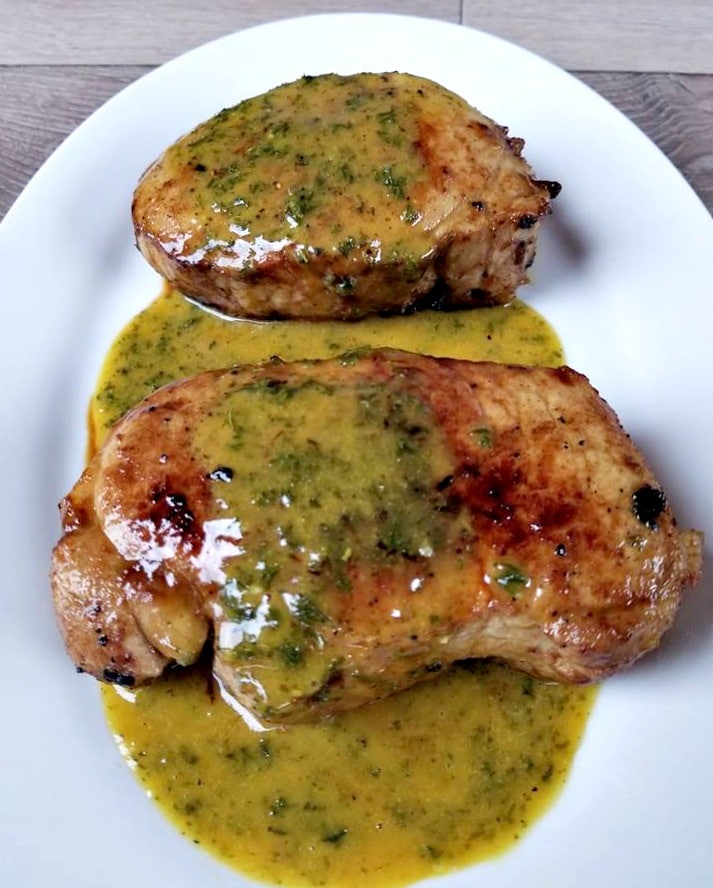 And the nice thing about these chops is that they take no time at all to make.
Can you believe that this beautiful dish can be on the table in less than 30 minutes?
So if your expecting guests over at 6pm you can through these in the pan and have them plated in no time. Just be sure to marinate them prior and your good to go!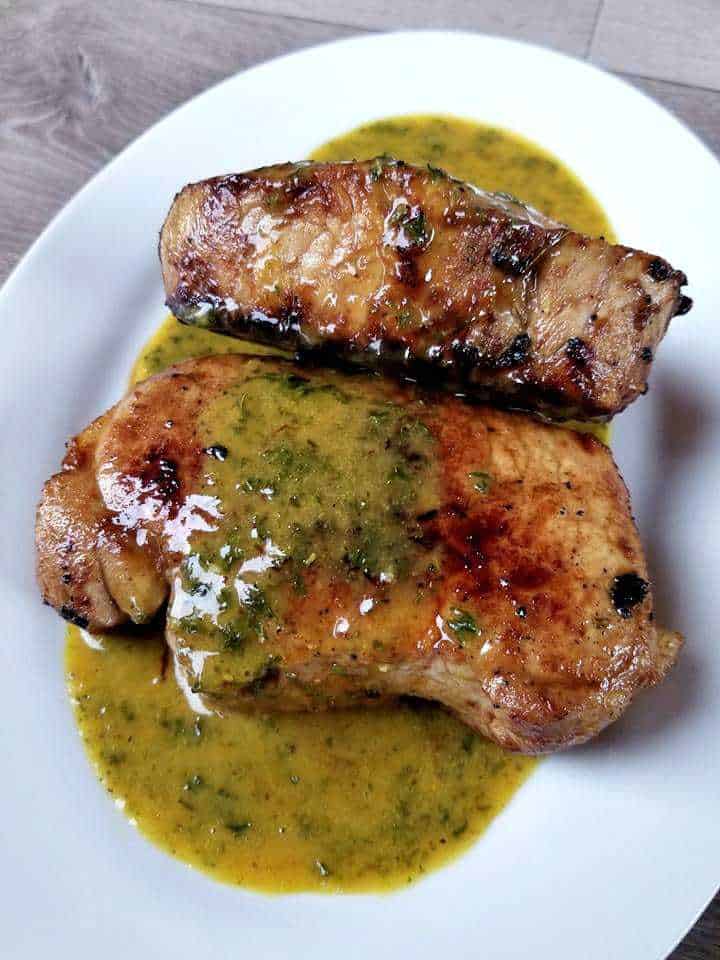 I really like to serve these pork chops during those busy weekdays, where I am craving something filling yet fast.
You can easily saute or bake some fresh asparagus, brussel sprouts or broccoli on the side that would accompany this dish very well. It's your dinner, so I will leave those option ideas with you.
If your not on a paleo diet, then why not go ahead and bake a few potatoes. Those would also go along really well with these pork chops.
HOW TO MAKE HONEY MUSTARD PORK CHOPS
The trick to having the best cooking the best Dijon Mustard Honey Pork Chops is in the marinade.
I like to marinade my chops the night prior, however you can also marinade it one hour prior if your in a rush.
Then all you are simply wanting to do from their is remove the chops and generously on both sides prior to cooking with salt and pepper.
Searing them in a non stick frying pan on both sides till cooked. Once cooked remove and plate, then place the sauce in the pan and saute on medium heat for 5 minutes and pour on top of the chops.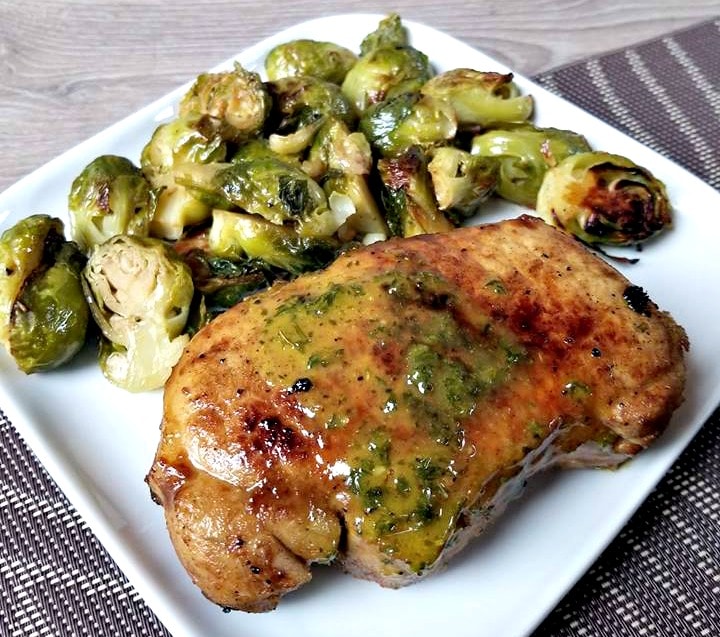 Be sure to use ample butter when frying the chops, which will help to sear them properly give it it's depth of flavor while still keeping the chops moist and juicy.
If you follow these tips you are sure to prepare the best pork chops ever. Also feel free to use bone in pork chops, pork loin or ribs.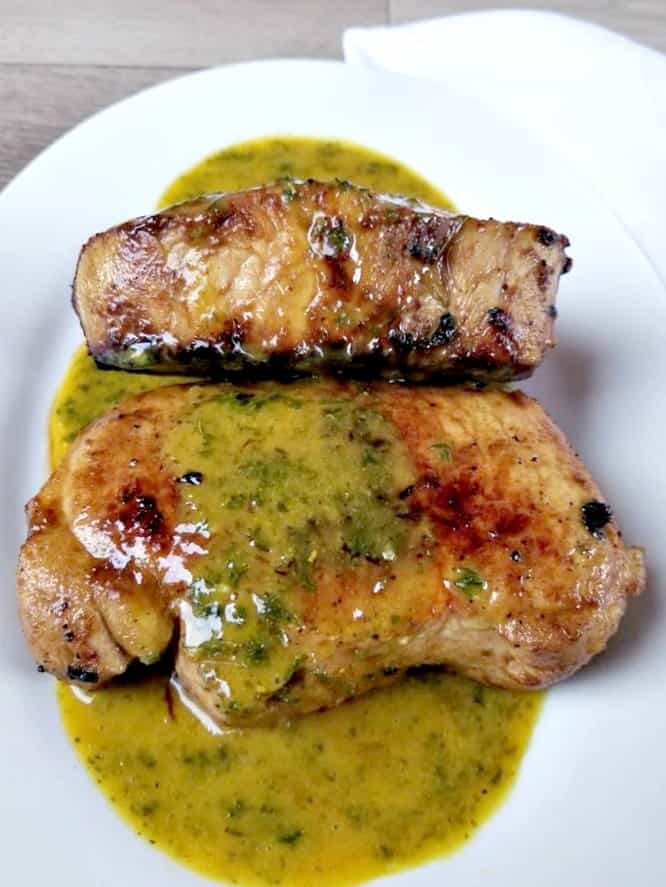 To prepare the pork you will want to sear chops in a non stick frying pan with a little butter, rosemary and seasonings. Each side will take about 8 minutes to cook, while cooking baste with butter in the pan.
LOOKING FOR MORE GREAT RECIPES FOR PORK CHOPS?
Or an Excellent Side Dish?
Note: These chops can be done on the grill as well. Save the marinade to cook on the stovetop for a juicy sauce that can be served right overtop.
I'm thrilled you are reading one of my recipes, if you made this recipe i'd love to hear about it! Thank you and until next time see ya in the kitchen. Don't want to miss a recipe? Sign up for our NEWSLETTER delivered right to your inbox!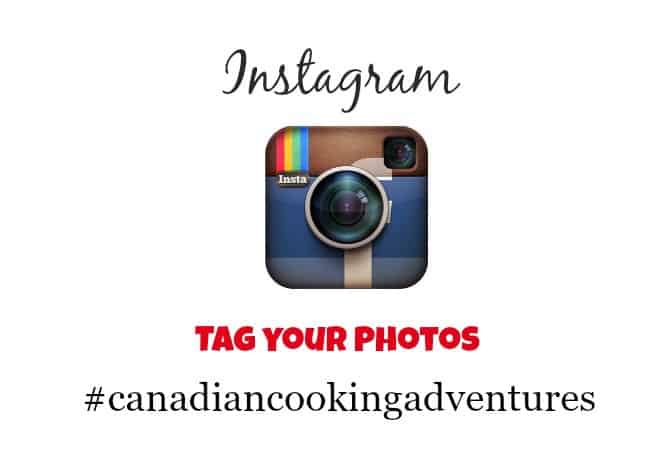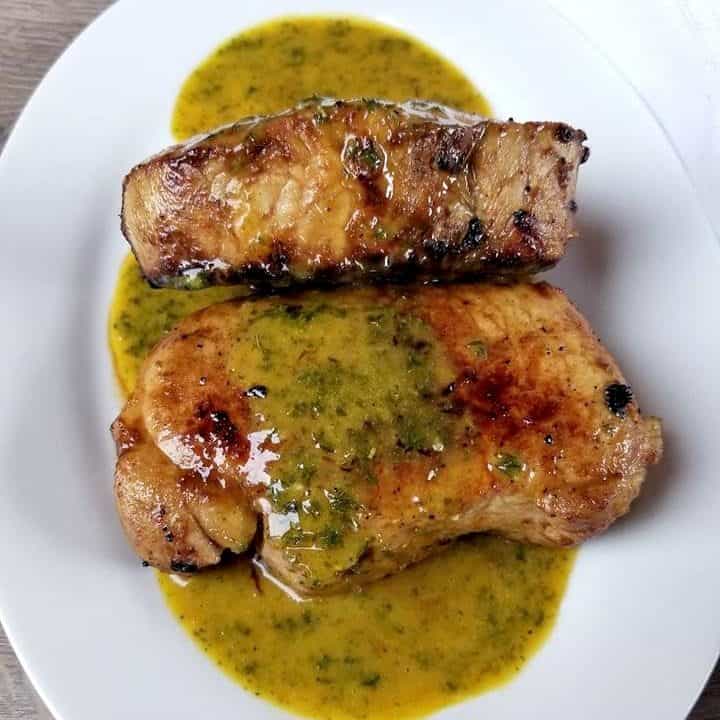 Mustard Honey Pork Chops
These pork chops are full of flavor!
Ingredients
3 Boneless Pork Chops
3 tbsp Butter
1 tsp Salt
1 tsp Black pepper
3 tbsp Dijon Mustard
3 tbsp Honey
3 tbsp Warm Water
1 tbsp Apple cider vinegar
1 tsp Garlic Powder
1 tsp Fresh Rosemary
1 tsp Fresh Dill
Instructions
Start by seasoning the pork chops on either side with salt and pepper then place them aside.
In a medium size bowl make the marinade. Start by adding in the liquid honey, warm water, apple cider vinegar, dijon mustard, garlic powder and rosemary. Mix everything to combine then place the seasoned pork chops into the bowl and coat the chops well.
Place the chops in the fridge covered with saran wrap from anywhere from 1 - 24 hours to marinade
Once the chops have marinaded, remove the chops from the marinade with a fork and place them into a butter frying pan. Sear the chops on either side for around 7 minutes and or until browned and cooked. Be sure to baste the pork chops with the butter as your cooking them, this helps to create an amazing flavor to the chops.
Once the pork chops have cooked fully, remove them and place on a serving plate.
Add the leftover marinade to the pan along with 1 more 1 tbsp of butter and finely chopped fresh dill. Simmer this sauce mixture for 2 minutes over medium heat.
Pour the sauce over the plated chops, serve and enjoy!
Nutrition Information:
Yield:

3
Serving Size:

1
Amount Per Serving:
Calories:

496
Total Fat:

31g
Saturated Fat:

14g
Trans Fat:

1g
Unsaturated Fat:

15g
Cholesterol:

133mg
Sodium:

1392mg
Carbohydrates:

20g
Fiber:

1g
Sugar:

17g
Protein:

38g