Ingredients
8 tbsp

Extra Virgin Olive Oil

3

Boneless chicken breasts

Seaonings

1 tbsp

Salt and pepper (to taste)

2 tbsp

Fresh chopped parsley
Directions
Hi guys, I hope your day is going well. If not this dinner is sure to put a smile on your face. It's super healthy for you and full of flavor. I just know that your going to love it as much as we do. Everything you see here is baked together on one pan making it a breeze to prepare. You will have dinner on the table tonight in 30 minutes time. It doesn't get any easier, tastier than this.
Absolutely delicious!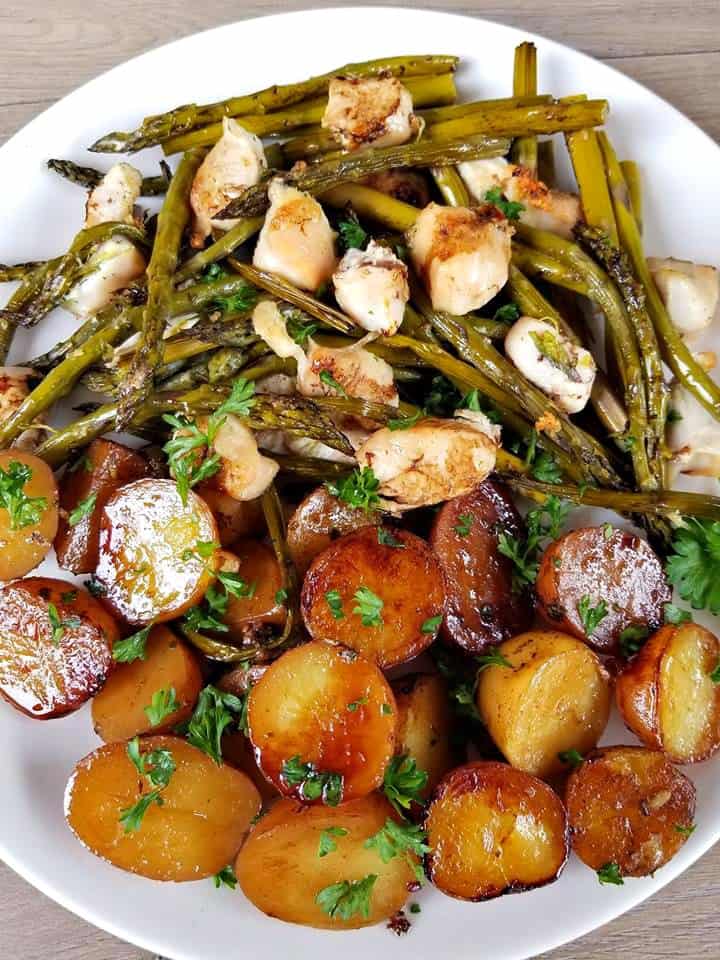 Be sure to pick up some mini potatoes for this recipe, they work best and cuts the cooking time down. I like to place all the mini potatoes face side down on the bottom of the pan. This helps them to brown nicely in a little olive oil. Then top with the asparagus and chicken before drizzling more olive oil over top along with balsamic vinegar and season appropriately. Bake for 30 minutes and then you ready to serve or section off into meal preps.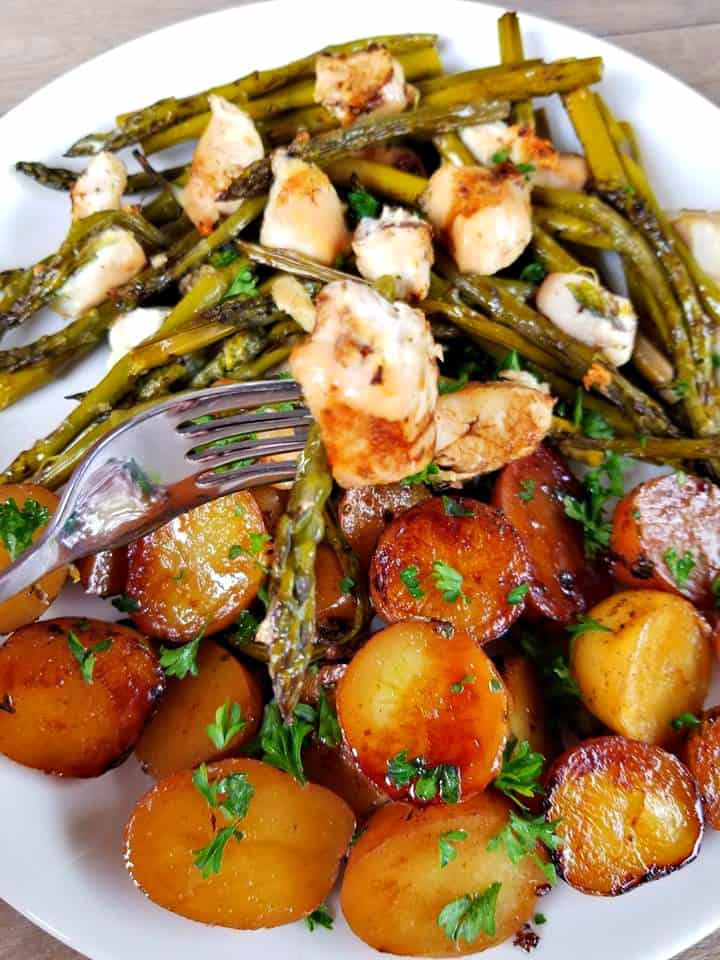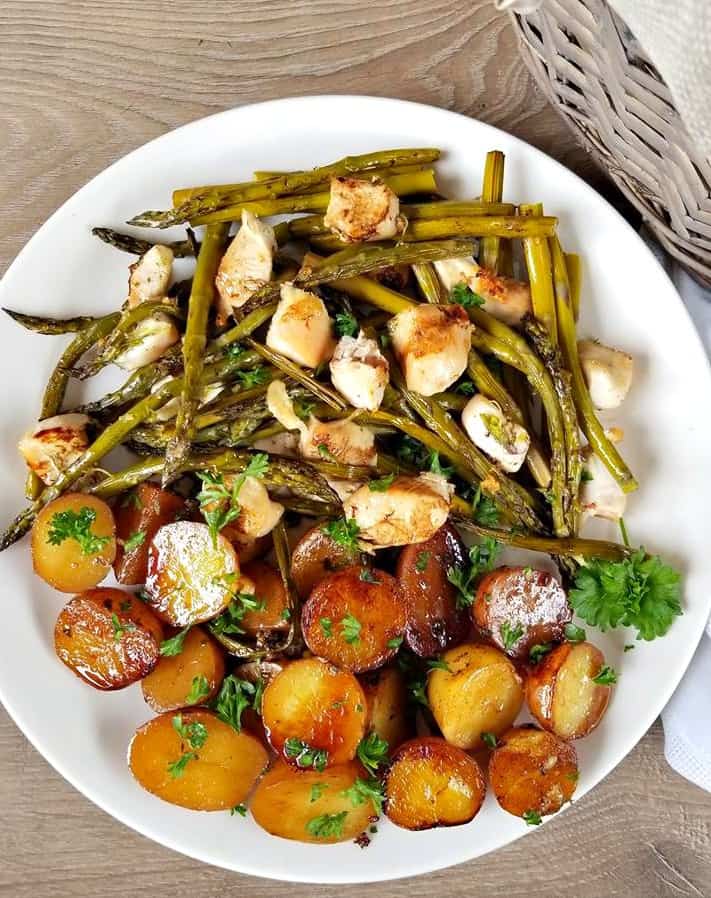 You have three options when it comes to cooking the chicken, you can cube it like I do or you can slice it or leave the breasts whole. Cubing or slicing it does dry the chicken out some, so be sure to drizzle more olive oil and balsamic overtop of it before baking. If you end up giving it a try I would love to hear what you think of it in the comments below. Super satisfying this is sure to hit the spot if your craving roasted vegetables tonight! You can always skip the chicken and make this a vegan dish. I hope you give it a try, Bon Appetit!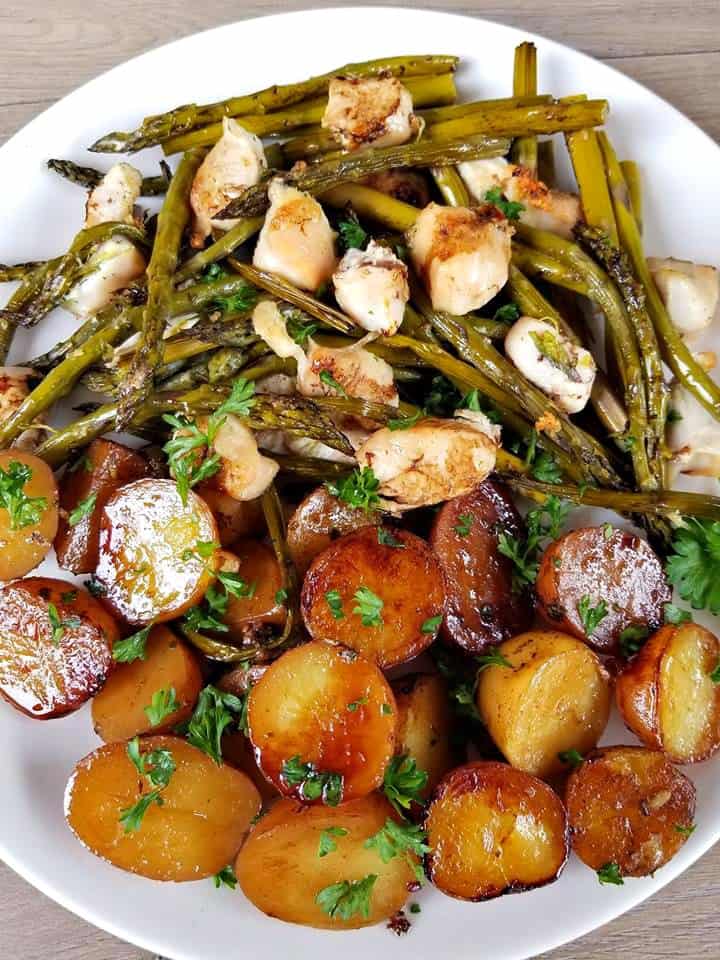 To make the Balsamic Chicken with Roasted Vegetables (One Pan)
Start by washing your mini potatoes and asparagus.
On a chopping board, slice each mini potato in half then set them all aside.
On the same chopping board, snap the bottoms off the asparagus and cut each stem in half then set aside.
On a large baking pan, drizzle 4 tbsp of olive oil and spread out.
Place each mini potato face down and top with the halved asparagus.
On a chopping board dice your chicken how you would like it or leave whole.
Place the chicken whole on top the potatoes or spread out if diced.
Season with salt and pepper, garlic powder.
Drizzle 4 more tbsp of olive oil overtop and 10 tbsp of balsamic vinegar.
Bake at 375 F for 30 minutes.
Drizzle with 2 more tbsp of balsamic vinegar  and sprinkle with fresh chopped parsley.
Serve and Enjoy!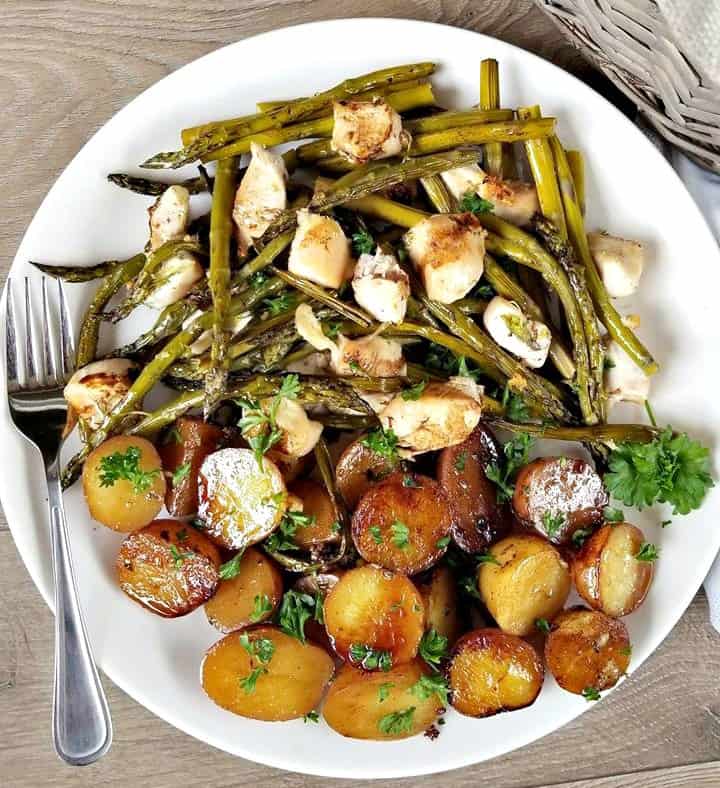 MEAL PREP IDEA: Make enough to create a few meal preps bowls for the week ahead!  This recipe feeds four, so if your wanting more? Simply adjust the recipe above with my simple recipe adjuster.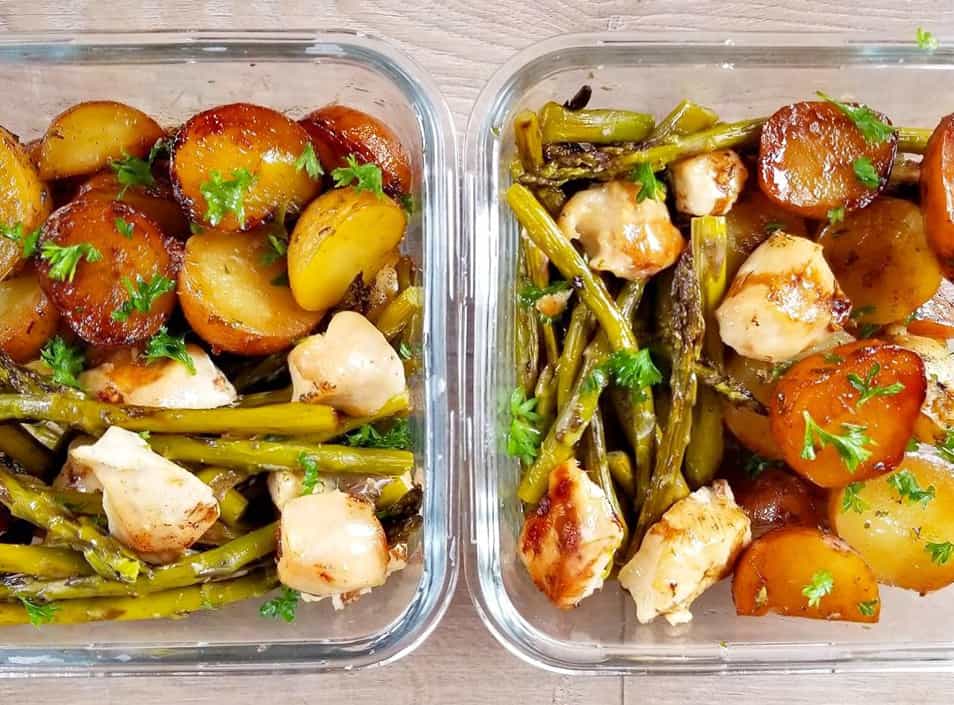 I am so thrilled you are reading one of my recipes, if you made this recipe i'd love to hear about it! You can post a review, picture below or via Instagram and let me know how it turned out. And by doing so you will be automatically entered into our seasonal CONTEST to win one of our great prizes. Winner will be notified via email within a week after the contest closes. Thank you very much for reading and until next time see ya in the kitchen. Don't want to miss a recipe? Sign up for our NEWSLETTER delivered right to your inbox every Month!
PIN IT FOR LATER