Ingredients
2 large

Beetroot

washed and stems removed

Dressing

Pinch of Salt and Pepper to taste
Directions
Awww Fresh Beets, is there any other vegetable like it? Once you start to learn to prepare and cook beets, you may find yourself loving everything about them. The stems and leafs are even edible so nothing goes to waste here. The nice thing about fresh beets, is the cooking process, it's super simple. So let me show you, how you too can cook and prepare beets at home. So say goodbye to those canned variety, "trust me" because once you have fresh beets there is no going back. This recipe serves two for dinner and four as an appetizer, best served warm.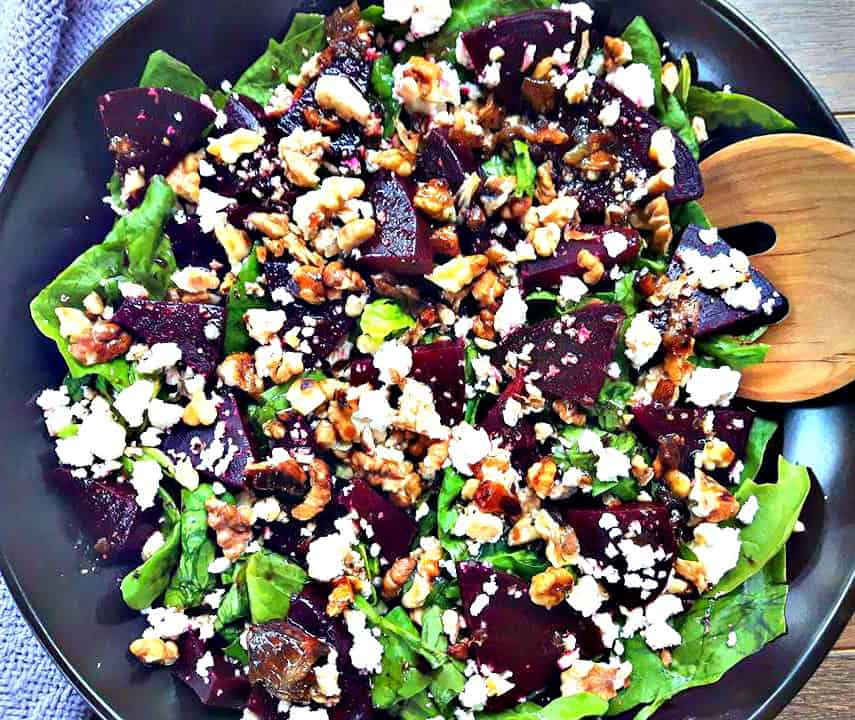 Kitchen Essentials: 
tinfoil
2 bowls for mixing and one bowl for serving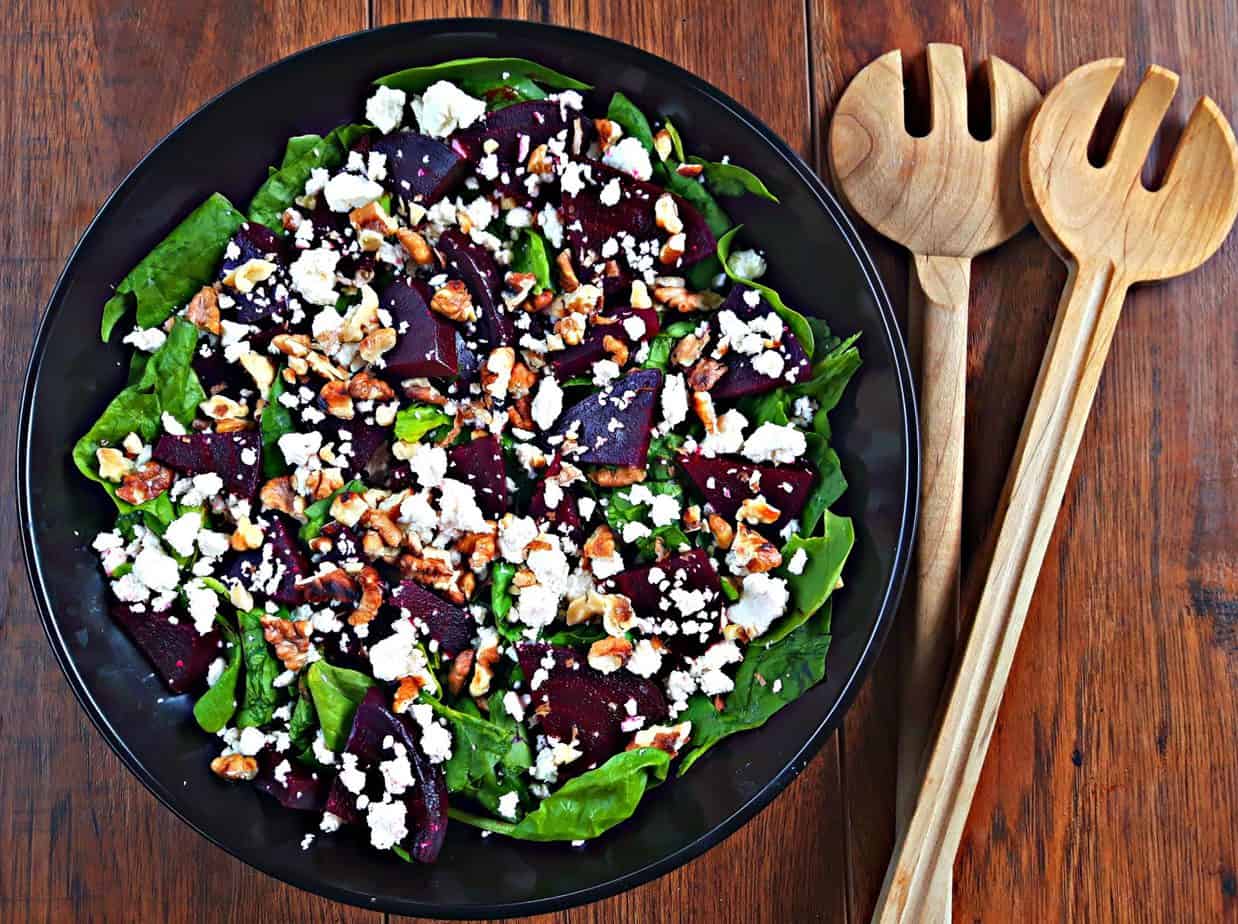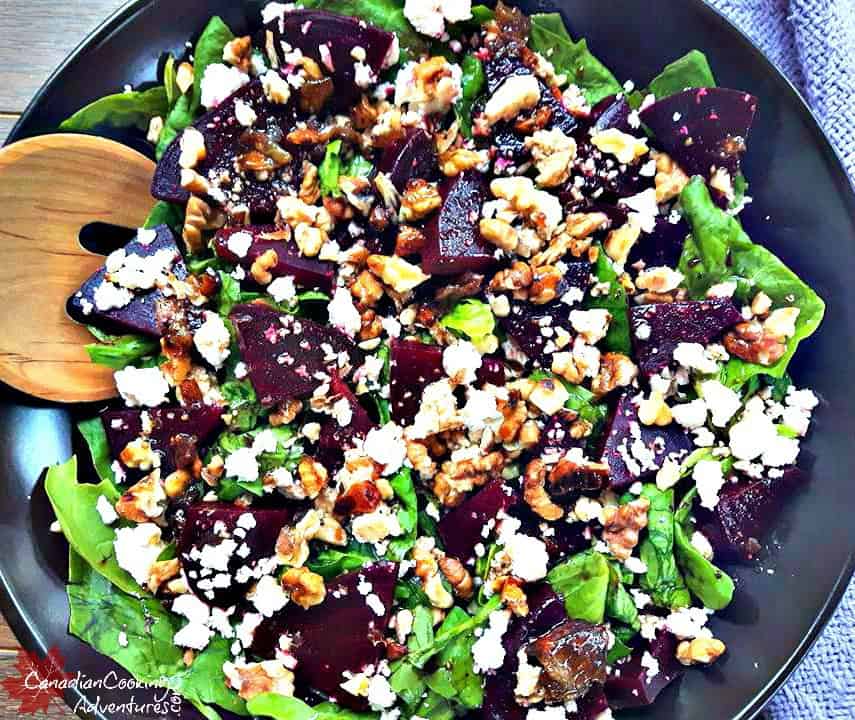 To make the Dressing:
Pour your Balsamic Vinegar into a bowl
Warm your honey in the microwave, preferably use natural honey (most European markets sell the real stuff)
Mix well and add a pinch of salt and pepper
Along with your peeled roasted garlic and smash it before putting into the dressing.
Pour over your salad.
To make the Salad:
Pre heat oven to 400 degrees F.
Wrap 3 garlic cloves with the skin on in aluminum foil and place on the top shelve in the over while your beets are cooking.
Wash and remove the beet stems and wrap them too in aluminum foil, place on a baking sheet, and roast in the oven until cooked through, approximately 45 to 60 minutes.
Remove from the oven, and let it cool slightly enough so you can peel off the skin.
Slice into 1/4-inch thick slices, and chop in quarters.
Toast your Walnuts for just five minutes on the stove or in the oven. (This really brings out their flavor)
Top with toasted walnuts, feta cheese and your dressing.
Serve warm.
Notes: Peel your beets while there warm, otherwise there too hard to peel cold. Also its best to buy your feta cheese in cubed, this way it retains its amazing flavor. And don't throw out the beet greens as they are packed with nutrients that may strengthen your immune system, support brain and bone health, and more.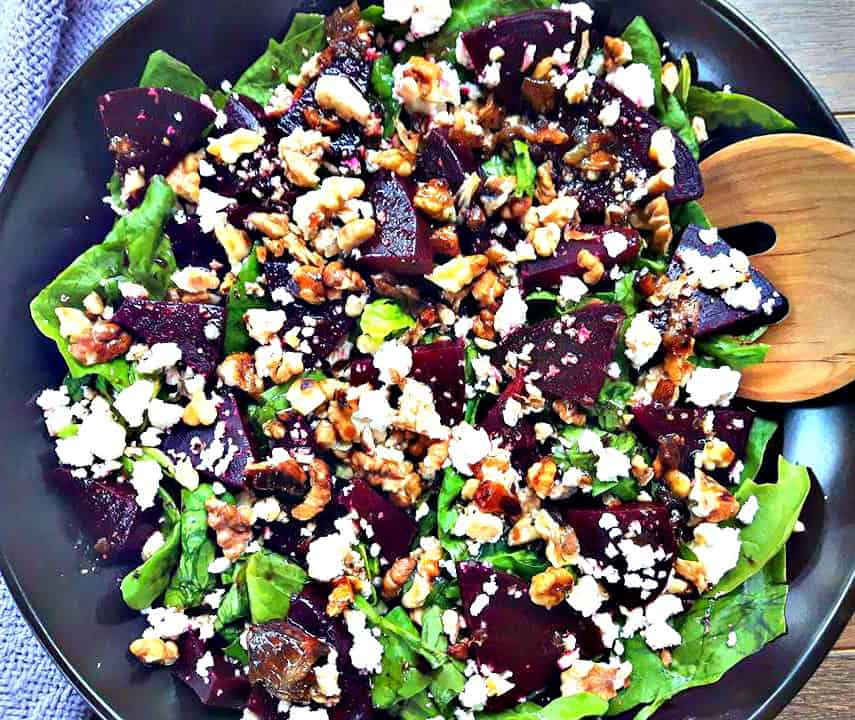 I am so thrilled you are reading one of my recipes, if you made this recipe id love to hear about it! You can post a review, picture below or via Instagram and let me know how it turned out. And by doing so you will be automatically entered into our seasonal CONTEST to win one of our great prizes. Winner will be notified via email within a week after the contest closes. Thank you very much for reading and until next time see ya in the kitchen. Don't want to miss a recipe? Sign up for our NEWSLETTER delivered right to your inbox!