Ingredients
3

Boneless chicken breasts

3 tbsp

Szeged Chicken Rub

1 tbsp

Fresh Jalepeno

chopped

1 cup

Baby tomatoes

havled

1 large

Orange Pepper

chopped

Dressing (see recipe below)
Directions
This Corn on the Cob salad is full of flavor and very healthy dinner option.  It's made with fresh sweet corn on the cob, Szeged seasoned chicken breasts, avocados, baby tomatoes, orange peppers and some chives.
Then it is topped with my homemade "Creamy Lemon Lime Vinaigrette" which makes for a very tasty carb and gluten free meal. 
The sweet corn and orange pepper give this salad a hint of sweetness! Mix that with this tangy dressing and you have yourself one great salad.
As you may know I'm obsessed with "Szeged Chicken Rub" it's so very versatile. I use it alot when I'm cooking chicken.
If you have never tried it, then I really encourage to order it either from the link that I provided below with Amazon or search your local grocery for it. Trust me it's the bomb!
So here we are full swing into summer, finally. And fresh corn on the cob is now available at most grocery stores and outdoor markets!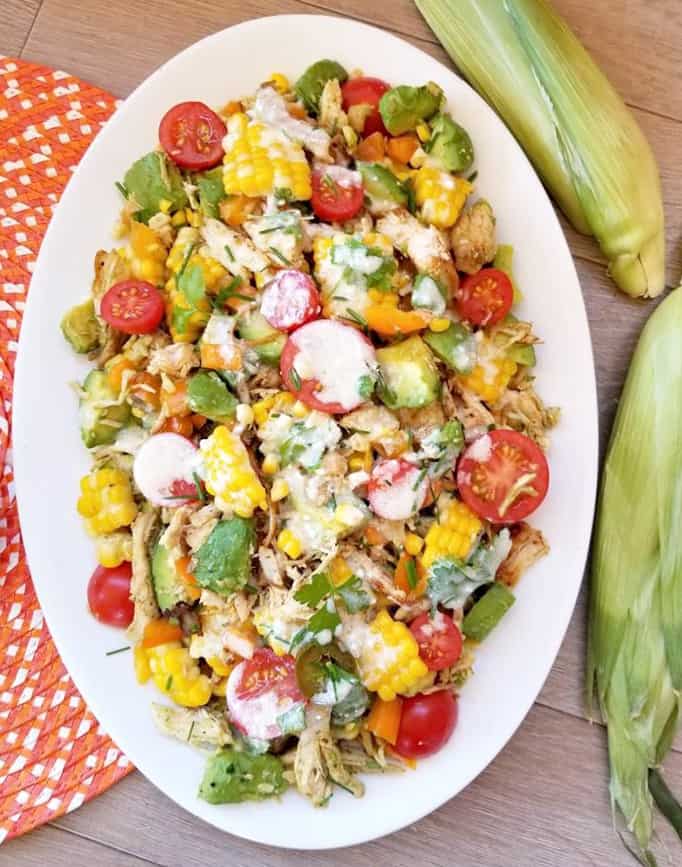 Sweet corn on the cob is one of my most favorite summer time vegetables. And I just picked up a bunch recently from my local farmers market along with a orange pepper that I used in this recipe. The baby tomatoes, cilantro and chives came straight from my little garden.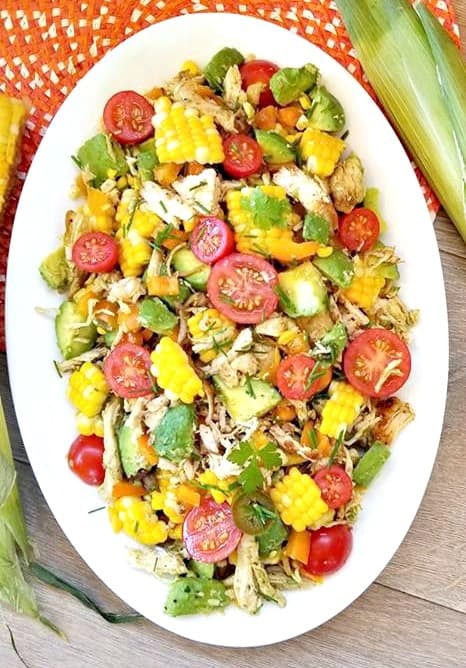 Your going to want a light Vinaigrette to accompany this salad, so i'm sharing that recipe with you too. It is not only perfect for this particular salad it also can be stored in the fridge for up to 3 weeks and used on plenty of other salads.
The Creamy Lemon and Lime Vinaigrette gives this salad  extra depth of flavor that your sure to love. It's best to eat this dish right away, fresh is always best. However you can store it in the fridge in a sealable container/meal prep type bowl for a couple days ahead if desired.
Just be sure to only pour the vingarette overtop once your ready to eat it, otherwise you bare the chance of having mushy avocados.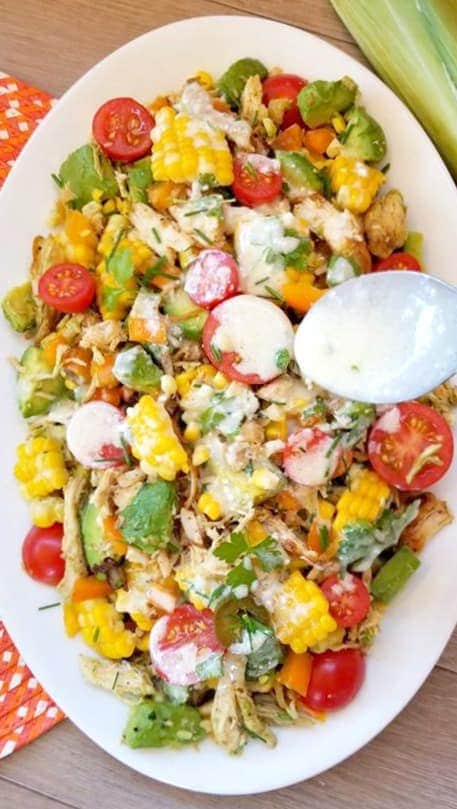 Here is my recipe for: Creamy Lemon and Lime Vinaigrette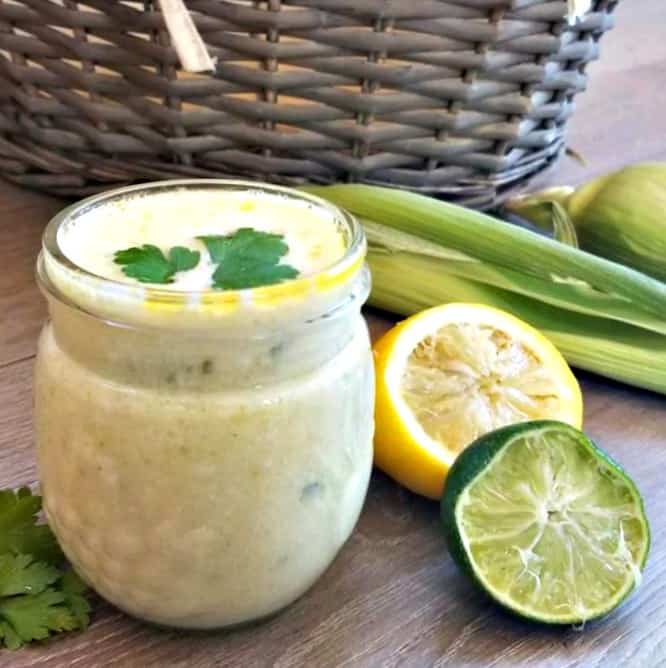 If wanting  your to feed more people than what this recipe does. Then I recommend doubling this recipe up with my easy to use recipe adjuster above and then you can serve a larger group.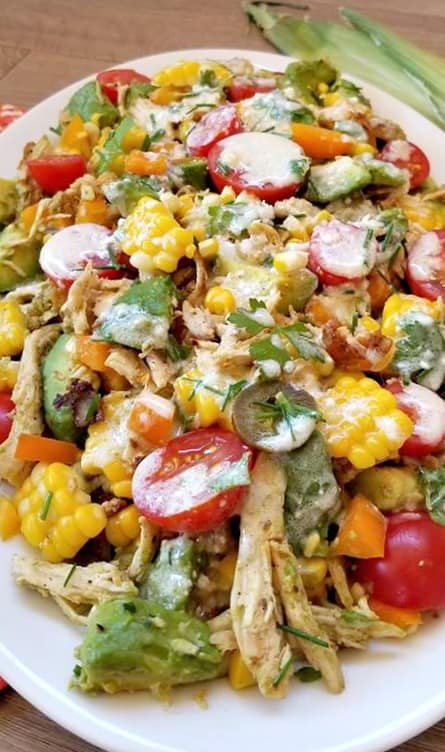 Meal Prep Inspiration: Store in sealable containers for up to 3 days in the fridge, just make sure you are using firm avocados and not putting the dressing on top till your ready to eat.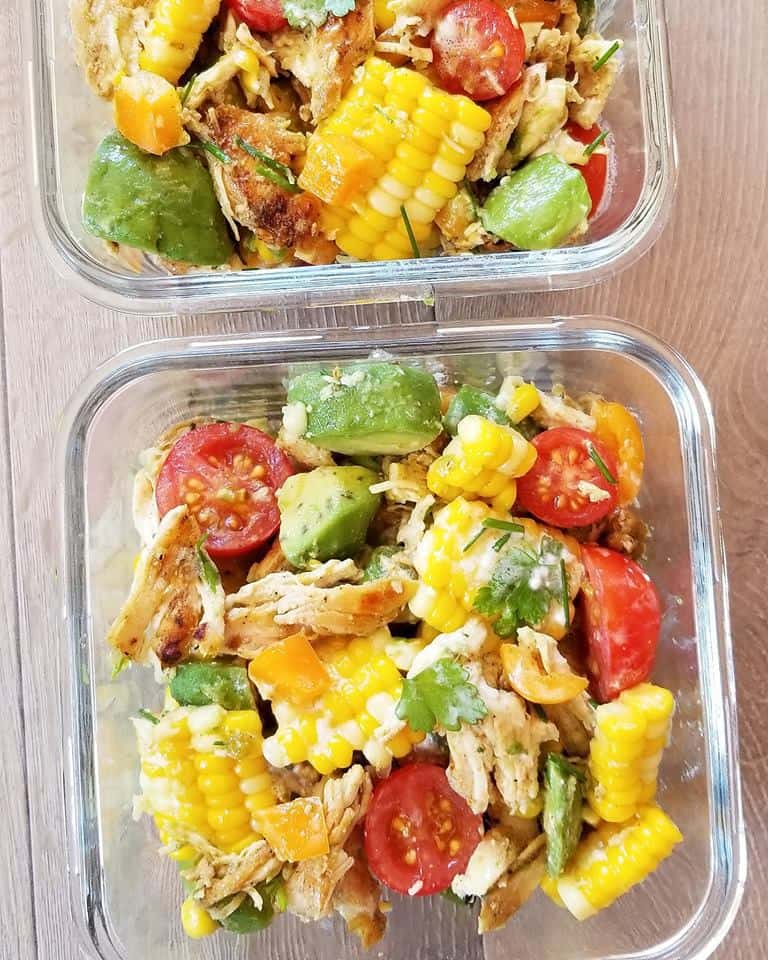 What are some of your favorite summer time salads? 
I am so thrilled you are reading one of my recipes, if you made this recipe i'd love to hear about it! You can post a review, picture below or via Instagram and let me know how it turned out. And by doing so you will be automatically entered into our seasonal CONTEST to win one of our great prizes. Winner will be notified via email within a week after the contest closes. Thank you very much for reading and until next time see ya in the kitchen. Don't want to miss a recipe? Sign up for our NEWSLETTER delivered right to your inbox every month!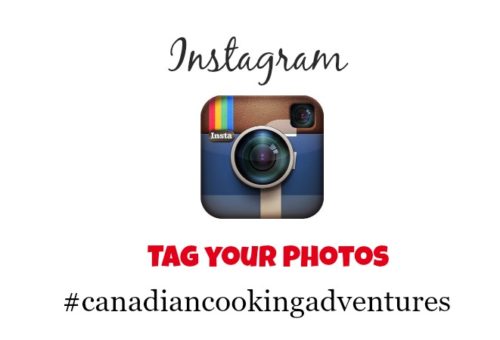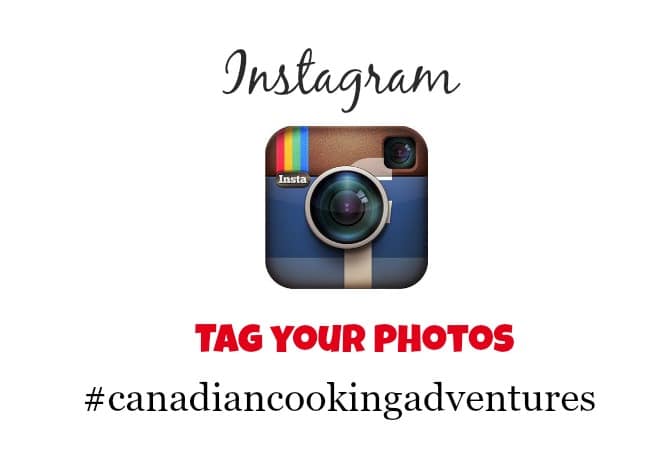 PIN IT FOR LATER
Steps
| | |
| --- | --- |
| | To make the Corn on the Cob Salad: |
| | Now rinse and clean the chicken breasts and on a large cutting board season generously with "Szeged Chicken Rub" then place them into a non stick skillet "use some olive oil if necessary" and cook till browned on all sides and no longer pink. Remove from the heat and set aside on a cutting board to shred once it cools down. |
| | Now on another cutting board, slice the baby tomatoes in half, then dice the orange pepper, chop the avocados and jalapeno peppers. "I like to use Jalapeno peppers from a jar" this way removing the seeds is easiest. |
| | Next toss those ingredients into a large salad bowl and on the same cutting board. Start to remove the corn from the cooled cobs with a large knife. Allow the pieces to fall off into larger chunks and toss that into the salad. |
| | Last shred the cooked chicken with either your hands or two forks, toss into the salad bowl. |
| | |
| | Serve as is or alongside your favorite Vinaigrette or salad dressing. Enjoy! |