Ingredients
2 large

Boneless Pork Chops

Peach Salsa

1/2

Orange Pepper

chopped

1 tsp

Fresh Jalepeno

finely chopped
Directions
This diner looks a little fancy, but trust me it really takes no special technique at all to prepare. So if you like pork with a hint of sweet/spicy flavors then you can't go wrong with this recipe here.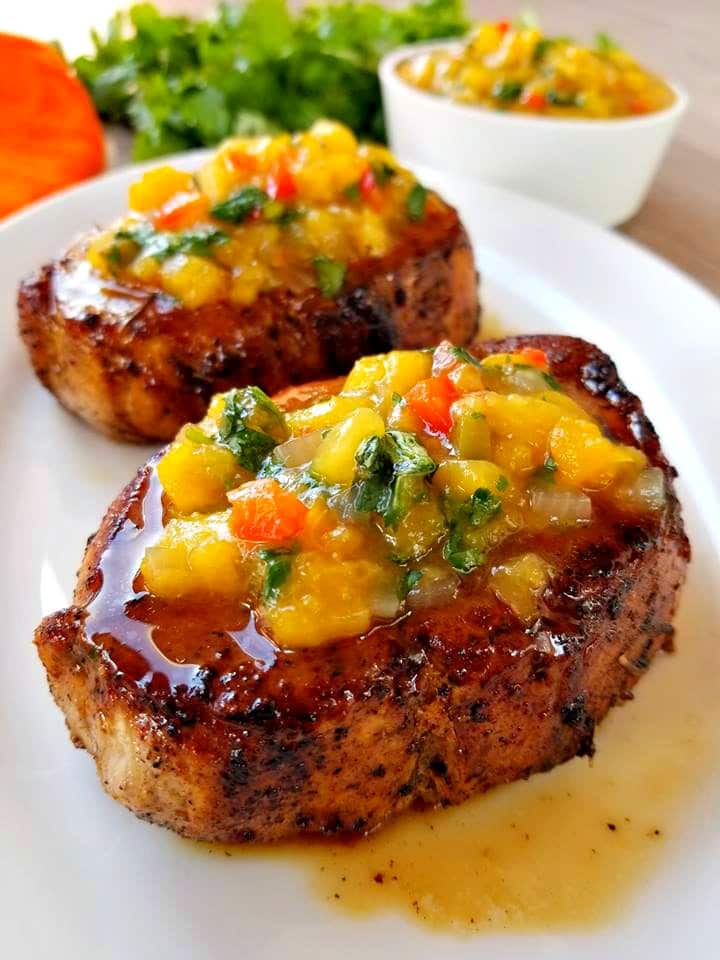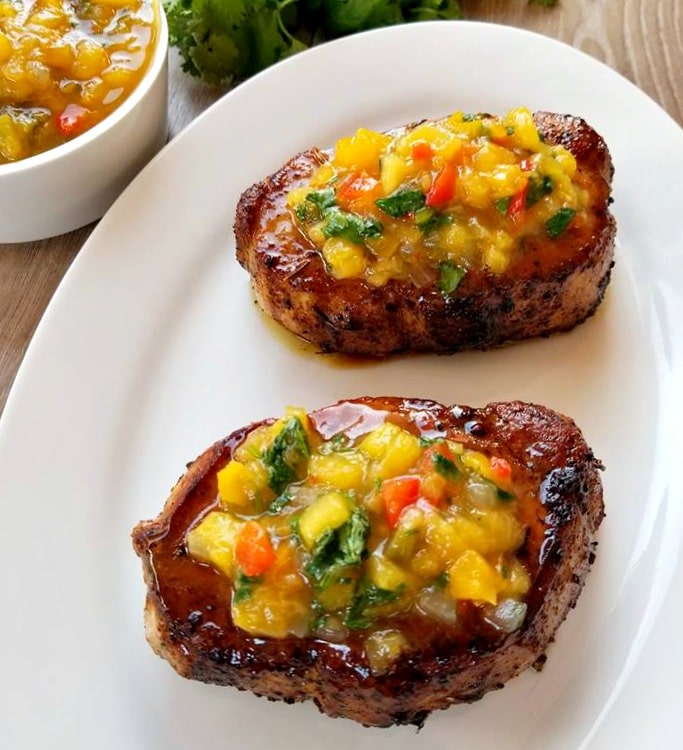 Go ahead and serve these pork chops with mash potatoes or a salad of your liking. They really go well with either option or just enjoy as is with lots of peach salsa.
I just love the way the rosemary and garlic butter flavors the pork, it melts in your mouth and to be honest I have yet to try something this good in the restaurants.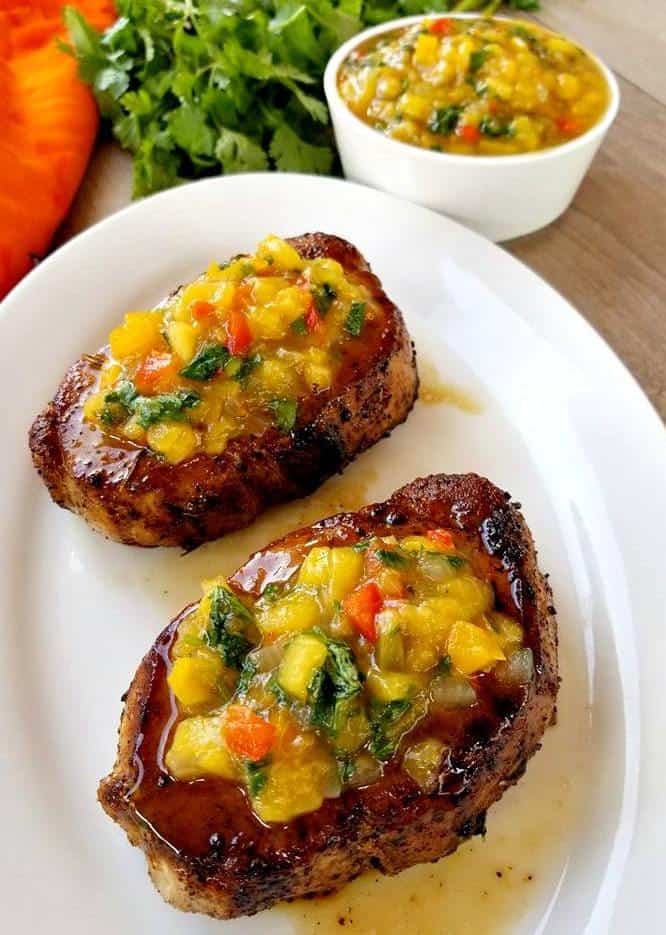 The trick to cooking the best pork chops is to use ample butter, because you are going to be basting the pork in the butter while it cooks. Giving it it's depth of flavor and also helps to keep it moist and juicy.
The second trick is to season the pork chops generously on both sides prior to cooking with salt and pepper. If you follow those two tips alone you are sure to prepare the best pork chops ever. Also feel free to use bone in pork chops, pork loin or ribs.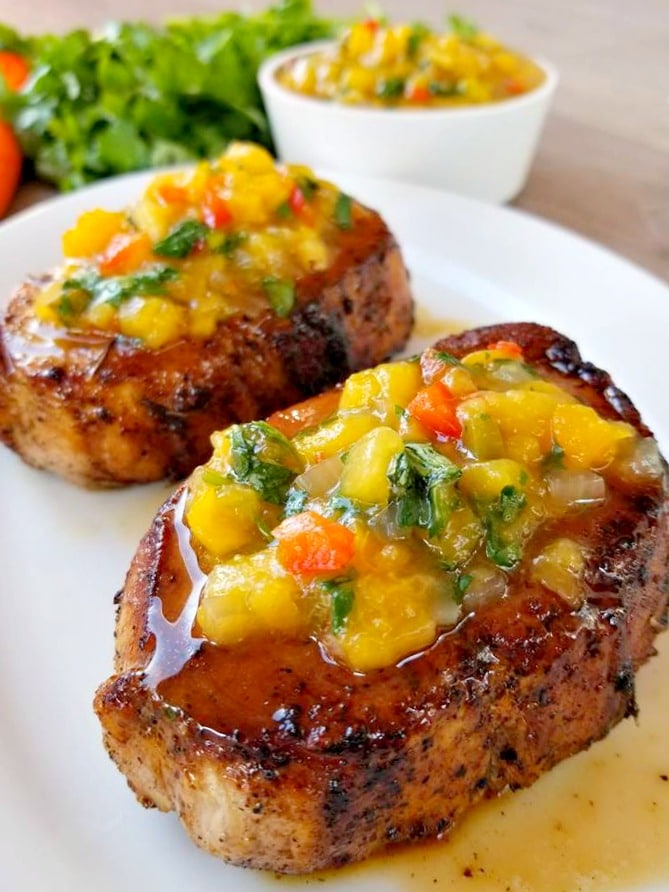 First you will want to prepare the salsa in advance and store it in the fridge for more than one hour. This really helps the flavors to set into the peaches and makes for an excellent topping to these pork chops.
To prepare the pork you will want to sear chops in a non stick frying pan with a little butter, rosemary and seasonings. Each side will take about 8 minutes to cook, while cooking baste with butter in the pan.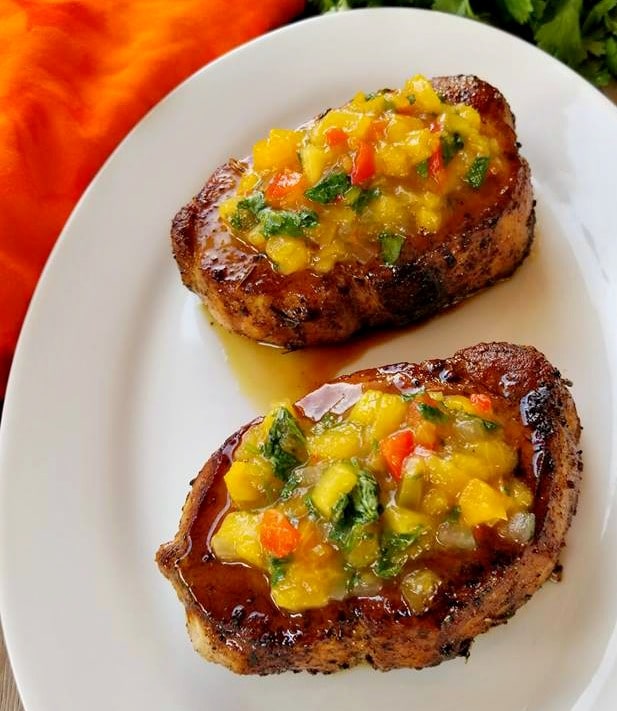 Looking for a side dish? try my "Rosemary Garlic Roasted Mini Potatoes"? I have left that recipe below for you to check out.
Note: These chops can be done on the grill as well, they just won't be as juicy. Also feel free to use pineapple in replace of peaches if desired.
Meal Prep Inspiration: Make more pork chops and slice them once cooked and place over some creamed corn and add the peach salsa. Stores in the fridge for up to 3 days.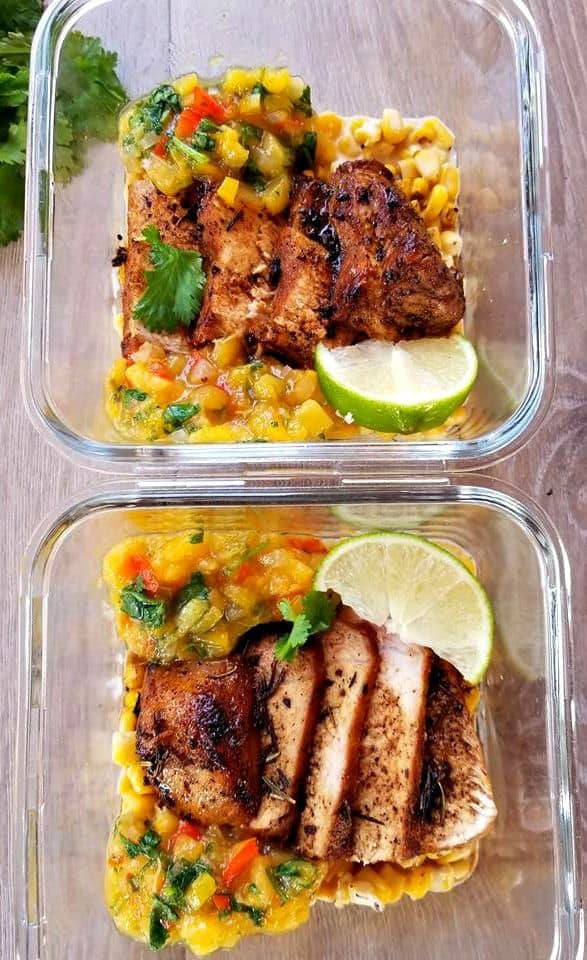 I am so thrilled you are reading one of my recipes, your visits and your comments are greatly appreciated. You can post a review below or via Instagram and let me know how it turned out. And by doing so you will be automatically entered into our seasonal CONTEST to win one of our great prizes. Winner will be notified via email within a week after the contest closes. Thank you very much for reading and until next time see ya in the kitchen. Don't want to miss a recipe? Sign up for our NEWSLETTER delivered right to your inbox!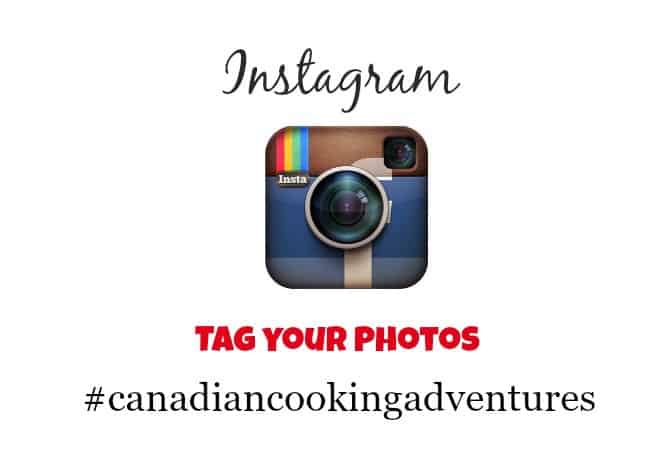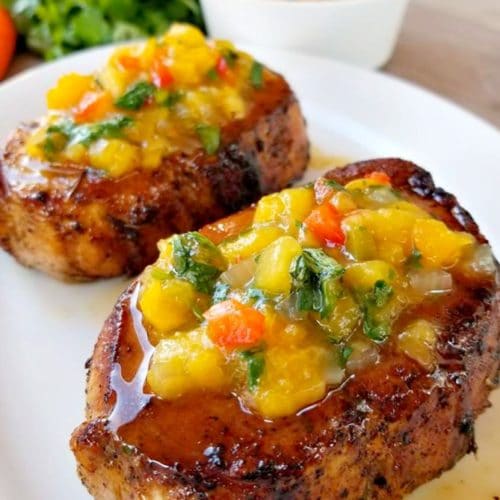 Print Recipe
Rosemary Pork Chops with Peach Salsa
Juicy Pork Chops served alongside a peach salsa
Ingredients
2

Large Boneless Pork Chops

3

tbsp

Butter

1/2

tsp

Garlic Powder

1/2

tsp

Dried Rosemary

1/2

tsp

Dried thyme

1/2

tsp

Salt

2

Garlic

1

tsp

black pepper
PEACH SALSA
2

Large ripe Peaches

chopped finely

1/2

Orange pepper

finely chopped

1/2

cup

Cilantro

chopped

1//2

White onion

finely chopped

1

tbsp

Fresh Jalapeno

finely chopped

1 tsp

Jalapeno Sauce

*optional

2

tbsp

Lime juice

Salt to taste
Instructions
Start by making the peach salsa, chop all the ingredients up very finely. Then store in the fridge for a minimum of one hour to allow the flavors to merge.

Then season the pork chops on either side with salt and place them into a medium non stick frying pan, and sear over medium to high heat. Add in the butter, thyme, rosemary and baste the pork on each side cooking till no longer pink.

Once the pork chops have cooked fully, place on a plate and allow them to set for 5 minutes before topping with your homemade "peach salsa" Enjoy!
PIN IT FOR LATER