Directions
This

Simple Potato Salad Recipe

has hints of lemon and paprika in it and is made with russet potatoes, eggs, garlic powder and is seasoned just right.
Let me tell you, this recipe is something special. Just cause I call it a Simple Potato Salad recipe does not mean it is not GREAT!
I can say that because I was never much of a fan of potato salad. Probably because the kind I was used to was to sweet and full of mayo. But this one is different and super tasty!
There is nothing like homemade potato salad, nothing. So if you're looking for one that is a bit different than the average potato salad recipe out there than your going to want to try this one.
I came up with this recipe recently as I wanted to bring something a bit different to a potluck party I was attended. It turned out to be a major hit with everybody!
For this recipe I made a separate dressing on the side, then once the potatoes and eggs cooked and cooled I combined them all together by mashing with a potato masher.
Then poured the chilled dressing overtop to combine.
My dressing calls for full fat mayonnaise, so if your wanting a lower calories dressing. Then feel free to use a lighter variety or substube half of the mayo with plain yogurt.
You can use just about any type of potato to make this potato salad, however I like to use the russets because the skin just peels off very nicely once cooked.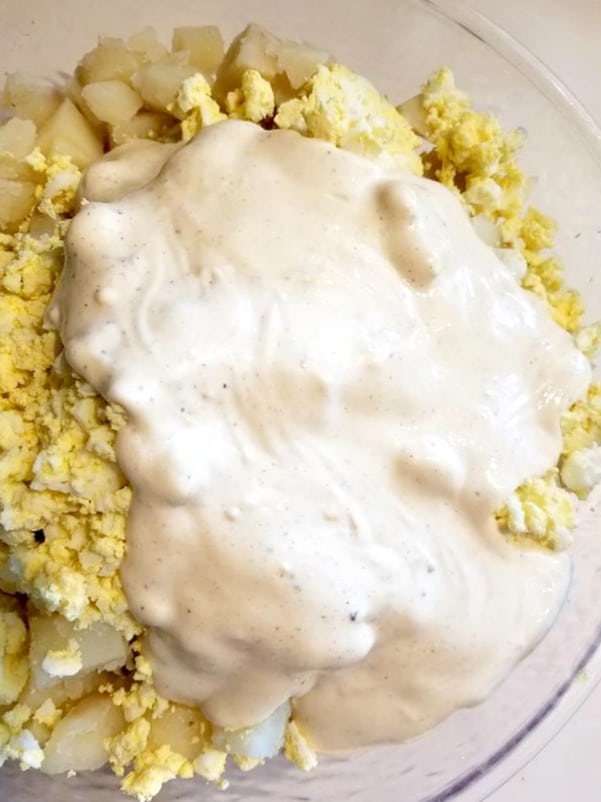 And that is exactly what you will want to do. Simply bring a large pot of boiling water to a rapid bowl, then dump in the potatoes slowly and allow them to cook till fork tender.
Once cooked you will simply strain the water out and soak them in ice water till cooled. Once cooled all you will need to do is peel the potatoes with your hands. Easy enough eh!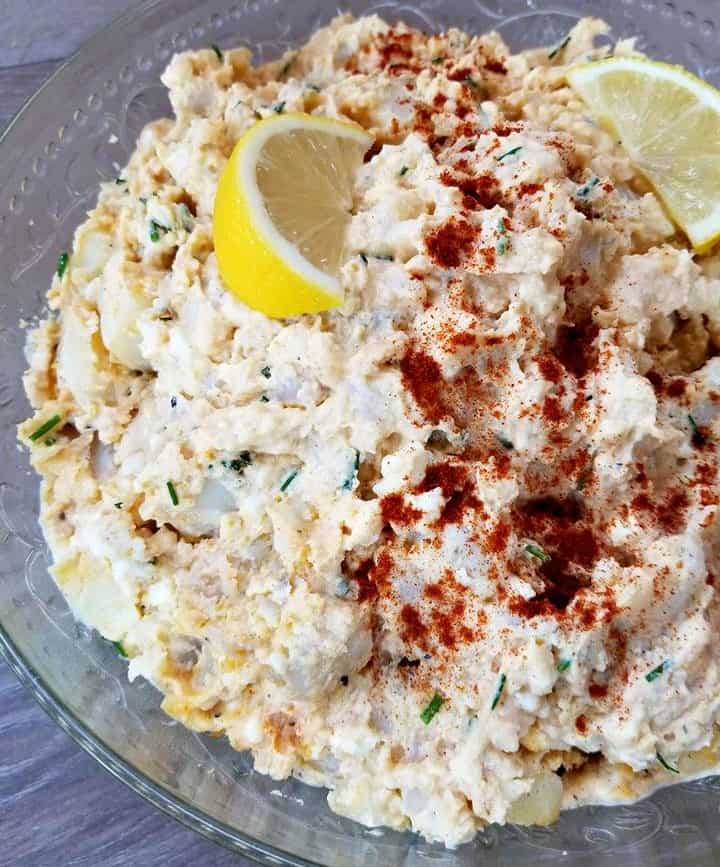 If your wanting to feed less people or more peoples simply use my recipe adjuster above. The ingredients amounts with change according to how many people you want to prepare this for.
I am so thrilled you are reading one of my recipes, if you made this recipe i'd love to hear about it! Thank you very much for reading and until next time see ya in the kitchen. Don't want to miss a recipe? Sign up for our NEWSLETTER delivered right to your inbox!
Simple Potato Salad recipe
Ingredients
8 large Russet potatoes
6 Eggs
1 Lemon
3 tbsp Paprika
3 tbsp Chives
DRESSING
1/2 cup Hellman's mayonnaise
2 tbsp Dijon Mustard
3 tbsp Apple cider vinegar
1 tbsp Garlic Powder
1 tbsp Salt and pepper, to taste
Instructions
Start by brining a large pot of water to a boil and then add in the russet potatoes. Lightly boil the potatoes over medium heat till fork tender, remove from the heat and run under or place in cold water until the potatoes have cooled down.
Next boil the eggs for 6 minutes till hard boiled, remove from the heat and place in a strainer and run or soak in cold water till cold.
MAKING THE DRESSING:
In a medium mixing bowl add in the mayonnaise, apple cider vinegar, dijon mustard, lemon juice, garlic powder, salt and pepper. Mix with a small whisk then set aside.
Peel the cooled potatoes with your hands and discard the skins, then on a cutting board cut each potato into six small pieces.
Next, crack and peel the eggs. Then with a potato masher, mash the eggs. Add the cubed eggs to a large bowl along with the mashed potatoes.
Now pour the homemade dressing overtop and mix with a large salad mixer.
Sprinkle with paprika powder and mix again till combined. Place the potato salad in the fridge covered anywhere from 6 to 24 hours before serving. Enjoy!
Nutrition Information:
Yield:

10
Serving Size:

1
Amount Per Serving:
Calories:

378
Total Fat:

13g
Saturated Fat:

3g
Trans Fat:

0g
Unsaturated Fat:

10g
Cholesterol:

117mg
Sodium:

611mg
Carbohydrates:

55g
Fiber:

7g
Sugar:

3g
Protein:

11g
These calculations are based off Nutritionix