Directions
This Indian

Eggplant Curry recipe is

also known as Brinjal Curry and is made with baby eggplants which are simmered in a rich tomato sauce and spices. So skip the takeout and save yourself some money making this at home instead!
Looking for more tasty vegetarian curry recipes, try my oh so popular Chickpea Spinach Curry or Red Kidney Bean Curry!
You have the option to fry the eggplant in oil till tender or baking them.
Totally up to you, personally I prefer to fry it in a bit of oil as seen below.
Make sure you are slicing the eggplant in four sections to allow for even cooking.
WHAT IS EGGPLANT CURRY
It is Indian eggplant that is either fried or baked that is simmered in a creamy sauce made of coconut milk, tomatoes, garlic and onions.
And a ton of amazing spices!
WHAT IS IN EGGPLANT CURRY
Coconut milk
Ground Tomatoes
Garlic and Ginger
SPICES IN EGGPLANT CURRY
Coriander
Cumin
Red Chili Powder
Green Cardamom
Garam Masala
Salt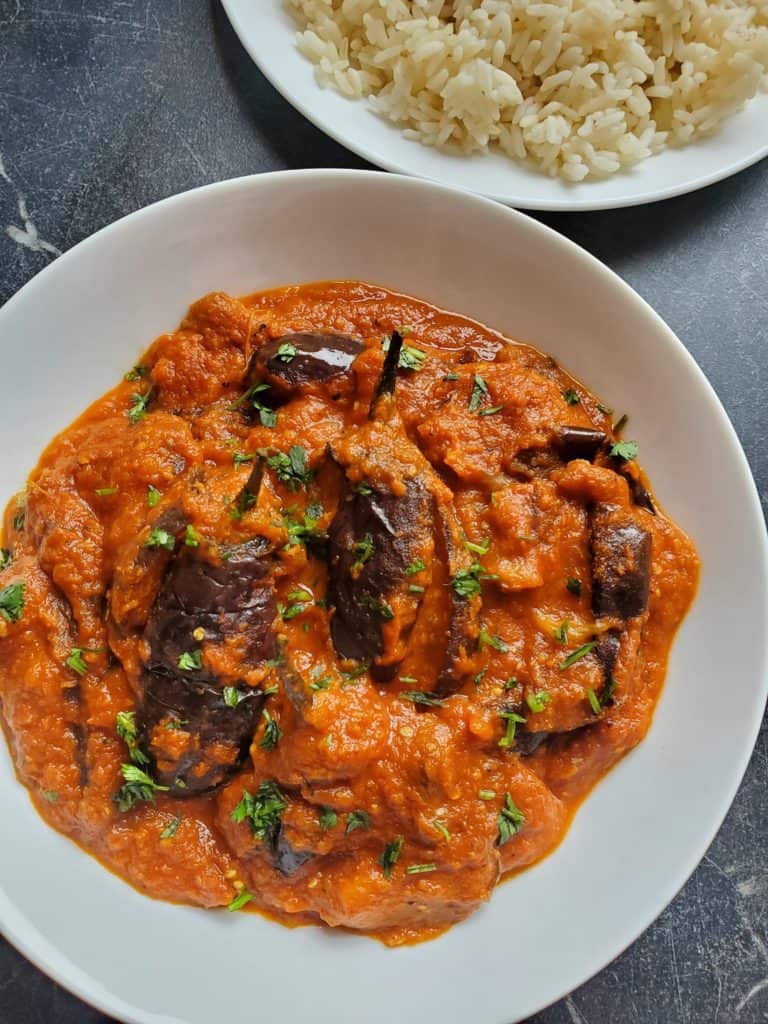 HOW TO MAKE INDIAN EGGPLANT CURRY – BRINJAL CURRY IN ENGLISH
See recipe card below!

This is a very popular vegetarian Indian eggplant dish that also is popular in Arab counties and is super simple to make, healthy and delicious!
Packed full of so many flavors and texture it's makes a satisfying and hearty meal.
Serve alongside some naan bread, or rice and don't forget to share.
LOOKING FOR A NAAN BREAD RECIPE?
Try my Garlic Naan Bread it's delicious!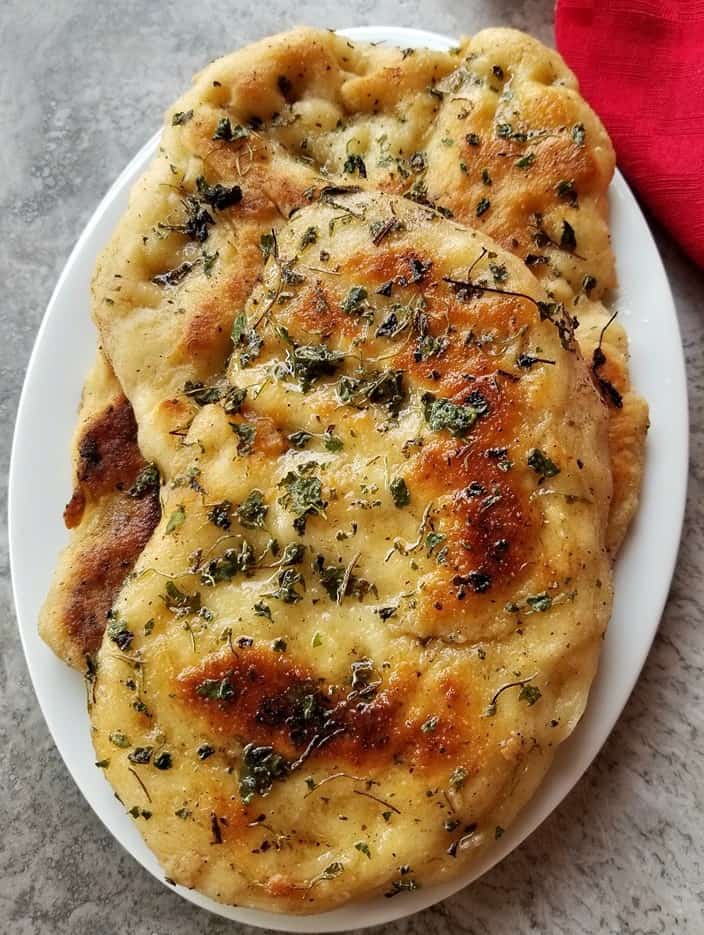 IS EGGPLANT CURRY HEALTHY
Yes, it is vegetarian and has tons of vegetables and spices in it.
If you want to make this dish even more healthy, you can bake the eggplant vs frying in oil
Eating vegetarian never tasted so good.
CAN YOU FREEZE EGGPLANT CURRY
Defiantly!
Note: If you are cooking on the stove top, omit the water. Otherwise it's needed in the pressure cooker.
I am so thrilled you are reading one of my recipes, if you made this recipe i'd love to hear about it! Thank you very much for reading and until next time see ya in the kitchen. Don't want to miss a recipe? Sign up for our NEWSLETTER delivered right to your inbox!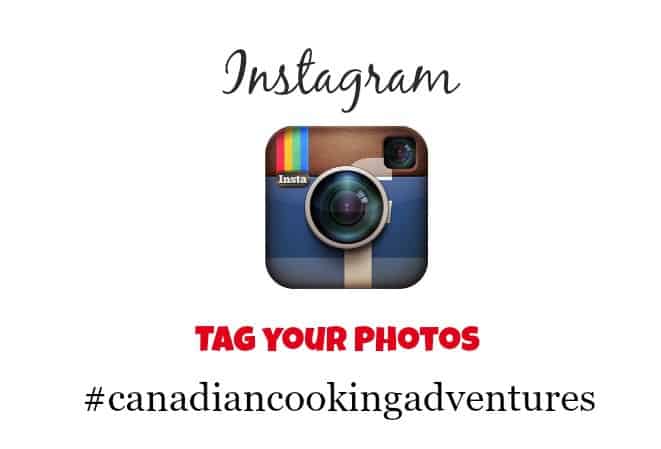 WANT MORE CURRY RECIPES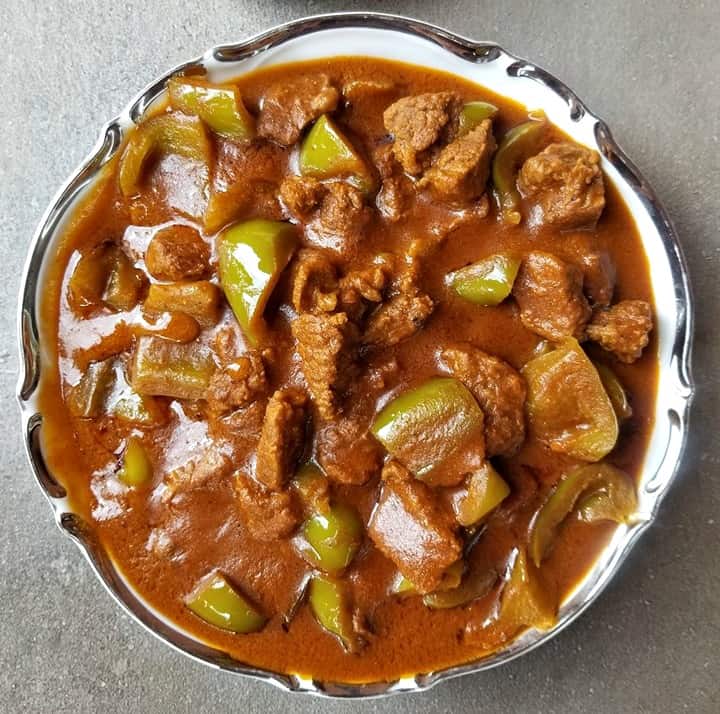 Eggplant Curry Recipe
Skip the takeout tonight with this easy to make curry!
Ingredients
FRIED EGGPLANT:
2 tbsp vegetable oil (or canola)
8 Small Indian Eggplant
5 large tomatoes
1 large onion
2 garlic cloves
1 1/4 cups water
1 1/4 tsp salt
3 tbsp coconut milk or cream, full fat
CURRY SPICES:
1 tsp ground gram masala
1 tsp turmeric
4 tsp cumin powder
1/4 tsp cardamom powder
1/2 tsp cayenne
4 tsp coriander powder
1/4 tsp ground cloves
1/4 tsp black pepper
1/4 tsp salt
Instructions
·Start by placing the fresh tomatoes, mustard seeds, onion, garlic in the blender.
·Blend till smooth then set aside.
Meanwhile, cut the eggplant into four sections but do not cut the eggplant apart from the
stem as it holds it together.
Then in a large pot heat the olive
oil and fry the eggplant turning often over medium to high heat till tender. About
10 minutes!
Next toss in the pureed tomato mixture and fry covered turning
often about 10 more minutes. You may want to add some more oil!
Add in all the spices and water
and simmer on medium low heat another 10 minutes
·Stir in water, and then add the cooked
eggplant.
Simmer on medium – low heat
covered for 15 minutes, stirring ever so often.
Add the coconut milk and taste
before serving to see if more salt is needed.
Gently stir, partially cover,
reduce heat to low and simmer 30 minutes. Stir carefully once or twice (so the
eggplants don't break up completely), add more water if it dries out.
Stir in coconut milk simmer uncovered 5 minutes on low heat, taste then add more salt if needed.
Serve with naan bread or rice.
Nutrition Information:
Yield:

2
Serving Size:

1
Amount Per Serving:
Calories:

1088
Total Fat:

36g
Saturated Fat:

11g
Trans Fat:

1g
Unsaturated Fat:

22g
Cholesterol:

54mg
Sodium:

1848mg
Carbohydrates:

186g
Fiber:

52g
Sugar:

72g
Protein:

36g
These calculations are based off Nutritionix