Directions
This

Chickpea Spinach Curry

is out of this world tasty and healthy vegetarian dinner option.
You can trust me when I say this recipe is a sure winner.
As I have experimented with plenty of curries in my lifetime.
Even if you are not vegetarian you are going to love it.
GUARENTED!
Not only is this recipe filling and good for you! It also is very inexpensive to make.
WHAT IS IN CHICKPEA CURRY
This dish is made with a can of chickpeas, coconut milk, vegetable stock, spinach, onions, tomatoes, garlic and ginger.
Then is seasoned with some special Indian spices to make it just right.
And can be served in just 30 minutes!
Making for a healthy and quick weeknight meal for you and whoever is lucky to dine with you.
IS CHICKPEA CURRY HEALTHY
Yes, chickpeas are packed full of protein and fiber and the tomatoes are also low in calories and unhealthy fats.
Then there is spinach and tomatoes added to this as well so that you have a well rounded meal.
HOW TO MAKE CHICKPEA CURRY
You will want to go down the ethnic food aisle in your local grocery to pick up some "Masala Curry" which is the right kind of powder that is really needed for this recipe.
Then you will add just a few more traditional Indian spices that will make this dish absolutely amazing.
Cooking methods: FULL RECIPE IN THE CARD (BELOW)
Simmer on a low-medium heat for 30 hour on the stovetop
Cook in the pressure cooker around 10 minutes or depending on your instructions
Cook in the slow cooker from 8-10 hours.
Be sure to make some basmati rice to serve alongside or if you really want to make it extra special go ahead and make some homemade Naan Bread.
CAN CHICKPEA SPINACH CURRY BE FROZEN
Yes, just make sure you are freezing them in sealed bags or containers.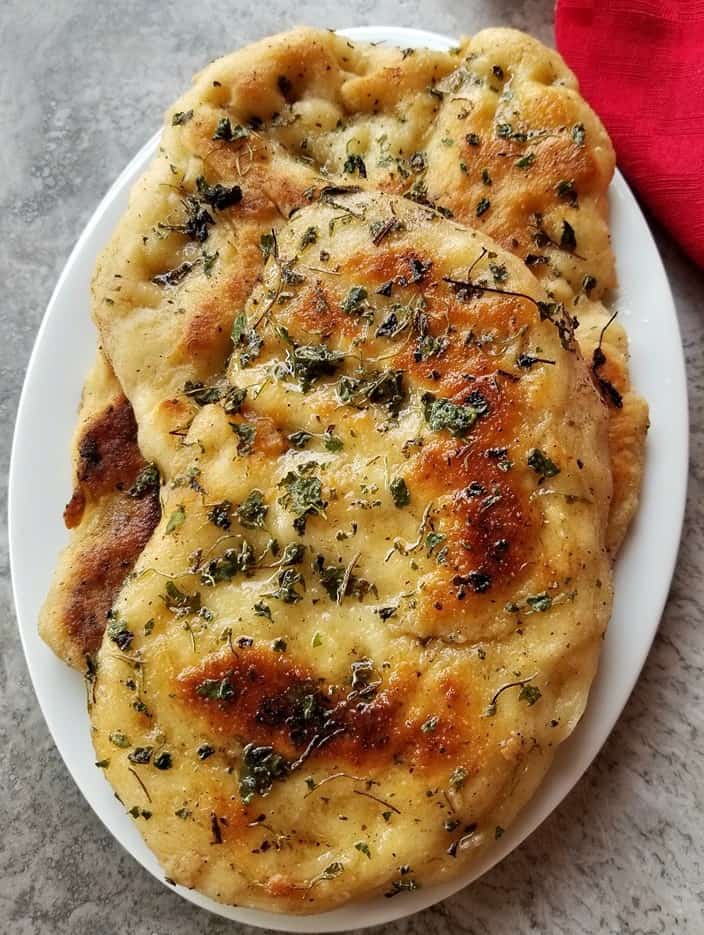 If your a

CURRY

lover like me 🙂
Then you will want to try ALL these dishes below!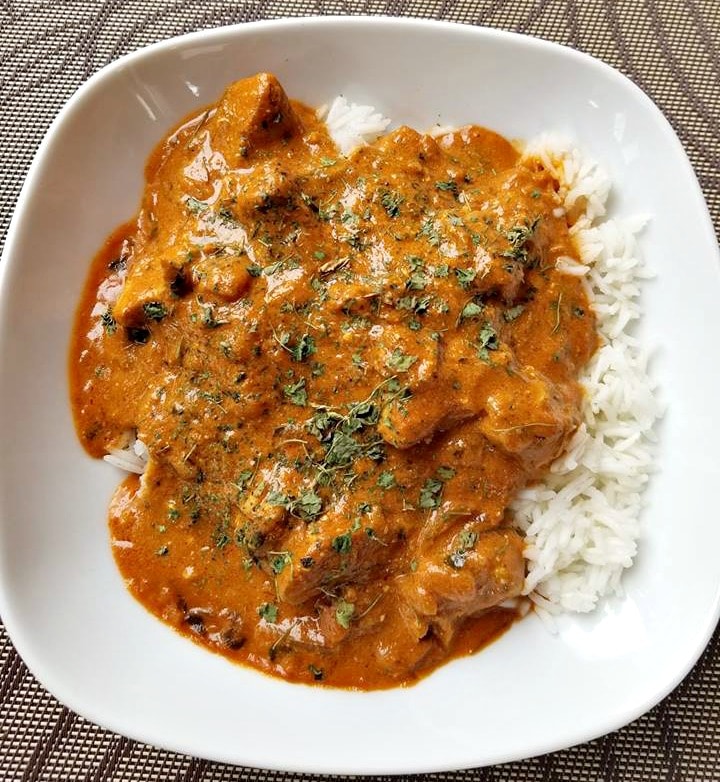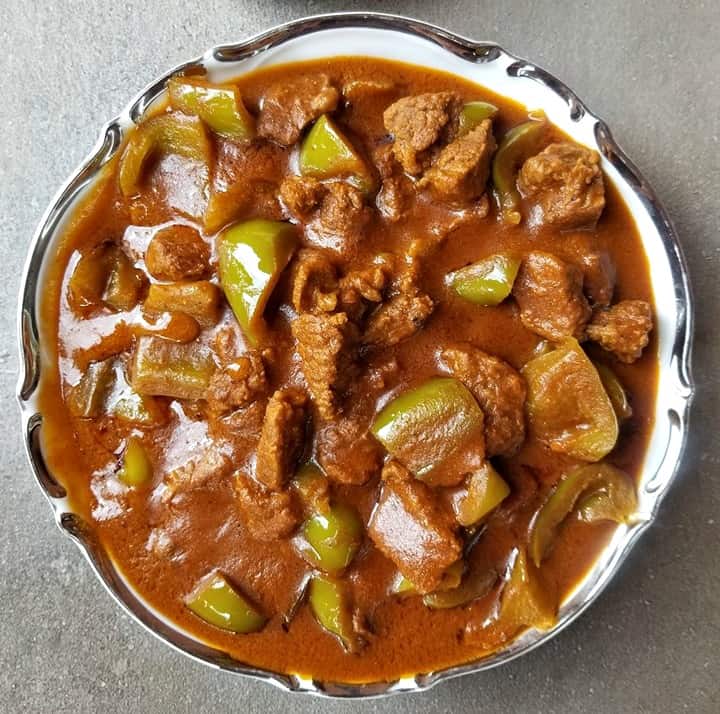 DID YOU MAKE THIS RECIPE?
If you make this recipe, I would love to hear about it! You can leave a 5 star review in the comments below! Thank you very much for reading and until next time see ya in the kitchen. Don't want to miss a recipe? Sign up for our NEWSLETTER delivered right to your inbox!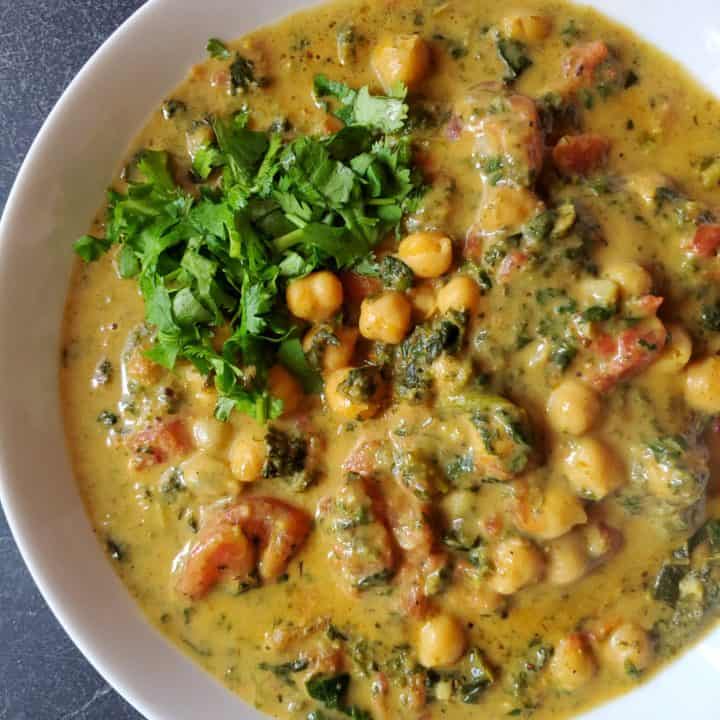 Chickpea and Spinach Curry with Coconut Milk
Skip the takeout tonight!
Ingredients
2 Tbsp Ghee or Butter
2 15 ounce cans of chickpeas
1 can of thick coconut milk
1/4 cup of Vegetable Stock
1 cup of spinach, chopped finely
1 large tomato diced
1 tbsp of Ginger/Garlic paste
1 tbsp of minced serrano peppers
1 tbsp Garam Masala Powder
1 tsp onion powder
1 tsp garlic powder
1 tsp cumin powder
1 tsp coriander powder
1 tsp chili powder
1 tsp turmeric
1 tsp salt
4 tbsp of fresh chopped cilantro for garnish
Instructions
In small pot or rice cooker, cook the basmati rice and set aside.
Then in a medium sized pot add the ghee or butter and then the ginger/garlic paste. Sauté for one minute till fragrant before adding in the spices.
Sauté one more minute then add in the rinsed and drained canned chickpeas chopped tomato and spinach along with coconut milk and vegetable stock.
Cover and simmer on medium - low heat for 25 minutes.
Serve over rice.
Top with fresh cilantro, enjoy!
Nutrition Information:
Yield:

2
Serving Size:

1
Amount Per Serving:
Calories:

1356
Total Fat:

76g
Saturated Fat:

51g
Trans Fat:

0g
Unsaturated Fat:

19g
Cholesterol:

48mg
Sodium:

1592mg
Carbohydrates:

138g
Fiber:

38g
Sugar:

24g
Protein:

47g
These calculations are based off Nutritionix