Directions
These

Turkey pot pies

made with puff pastry and are my go to recipe whenever I have leftover turkey.
These pot pies are absolutely delicious and a bit different then the average pot pie recipe you will find.
So read along if you want to learn how to make them! And trust me it is easy as pie 🙂
WHAT'S IN TURKEY POT PIES
DICED CARROTS
CORN
PEAS
GREEN BEANS
LEFTOVER CURRY
SPICES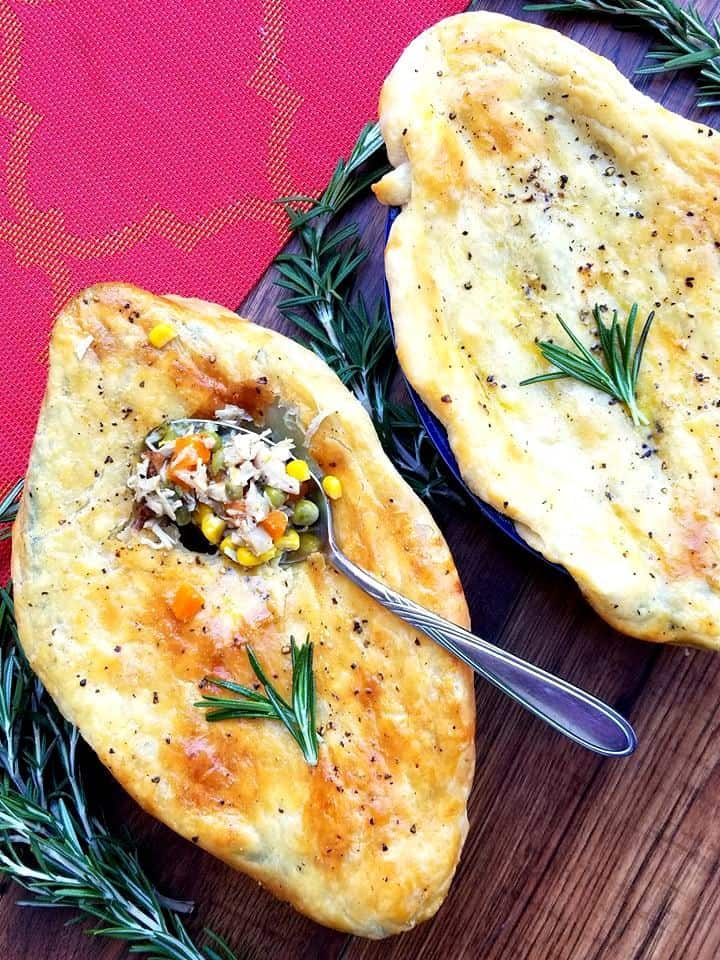 ARE TURKEY POT PIES GOOD FOR YOU
Yes, they are packed with vegetables and lean protein (leftover turkey meat)
TURKEY POT PIES WITH PUFF PASTRY
You will want to start by making the pie crust. You can pre purchase the "puff pastry" which is that crust you see on the top of these pies" or you can make it from scratch yourself. I really encourage you to try making it from scratch as it tastes best.
The crust recipe I have provided is also foolproof. I have tried many pastry puff recipes in the past and this one is the winner folks.
Then ONCE the pie crust has been made. Simply defrosted some frozen vegetables and add to the turkey mixture to make the filling.
These pot pies can be ready in under 45 minutes. As long as you pre-make the puff pastry one hour in advance you can have this on the table in under one hour. If you would prefer to make one big large pie, you can do that with this recipe as well.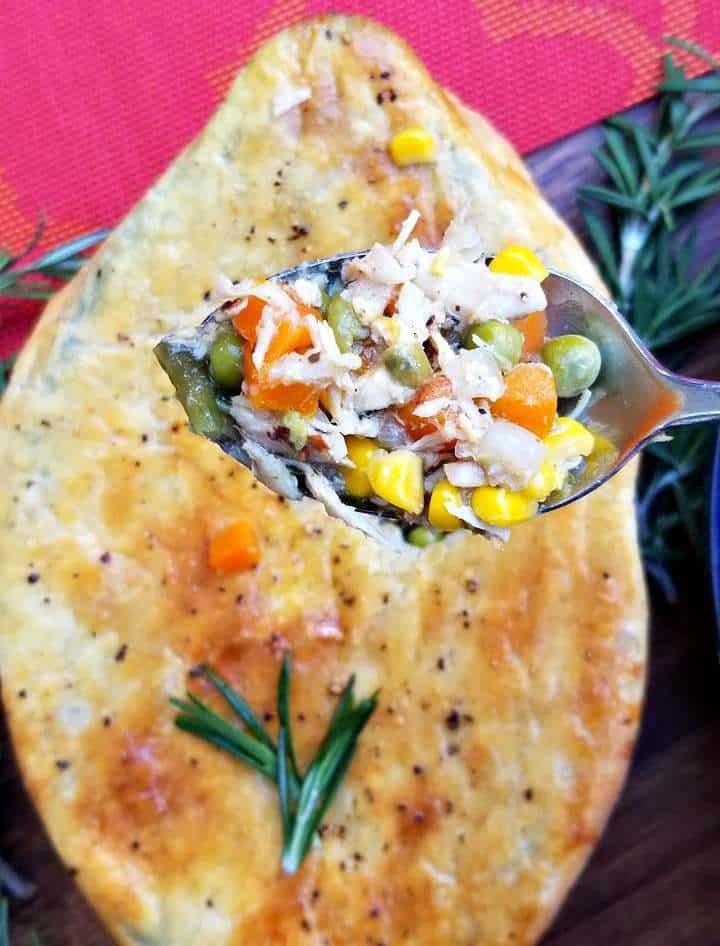 HOW TO MAKE TURKEY POT PIES
The main difference with my recipe and all the others is that I like to use my leftover "Turkey Gravy" instead of heavy cream in my pies.
It does the same thing, keeps the pies moist yet adds that extra level of flavor.
You will want to start by making the pie crust recipe. Once the pie crust has been made you will roll it out on a clear kitchen counter that has been sprinkled with flour.
Place your bakeware over top and with a knife cut around the bakeware to create the pie crust as seen below.
Then you will prepare the filling and place that in the bakware before folding over the pie crust.
Brush the crust with butter and bake.
Also, I like to use a frozen vegetable mix, that contains green beans, peas and carrots to fill the pies.
The more veggies the healthier right?
Plus all three go so well together and make these pies AMAZING!
So if you too are wondering what to do with all that leftover turkey, then look no further because this recipe is not only simple to make it's absolutely delicious!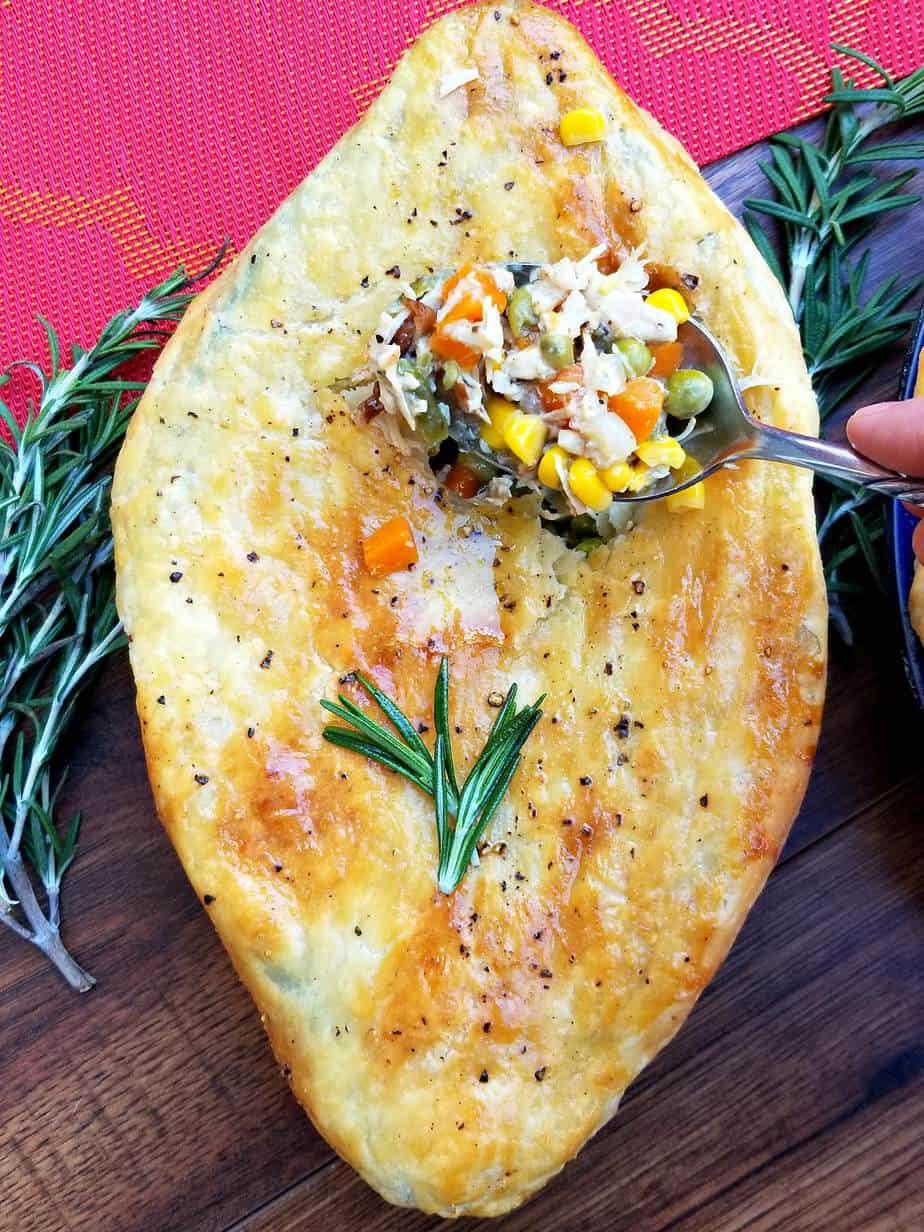 CAN TURKEY POT PIES BE FROZEN
Yes, as long as the turkey was not frozen to begin with.
Don't want to make individual pies?
No problem, simple place the pie filling inside a large pie baking dish and make a large one with the same recipe.
Totally up to you 🙂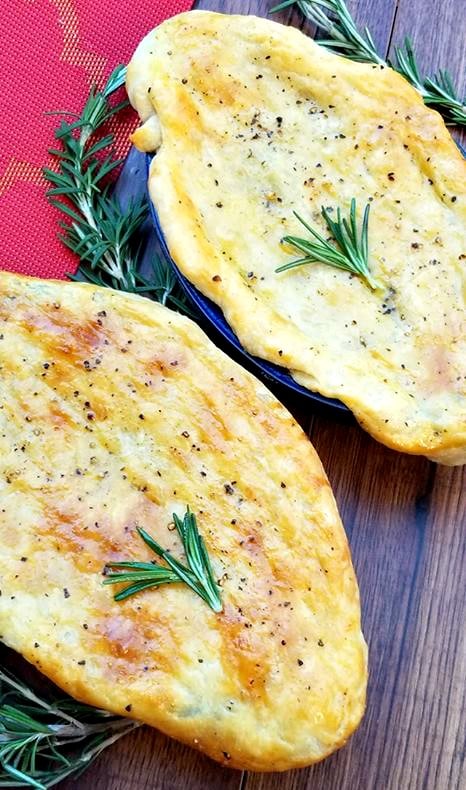 So instead of placing the ingredients into four smaller dishes place it into one large and cover with one crust. I hope you enjoy!
Notes: If you don't have any leftover turkey gravy, feel free to use canned or cream in replace of.
Recipe Inspiration: Easy puff pastry recipe
More Christmas & Thanksgiving recipes you may like: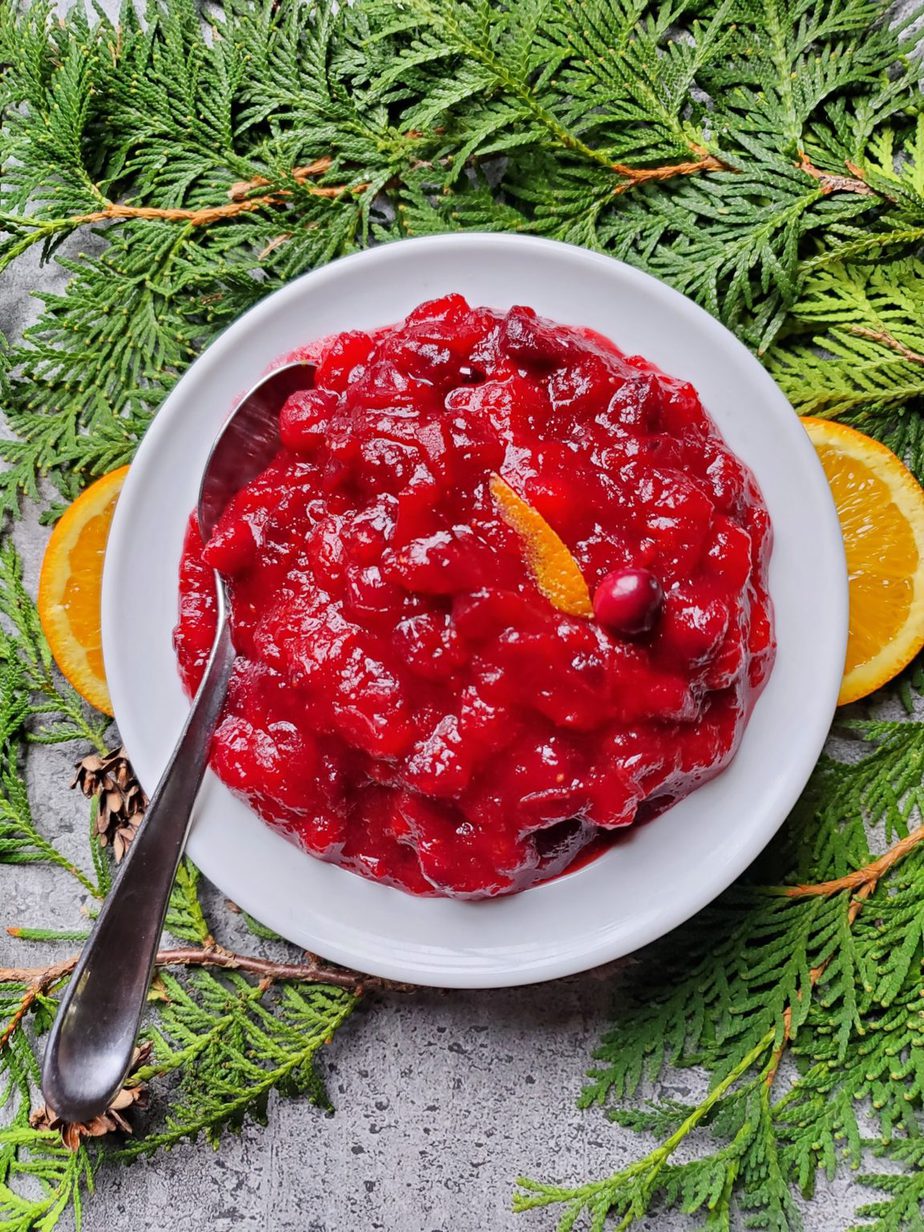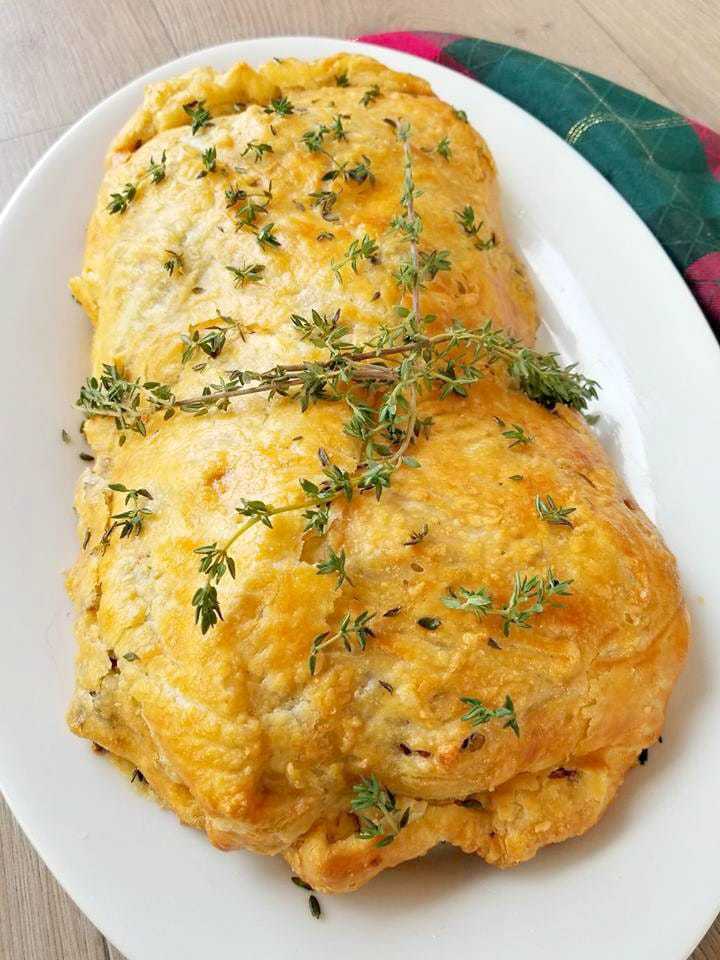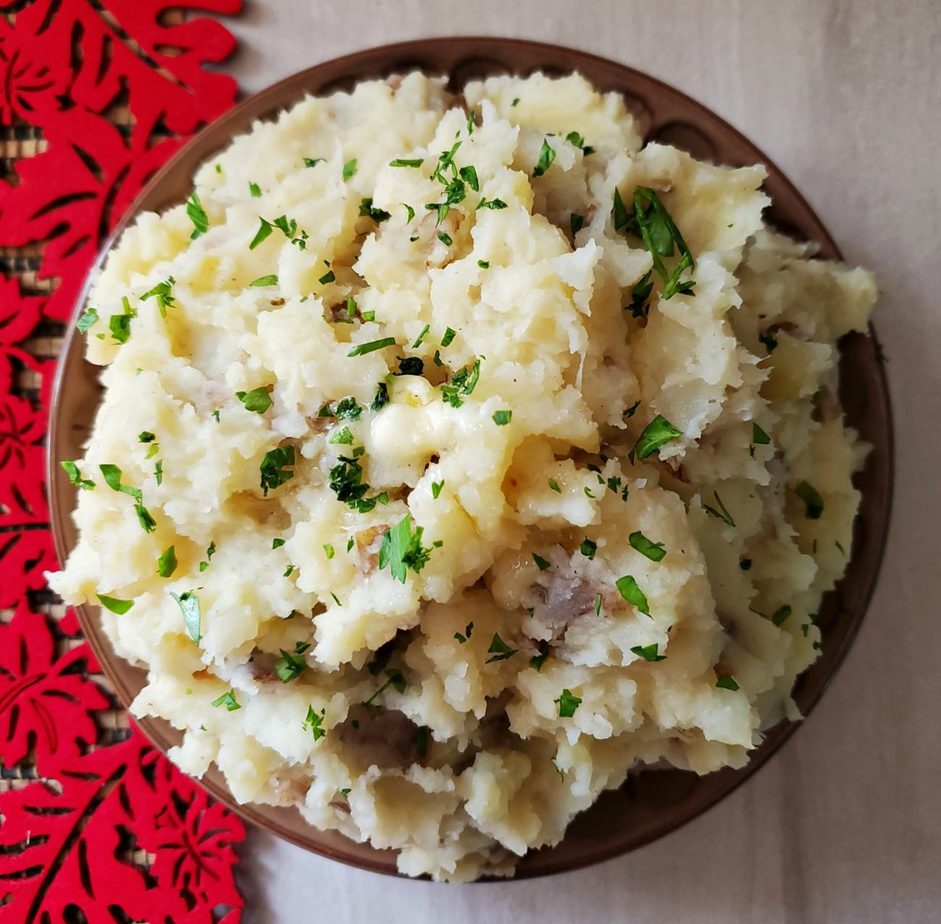 See below for more inspiration!
Turkey Pot Pies with Puff Pastry
These Turkey pot pies are my go to recipe whenever I have leftover turkey. They are absolutely delicious and a bit different then the average pot pie recipe you will find as they are made with puff pastry!
Ingredients
PUFF PASTRY
2 1/2 cups Flour
10 tbsp Butter
8 tbsp Cold water
1 tbsp Fresh Lemon Juice
Pinch of salt
FILLING
1 pd Leftover Turkey
Frozen mixed vegetables, green beans, peas and carrots.
Onion
1/2 cup Chicken Stock
1/2 cup Turkey Gravy
3 tbsp Flour
3 tbsp Butter
Garlic
1 tsp Fresh Rosemary
1 tsp Dried thyme
1 tsp Dry Oregano
Salt and pepper, to taste
EGG WASH
1 large Egg
Instructions
Start by making the puff pastry. You can use pre-made puff pastry or make it from scratch. To make it from scratch, simply place 2 1/2 cups of flour into a large mixing bowl. Then you will want to take a grater and grate roughly 10 tbsp of frozen butter into the flour bowl, then in a small cup place 12 tbsp of "ice cold water" and stir in 1 tbsp of lemon juice to combine.
Slowly add in the water and stir the flour mixture with a spatula till all the water is in the bowl. Then with your hands, mix everything together. Your wanting a soft dough.
Form the dough into a ball, then place on a lightly floured surface. Flatten the dough some and cover with saran wrap before placing in the fridge to chill, anywhere from 1 to 3 hours.
Then make the pie filling, add the chopped leftover turkey, chopped onion and 1 more tbsp of butter into a large frying pan. Saute till the onion has become tender.
Add in the minced garlic and saute another minute till fragrant.
Add in the chicken stock and turkey gravy and simmer for 5 minutes.
Then add in 2 more tbsp of butter and sprinkle 3 tbsp of flour over top and mix into the turkey mixture till combined. Add in all the frozen vegetables along with all the seasonings and simmer another 10 minutes.
Once the filling is ready, pour it into individually oil greased pie plates. Then remove the "chilled puff pastry" from the fridge and place it onto a floured surface.
Roll out with a flour dusted rolling pin till thin and flat. Place the pie plate overtop and cut one inch around each plate. This will be your pie top, you want enough that hangs over so make sure to not cut it right near the plate.
Once the puff pastry has been cut, fill all the pies with the filling and top with the puff pastry.
Season the pies with salt and pepper and then brush with an egg wash.
Bake at 400 f or at 375 on a convection bake for 25 minutes or until browned. Enjoy!
Nutrition Information:
Yield:

4
Serving Size:

1
Amount Per Serving:
Calories:

801
Total Fat:

45g
Saturated Fat:

26g
Trans Fat:

2g
Unsaturated Fat:

16g
Cholesterol:

201mg
Sodium:

705mg
Carbohydrates:

81g
Fiber:

6g
Sugar:

5g
Protein:

19g
These calculations are based off Nutritionix