Directions
This Healthy Mushroom Omelette is one of my favorite ways to make an Omelette.
If you love Mushrooms then your going to love this breakfast recipe.
This recipe is a keeper!
Plus these omelettes can be enjoyed for breakfast or as a elegant dinner.
IS MUSHROOM OMELETTE HEALTHY
Yes, omelettes have been a long recommended recipe for those looking to lose weight.
As they are low in calories and offer a ton of protein per serving.
With the addition of mushrooms and red peppers you're sure to find more low calorie and healthy additions to this meal.
HOW MAKE MUSHROOM OMELETTE
The trick to making the BEST MUSHROOM OMELETTE.
Is to use plenty of mushrooms and sauteing them in butter prior to making the egg part of this dish.
Then you will want to mix the eggs with some milk and saute in a little olive oil till it becomes firm enough to flip over. Ensuring the cheese is fully melted and the peppers have been added to the omelette.
Top with those sauteed mushrooms and fresh parsley.
If you have ever had a margherita pizza and liked it your sure to enjoy this recipe.
The taste is the same minus the bread which is replaced with eggs.
So if you are on a paleo or gluten free diet than this would be perfect.
I highly recommending using jalapeno cheese instead of mozzarella for this recipe, as it gives it that extra kick that works so well.
These omelettes are sure to be popular in your household for all those who love eggs, mushrooms, cheese and red peppers.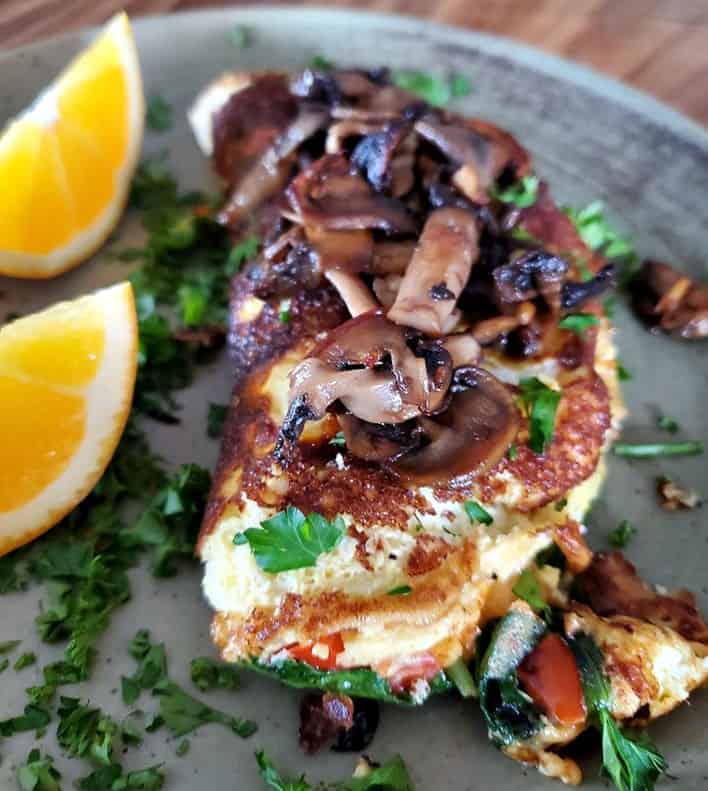 Also feel free to use anywhere from 2 to 3 eggs for this recipe, I tend to use 3 when serving it for dinner and 2 for breakfast. This particular recipe calls for 3 each.
So you will start by simply, cooking the passata sauce along with the spinach. Once it's been simmering for 5 minutes on medium heat.
Then remove it from the heat and allow it to cool down before pouring onto the plates.
Then you can crack and beat the eggs till slightly fluffy in a medium sized bowl.
Season lightly with some salt and pepper and place in a small non stick frying pan after the butter as coasted the bottom of the pan.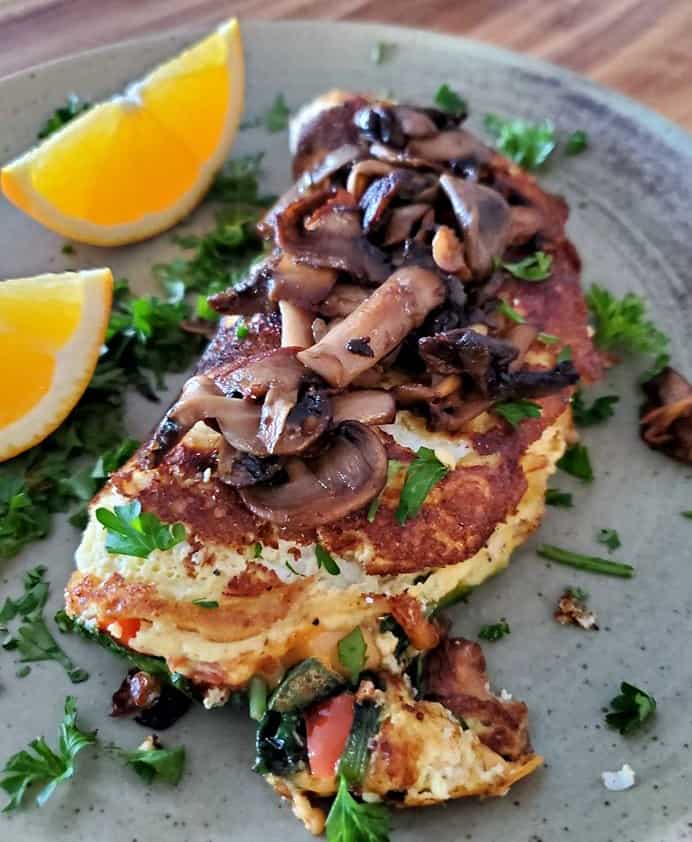 Cooking the omelette is super simple, as you are just cooking it over medium high heat till it starts to bubble and firm.
You may want to shake the pan a bit to allow the egg to cook more evenly.
Top wth the remaining sauteed mushrooms and fresh parsley.
Note: Feel free to use Mozzarella cheese instead of Jalapeno Cheese if desired.
LOOKING FOR ANOTHER AWESOME OMELETTE RECIPE? Try my Margarita Omelette
I am so thrilled you are reading one of my recipes, if you made this recipe i'd love to hear about it! Thank you very much for reading and until next time see ya in the kitchen. Don't want to miss a recipe? Sign up for our NEWSLETTER delivered right to your inbox!
Healthy Mushroom Omelette
Ingredients
2 tbsp of butter
8 Medium eggs
4 oz Shredded Cheddar, Gruyère, or Swiss cheese.
4 tbsp of milk
1 Orange pepper, chopped finely
2 cups of sliced Mushrooms
4 tbsp of Parsley
Salt and pepper to taste
Instructions
Saute the mushrooms in 2 tbsp of butter, till browned. Remove from the heat.
In a large bowl crack 4 eggs and season with salt and pepper. Whisk till blended with 2 tbsp of milk.
Next add 1 tbsp of olive oil into a small omelette sized skillet and pour the mixed eggs into it.
Saute over medium heat and once you start to see it bubble, turn the heat down just a bit and add the diced peppers and shredded cheese.
Once it starts to firm up nicely around the edges, start to lift it on all sides with a spatula. Flip over to fold in half when it is nearly cooked.
Remove from the heat to serve.
Top with the browned mushrooms and fresh parsley!
Notes
You may want to add 1 tsp of water to the edges of the pan before flipping the omelette.
Nutrition Information:
Yield:

2
Serving Size:

1
Amount Per Serving:
Calories:

1096
Total Fat:

83g
Saturated Fat:

44g
Trans Fat:

2g
Unsaturated Fat:

31g
Cholesterol:

853mg
Sodium:

1370mg
Carbohydrates:

18g
Fiber:

4g
Sugar:

7g
Protein:

71g