Directions
These Margarita Omelette are something special, made with fresh basil, passata tomato sauce,

jalapeno

cheese and eggs.
I came up with this recipe recently while experimenting with different ways to use "passata tomato sauce".
And boy oh boy this recipe is a keeper!
What is passata sauce
Well it's a Tomato base that is used for most traditional Italian sauces.
Basically it is uncooked tomato puree without seeds or skins.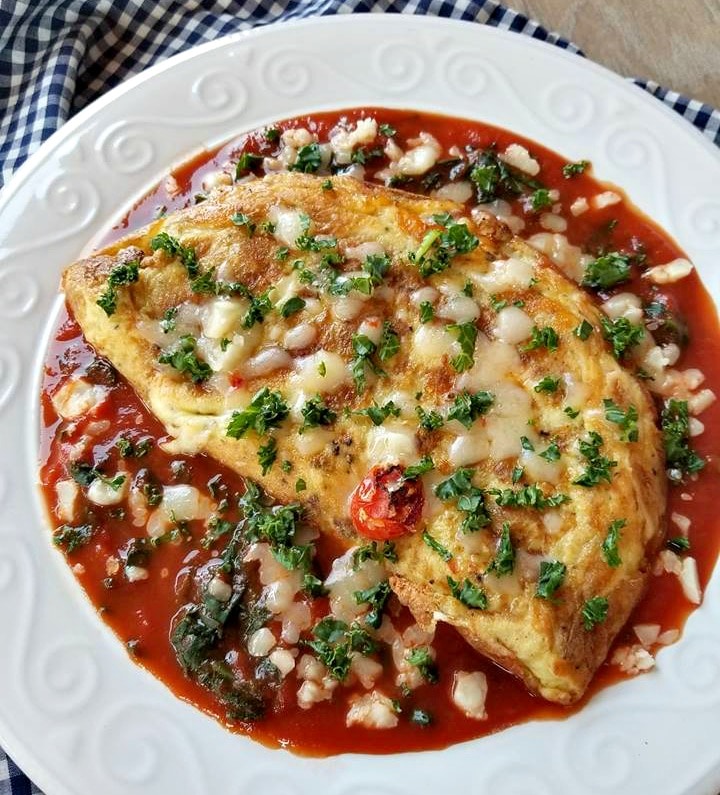 If you have ever had a margherita pizza and liked it your sure to enjoy this recipe. The taste is the same minus the bread which is replaced with eggs.
So if you are on a paleo or gluten free diet than this would be perfect.
I highly recommending using jalapeno cheese instead of mozzarella for this recipe, as it gives it that extra kick that works so well.
These omelettes are sure to be popular in your household with all those who like margarita style pizzas. And they can be enjoyed for breakfast oras a dinner.
Also feel free to use anywhere from 2 to 3 eggs for this recipe, I tend to use 3 when serving it for dinner and 2 for breakfast. This particular recipe calls for 3 each.
So you will start by simply, cooking the passata sauce along with the spinach. Once it's been simmering for 5 minutes on medium heat.
Then remove it from the heat and allow it to cool down before pouring onto the plates.
Then you can crack and beat the eggs till slightly fluffy in a medium sized bowl.
Season lightly with some salt and pepper and place in a small non stick frying pan after the butter as coasted the bottom of the pan.
Cooking the omelette is super simple, as you are just cooking it over medium high heat till it starts to bubble and firm.
You may want to shake the pan a bit to allow the egg to cook more evenly.
Then once it has firmed somewhat you will then place the shredded "Jalapeno Cheese" over the top along with the sliced cherry tomatoes.
Note: Feel free to use Mozzarella cheese instead of Jalapeno Cheese if desired.
I am so thrilled you are reading one of my recipes, if you made this recipe i'd love to hear about it! Thank you very much for reading and until next time see ya in the kitchen. Don't want to miss a recipe? Sign up for our NEWSLETTER delivered right to your inbox!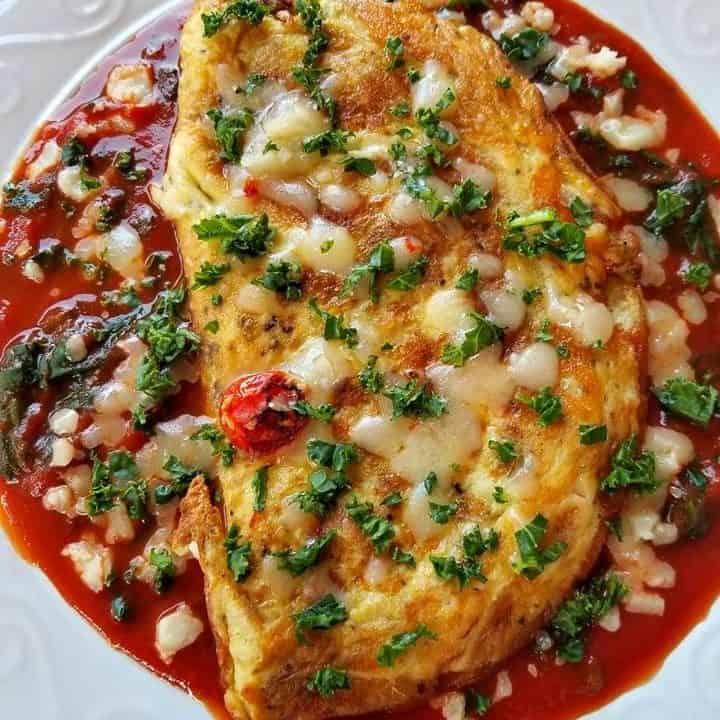 MARGARITA OMELETTE
Yield: 2

Cook Time: 30 minutes

Total Time: 30 minutes

Cheesy Omelette served over a Creamy tomato sauce!
Ingredients
2 tsp Butter
6 Eggs
1/2 cup Baby tomatoes
1 cup Jalapeno cheese
1 1/2 cups Passata tomato sauce
1 cup Chopped Spinach
1/2 tsp Sugar
2 tbsp Fresh Basil
Pinch of Salt and Pepper to taste
Instructions
In a large saucepan add the passata sauce and fresh chopped spinach. Season with salt, sugar and saute all together for 7 minutes over a medium heat till cooked. Remove from the heat and set aside.
Then in a medium bowl beat 3 eggs and season with salt and pepper. Add 1 tsp of butter to a small non stick frying pan and add the beaten egg. Over medium heat allow the eggs to set, as it sets you will see a few bubbles in the middle.
Once it bubbles shake the pan to allow the edges to cook more and then top the whole omelette with shredded "Jalapeno cheese" and some halved baby tomatoes. Once the omelette is near set, fold over and cook for another 3 minutes till set. *Repeat again for the other omelette.
PREPARE THE PLATES:
Place the cooked "passata tomato sauce and spinach over the two plates" and top each plate with an omelette.
Sprinkle with a bit more "Jalapeno Cheese" and freshly chopped basil. Enjoy!
Nutrition Information:
Yield: 2 Serving Size: 1
Amount Per Serving: Calories: 554Total Fat: 38gSaturated Fat: 19gTrans Fat: 0gUnsaturated Fat: 16gCholesterol: 623mgSodium: 1584mgCarbohydrates: 17gFiber: 5gSugar: 10gProtein: 39g

Looking for another AWESOME OMELETTE recipe? Try my Healthy Mushroom Omelette