Directions
We like to eat good when we are camping, can you tell? But we don't like to spend the whole time cooking and cleaning up, so we try to make it as simple as possible. 
This whole breakfast can be made in one non stick pan and should take you less than 30 minutes to make give or take. 
Packed with so much fiber and protein this meal will be sure to satisfy any hungry camper.
Who said camping food has to be bland? This is fine dining if you ask me, try it yourself on your next camping trip and you decided if it's a keeper and don't forget to serve with some bread.
Note: If you're camping 
 in bear country, take appropriate precautions to keep your campsite as unattractive to bears as possible. To do this simply purchase and properly use a bear-proof garbage container or ensure all your garage is placed in a sealed bin in your vehicle or at a designated dump once your done cooking, this helps keep our wildlife safe and you as well.
I am so thrilled you are reading one of my recipes, if you made this recipe id love to hear about it! You can post a review, picture below or via Instagram and let me know how it turned out. And by doing so you will be automatically entered into our seasonal CONTEST to win one of our great prizes. Winner will be notified via email within a week after the contest closes. Thank you very much for reading and until next time see ya in the kitchen. Don't want to miss a recipe? Sign up for our NEWSLETTER delivered right to your inbox!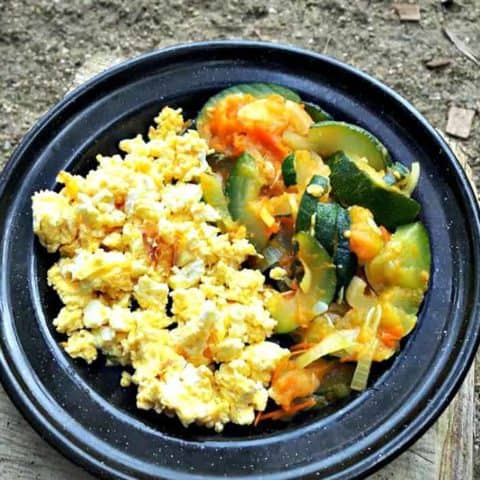 Cheesy Egg and Zucchini Scramble
Ingredients
6 Eggs
1/2 cup Cheddar Cheese
1 medium Green Zucchini
1 medium tomato
1 medium Onion
EXTRAS
Salt & Pepper to taste
2 tbsp Butter
PIN IT FOR LATER