Directions
Looking for an Easy Thai Red Curry Recipe? Then you just found it!
I used scallops and shrimp in this recipe, however you can use one or the other or substitute the fish for chicken.
And for the vegetables I used Bok Choy and Red Peppers.
IS THAI RED CURRY HEALTHY
Yes, so so healthy. It has lean protein and tons of fresh vegetables.
If you know anything about me, you will no that Red Thai Curry is my favorite Thai recipe.
Just search this blog and you will see I do make it with Chicken and other vegetables at times. Everytime it is made the same, however the process is always a bit different.
HOW RED THAI CURRY
Start by adding the oil to a hot pan and from their saute the Red Thai Curry paste for 2 minutes till fragrant.
Then add in the Coconut milk and stir till blended.
Next add in the fish sauce, sugar and seasonings. Along with the fresh vegetables and simmer on medium heat till the vegetables are cooked.
Lastly add in the fresh seafood and simmer on medium heat till that is cooked, ruffly 4 minutes.
Serve over a bed of rice and squeeze the juice on a lime overtop the whole dish.
So what are you waiting for? Skip the takeout tonight and make this quick and easy dish right in the comfort of your own home.
DOES THAI RED CURRY HAVE FISH SAUCE
Yes it sure does!
DOES THAI RED CURRY PASTE GO BAD
If unopened this paste will keep for up to 2 years. Once opened it must be kept in the fridge, I always use mine up within a few months and it keeps well.
The ONLY brand I will use!!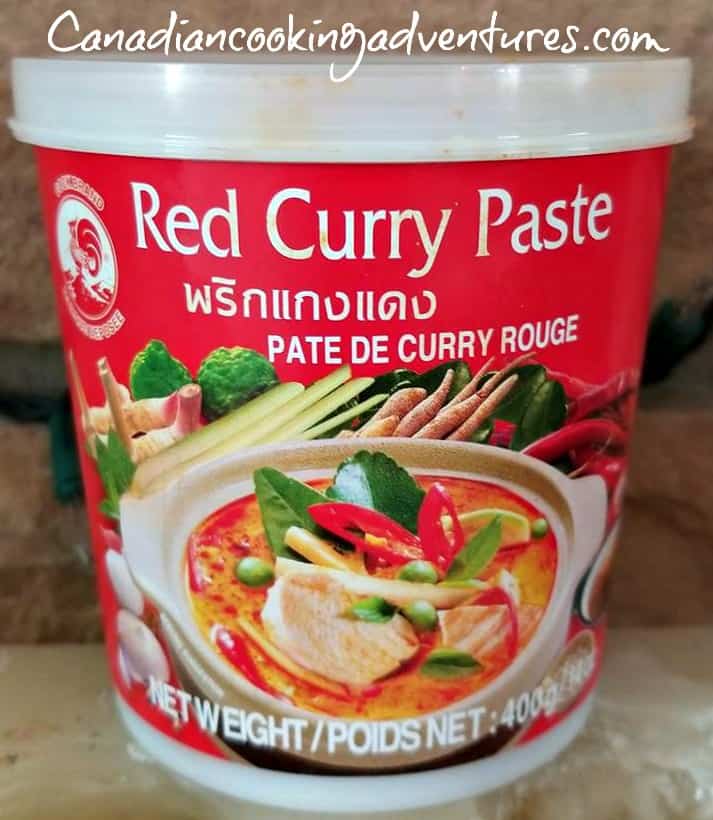 WHERE TO BUY THAI RED CURRY PASTE
I buy mine from Superstore here in Canada, however I have seen this also at Walmart in the ethnic aisle.
IS THAI RED CURRY PASTE SPICY
Yes, so be careful how much your using. Taste as you go, so once you add the coconut milk and mix it well.
Taste it to see if you want more or less.
CAN THAI RED CURRY BE FROZEN
Yes, you can freeze the curry once it is made.
Some people like to use one can of coconut for their Thai curries.
I will do that at times too, however for this recipe I used two cans which helps to make this dish go father and serves more people.
One can typically serves two people for dinner, two cans three to four.
Being I adore Thai food, I will eat it all to myself over a couple days if I can.
WHAT'S THAI RED CURRY
It is basically Red Thai Curry paste mixed with coconut milk, fish sauce and sugar. Along with a mixture of protein and vegetables.
WHAT'S IN RED THAI CURRY PASTE
Fresh Green Chilli
Lemongrass
Garlic
Shallots
Galangal
Cumin
Coriander seeds
WHAT GOES WITH RED THAI CURRY
Jasmine Rice
Vermicelli Rice
If you love Thai food as much as me, then you will want to try my other thai dishes! All are AMAZING and really are some of the best ways to make Thai at home in a fraction of the time.
Note: Want more heat, simply add in more Thai Red Curry Paste.
I'm thrilled you are reading one of my recipes, if you made this recipe id love to hear about it! Thank you and until next time see ya in the kitchen. Don't want to miss a recipe? Sign up for our NEWSLETTER delivered right to your inbox!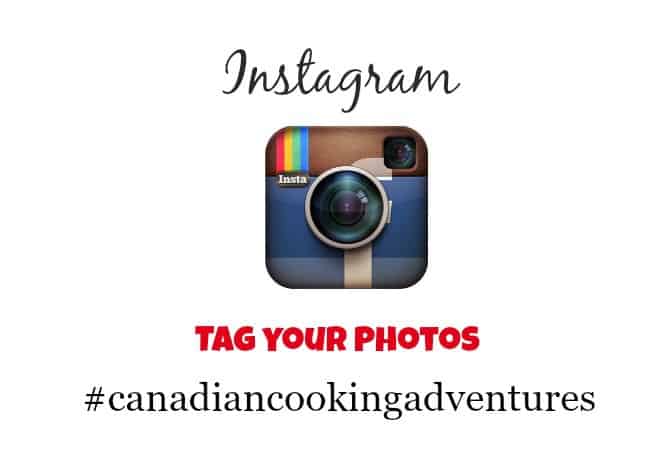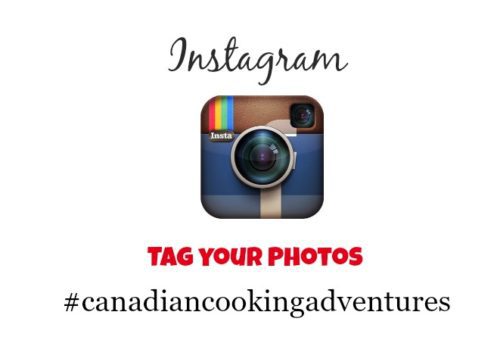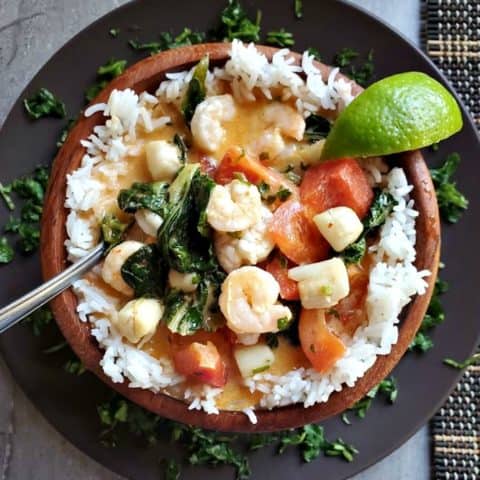 Easy Thai Red Curry Recipe
Ingredients
2 tbsp Coconut oil OR vegetable oil
3 tbsp RED THAI CURRY Paste
2 cans (810 ml) Full Fat Coconut Milk
1 pd of Scallop/Shrimp mix
2 tsp Fish Sauce
1 tbsp Sugar
pinch Salt
1 large Red Pepper
2 cups of chopped bok choy
SERVE
1 lime Fresh Lime Juice
3 cups Jasmine Rice
1 tsp Cilantro
Instructions
Start by washing and cutting up your vegetables and slice all according to the size you want.
Wash the shrimp and set aside. You do not want to add frozen shrimp to the pot.
In pot, wok or pan, heat up the oil on medium high and in your "RED THAI CURRY PASTE" saute for 2 minutes till blended.
Next add in the coconut milk and cook for another 2 minutes on medium-high.
Add in your ginger/garlic paste and cook for 2 minutes all together..
Then add in your fish sauce and sugar then simmer for another 2 minutes over low heat.
Next add in the jumbo shrimp/whole.
Add your remaining vegetables. "Broccoli" then the "Green pepper" cook to crispy tender around 2 minutes over medium heat.
Serve with fresh lime juice, fresh bean sprouts over jasmine rice if desired. Enjoy!
Nutrition Information:
Yield:

4
Serving Size:

1
Amount Per Serving:
Calories:

525
Total Fat:

35g
Saturated Fat:

27g
Trans Fat:

0g
Unsaturated Fat:

5g
Cholesterol:

4mg
Sodium:

611mg
Carbohydrates:

49g
Fiber:

3g
Sugar:

6g
Protein:

9g