Directions
This Japanese Beef Bowl is a very popular recipe in my house!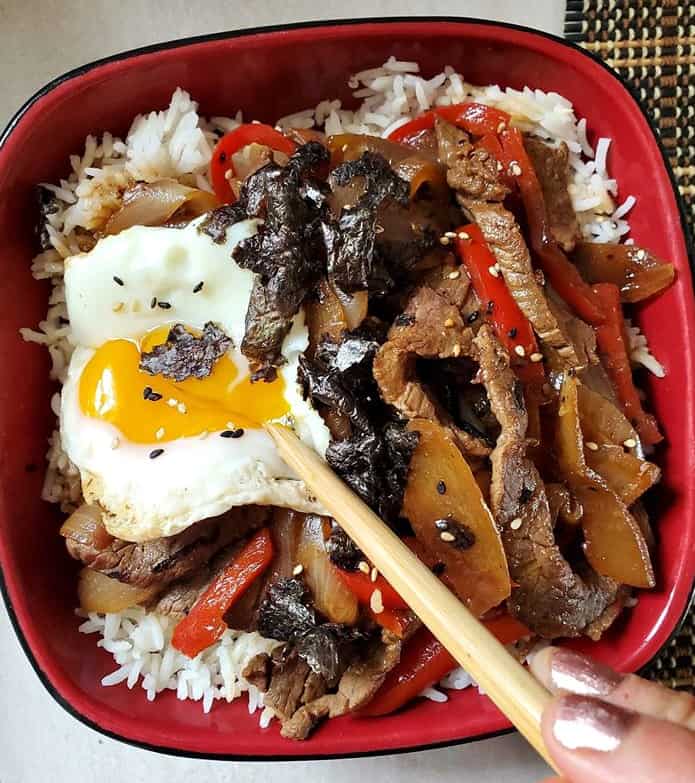 The beef, onions and peppers are tossed together in the most delicious sauce.
And the hardest part about making homemade beef udon is waiting for it to be ready!
One of my favorite part of this dish is the way the creamy egg pulls all the flavors together so well.
I love Japanese food and at one time it was my favorite cuisine.
I mean have you tried Sushi? Hello!
Japanese beef bowl without sake
Yes, it is possible and that is what I do.
So what is Sake? It is Japanese wine. It is used in cooking in most cases, however I do not use it at home.
So in its place I will use "Beef Stock" and I find it makes the dish just as delicious!
Also this recipe traditional calls for "Dashi" which is a fish flavored stock.
So in its place, I use simple pre made "fish stock "which can be found in almost any supermarkets asian isle.
GYUDON EGG RECIPE
Is the same dish as this….
Japanese Beef Bowl with Egg Recipe
Is basically is a dish made with beef, onions and rice. Which is simmered in a sweet and salty sauce.
Learning to make this iconic dish in the comfort of your own home is fun!
Impress yourself, I know you can do it!
Now the only way to have this dish on the table in less than 30 minutes.
Is to pre-make the rice or you can have it cooking on the stove on it's own while preparing the rest of the dish.
HOW TO MAKE GYUDON BEEF BOWL
Start by saute the onions, then once they are slightly browned add in the beef.
Then toss in the red pepper and simmer a few minutes before adding in the sauce.
Once you learn to make this simple Beef dish recipe, you will be making it more often Guaranteed!
Because well, it is absolutely delicious!
I have experimented with a few Japanese beef bowls over the years.
And I love this recipe a lot. You can skip the NORI seaweed topping and add green onions if desired!
But trust me the Nori makes it extra special if you ask me.
If you liked this recipe? Then you will want to try my other ASIAN inspired recipes below!
DID YOU MAKE THIS RECIPE?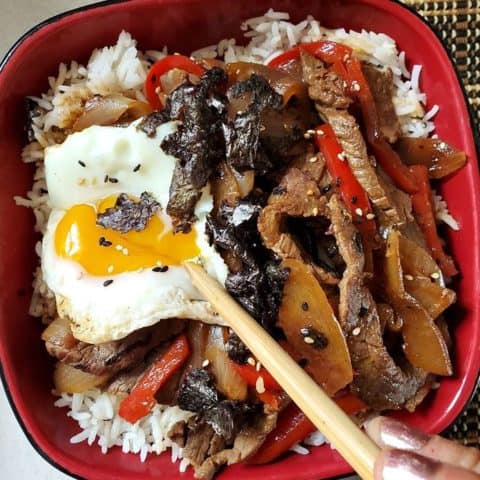 Japanese Beef Bowl
Skip the takeout and make this delicious dish in the comfort of your own home!
Ingredients
2 cups of Jasmine Rice
1 tbsp cooking oil
1 large onion, sliced
1 large red pepper, sliced
40 g of thinly sliced beef (chuck or rib eye)
2 large eggs
1 tbsp of sesame seeds
1 Sheet of Nori, torn into pieces
Sauce
1/2 cup beef stock
1 tbsp of Soya Sauce
1 tsp fish stock
2 Tbsp Sake or substitute for
2 Tbsp Mirin or substitute for 2 tbsp white sugar
Instructions
Start by cooking the rice according to package instructions.
Meanwhile, in a large skillet add 1 tbsp of cooking oil and the sliced large onion.
Saute on medium heat, till the onion is slightly browned.
Then add in the sliced meat and saute all together till the meat is slightly browned but still a bit pink.
Add in the sliced red pepper and saute for 1 minutes before adding in the SAUCE.
Simmer, covered on low heat for 10 minutes.
Meanwhile, in another pan. Cook 2 large eggs, by adding a bit of water at times to help steam the white part of the egg. But allowing the yolk to remain creamy.
Plate each bowl with the rice, top with the beef mixture and sauce.
Top with the cooked eggs, sesame seeds and torn nori seaweed.
Enjoy!
Nutrition Information:
Yield:

2
Serving Size:

1
Amount Per Serving:
Calories:

613
Total Fat:

20g
Saturated Fat:

4g
Trans Fat:

0g
Unsaturated Fat:

14g
Cholesterol:

205mg
Sodium:

537mg
Carbohydrates:

83g
Fiber:

4g
Sugar:

29g
Protein:

20g