Ingredients
4 cups (dry)

Bowtie pasta

2 Breasts

Boneless chicken breasts

shredded

2 tbsp

Szeged Chicken Rub

Dressing

1 tbsp

Extra Virgin Olive Oil

1 tsp

Onion flakes or Onion Powder
Directions
This chicken pea pasta salad can be enjoyed warm or cold. Serve it for dinner or save it for the weeks meal preps. Also this recipe can feed a crowd easily, just throw it all together in one big bowl and it's good to take anywhere!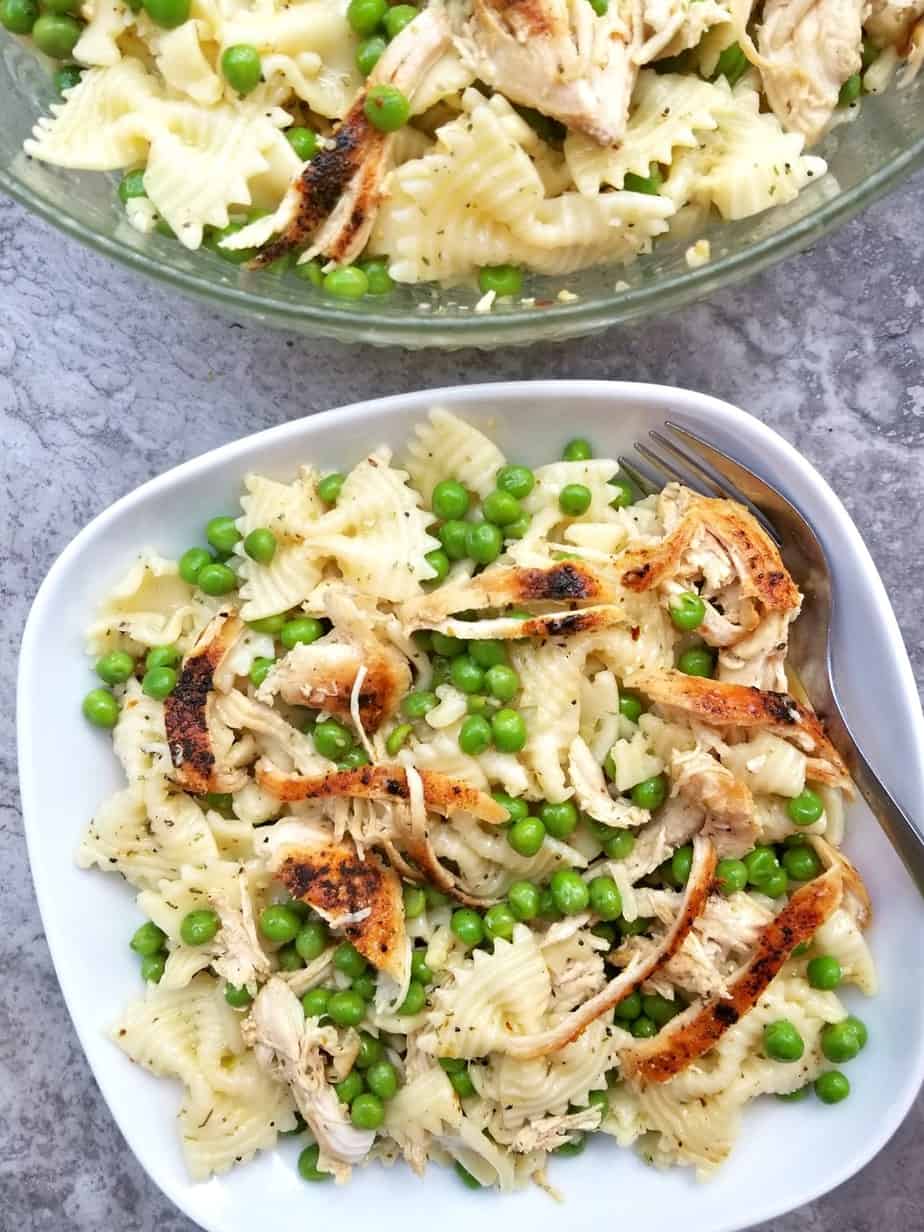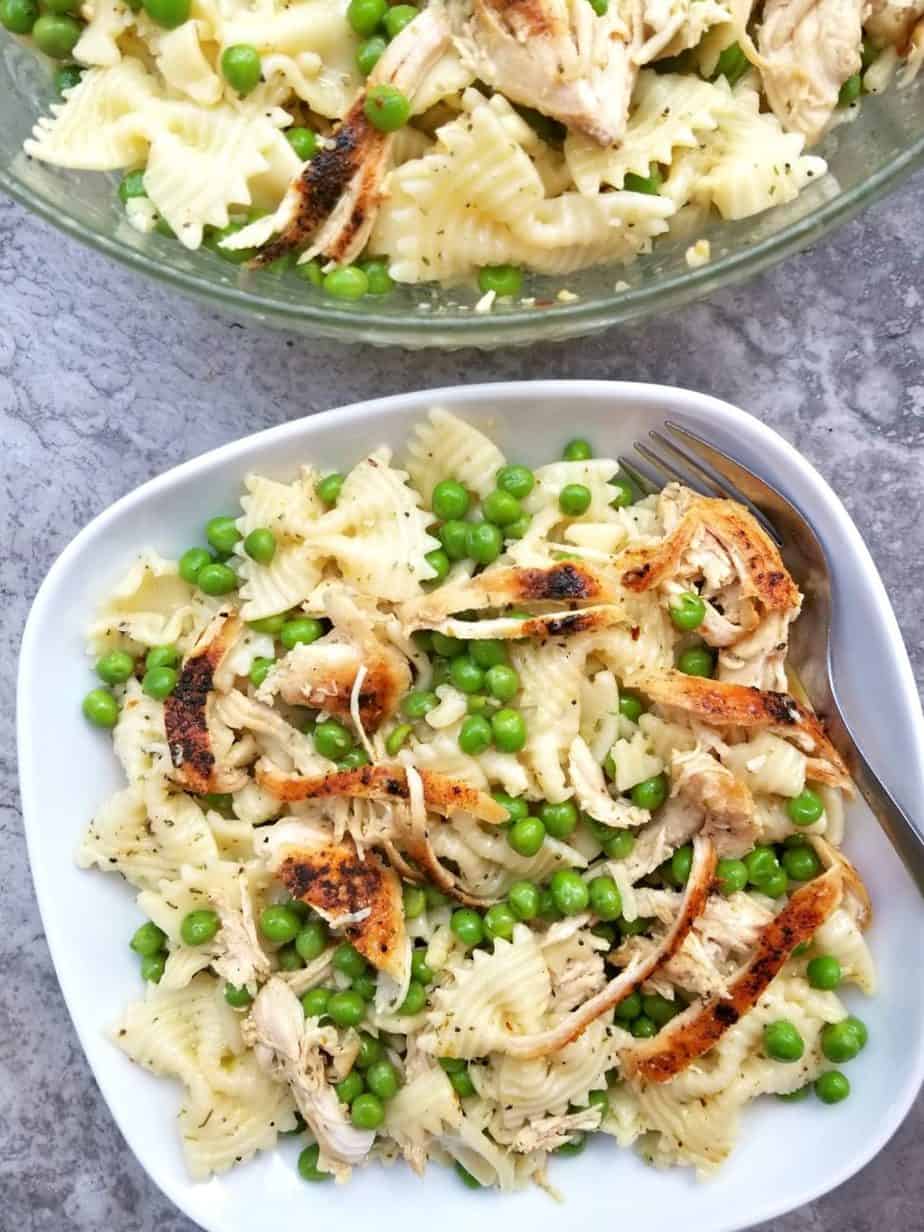 Also keep in mind that this type of salad can be refrigerating overnight, making it such a great recipe for really any type of day.
Prepare this the night before and you can have a weeks worth of meal preps ready to go! If your on a gluten free diet, simply switch out the pasta for a gluten free variety.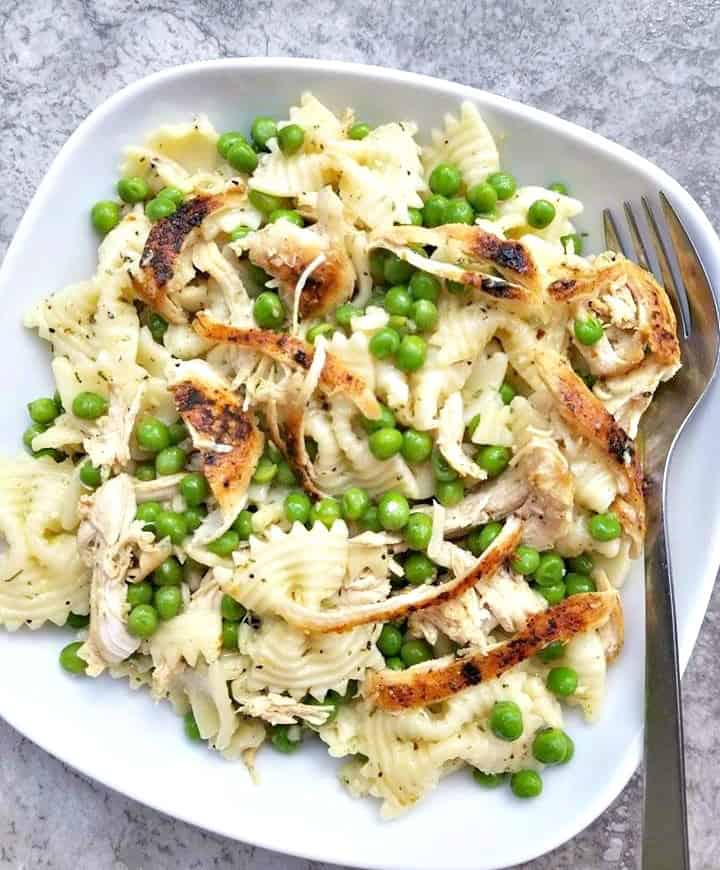 If you have been looking at other pea salads recipes and are still debating which one to go with. I encourage you to really give this one a shot, it's one of the most popular pasta salads on this site.
Of course I have plenty of other pasta salad recipes that are just as good. So if you're looking for more simply use my search bar on the sites homepage and you will find my others.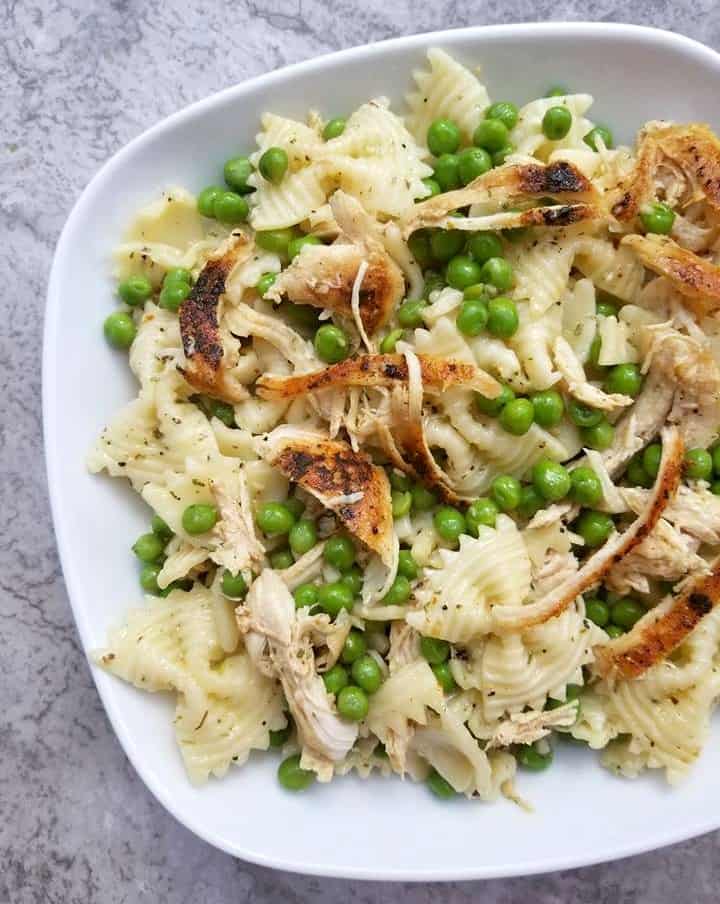 Also it's much lower in calories than most of those other recipes out there, because we are not using any heavy dressings. Making this a much healthier dish than most pasta salad recipes out there.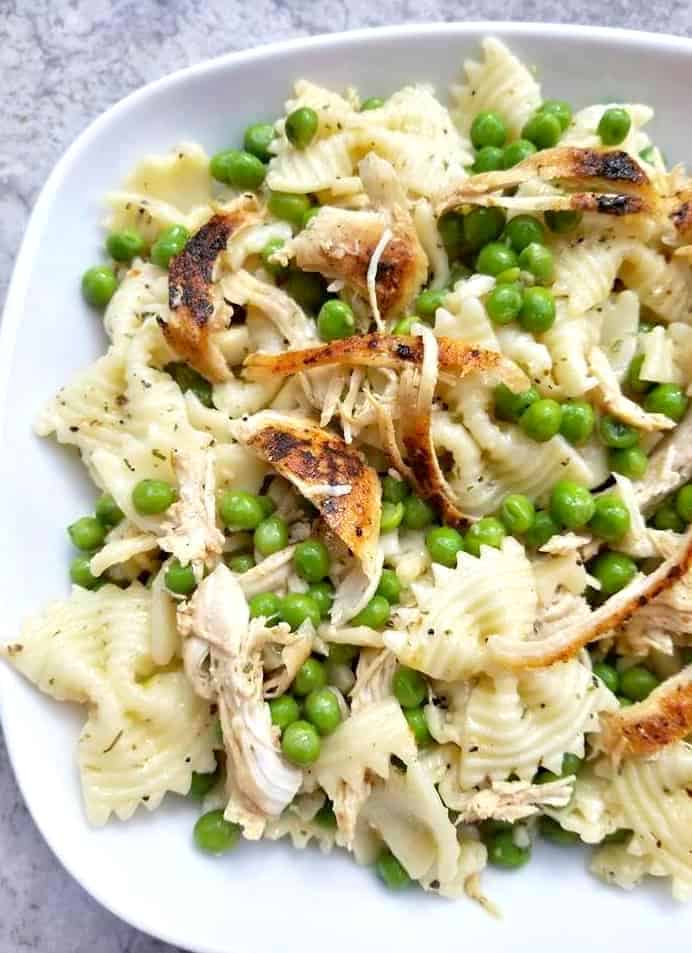 Your body will thank you for it and you won't even miss those high calorie dressings, I promise. Or if you have a favorite low calorie dressing go ahead and use that in replace of mine.
But first off try mine, you may be surprised at how simple at tasty it is.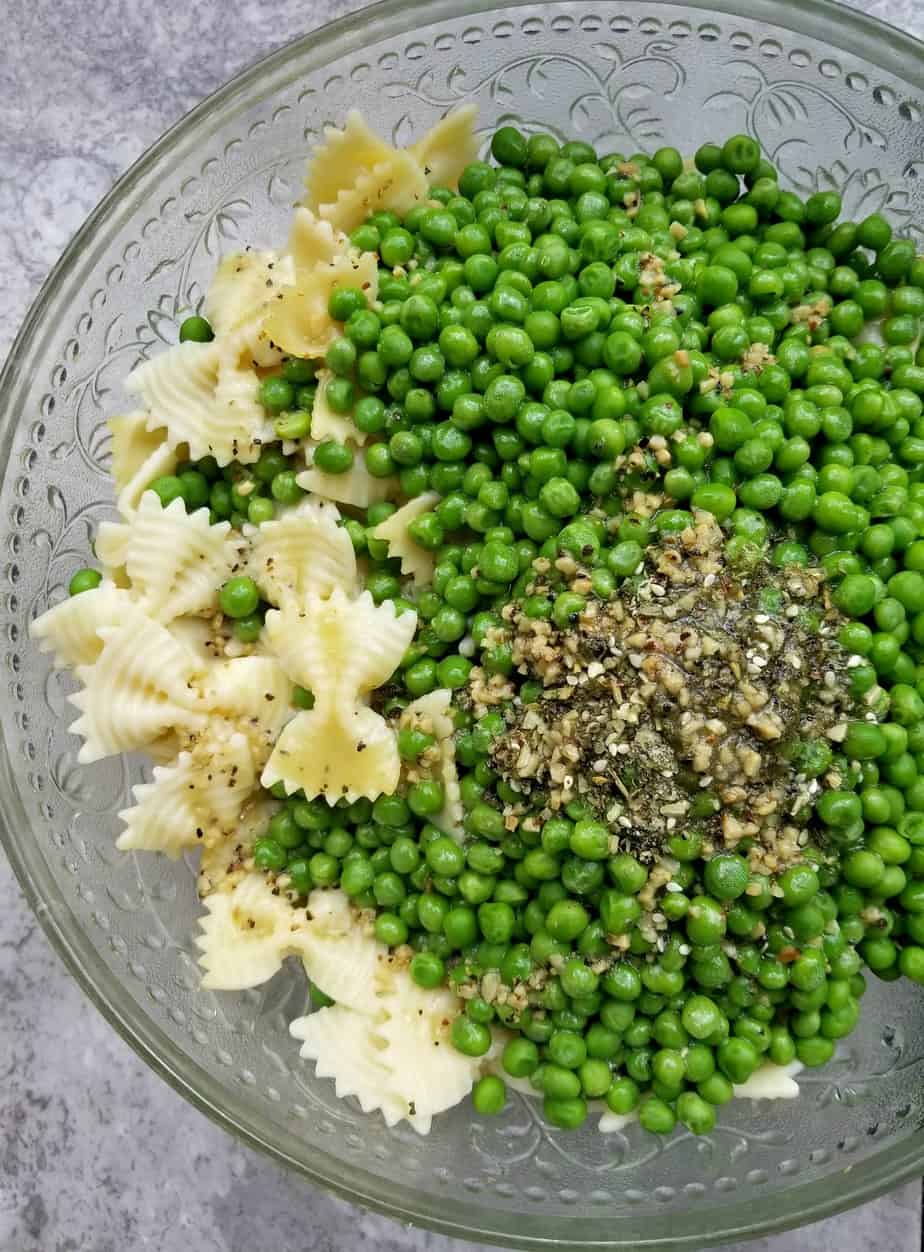 Tossed in a low fat lemon spiced garlic sauce that is absolutely Dee-licious. This bowl contains just 3 simple ingredients. That of some cooked bowtie pasta, seasoned shredded chicken and peas.
Such an easy salad recipe that is perfect for summer, only sad part is it will most likely disappear before your eyes if you have others in the house.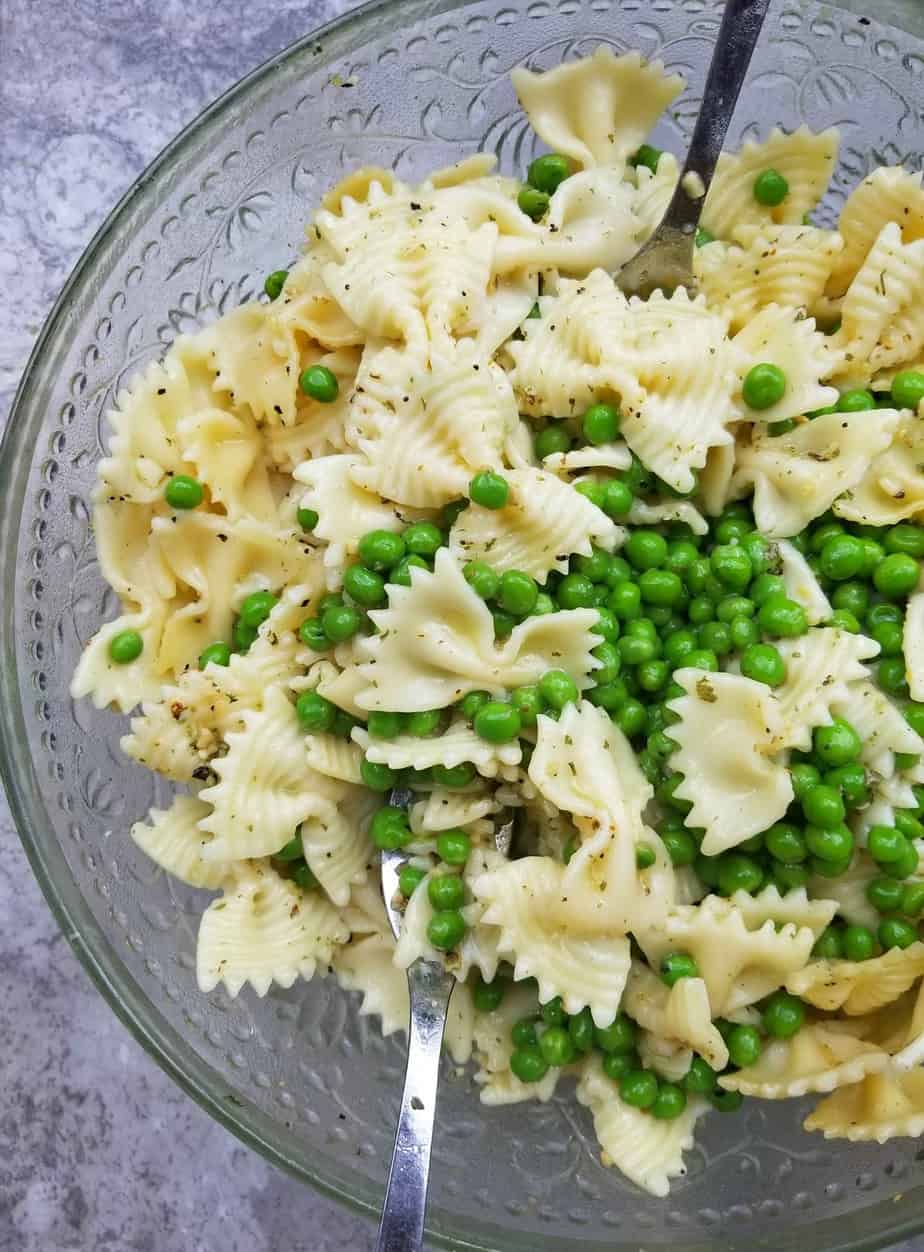 What can be easier than this salad? You will start by cooking the bow tie pasta till al dente then during that time you can season and cook the chicken breasts and peas.
Before shredding the chicken then throwing all together in a light dressing that is sure to please even the pickiest of eaters.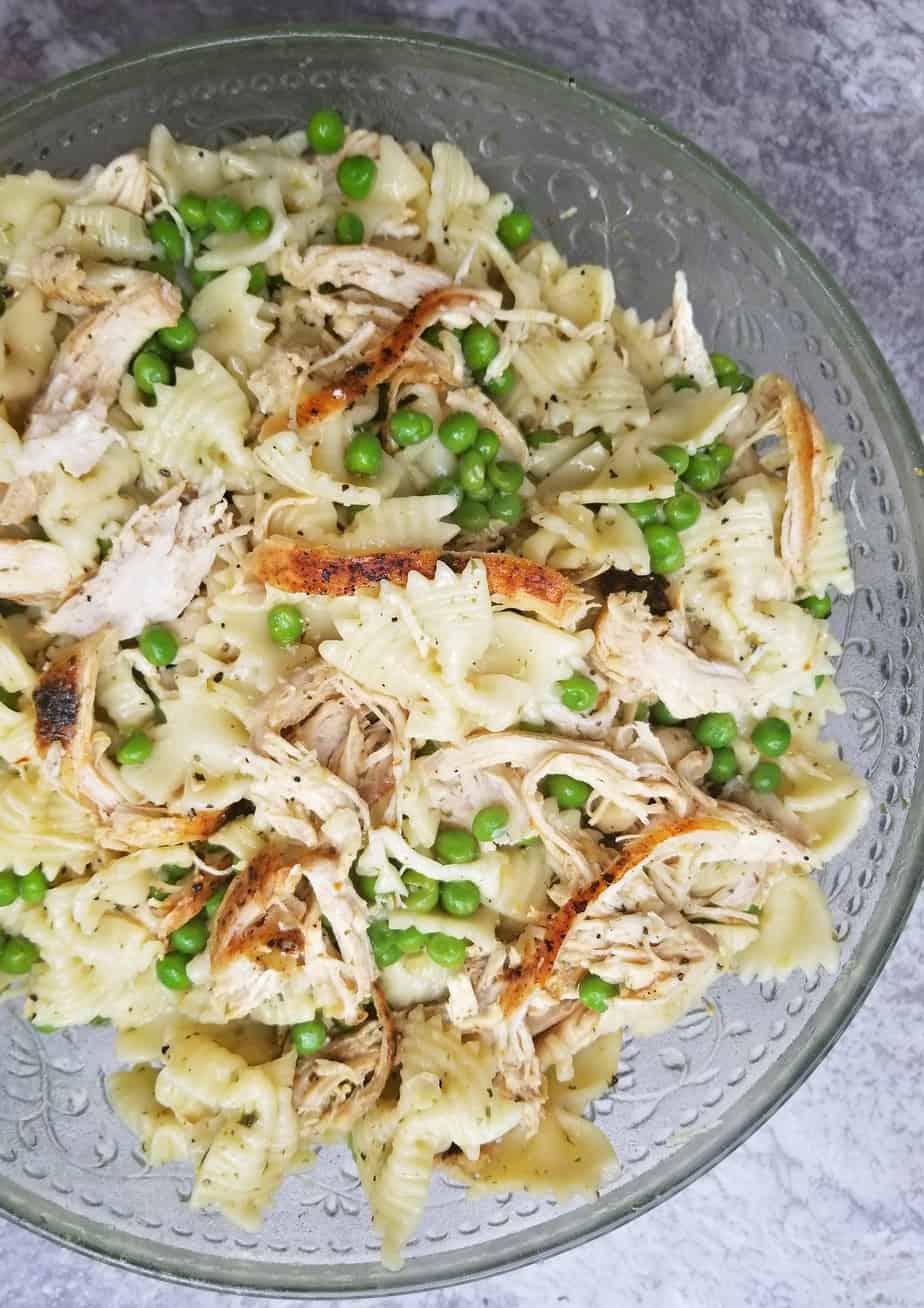 I highly recommended using frozen or fresh peas for this recipe, canned just taste no good. If your not really into peas you can replace them with frozen sweet corn. Just make sure your pre cooking those peas or corn prior of course.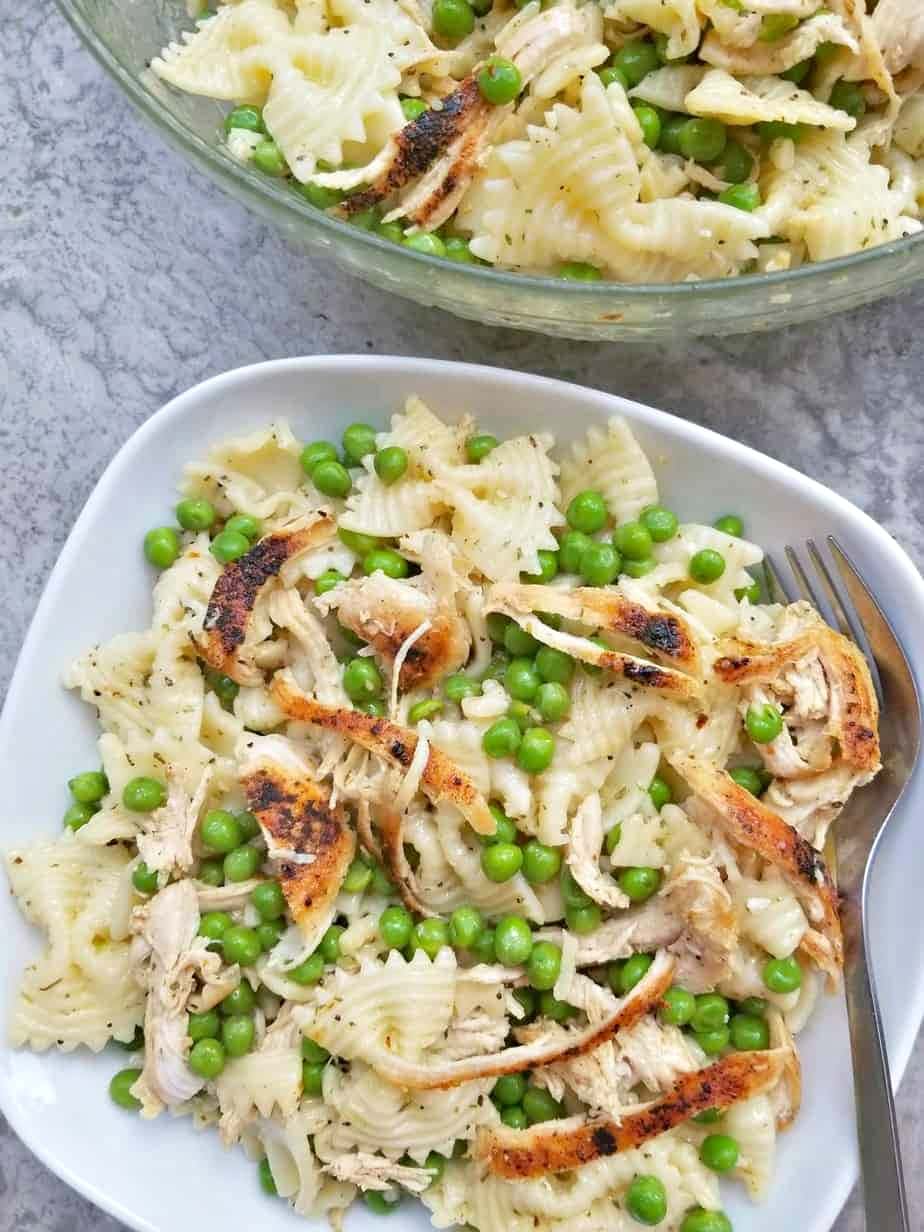 My favorite Chicken Rub = Szeged Chicken Rub
Meal prep idea: Make a few meal preps for the week ahead.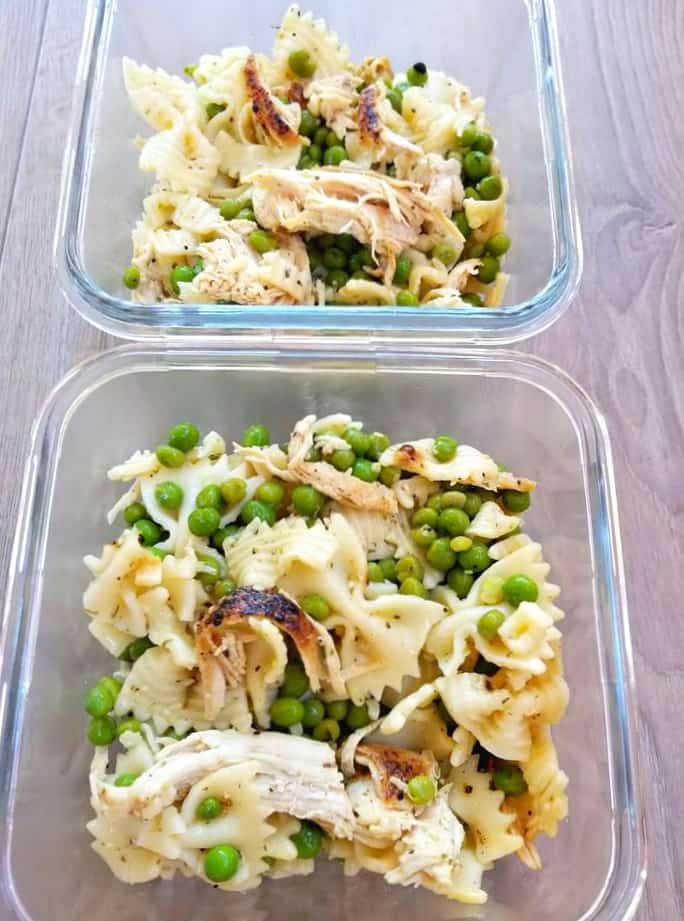 If you loved this recipe? Chances are you will also love my "Cheesy Pesto Pasta with Sundried Tomatoes" if you try them I would like to know which one is your favorite 🙂 till next time see you in the kitchen.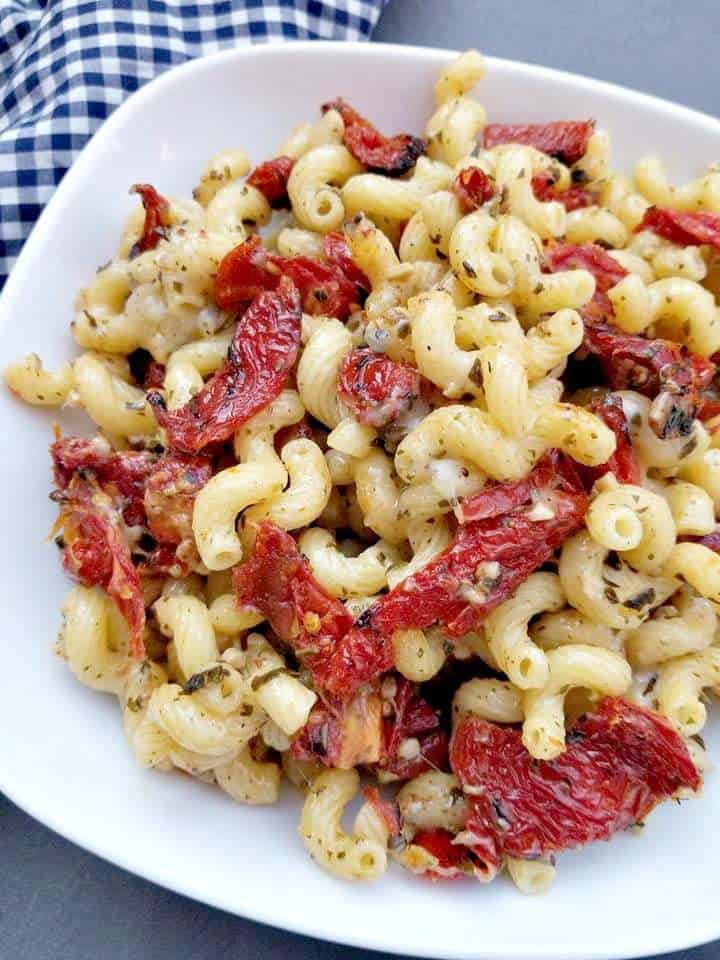 I am so thrilled you are reading one of my recipes, I appreciate every single one of you! If you made this recipe i'd love to hear how it turned out. You can post a review/picture below or via Instagram and let me know. And by doing so you will be automatically entered into our seasonal CONTEST to win one of our great prizes. Winner will be notified via email within a week after the contest closes. Thank you very much for reading and until next time see ya in the kitchen. Don't want to miss a recipe? Sign up for our NEWSLETTER delivered right to your inbox!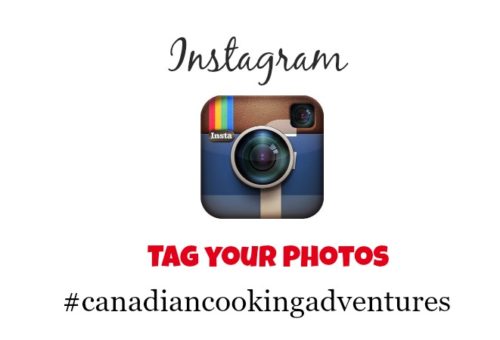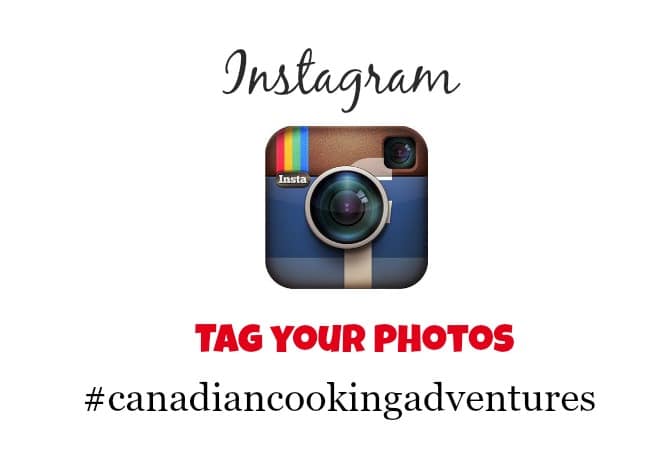 Print Recipe
Chicken Pea Pasta Salad
My favorite pasta salad!
Ingredients
4

cups

Dry Bowtie pasta

2

tbsp

Butter

2

Boneless Chicken breasts

3

cups

Frozen peas

2

tbsp

Szeged Chicken Rub
DRESSING
5

tbsp

Fresh Lemon Juice

1

tbsp

Extra Virgin Olive Oil

1

tsp

Garlic Powder

1

tsp

Onion flakes

1

tsp

Dry Oregano

1

tsp

Black pepper

1

tsp

Salt
Instructions
Start by cooking the bowtie pasta in some lightly salted water according to package instructions or until al dente. Once cooked strain under cold water and set aside.

Meanwhile, season the chicken breasts on either side with the Szeged Chicken Rub and saute with 2 tbsp of melted butter over medium heat. Flipping over a few times till cooked fully.

Remove the cooked chicken to a cutting board and shred with two forks.

Now add the frozen peas to a medium saucepan of boiling water, reduce heat and simmer the peas for roughly 5 minutes till cooked. Remove the peas, strain. Add the peas to a large bowl along with the cooled cooked pasta and shredded chicken.

Toss in the spices, lemon juice and olive oil and toss to coat.

Serve warm or cover and place in the fridge to serve cold later. Enjoy!
PIN IT FOR LATER