Ingredients
1 cup

Whole Milk or Cream

5 cups (fresh and torn)

Kale
Directions
The recipe I'm sharing here with you today is one of our  favorites. This recipe can serve a large family in a short period of time and also does well as leftovers or packaged into meal prep bowls for the weeks lunches ahead. Creamy, and oh so satisfying this is sure to hit the spot if your craving something fancy for dinner tonight.
You can always add more salmon if desired, depending on your taste. Just make sure to break it up as you see in the pictures below, that sure spreads the salmon flavor out nicely and enhances the dish but definitely doesn't overpower it.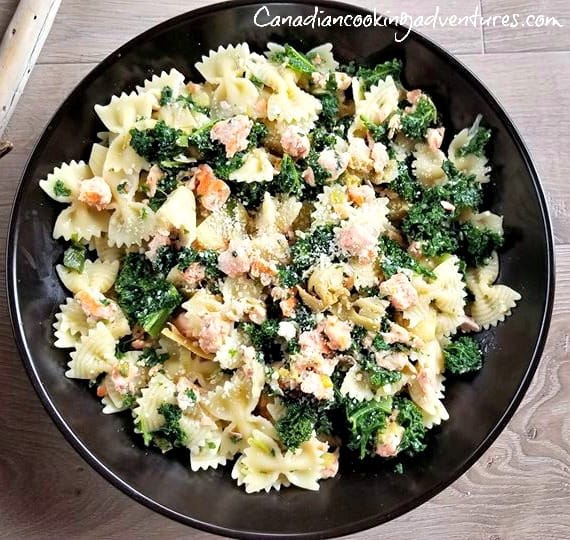 You can use just about any pasta for this recipe, however I really like the texture of the bowtie pasta. This dish is very satisfying, both as a lunch dish or to serve as main meal. You can prepare this dish with canned salmon also, however it really tastes that much better with fresh salmon.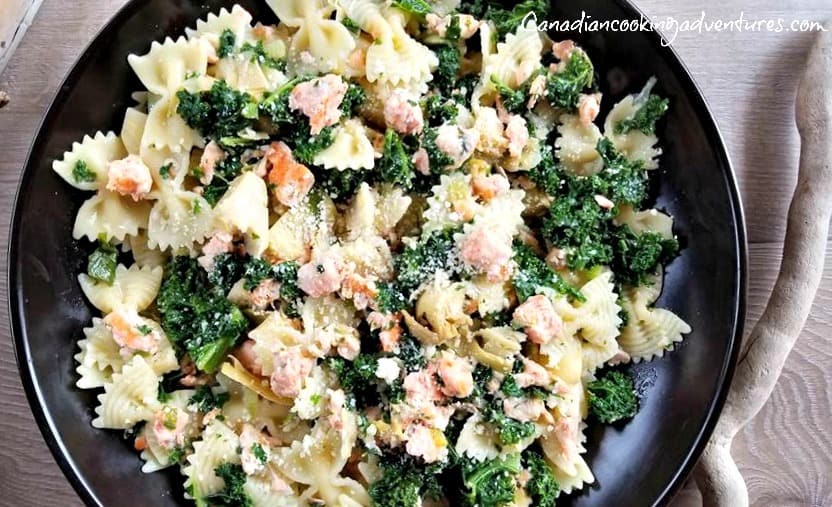 You will want to start by cooking the salmon in a frying pan, once the pasta and kale has been cooked or during if your good at multitasking. Once the salmon is cooked, take a spatula and break it up, pouring in one cup of either whole milk or %2 milk along with one cup of parmesan cheese and stirring to combine. If you end up giving this a give it a try, I would love to know how you liked it. Bon Appetite!
MEAL PREP IDEA: Make enough to create a few meal preps bowls for the week ahead!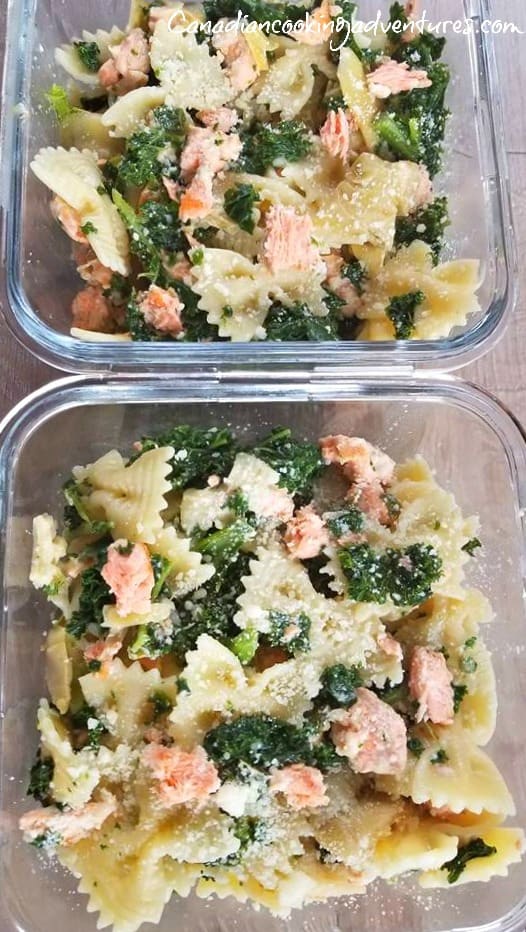 I am so thrilled you are reading one of my recipes, if you made this recipe i'd love to hear about it! You can post a review, picture below or via Instagram and let me know how it turned out. And by doing so you will be automatically entered into our seasonal CONTEST to win one of our great prizes. Winner will be notified via email within a week after the contest closes. Thank you very much for reading and until next time see ya in the kitchen. Don't want to miss a recipe? Sign up for our NEWSLETTER delivered right to your inbox every Month!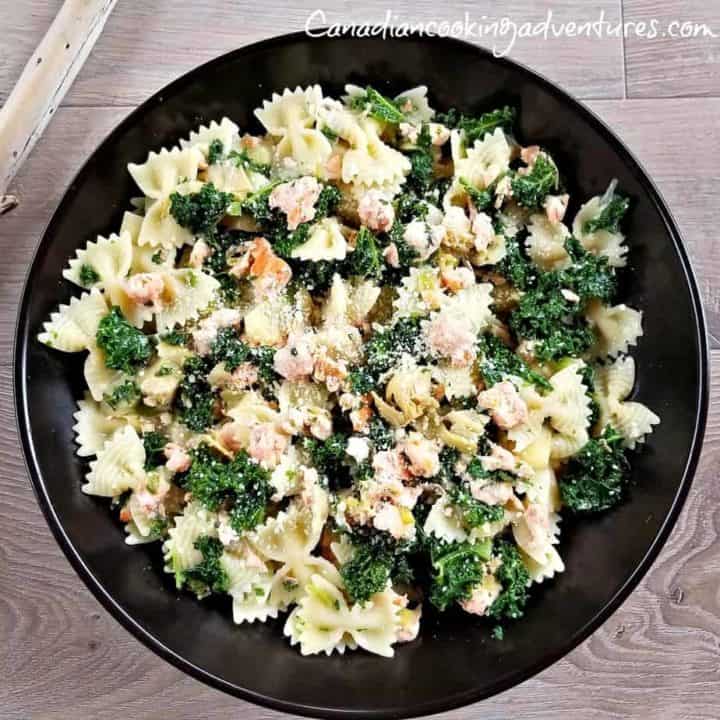 Creamy Bowtie Pasta with Salmon and Kale
Ingredients
2 1/2 cups Bowtie pasta
3 tbsp Olive oil
1 large Salmon
170 mL Artichokes Hearts
1 cup Whole Milk or Cream
1 cup Parmesan cheese
5 cups fresh and torn Kale
1 lemon Lemon
1 tsp Salt
1 tsp black pepper
Instructions
Start by washing and shredding the kale into bite size pieces, set aside.
Bring a large pot of salted water to boil and cook the bow tie pasta according to package instructions.
Once the pasta is half cooked, add in the kale and cook together till the pasta is soft.
Drain the pasta and kale in a colander and set aside.
Now in a frying pan, cook the salmon on both sides for 3 minutes till cooked.
Once the salmon is cooked, remove the skin and break the salmon up into tiny pieces adding in the milk or cream along with parmesan cheese.
Next add in the Artichokes Hearts omitting the liquid part of it.
Then season with lemon, salt and pepper, and simmer all together for 2 minutes on medium low heat. Serve and Enjoy!
PIN IT FOR LATER