Ingredients
2 pds

Pork shoulder or pork butt

1 tbsp

Cooking oil (your favorite)

4 adobo, chopped

Chipotles in adobo sauce

SPICES

1 tbsp

Pasilla Molido Chile Powder

Salt and pepper (to taste)
Directions
These Pulled Pork Adobe Carnitas (Mexican Tacos) are so darn delicious, and are similar to the popular Pulled Pork Carnitas that we have come to know and love. The only difference here is that we are adding "adobe peppers" which give this pork a little sweet heat along with Pasilla Molido Chile, which is flavorful but not overly hot and has earthy tones that go well when paired with fruit = orange and lime juice.
So when you add the whole orange into the slow cooker along with these chiles something amazing happens. This recipe can feed roughly 7 people, so if it's just the two of you dining tonight. Then you can certainly enjoy this the next day and probably have a few meal preps to pack also for the week ahead if you like.
The nice thing about mexican food is that you can make a lot of it in a short period of time, and then enjoy fresh tacos all throughout the week. Not to mention it's super easy to make, all you are doing is a little prep that takes less than 5 minutes and then placing everything inside your slow cooker for the day. Then you simply will be coming home to just shred the pork and placing it under the broiler for a few minutes to crisp it up.
Then you will be ready to have a feast fit for a Mexican Queen or King. I love the ingredients in this recipe, everything tastes so fresh. Adding fresh lime juice along with a fresh orange juice really makes the flavors pop.
Also the addition of the the raw onions surprisingly work so well here too, trust me or I should say the Mexicans! So be sure not to skip on those very important ingredients. Serve this up on some corn tortillas along with some avocados and sour cream if desired. I hope you enjoy, ARRIBA MEXICO!
To make the "Pulled Pork Adobo Carnitas" (Mexican Tacos):
Start by heating rinsing and pat drying the pork.
Then heat 1 tbsp of olive oil in your slow cooker and sear your pork on all four sides, you can also cut your pork into four pieces if desired.
Once lightly browned, turn off heat and make sure the pork is fat side up.
Take out four adobo chiles from the can and chop them finely, then add to a small mixing bowl along with 1 tbsp of the adobo sauce, lime juice and water. 
Next chop the garlic and onion finley add add to the bowl along with all the spices.
Squeeze the juice from one orange into the bowl and then cut the orange inside out.
Then pour everything over the pork.
Place the leftover orange core around the pork also. 
Cover and cook on LOW for 6-8 hours or until pork is tender.
Once tender, take the pork out (keep the remaining juices in the pot) and shred your pork on a cutting board with two forks. 
Add the pork back into the slow cooker and toss in the juices.
Next place your pulled pork on a large non stick baking sheet and drizzle half a cup of the remaining juices from the crock pot over top.
Turn your oven on the *(broil setting) and broil on a large non stick baking sheet for 5 minutes, turn over your shredded pork and broil another 5 minutes till desired crispness.
Pour another half cup of sauce over the broiled pork. 
Serve warm in tortillas, and add your  favorite toppings such as avocado, pico de gallo, onions cilantro etc
Enjoy!
NOTE: Don't forget to broil the pork once it's been shredded, this ensures the meat is crispy just like they serve in Mexico. Just make sure you are pouring half a cup of the sauce overtop the shredded pork before and after broiling.  This shredded pork can be served in burritos, tacos, quesadillas, enchiladas and or over rice.
Looking for an awesome recipe for Mexican Salsa? Check out my recipe for Pico De Gallo this goes great with these Carnitas also.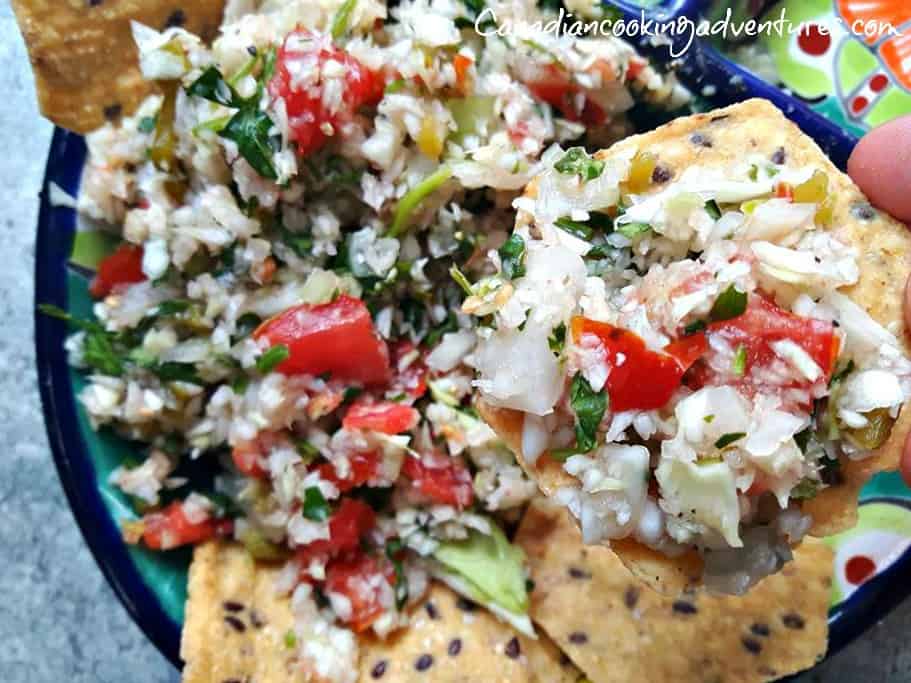 Looking for some MEAL PREP inspiration? Well this recipe is great for that. You can have dinner for two and then create four meal prep bowls for the week ahead. Simply make some rice on the side, and add them to each bowl along with a torn up corn tortilla. Top with onions and cilantro and drizzle the sauce from the slow cooker directly overtop. ENJOY!
I am so thrilled you are reading one of my recipes, if you made this recipe i'd love to hear about it! You can post a review, picture below or via Instagram and let me know how it turned out. And by doing so you will be automatically entered into our seasonal CONTEST to win one of our great prizes. Winner will be notified via email within a week after the contest closes. Thank you very much for reading and until next time see ya in the kitchen. Don't want to miss a recipe? Sign up for our NEWSLETTER delivered right to your inbox!
PIN IT FOR LATER