Ingredients
4

Boneless chicken breasts

2 tbsp

Extra Virgin Olive Oil

Seasoning

1 tbsp

Szeged Chicken Rub
Directions
I'm sharing with you today another "One pan/Meal prep" recipe. This one for Lemon Herb Chicken and Asparagus and it can be ready in under 30 minutes.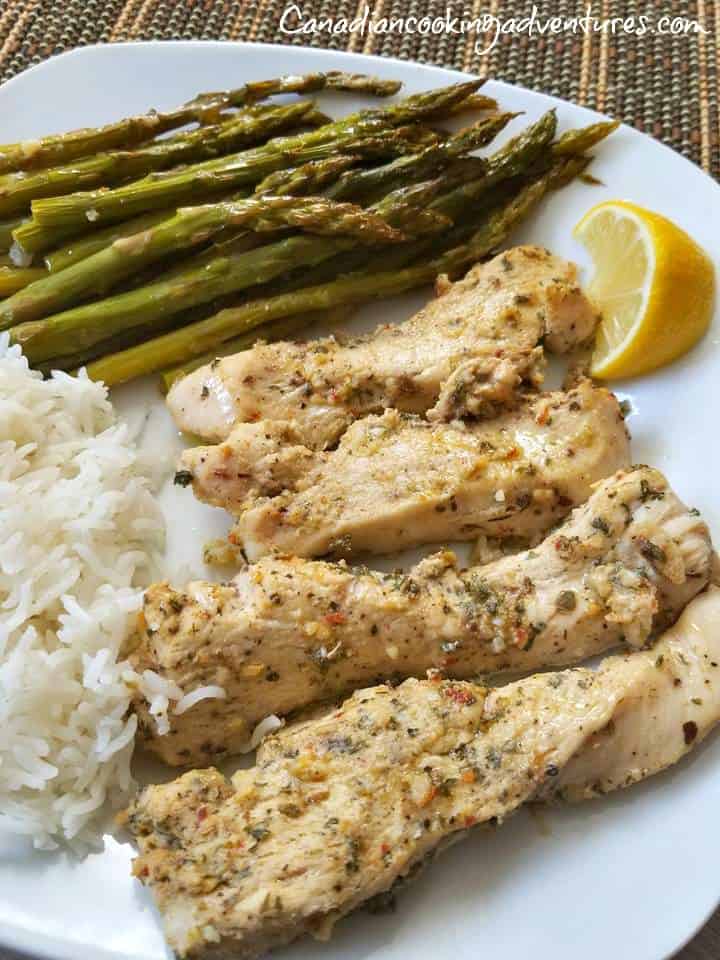 So if you're looking for a healthy and satisfying dinner recipe tonight and or some meal prep inspiration for the next few days. Then this recipe is sure to get you excited!
I sometimes will make two sheet pans and eat this all week long PLUS freeze a few meal preps too for my lunches. Simple and easy to make, you literally can have four separate meals here or double up the recipe and have enough for eight.
It don't get any healthy and easier than this guys! Everyone seems to be looking for gluten free recipes these days, so I recommend adding rice as a gluten free side to this recipe. Yes, all rice (in its natural form) is gluten-free.
However if your not on such a diet, feel free to add baked potatoes or enjoy as is. I found a little inspiration for this recipe from another blogger over at Cooking Classy she made a similar one pan recipe that I love too. I encourage you to try more one pan meals yourself, you won't regret it!
Be sure to slice your chicken breasts prior to cooking, you will want them to marinate them in the fridge prior to cooking for a minimum of one hour, this really helps to enhance the chicken and makes it extra delicious.
Also there is a secret ingredient in this recipe, and that is in the seasoning which you can find below in my amazon favorites for this recipe. It's called "Szeged Chicken Rub" if you have not tried this seasoning I definitely encourage you to give it a try.
With this recipe, you can have dinner for two and pack 2 meal prep meals for later. Wanting to feed more people, or have more meal preps? Simply double the recipe up and use two pans, easy enough eh?
Now get ready for my favorite oven baked lemon chicken and asparagus recipe, this is sure to knock your socks off. Who knew that healthy eating could taste so good!! I hope you give my recipe a try and let me know what you think… and let me know if you could you skip the take out and eat these meal preps more often?
Juicy, tasty and very healthy baked chicken!

MEAL PREP IDEA: Simply, store the leftovers in a few meal prep bowls in the fridge to take on the go with you. Or make enough to create a few meal preps bowls for the week ahead.
Recipe makes four healthy Meal Preps! Double it up for more if desired.
I am so thrilled you are reading one of my recipes, if you made this recipe i'd love to hear about it! You can post a review, picture below or via Instagram and let me know how it turned out. And by doing so you will be automatically entered into our seasonal CONTEST to win one of our great prizes. Winner will be notified via email within a week after the contest closes. Thank you very much for reading and until next time see ya in the kitchen. Don't want to miss a recipe? Sign up for our NEWSLETTER delivered right to your inbox!
One Pan Lemon Herb Chicken and Asparagus
This Juicy Lemon Chicken and Asparagus recipe, which is sure to knock your socks off!
Ingredients
4 Boneless chicken breasts
1 bunch Asparagus
1 Lemon
3 cloves Garlic
2 tbsp Extra Virgin Olive Oil
SEASONING
1 tbsp Szeged Chicken Rub
1 tsp Garlic Powder
1 tsp Parsely
1 tsp Salt
Instructions
Start by washing off your chicken breasts, "if pre froze" defrost them fully prior.
On a cutting board, slice each breast into four strips and place in a large bowl.
Season with all your seasonings, minced garlic, and squeeze the juice 1/2 a lemon on top.
Mix everything together and marinade covered in the fridge for up to one hour.
Once marinated place the chicken in the middle of your non stick baking pan, and place the cut in half and washed asparagus all around.
Spoon the remaining marinade over top the chicken and drizzle a little olive oil over the vegetables and chicken.
Bake in a preheated oven at 400 degrees for 30 minutes.
Serve and enjoy!
PIN IT FOR LATER