Directions
This

Jamaican Curry Goat

is made with cubed goat meat, scotch bonnet peppers, potatoes and curry spices that your sure to like.
I will never forget my first bite of Jamaican food, it was at a local dinner in Ocho Rio, Jamaica.
The restaurant was situated in an tropical outdoor environment and the waiter came around to tell us the specials.
Every dish was very delicious looking so we ordered pretty much one of everything, we were hungry and wanted to try it all!
Well let me tell you it was love at first taste, because it was de bess food eva.
In Jamaica this curry dish is very popular, I realize goat is an acquired taste and not easy to come by but I encourage you to try it for the sake of being a die hard foodie.
Mi luv Jamaican curry!
HOW TO COOK JAMAICAN CURRY GOAT IN THE SLOW COOKER
You can do this recipe in the pressure cooker or the slow cooker, today I'm making mine on the stove top. However, it is to prepare it in the slow cooker too.
Start by setting your slow cooker to (simmer) while searing the goat meat, onions and tomatoes in curry sauce.
Once that has been done, simply place the lid on the slow cooker at set from 8-10 hours.
Most Jamaican dishes are served up alongside some rice and peas along with a mango chutney.
Oh and you can't forget an iced cold bottle of "Red Stripe Beer" Jamaica's most popular beer.
So if you like curries as much as me then give this recipe a try, but make sure you are using the traditional ingredients of "Jamaican Curry" and "Scotch Bonnet peppers" otherwise you will change the flavor and you don't want to do that.
IS JAMAICAN CURRY GOAT HEALTHY
Yes, goat meat is a very lean meat almost like bison meat. Then with the addition of onions, tomatoes, and curry spices. This dish becomes everything you need to make a healthy meal.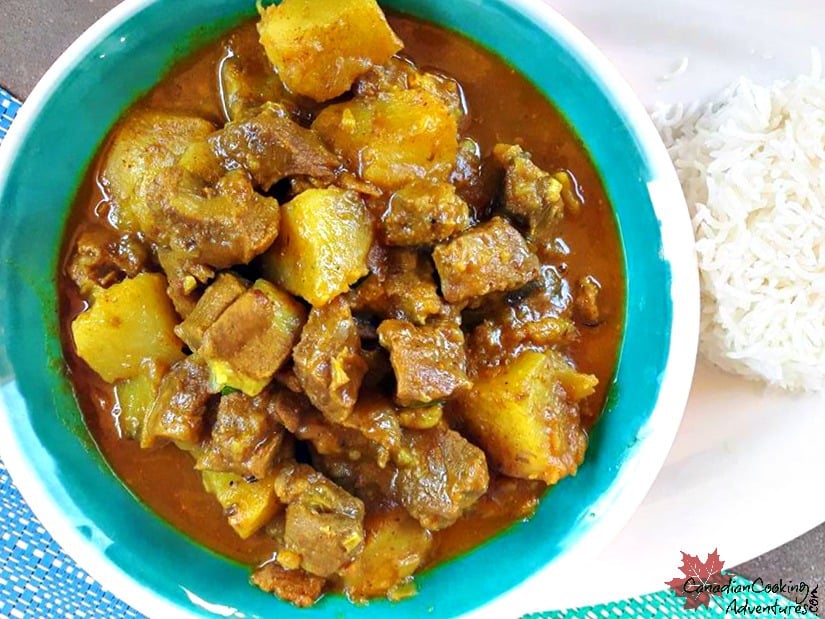 Note: It's best to use boneless meat to prevent the bones from splintering if using pressure cooker.
Recipe: Inspired by my trip to Jamaica and by the lovely lady over at Immaculate Bites
LOOKING FOR MORE JAMAICAN RECIPES?
I am so thrilled you are reading one of my recipes, if you made this recipe i'd love to hear about it! Thank you very much for reading and until next time see ya in the kitchen. Don't want to miss a recipe? Sign up for our NEWSLETTER delivered right to your inbox!
Jamaican Curry Goat
This Jamaican Curry Goat is made with cubed goat meat, scotch bonnet peppers, potatoes and curry spices.
Ingredients
1 pound Boneless goat meat
1 tbsp Vinegar
3 tbsp cooking oil
1 large onion, diced
1 large tomato
1 tbsp Ginger, paste
1 tbsp Garlic, minced
SPICES
3 tbsp Jamaican curry powder
2 tsp Scotch bonnet pepper sauce
1/2 cube Maggi cube
1/2 tsp Thyme
1 tsp Salt and pepper, to taste
Instructions
First you will want to start with some bone in goat meat
Then you will want to soak it in some vinegar for 10 minutes to tenderloin it some.
Then you will add 1 tbsp of cooking oil and 3 tbsp of curry powder to the goat and toss to coat.
From there, you will sear it in more cooking oil till lightly browned, adding in the onions and tomatoes next.
Simmer down for 10 minutes before adding in the garlic, ginger, scotch bonnet pepper sauce and remaining spices.
Covering then with water and simmering with the lid on the pot for 40 minutes till tender.
Serve and enjoy with basmati rice. Enjoy!
Recommended Products
As an Amazon Associate and member of other affiliate programs, I earn from qualifying purchases.
Nutrition Information:
Yield:

2
Serving Size:

1
Amount Per Serving:
Calories:

495
Total Fat:

17g
Saturated Fat:

3g
Trans Fat:

0g
Unsaturated Fat:

12g
Cholesterol:

171mg
Sodium:

1187mg
Carbohydrates:

20g
Fiber:

8g
Sugar:

8g
Protein:

65g
These calculations are based off Nutritionix