Ingredients
1 pound

Boneless goat meat

Spices

2 tbsp

Jamaican curry powder

2 tsp

Scotch bonnet pepper sauce

or 1 whole scotch bonnet pepper

2

Whole pimento berries (crushed)

1/2 cube

Maggi cube

*or your favorite kind

1 tsp

Salt and pepper (to taste)
Directions
This Jamaican Curry Goat is made with cubed goat meat, scotch bonnet peppers, potatoes and curry spices.  Your sure to be eating soon like the locals do in Jamaica anytime of the year.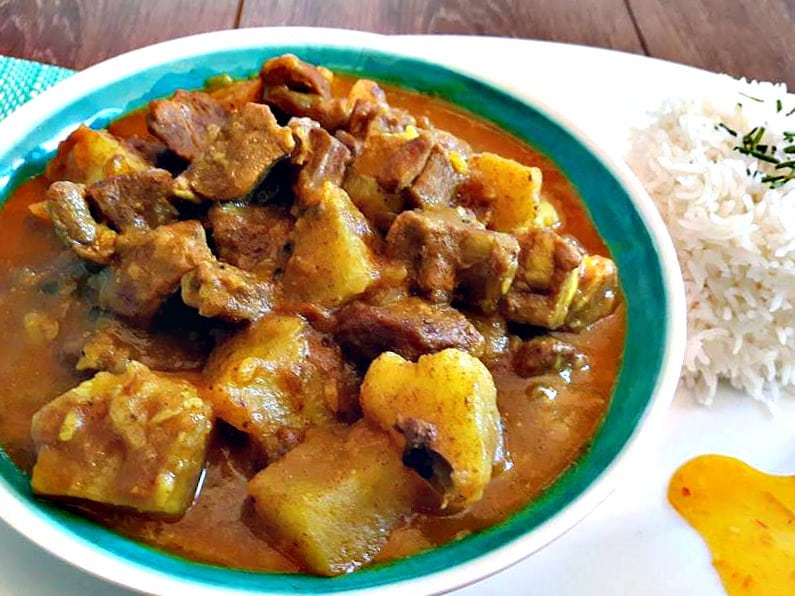 I will never forget my first bite of Jamaican food, it was at a local dinner in Ocho Rio, Jamaica. The restaurant was situated in an tropical outdoor environment and the waiter came around to tell us the specials.
Every dish was very delicious looking so we ordered pretty much one of everything, we were hungry and wanted to try it all! Well let me tell you it was love at first taste, because it was de bess food eva.
In Jamaica this curry dish is very popular, I realize goat is an acquired taste and not easy to come by but I encourage you to try it for the sake of being a die hard foodie.
Mi luv Jamaican curry!
Most Jamaican dishes are served up alongside some rice and peas along with a mango chutney. Oh and you can't forget an iced cold bottle of "Red Stripe Beer" Jamaica's most popular beer.
So if you like curries as much as me then give this recipe a try, but make sure you are using the traditional ingredients of "Jamaican Curry" and "Scotch Bonnet peppers" otherwise you will change the flavor and you don't want to do that.
You can do this recipe in the pressure cooker or the slow cooker, today I'm making mine on the stove top. I hope you enjoy fi yuh jamaican dinna!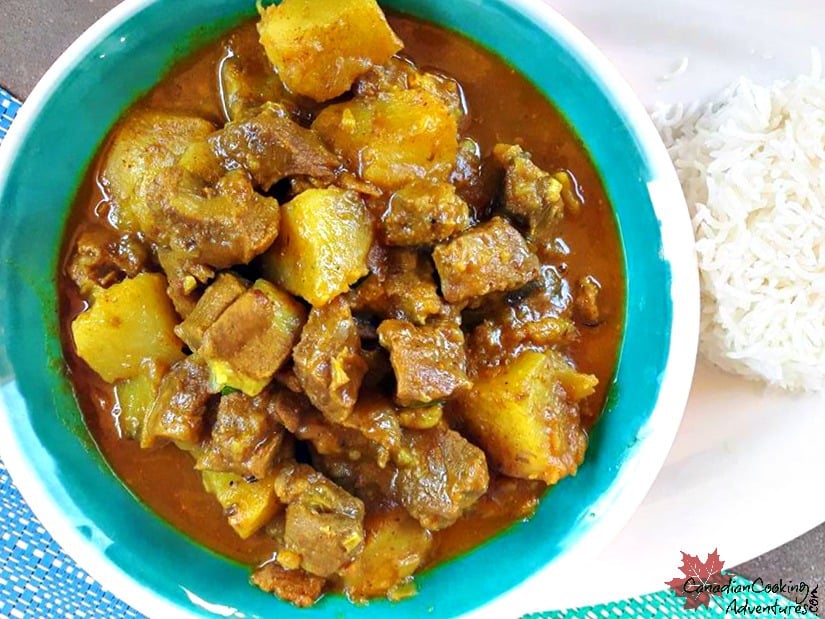 Note:  It's best to use boneless meat to prevent the bones from splintering if using pressure cooker.
Recipe: Inspired by my trip to Jamaica and by the lovely lady over at Immaculate Bites
I am so thrilled you are reading one of my recipes, if you made this recipe i'd love to hear about it! You can post a review/picture below or via Instagram and let me know how it turned out. And by doing so you will be automatically entered into our seasonal CONTEST to win one of our great prizes. Winner will be notified via email within a week after the contest closes. Thank you very much for reading and until next time see ya in the kitchen. Don't want to miss a recipe? Sign up for our NEWSLETTER delivered right to your inbox!
PIN IT FOR LATER
Steps
To make the Jamaican Curry Goat:

Start by washing off your goat meat and rinsing once with a vinegar wash, then pat dry.

Place your goat meat in a medium size pot and add in your salt, turn up the heat and sauté the goat meat till lightly browned.

Add in your curry and stir, then add in your onion, green onion, tomato paste, thyme, garlic, ginger, pepper and scotch bonnet sauce or 1 whole scotch bonnet pepper and stir for 3-4 minutes till combined. Pour in enough water to cover the meat and bring to a boil, cover and turn down to a simmer and cook till tender roughly 2 hours.

Once the goat is fork tender, add in your diced potatoes and maggi cube and more water if needed and cook till the potatoes are fork tender.

Add as much water as you want to serve with, it soaks up fast so keep an eye on it.
Enjoy!