Directions

IS EGGPLANT PARMESAN HEALTHY
Yes, it has lots of vegetables and spices in it.
If you are on a low calorie diet you can use less cheese if desired and omit frying it in oil.
Now I know many Italians swear by frying the eggplant in olive oil prior to baking.
However that is not very healthy and so I find that baking it just as good.
WHAT EGGPLANT PARMESAN
This Eggplant Parmesan uses one large eggplant, fresh mozzarella and parmesan cheese, panko bread crumbs, eggs and your favorite tomato sauce of choice along with some Italian spices.
You can also add spinach to this recipe if desired, either way your going to fall in love with this recipe. Guaranteed!
WHY IS MY EGGPLANT PARMESAN TOUGH
Because, you simply need to soak the eggplant prior in water and salt to tenderize it.
That way it will turn out just as delicious as the kind that is fried in oil.
Also this recipe is suitable for those a on keto or low carb diet, since there's no pasta used in this one.
You will want to start by soaking the eggplant in water and salt before hand to tenderize and remove any of the bitter taste.
Don't miss this step, it's important.
Now, if you think you will be missing out on the meat protein here and feeling hungry afterwards.
Then you will be pleasantly surprised to find this meal is just as filling as say Chicken parmesan.
My family much prefers Eggplant Parmesan now to Chicken Parmesan.
IS EGGPLANT PARMESAN VEGETARIAN
Not this one as it has eggs, however if you want to make it you can skip the eggs.
I like to make a large casserole dish, which makes about 6 individual large servings.
Typically we will eat this over the next few days and sometimes I will make two batches and freeze a bunch for my meal prep lunches.
Your family will not believe this is made with eggplant. Just you?
Make numerous small portions and freeze it for quick on the go meals for down the road.
If you end up giving this a give it a try, I would love to know how you liked it. Bon Appetit!
Baked to Perfection, now that is one saucy number!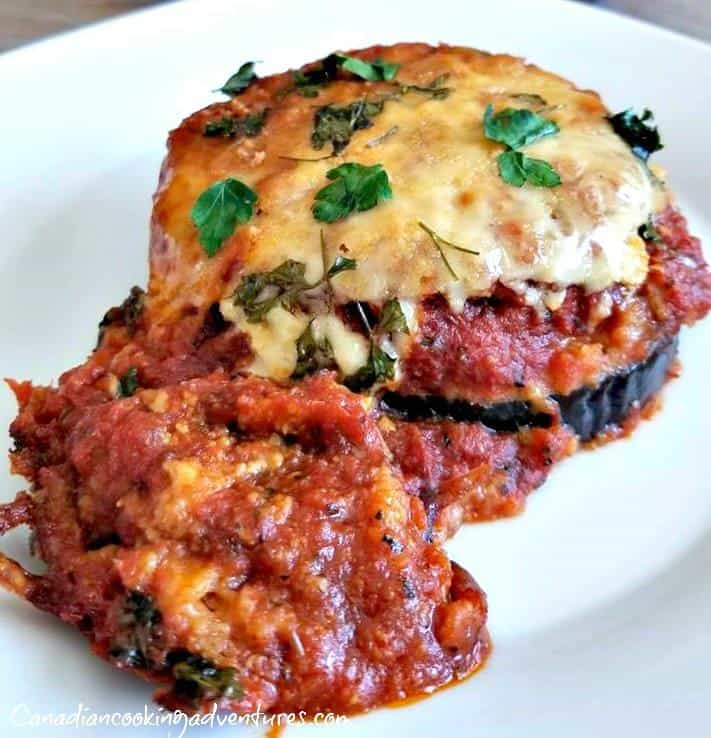 DOES EGGPLANT PARMESAN INDUCE LABOR
According to some experts, it can see this link for more information > does eggplant parmesan help induce labor
CAN EGGPLANT PARMESAN BE FROZEN
Yes, and you can make it into meal preps for lunch or dinner for another time.
MEAL PREP IDEA: Make enough to create a few meal preps bowls for the week ahead.
By sectioning each eggplant medallion off into "meal prep" bowls in which I freeze for lunches/dinners for down the road.
Want to make more than 8 meal prep bowls? Double this recipe up with using the adjust serving option above.
Notes: You can use less cheese if you want.
I am so thrilled you are reading one of my recipes, if you made this recipe i'd love to hear about it! Thank you very much for reading and until next time see ya in the kitchen. Don't want to miss a recipe? Sign up for our NEWSLETTER delivered right to your inbox every Month!
HEALTHY EGGPLANT PARMESAN
Baked not fried, this Eggplant Parmesan is healthy for you!
Ingredients
1 large cut into 1/2" thick slices Eggplant
2 Jars each, 650 ML PC Spinach and Cheese Pasta Sauce
1 cup Panko Bread Crumbs
3 cloves Garlic
3 eggs Eggs
1/4 cup 2% milk
2 tbsp Extra Virgin Olive Oil
3 cups Fresh Mozzarella cheese
1 cup Fresh Parmesan cheese
SPICES
2 tbsp Italian Seasoning
1 tsp Garlic Powder
1 tsp Onion powder
3 tbsp fresh parsley leaves
1 tbsp black pepper
Instructions
START BY SOAKING THE EGGPLANT: Slice the eggplant into 1/2 inch thick pieces and placing in a large bowl covered in water, ADD 2 tbsp of salt to the water and then place another large bowl to overtop to make sure the eggplant is submerged for up to an hour.
Once your eggplant has finished soaking, drain the eggplant and set aside. Then take two bowls, and in bowl number one whisk your 3 eggs together with the milk. In bowl number #2 place add the panko breadcrumbs.
Start by dipping, each pieces of eggplant into the egg/milk mixture. Then shaking off slightly and then into the panko breadcrumbs. Make sure the whole eggplant pieces is coated, before placing onto a non stick baking pan.
Repeat until every pieces of eggplant have been coated. Preheat oven to 400 degrees and place the eggplant in the oven for 15 minutes to tenderize it.
Meanwhile, in a large saucepan over medium heat add 1 tbsp of olive oil and your crushed garlic cloves. Saute till fragrant, then immediately pour your jar of tomato sauce of choice.
Add in the italian seasoning, garlic powder, onion powder, and pepper. Cover and simmer on low heat for 10 minutes, stirring occasionally.
Once the sauce has cooked, spoon about a 1/2 cup into the bottom of a large casserole dish, then layer on top the baked eggplant, and drizzle one tbsp of olive oil over the eggplant, then mozzarella cheese, parmesan cheese, tomato sauce and repeat till the eggplant is done.
Top the casserole with the last of the mozzarella and parmesan cheese and fresh parsley and bake for 25 minutes. Enjoy!
Nutrition Information:
Yield:

6
Serving Size:

1
Amount Per Serving:
Calories:

543
Total Fat:

31g
Saturated Fat:

14g
Trans Fat:

0g
Unsaturated Fat:

14g
Cholesterol:

197mg
Sodium:

1121mg
Carbohydrates:

36g
Fiber:

7g
Sugar:

5g
Protein:

33g