Directions
This is my all time favorite way to make

Guacamole

, that is why I call it "The Best Homemade Guacamole

".
There is a trick to making the best guacamole so follow along.
Your going to love this recipe!
Now, I know there are a ton of so called AMAZING Guacamole recipes out there. However most are mediocre if you ask me, as I have been making this stuff for years.
In my pursuit for the best recipe, I have also spoken to many Mexicans who have shared some of their recipe secrets with me. If that is not market research, then I don't know what is.
WHO INVENTED GUACAMOLE?
The Aztecs from the old world have been credited for inventing this delicious dip. The dip was called ahuaca-molli; molli was the Nahautl word for "something mashed or pureed.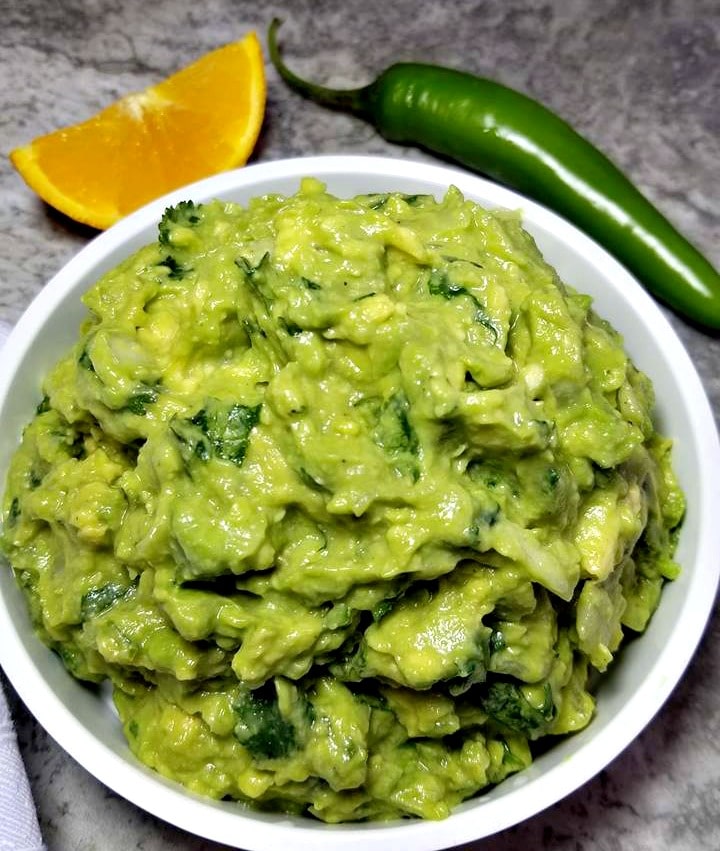 HOW TO MAKE THE BEST GUACAMOLE?
I don't know about you but I like my guacamole to be medium spicy,

so I will add 1 serrano pepper to 3 avocados.

Also I like to make my guacamole in a traditional pestle, however it will turn out the same way if you decide to make it in a bowl and then mash it with a fork.
Be sure to not over mash the avocados, because you want to leave some small chunks in there. It just tastes better that way 🙂
Season well with salt and the right amount of citrus and you will have the best guacamole ever!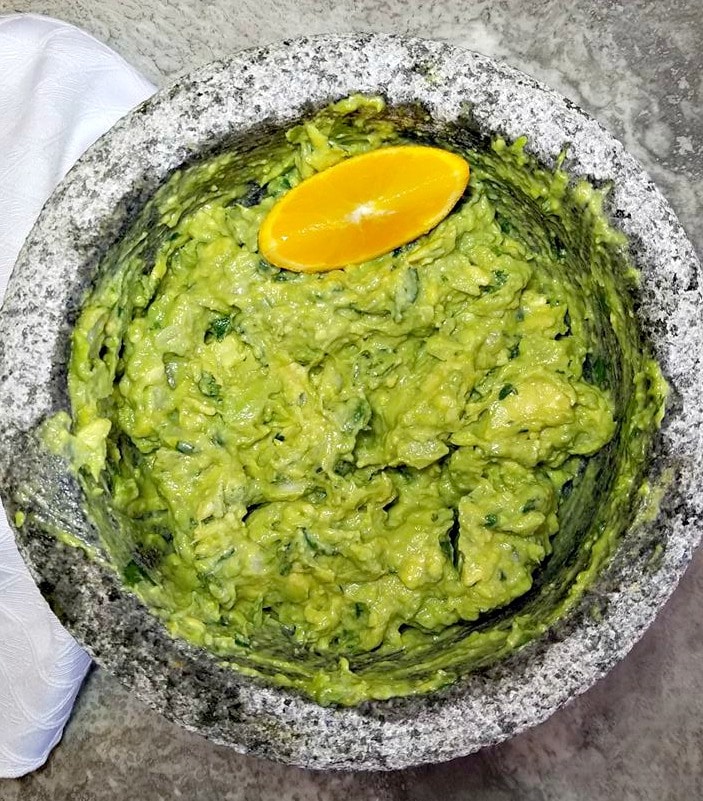 WHAT MAKES A GUACAMOLE AUTHENTIC?
It is in the ingredients, true Mexican guacamole uses:
Serrano Peppers not Jalapenos and White Onions not Yellow or Purple.
WHAT MAKES A GUACAMOLE AMAZING?
The ratio of ingredients that are used
The right amount of spices
The right ingredients
How do I know how to make real Guacamole you ask? Well I have traveled to Mexico before along with have visited Old Town in San Diego and ate at every single Mexican restaurant I could find! Asking how it's made, if that is not market research, then I don't know what is.
I've also spent a lot of time testing many of those recipes and came up with our favorite way to Mexican Guacamole at home.
Real Mexican Guacamole highlights the avocados and does not allow any other ingredient to take over. That is why I do not add roma tomatoes anymore as they take from the avocados.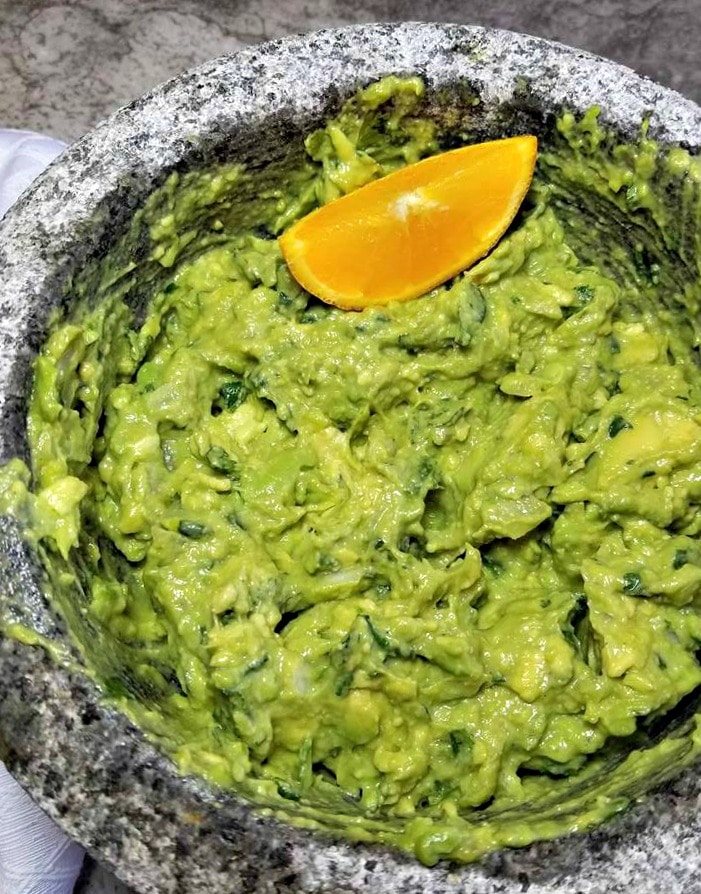 In this house we eat guacamole every week, because we adore Guacamole. And whenever we go down to Mexico or the States we always order it as an appetizer.
Okay, I'm now ready to reveal the SECRET ingredient.
Ready? It's Fresh Squeezed Orange juice!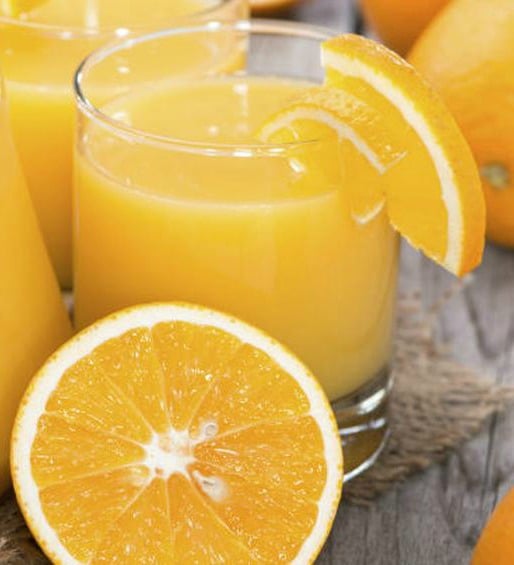 Along with fresh squeezed lime juice ~But that is not so secret!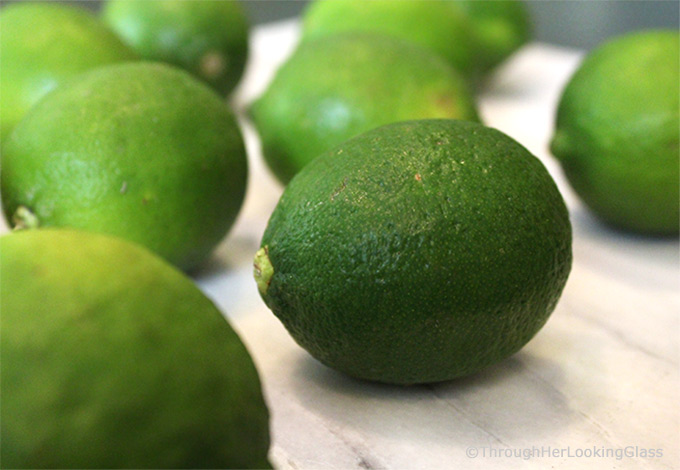 Both of those fruits really help to enhances the avocados. I learned about this secret ingredient from one of my favorite mexican restaurants, however I won't say which as I do not want anyone to get in trouble!
IS GUACAMOLE HEALTHY FOR YOU?
YES! Guacamole is very healthy for you because it contains fat to have in your diet, so eating this often would be a win win! Here are just a few benefits of The Avocado.
They contain Vitamins A, C, and E are all present in the flesh of tasty avocado.
They're are immune-boosting, so forget an apple a day eat an avocado a day.
They protect the eyes
They can curve hunger, eating just one and you will feel full.
The antioxidants in avocados are good for fighting off cancer.
They lower cholesterol and help fight diabetes and so much more.
If that is not reason enough to eat more Guacamole, than I don't know what is. I really encourage you to try a few Guacamole recipes to decide what is your favorite!
Below you will also find my favorite recipe for Cabbage Pico De Gallo it's AMAZING!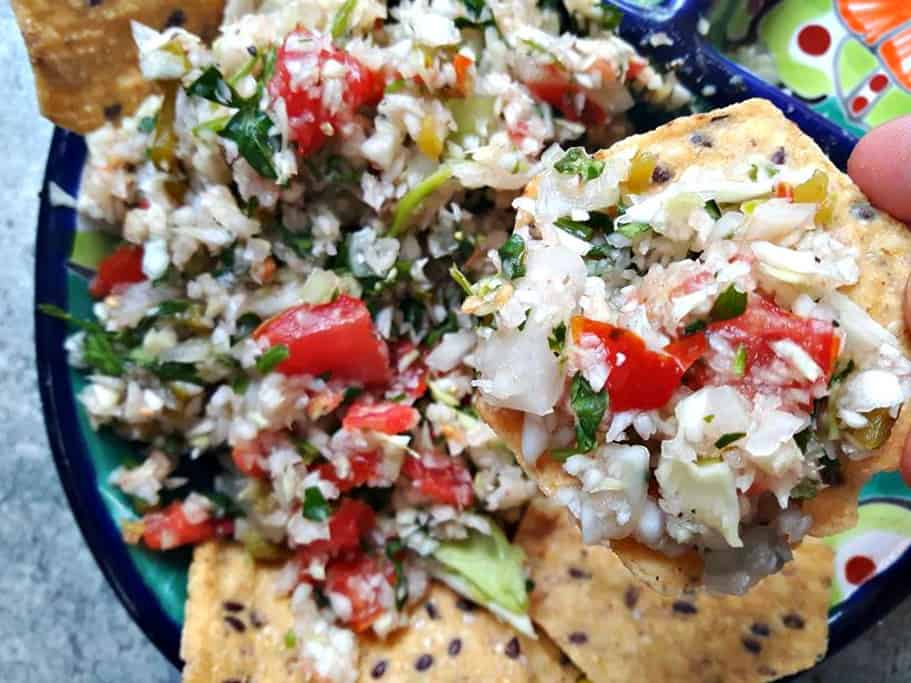 If you want it more spicy, simply chop more of the Serrano pepper.
Also you can add a diced roma tomato if you'd like. Also be sure to not over mash the avocados, because you want to leave some small chunks in there. It just tastes better that way 🙂 Want to store it in the fridge for a couple of days, be sure to place the pit from one avocado into the dip. This will allow it to store longer and not brown to fast.
LOOKING FOR MORE AWESOME DIP RECIPES?Try some of my favorite Homemade Creations below!
I am so thrilled you are reading one of my recipes, if you made this, I want to see! Follow Canadian Cooking Adventures Instagram, snap a photo, and tag and hashtag it with @canadiancookingadventures and #canadiancookingadventures.
Stay connected and follow along on Facebook, Pinterest, and Instagram for all of my latest recipes!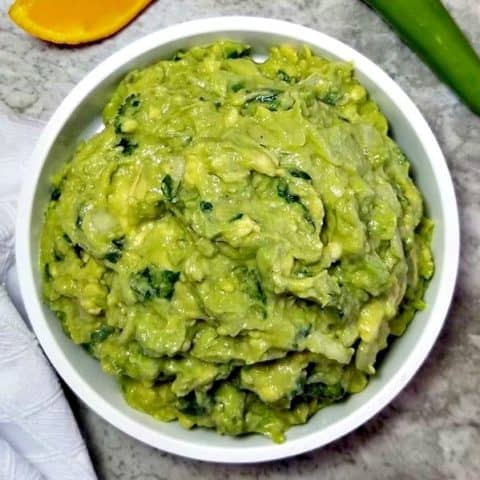 Best Homemade Guacamole
Secret Ingredient Revealed!
Ingredients
3 tbsp White onion
1/4 cup Fresh Cilantro
1 Serrano Pepper
3 Avocados
1 Orange
1 Lime
SPICES
1/2 tsp Ground Cumin
1 tsp Garlic Powder
Salt Kosher Salt
Instructions
In a large mortar or bowl add the chopped white onion, cilantro, serrano pepper. Mash. "with a fork or pestle" till crushed.
Next scoop out the flesh of the avocados into the mortar or bowl and then add the fresh orange and lime juice along with seasonings.
Mash all the ingredients together, blending together but leaving some chunks of avocado too.
Store in the fridge for up to one hour and serve!
Nutrition Information:
Yield:

2
Serving Size:

1
Amount Per Serving:
Calories:

403
Total Fat:

32g
Saturated Fat:

4g
Trans Fat:

0g
Unsaturated Fat:

24g
Cholesterol:

0mg
Sodium:

603mg
Carbohydrates:

34g
Fiber:

17g
Sugar:

8g
Protein:

6g