Ingredients
2 tbsp

Jalapeno peppers

Chopped finally

2 tbsp

Jalapeno pepper juice

1 large bunch

Fresh Cilantro
Directions
Once you try this salsa you won't ever want to go back to those store bought varieties. I just love this salsa because it's like nothing else, and is very fresh tasting not to mention super healthy for you. Pico De Gallo is Mexican salsa also known as Salsa Fresca and made from chopped tomato, onion, cilantro, jalapeños peppers, salt, and lime juice. It's name, in Spanish means 'beak of a rooster' and is believed to originate from the resemblance of the way a rooster pecks in his food to make it edible and the chopping of the ingredients which also prepares a very colorful salsa which resemble the colors of a rooster's feathers. Thank you MEXICO for sharing this amazing recipe with the us. Buen provecho!
This salsa is so fresh and tasty, I could eat it all day everyday!
Serve alongside your favorite tortilla chips for a healthy snack!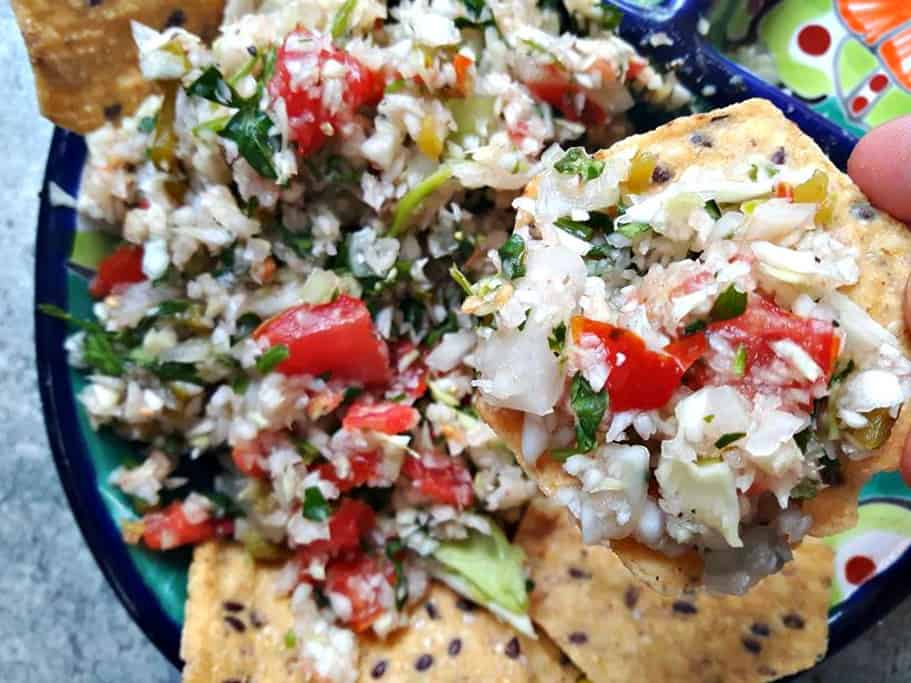 I like to add finely shredded cabbage to mine, and to do that you will need a food processor. However you can omit the cabbage for a more traditional Mexican Pico De Gallo if you prefer. But I would not recommend that because it just tastes much better with the cabbage and can feed more people. When making this simple salsa, make sure to drain most of the liquid out of your tomatoes otherwise it will become mushy to fast. You can serve this with your favorite tortilla chips for a healthy snack or use it as a side or filling for your tacos, fajitas, burritos etc. 
SUPER FRESH AND FLAVORFUL!
To make the Pico De Gallo:
Start by dicing your tomatoes, and remove as much of the seeds as possible. Your wanting more of a dry salad as opposed to liquid. If your tomatoes are producing allot of liquid, take a paper towel and remove as much liquid as possible then set aside.
Slice your large cabbage in half, and cut it up so that it fits inside your food processor.
Pulse the cabbage to a fine size, but do not over pulse you do not want mushy cabbage.
Dice onion, press garlic, and chop your cilantro and then place inside a large bowl.
Add in your chopped cabbage, tomatoes, and season generously with salt and pepper. 
Stir everything together to combine and allow it to marinade in the fridge anywhere from 1-2 hours.
Serve chilled with tortilla chips, tacos, fajitas burritos etc
Looking for a recipe to pair this with? Try my Pulled Pork Carnitas Mexican Tacos  or Slow Cooker Mexican Chipotle Fajitas.
This is the best Salsa in the WORLD!! I kid you not.
I am so thrilled you are reading one of my recipes, if you made this recipe i'd love to hear about it!You can post a review, picture below or via Instagram and let me know how it turned out. And by doing so you will be automatically entered into our seasonal CONTEST to win one of our great prizes. Winner will be notified via email within a week after the contest closes. Thank you very much for reading and until next time see ya in the kitchen. Don't want to miss a recipe? Sign up for our NEWSLETTER delivered right to your inbox every Month!