Ingredients
1/4 cup

Cilantro

chopped finely

1 pepper

Serrano Pepper

no seeds

Spices
Directions
This is a Traditional way to make Guacamole, that is why I named this recipe "Mexican Guacamole". You can adjust the heat by the amount of Serrano Peppers you decide to add to it.
I like my gucample to be medium spicy, so I add will add 1 serrano pepper to 3 avocados. Also you can make the guacamole in a traditional pestle like i did or you can make it in a large bowl with a fork. Both ways work well!
What makes a guacamole authentic is the ingredients, Mexican guacamole uses:
Serrano Peppers not Jalapenos
White Onions not Yellow or Purple
How do I know how to make real Guacamole you ask? Well I have traveled to Mexico before along with have visited Old Town in San Diego and ate at every single Mexican restaurant I could find! Asking how it's made, if that is not market research, then I don't know what is.
I've also spent a lot of time testing many of those recipes and came up with our favorite way to Mexican Guacamole at home.
Real Mexican Guacamole highlights the avocados and does not allow any other ingredient to take over. That is why I do not add roma tomatoes anymore as they take from the avocados.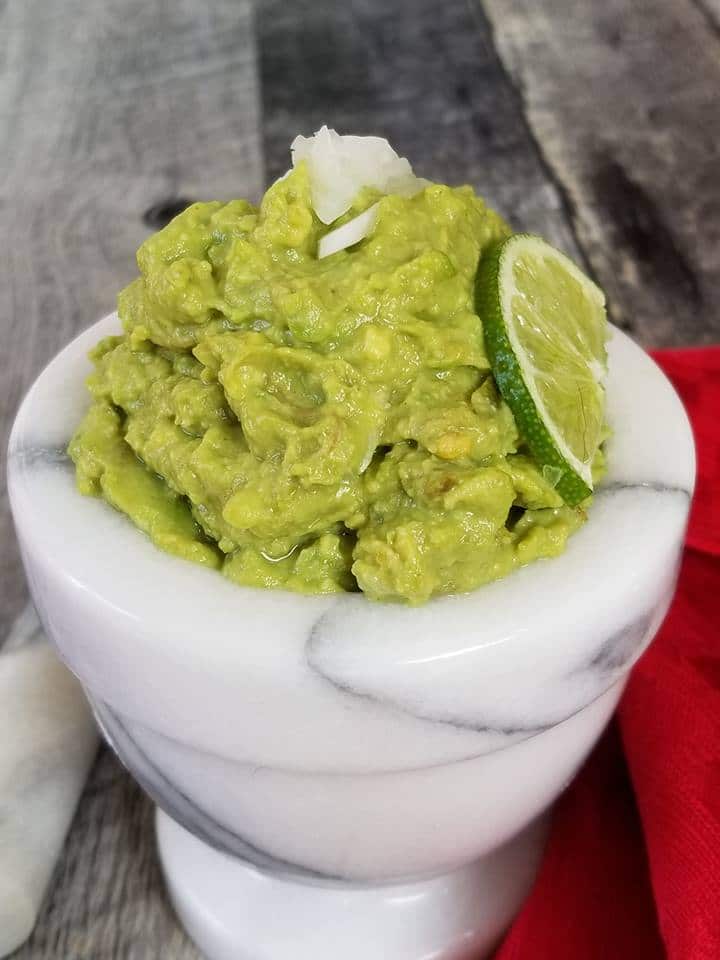 Guacamole not only goes well with nachos, it also goes good in a burrito on tacos and pretty much alongside any type of Mexican meal.
Also you can mash the white onion before you mash the avocados or you can leave the white onion in small chunks. Just be sure to not over mash the avocados, because you want to leave some small chunks in there. It just tastes better that way 🙂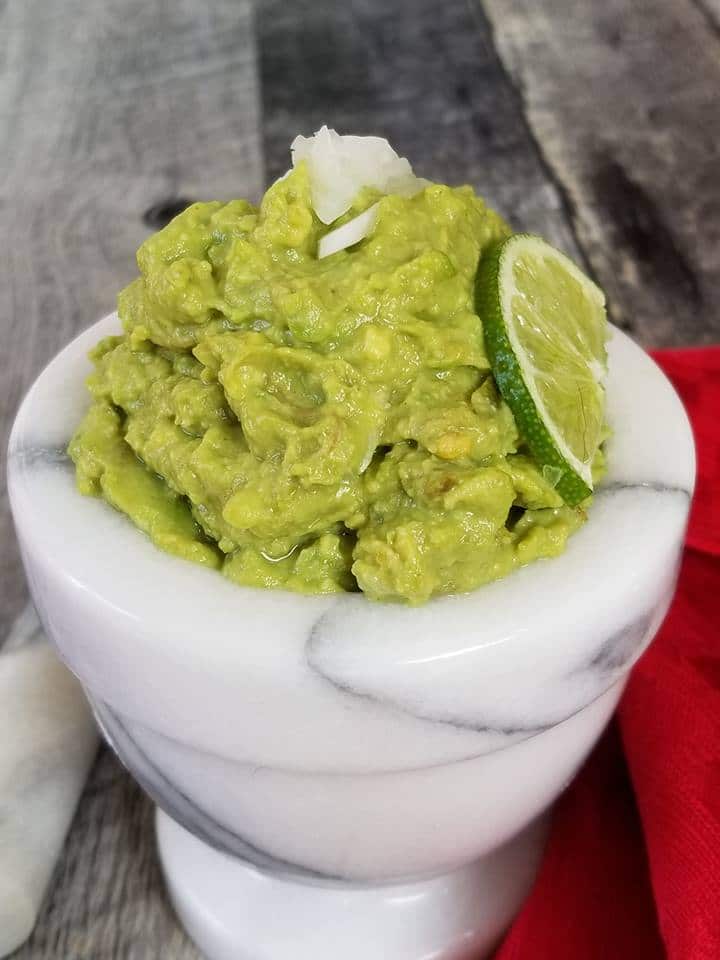 I really encourage you to try a few Guacamole recipes to decide what is your favorite!
Also if your looking for another Mexican snack food that can work along with this guacamole. Then be sure to check out my Cabbage Pico De Gallo recipes it's AMAZING!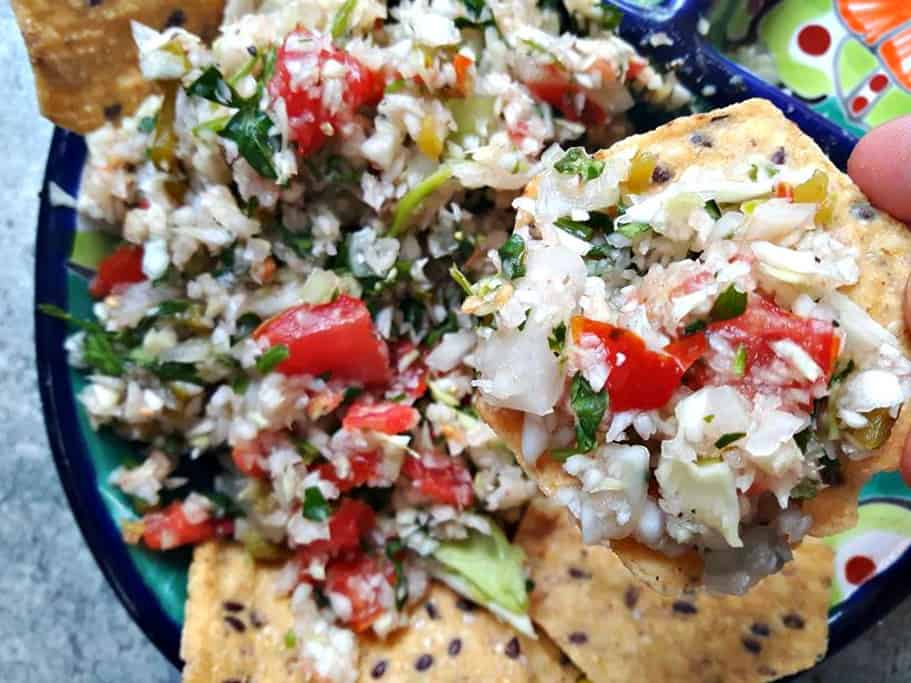 Notes: If you want it more spicy, simply chop more of the Serrano pepper. Also you can add a diced roma tomato if you'd like. Also be sure to not over mash the avocados, because you want to leave some small chunks in there. It just tastes better that way 🙂 Want to store it in the fridge for a couple of days, be sure to place the pit from one avocado into the dip. This will allow it to store longer and not brown to fast.
I am so thrilled you are reading one of my recipes, if you made this recipe i'd love to hear about it! You can post a review and or picture below to let me know how it turned out. And by doing so you will be automatically entered into our seasonal CONTEST to win one of our great prizes. Winner will be notified via email within a week after the contest closes. Thank you very much for reading and until next time see ya in the kitchen. Don't want to miss a recipe? Sign up for our NEWSLETTER delivered right to your inbox!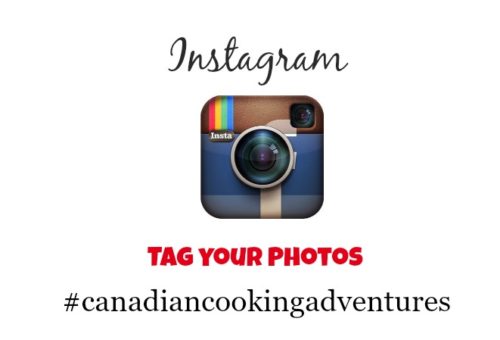 Print Recipe
Mexican Guacamole
Ingredients
1/4

cup

Cilantro

1

Serrano Pepper (no seeds)

3

Avocados

1

Fresh Lime Juice

2

tbsp

White onion
SPICES
1/2

tsp

Cumin

1/2

tsp

Garlic Powder

1

tsp

Salt (to taste)

pinch

White Pepper
Instructions
In a large mortar or bowl add the chopped white onion, cilantro, serrano pepper. Mash. "with a fork or pestle" till crushed.

Next scoop out the flesh of the avocados into the mortar or bowl and then add the fresh lime juice along with seasonings.

Mash all the ingredients together, blending together but leaving some chunks of avocado too.

Store in the fridge for up to one hour and serve!
PIN FOR LATER