Ingredients
3

Boneless chicken breasts

1 cup

Full fat coconut milk

Spices

3 tbsp

Dried Fenugreek leaves (Kasoori Methi)

1 tsp

Cracked black pepper

1/2 chili

Birds eye chili
Directions
This is a fusion dish, packed with flavor. As you may know, I love Thai and Indian food. So you will always find, all the indian spices in my pantry along with coconut milk and Thai ingredients on hand to cook either cuisines.  For this recipe, I have infused spices from India as well as Thailand, to come up with the ultimate chicken potato curry that I think is worth sharing. Everything goes so well together to make a creamy, spicy and flavorful curry. Serve over a bed of jasmine rice or alongside some naan bread and enjoy!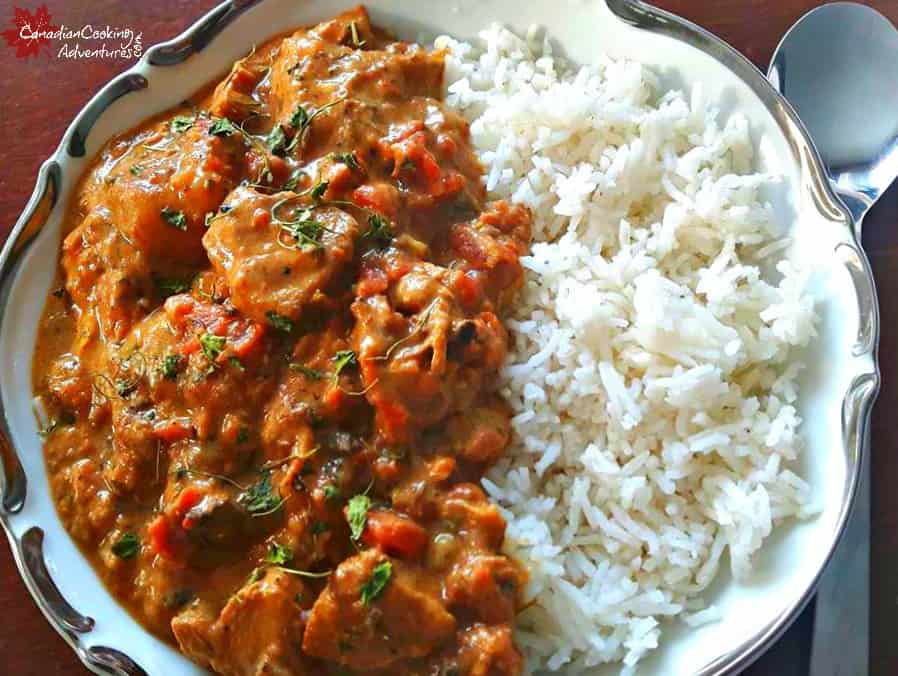 Kitchen Essential:
To make the Spicy Creamy Coconut Curry Chicken:
Pressure Cooker: Cook for approx. 10 minutes – after following the initial steps 1-6.
Slow Cooker: Place on LOW for 2-3 hours HIGH for 3 hours. – after following the initial steps 1-6.
Stove Top: Cook covered on low for 60 minutes. – after following the initial steps 1-6.
Start by washing your chicken and cutting up into bite size pieces and set aside.
Next, in a food processor or mortar, crush all your larger dry spices together.
Now using either your pot or pressure cooker, add oil and saute your crushed spices till fragrant.
Then add in your chicken and saute for 5 minutes till browned, stiring often.
Now add your tomatoes, garlic, coconut milk, yogurt and water and allow it to boil for 15 minutes till the coconut separates.
Lastly add in  your chopped potatoes "Garam masala" spice and  "Dried Fenugreek Leaves".
Follow one of the above steps to complete the meal.
Here is a great recipe for NAAN bread, that goes amazingly well with this dish. 
Note: this dish can be made with shrimp too, just add your shrimp in the last 5 minutes of cooking. To prevent it from being overcooked.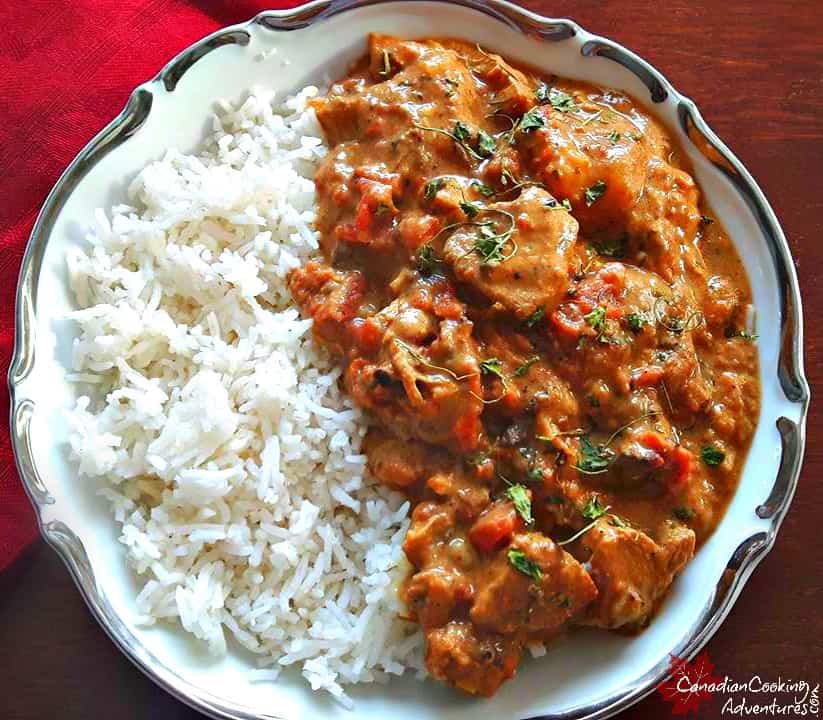 I am so thrilled you are reading one of my recipes, if you made this recipe id love to hear about it! You can post a review/picture below or via Instagram and let me know how it turned out. And by doing so you will be automatically entered into our seasonal CONTEST to win one of our great prizes. Winner will be notified via email within a week after the contest closes. Thank you very much for reading and until next time see ya in the kitchen. Don't want to miss a recipe? Sign up for our NEWSLETTER delivered right to your inbox!