Ingredients
Marinade

500 mls (2 cups)

Chicken Stock (low sodium)
Directions
You have not truly tried traditional Greek food, until you tried Lamb Kleftiko. And you don't have to wait till Easter to serve either, this recipe is so good you will be sure to crave it just as often as the Greeks do in Cypress. If you follow this recipe to a tea, you will have the most juicy and tender leg of lamb you ever tasted. The size of your leg you make depends on how many you are cooking for. A 6 pound leg of lamb will feed about 8 people so you can judge by this what weight you will need. I am using 3 pound leg which will feed a family of four easily.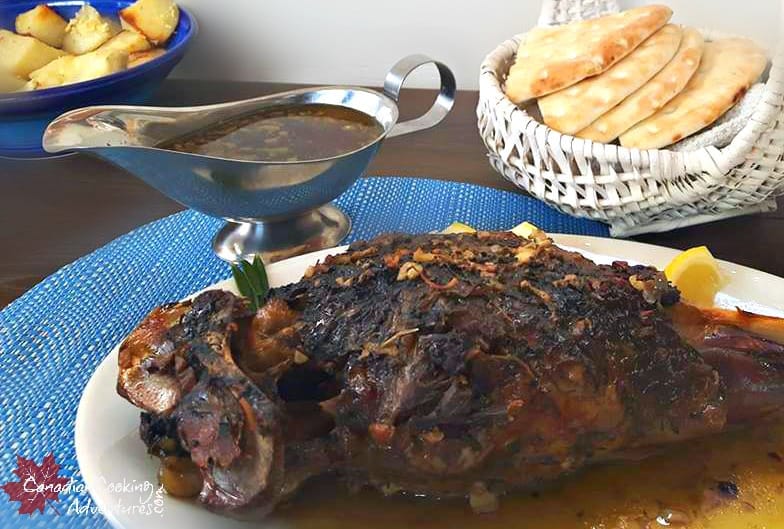 Now doesn't that look delicious!! 
Kitchen Essentials: 
Parchment paper, tinfoil and a knife.
To make the Lamb Klefitko: Preparation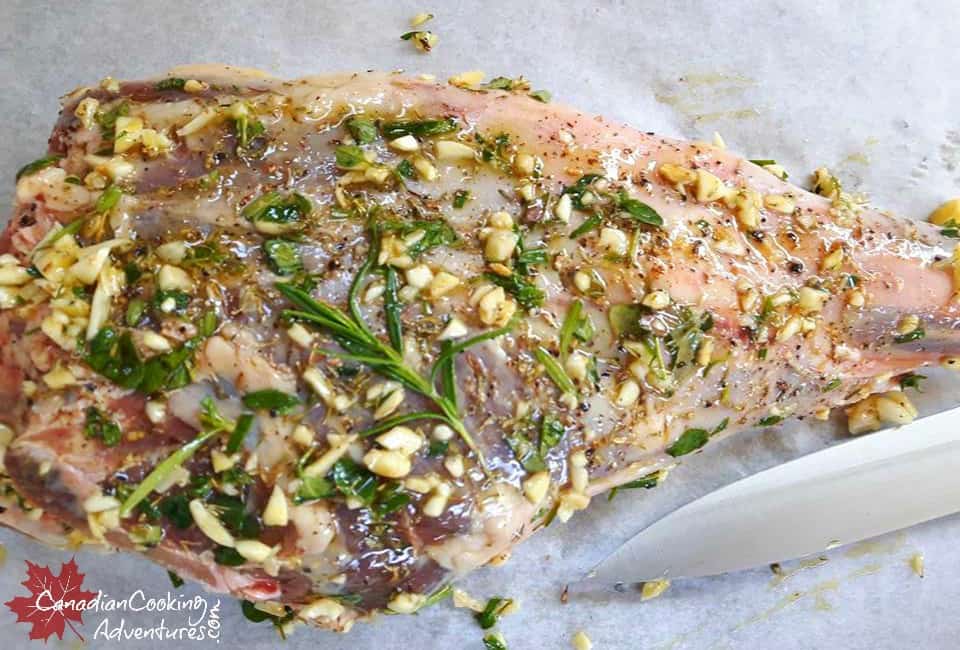 If your lamb leg is frozen, start by defrosting it in the bottom of the fridge anywhere from 24-48 hours (if fresh skipped this step)
Next prepare your marinade. In a bowl, mix your crushed garlic, rosemary, thyme, oregano, olive oil, and lemon juice.
Lay your lamb out on the counter, and season on both sides generously with salt and pepper.
Then take your knife and make slits all over the leg, front and back.
Place the lamb now on a long piece of parchment paper and make a boat around it to hold in the marinade.
Massage the marinade all over the lamb, making sure to get some of the marinade in the slits.
Place the wrapped leg in the bottom of your roasting pan, and allow it to marinade overnight in the fridge.
Cooking the Lamb Kleftiko:
The next morning, take your lamb out and allow it to sit on the counter for 30 minutes prior to cooking.
Open up the parchment paper, and pour in your "Chicken Stock" around the leg (try not to pour it all over the leg) rather around. As you don't want to remove the seasonings.
Now with a little bit of tinfoil cover the ends of the leg to ensure the parchment paper does not fold away.
Preheat your over to 425 f (convention ovens) or 450 for (standard ovens) for 30 minutes, then lower it to 325 f (conventional ovens) or 350 for (standard ovens) and allow it to bake for 3 1/2 hours.
Once cooked, remove from the oven and open the paper to baste the lamb with the remaining juices.
Place back in the oven for 30 more minutes uncovered till browned. (You may want to add a bit more liquid) totally up to you.
Once done, remove the leg and drain the broth directly into a gravy holder.
Allow it to rest 30 minutes before serving and serve with that delicious broth, adjust to taste.
Note: You can add potatoes into the parchment paper. I like to serve my lamb with pita bread, either are great ways to sop up that delicious gravy. Goes great with my Greek Tzatziki sauce too.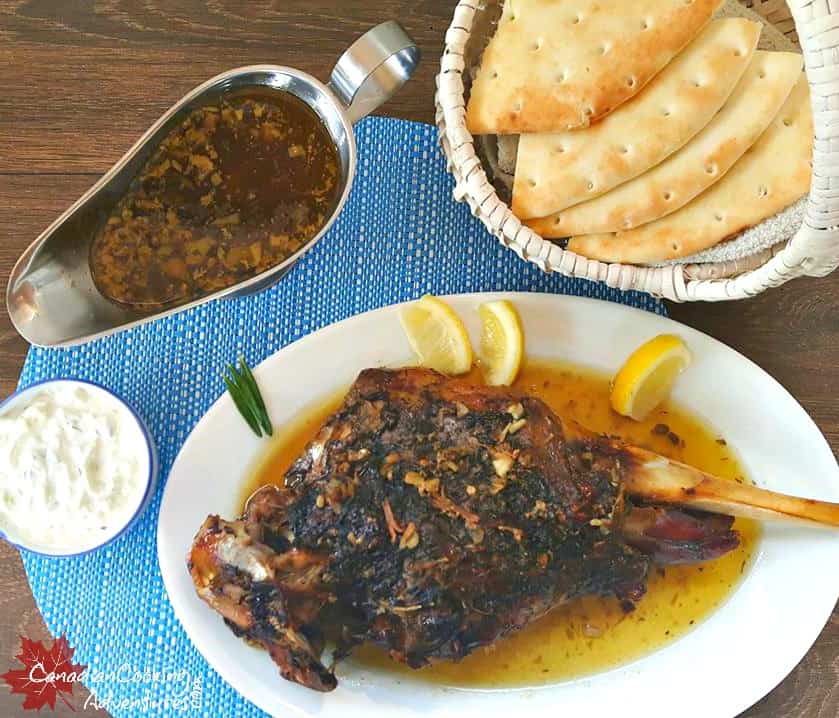 Serve with some warm pitas to mop up that amazing gravy!
You can also serve with mash potatoes and any vegetable of your liking.
Indie says, don't throw out that bone, use it to make a soup stock the next day then give it to some lucky dog after. That way nothing goes to waist. 
I am so thrilled you are reading one of my recipes, if you made this recipe id love to hear about it! You can post a review/picture below or via Instagram and let me know how it turned out. And by doing so you will be automatically entered into our seasonal CONTEST to win one of our great prizes. Winner will be notified via email within a week after the contest closes. Thank you very much for reading and until next time see ya in the kitchen. Don't want to miss a recipe? Sign up for our NEWSLETTER delivered right to your inbox!