Directions
These Sesame Seared Ahi Tuna Steaks are super tender and can be ready in less than 15 minutes!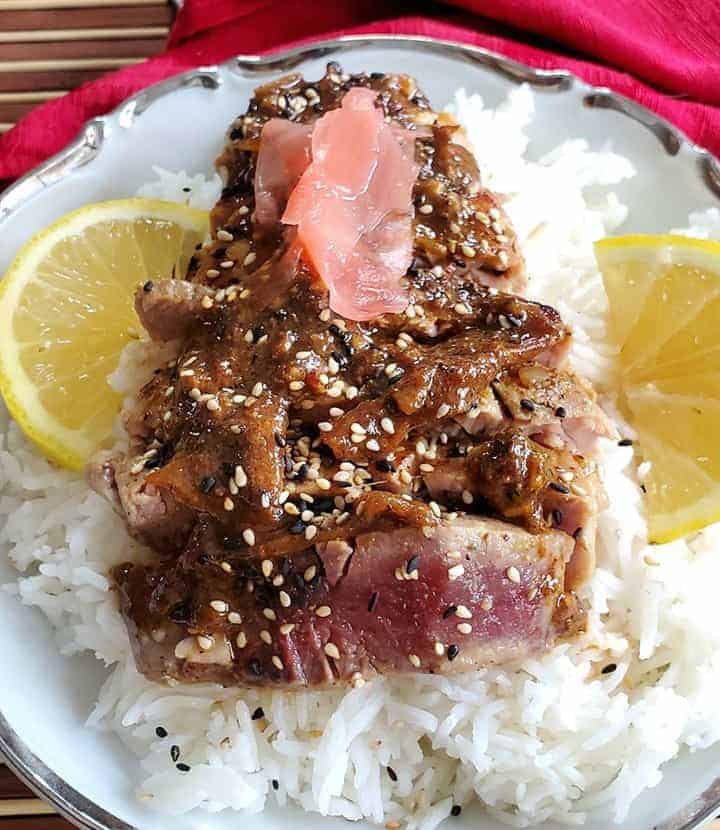 IS AHI TUNA RAW
Yes and No, it is seared on the outside in order to create a crust.
However it is left raw in the middle, which leaves it tender and gives it a butterlike taste.
So, you are going to want to use a very fresh tuna steak for this recipe.
The fresher the better, when it comes to ahi tuna.
You will be looking for a sushi grade tuna steak. So ask your local fishmonger for this, if they do not have.
Then you will not want to make this as fresh is super important for ahi tuna.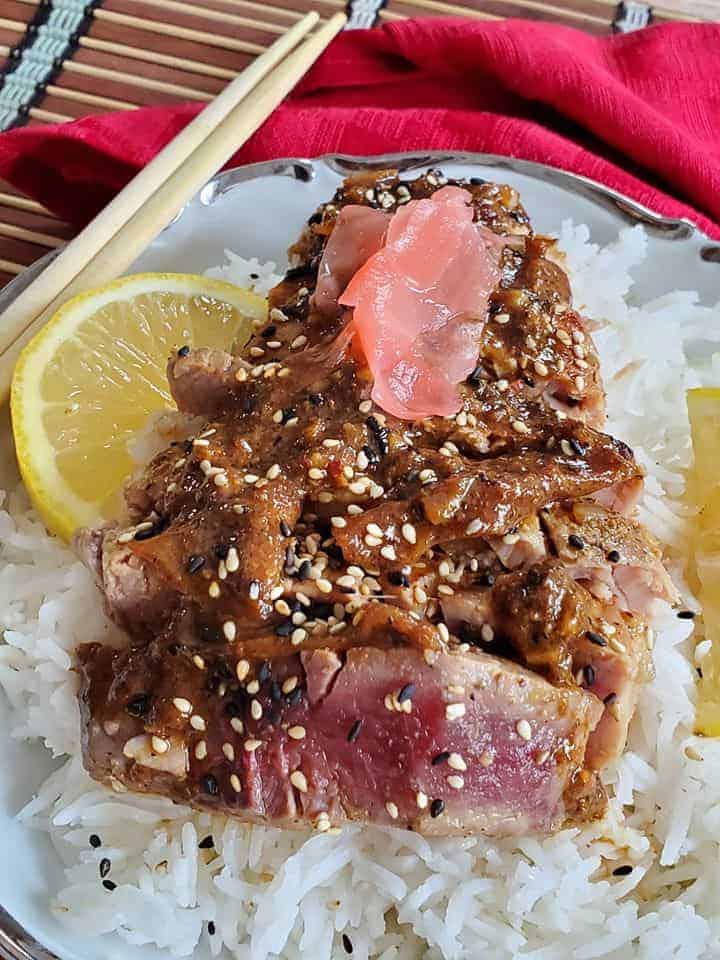 WHAT DOES AHI TUNA TASTE LIKE
Ahi Tuna when prepared right has a soft butter like texture in the middle. And has a mind flavor yet firm on the outside.
I decided to just make one steak for this recipe as it was just me eating it afterwards. Then I served it over a bed of jasmine rice and it was deeeelicious!!
However, if your wanting to feed a family of two or three and so on.
Simply double or triple the ingredients and you will be in business to serve a small group of hungry folks.
This recipe, is a very popular recipe in most asian countries.
And has become more popular over the years here in North America. It has asian flavor with a zest of lemon juice that you're sure to love.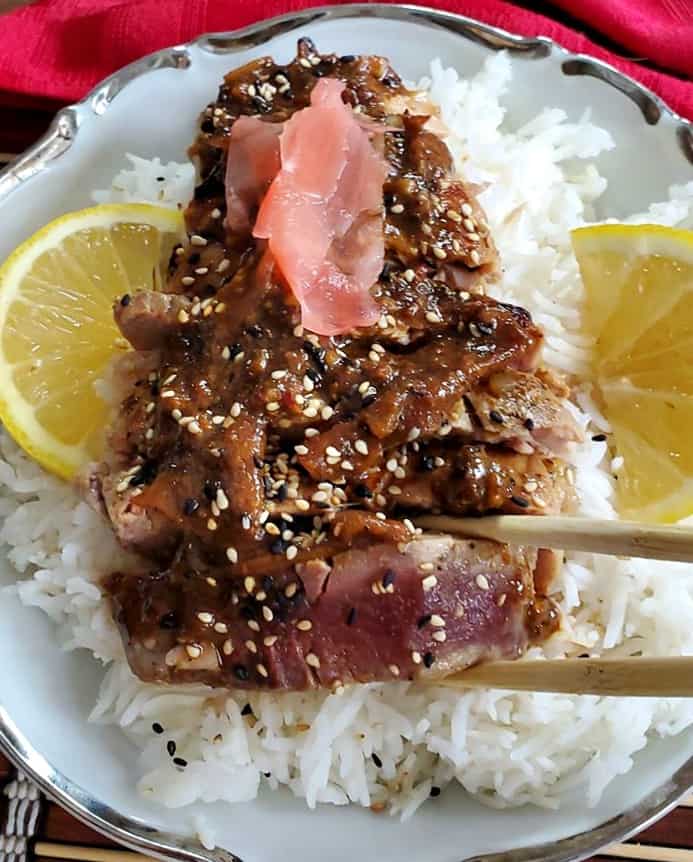 ARE AHI TUNA STEAKS HEALTHY
Yes, ahi tuna has omega 3s just like Salmon and is high in vitamin B12.
So go ahead and eat eat eat all you want!
Seared Ahi Tuna Steaks
Ingredients
2 ahi tuna (yellowfin tuna) steaks
2 tbsp soy sauce
1 tbsp toasted sesame oil see notes
1 tbsp butter or olive oil
1/2 lemon juice
Salt and pepper to taste
green onions, toasted sesame seeds, and lime wedges for serving
(optional)
Instructions
In a medium size bowl whisk together all the seasonings and sauces .
Then place the Ahi Tuna Steak in the bowl and flip a few times then cover and allow the steak to marinade for 1 hour minute.
Then remove the tuna steak from the marinade and roll it on a plate in 1 tbsp of sesame seeds. Save the marinade for later.
Heat a cast iron skillet over medium heat and place 1 tsp of butter into the pan. Melt then add the tuna steak and SEAR on each side for 1 minute each. Making sure the middle stays pink AND THAT A LIGHT CRUST FORMS ON THE OUTSIDE.
Serve over a bed of rice.
Meanwhile toss the marinade sauce back into the pan, and allow it to heat up. Then pour that marinate sauce over the tuna and rice.
SPRINKLE with more sesame seeds and top with a piece of sushi ginger.
Nutrition Information:
Yield:

2
Serving Size:

1
Amount Per Serving:
Calories:

383
Total Fat:

27g
Saturated Fat:

7g
Trans Fat:

0g
Unsaturated Fat:

19g
Cholesterol:

55mg
Sodium:

1122mg
Carbohydrates:

9g
Fiber:

3g
Sugar:

1g
Protein:

29g
These calculations are based off Nutritionix
I am so thrilled you are reading one of my recipes, if you made this recipe i'd love to hear about it! Thank you very much for reading and until next time see ya in the kitchen. Don't want to miss a recipe? Sign up for our NEWSLETTER delivered right to your inbox every Month!