Ingredients
1/2 tsp

Red Pepper Flakes

Salt and pepper (to taste)
Directions
Valentine's day is right around the corner, that is super exciting! Because it's even more of an excuse to spoil yourself or someone special with a home cooked meal. This recipe can be done with just one skillet, easy enough eh? So if your looking for a romantic meal for two, then these sweet and succulent seared scallops with bacon are sure to impress. This recipe is simple and can be made in under 30 minutes, all you will need is half a pack of bacon, butter, garlic, parsley along with salt and pepper. Oh yes of course the scallops too!! Serve with my suggested side below and you have yourself a romantic dinner for two that works well for just about any special occasion.
Now, there are plenty of options out there for when it comes romantic dinners for two. Some people opt for Steak, while others go with Lobster. All are great choices, however if your here then your probably thinking Scallops are a good option this time around. And I would say good choice, because scallops are always sure to impress. Plus you never get this many scallops at the restaurants anyway, and end up saving a ton of money doing it yourself.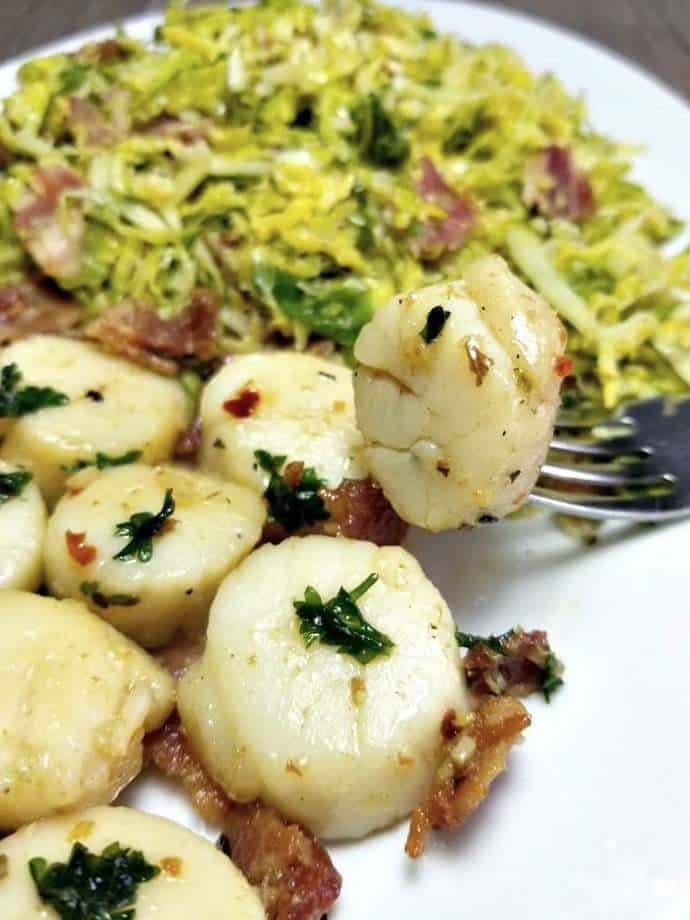 These scallops are defiantly good on their own, however if you wanting a meal then your going to want to pair it with something.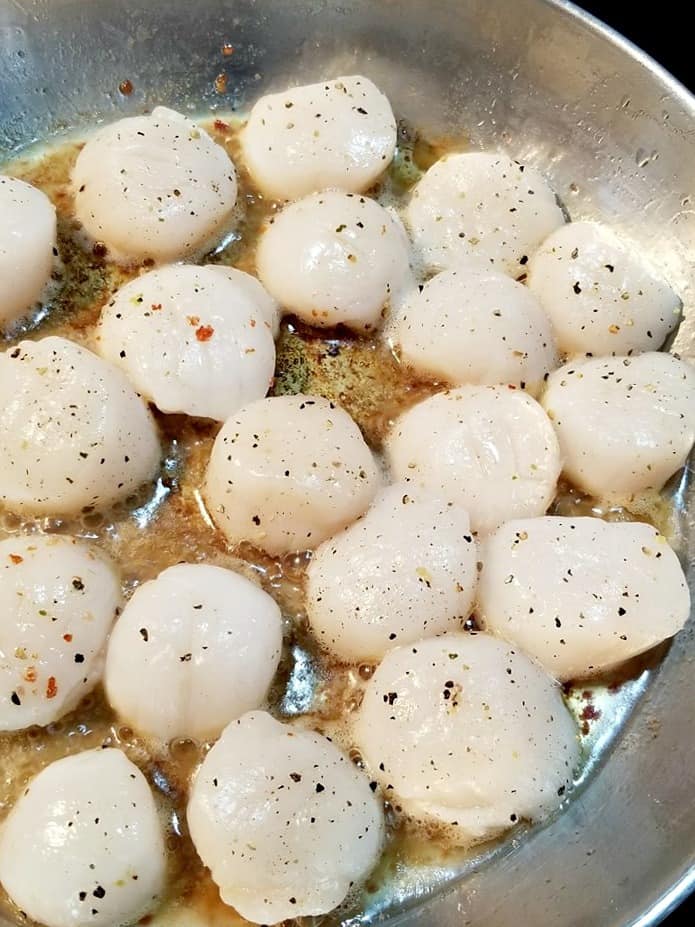 Plus if you choose to do as I have, and serve them with shredded brussel sprouts then you will only need one pack of bacon for this entire recipe. So follow along and you can have this whole dinner on the table in under 1 hour, or if your just doing the scallops 20 minutes.
Start by saute the bacon, till near krispy, remove and set aside.
Dry the scallops then season with salt and pepper
Place in the frying pan and saute with a little red pepper flakes on each side for 5 minutes, flip.
Once the bacon and scallops have been cooked, set on a plate.
In the remaining bacon fat, add 1 tsp of butter, crushed garlic and parsley. Saute for 2 minutes till fragrant then add the cooked bacon back. 
Turn off the heat, and toss back in the cooked scallops.
To make the Scallops with Bacon:
Start by rinsing your scallops, then place them on a tea towel and pat dry.
Season the scallops with salt and pepper.
Cut the bacon into small pieces and saute till cooked, remove and set aside.
In the bacon fat, sear the scallops with a pinch of red pepper flakes on medium to low heat for 5 minutes on each side.
Remove and set aside with the bacon on a plate.
In the remaining bacon fat, add butter, crushed garlic and parsley. Saute for 2 minutes till fragrant then add back in the cooked bacon.
Turn off the heat, and toss back in the scallops.
Serve and enjoy!
The bacon fat sears the scallops to perfection!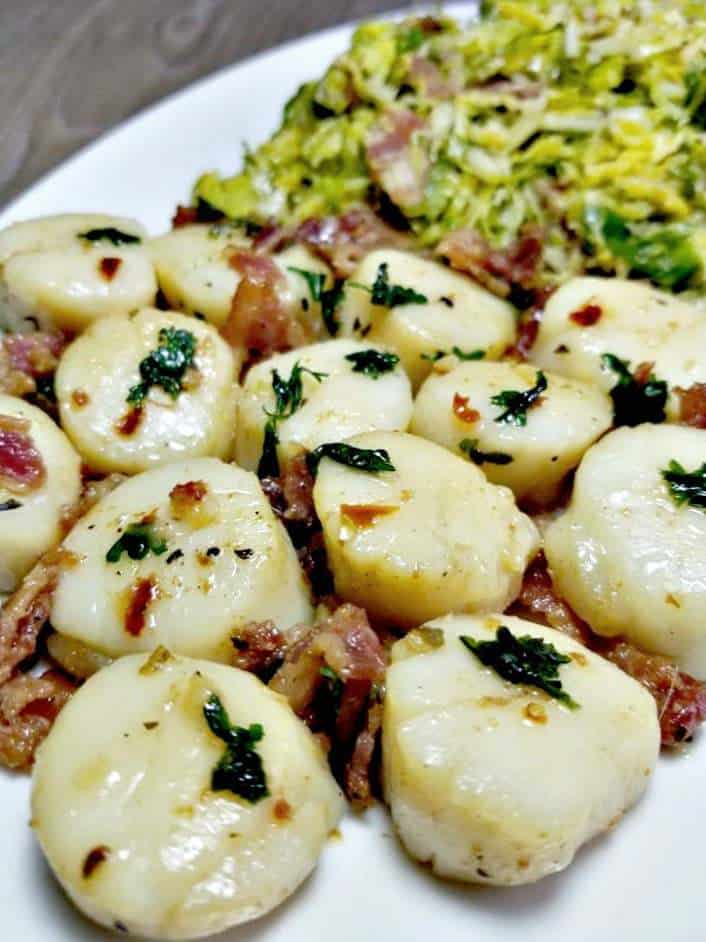 Serve with my Shredded Bacon Brussel Sprouts
Looking for a side dish? Try my Shredded Brussel Sprouts with Bacon recipe here!
Looking for a Lobster recipe?  Try my Broiled Lobster Tails here!
I'm thrilled you are reading one of my recipes, if you made this recipe i'd love to hear about it! You can post a review, picture below or via Instagram and by doing so you will be automatically entered into our seasonal CONTEST to win one of our great prizes. Winner will be notified via email within a week after the contest closes. Thank you and until next time see ya in the kitchen. Don't want to miss a recipe? Sign up for our NEWSLETTER delivered right to your inbox below today!