Directions
These

sweet and succulent

Pan Seared Scallops are made with the addition of Bacon

are sure to make for a memorable meal.
With Valentine's day right around the corner, this recipe will come as a surprise to anyone who has the chance to dine with you.
This recipe is not only super simple to make it's also quick because it can be served in less than 30 minutes.
All you will need is half a pack of bacon, butter, garlic, parsley along with salt and pepper.
Plus if you make this at home, you can make more than you would ever be served dining out on of the busiest days of the year = Valentines day.
HOW LONG TO SEAR SCALLOPS
You do not want to over cook scallops as they will not be as soft and become rubbery. So the rule of thumb is 1 1/2 mins on each side. You want them translucent in the center yet slightly browned on the outside!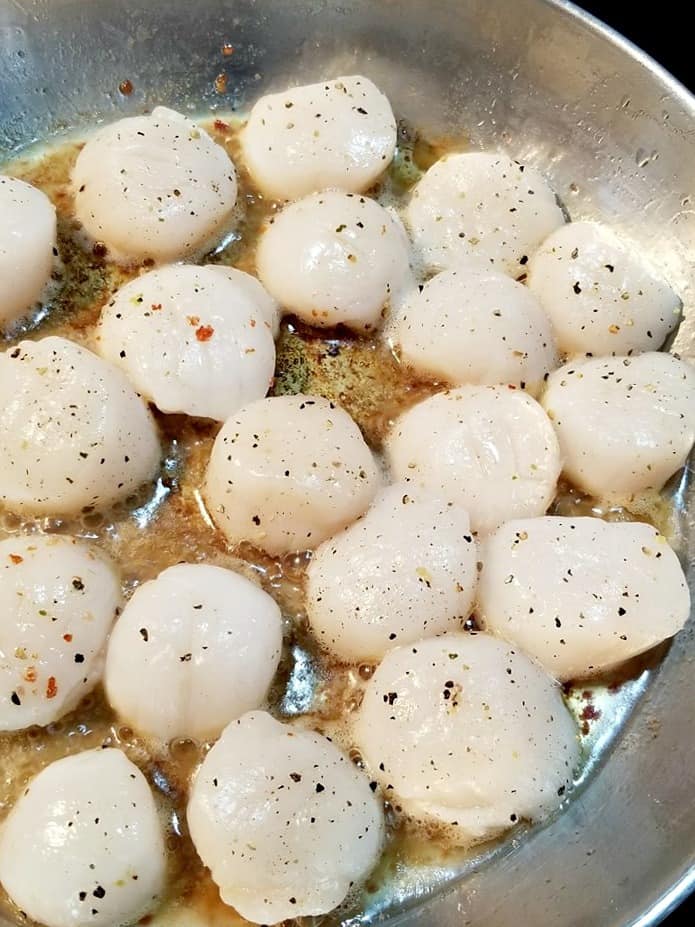 This recipe can be done with just one skillet and enjoyed for have the price of what you would be charged in the restaurants.
Serve with my suggested side below "Shredded Brussel Sprouts" and you have yourself a romantic dinner for two.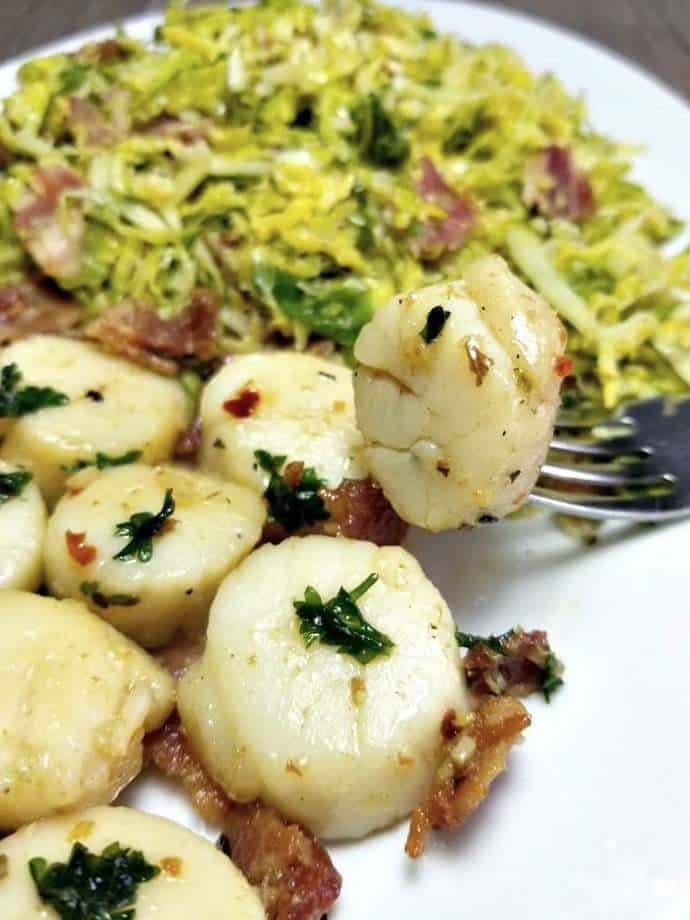 While some people opt for Steak or Lobster, why not try something a bit different this time around? They are such a good choice and are sure to impress just the same.
Plus you would never get this many scallops at the restaurants anyway. So go all out that is what home cooking is all about right?
These scallops are defiantly good on their own, however if you wanting a meal then your going to want to pair it with something.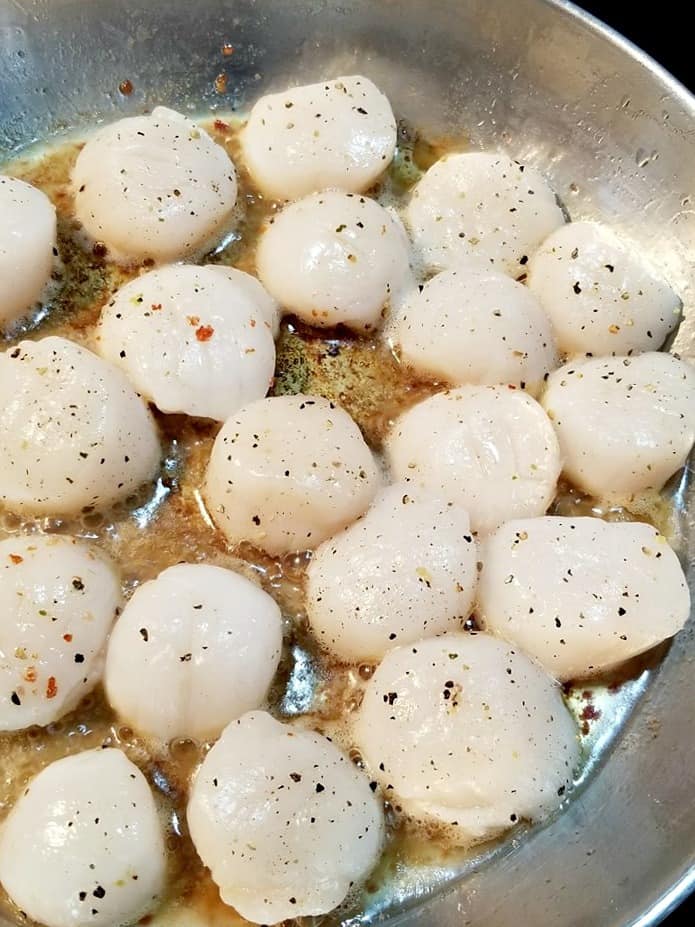 Plus if you choose to do as I have, and serve them with shredded brussel sprouts then you will only need one pack of bacon for this entire recipe.
So follow along and you can have this whole dinner on the table in under 1 hour, or if your just doing the scallops 20 minutes.
Start by saute the bacon, till near krispy, remove and set aside.
Dry the scallops then season with salt and pepper
Place in the frying pan and saute with a little red pepper flakes on each side for 5 minutes, flip.
Once the bacon and scallops have been cooked, set on a plate.
In the remaining bacon fat, add 1 tsp of butter, crushed garlic and parsley. Saute for 2 minutes till fragrant then add the cooked bacon back.
Turn off the heat, and toss back in the cooked scallops. Are you drooling yet?
The bacon fat sears the scallops to perfection!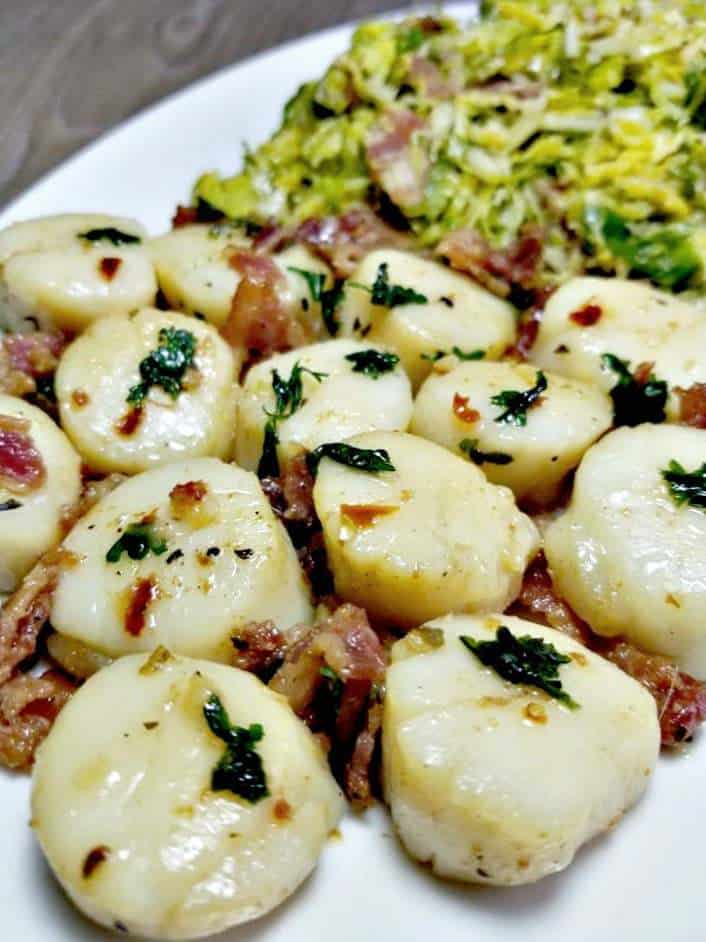 Serve with my Shredded Bacon Brussel Sprouts
Looking for a side dish? Try my Shredded Brussel Sprouts with Bacon recipe here!
Looking for a Lobster recipe? Try my Broiled Lobster Tails here!
I am so thrilled you are reading one of my recipes, if you made this, I want to see! Follow Canadian Cooking Adventures Instagram, snap a photo, and tag and hashtag it with @canadiancookingadventures and #canadiancookingadventures.
Stay connected and follow along on Facebook, Pinterest, and Instagram for all of my latest recipes!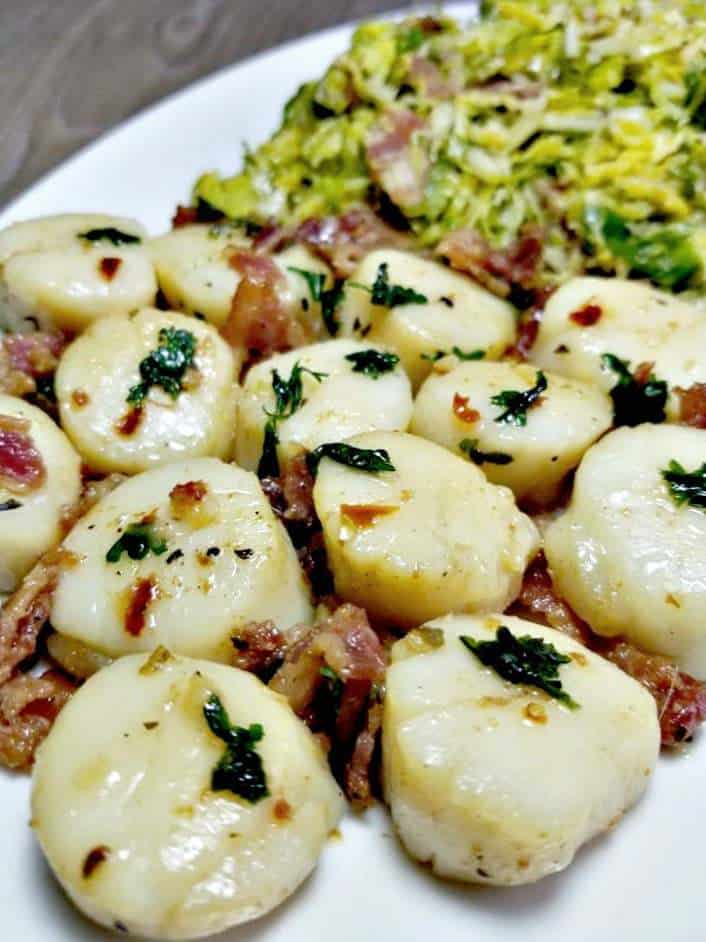 SCALLOPS WITH BACON
Ingredients
1 pd Scallops
8 pieces Bacon
1 tsp Butter
1/2 tsp Red Pepper Flakes
3 tbsp Fresh Parsely
Salt and pepper, to taste
Instructions
Start by rinsing your scallops, then place them on a tea towel and pat dry.
Season the scallops with salt and pepper AND set side on the tea towel.
Cut the bacon into small pieces and saute till cooked, remove and set aside.
In the bacon fat, sear the scallops with a pinch of red pepper flakes on medium to low heat for 5 minutes on each side.
Remove and set aside with the bacon on a plate.
In the remaining bacon fat, add butter, crushed garlic and parsley. Saute for 2 minutes till fragrant then add back in the cooked bacon.
Turn off the heat, and toss back in the scallops.
Serve alongside your favorite vegetable and enjoy!
Nutrition Information:
Yield:

2
Serving Size:

1
Amount Per Serving:
Calories:

243
Total Fat:

18g
Saturated Fat:

7g
Trans Fat:

0g
Unsaturated Fat:

11g
Cholesterol:

53mg
Sodium:

984mg
Carbohydrates:

2g
Fiber:

0g
Sugar:

0g
Protein:

17g
These calculations are based off Nutritionix