Directions
This Healthy Creamy Citrus Ginger Vinaigrette is made with plain yogurt, orange juice, lemon juice, ground ginger, minced garlic olive oil and a few spices.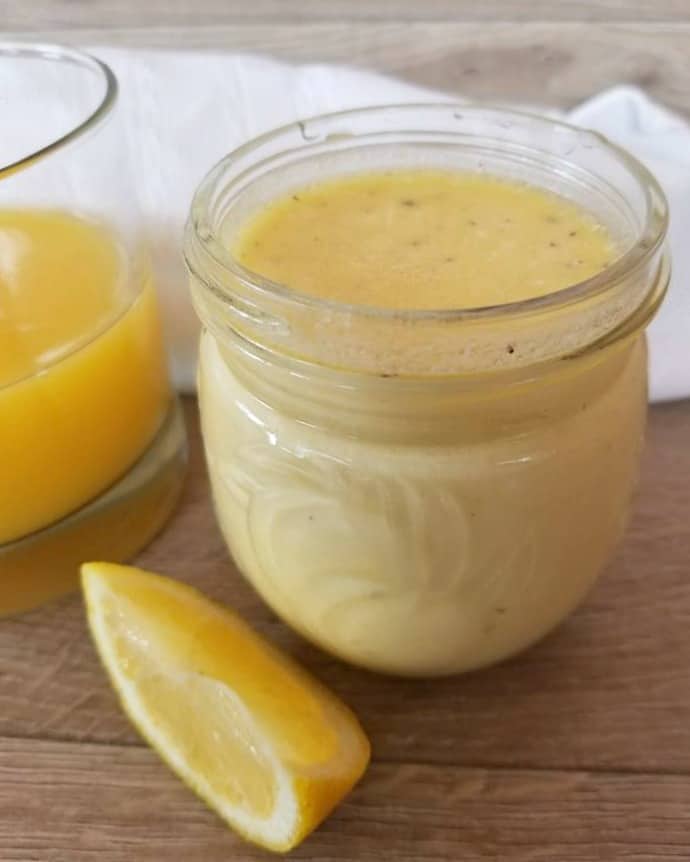 This Vinaigrette is the start to a line of Healthy Vinaigrette recipes that I will be featuring on my blog over the next few weeks.
So if you liked this one, then be sure to follow me as I will be releasing more of my favorite homemade vinaigrettes in the coming weeks.
This type of vinaigrette goes well on many different types of salads. Think shrimp, white fish, chicken or chick pea type salads and of course with avocados, cabbage, cucumbers, tomatoes and pretty much any type of veggie.
So what makes this a healthy vinaigrette?
Well it is the Plain Yogurt, then I mix that delicious yogurt with fresh orange and lime juice along with some minced fresh ginger, ginger powder, olive oil and salt to taste.
I know longer purchase those store bought salad vinaigrette or dressings, because I have learned to make these better and healthier ones at home.
This Vinaigrette pairs really well with all types of vegetables and proteins. I like to use mason jars for my dressings.
Then you can simply shake everything together and wulla it's ready to enjoy! You will find a few of my recipes below that feature this dressing in them!
Citrus Explosion = Delicious!
Stores in the fridge up to 3 weeks!
Also if you prefer more sweet than tangy vinaigrette feel free to add anywhere from 1 tsp to 1 tbsp of honey to sweeten it up. Personally I like it without!
Then store in the fridge for a minimum of one hour to allow the flavors to merge.
LOOKING FOR MORE AWESOME DIP/DRESSINGS? Try some of my favorite Homemade Creations below!
I am so thrilled you are reading one of my recipes, if you made this, I want to see! Follow Canadian Cooking Adventures Instagram, snap a photo, and tag and hashtag it with @canadiancookingadventures and #canadiancookingadventures.
Stay connected and follow along on Facebook, Pinterest, and Instagram for all of my latest recipes!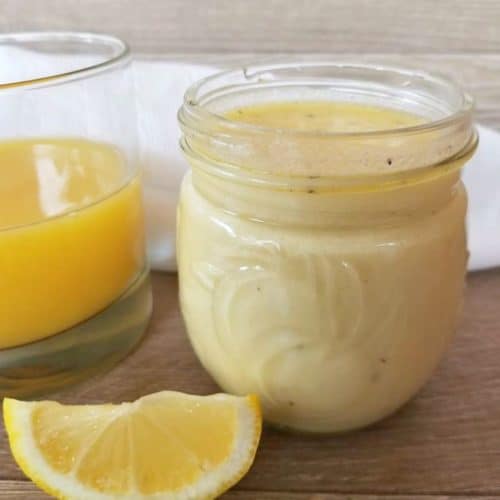 Creamy Citrus Ginger Vinaigrette
Quick, fresh, homemade Vinaigrette that will last in the fridge up to 3 weeks.
Ingredients
2 oz Plain yogurt
4 oz Orange Juice
2 tbsp Lemon Juice
1 tbsp Extra Virgin Olive Oil
1 tsp Ground Ginger
1 tsp Minsed Garlic
pinch Ground pepper
pinch Salt
Instructions
Quick, fresh, homemade Vinaigrette that will last in the fridge up to 3 weeks.
You can use a mini blender to blend the ingredients all together or you can chop and mince them and shake everything together in a small mason jar.
You will need to mince the garlic and juice the lemon and orange as well.
Store in a sealable container in the fridge, enjoy!
Nutrition Information:
Yield:

4
Serving Size:

1
Amount Per Serving:
Calories:

57
Total Fat:

4g
Saturated Fat:

1g
Trans Fat:

0g
Unsaturated Fat:

3g
Cholesterol:

1mg
Sodium:

46mg
Carbohydrates:

5g
Fiber:

0g
Sugar:

4g
Protein:

1g