Ingredients
500 grams

Flank Steak

sliced and diced against the grain

2 cups

Bok Choy (Greens)

chopped finely

2 stalks

Green Onions

chopped finely

Sauce and Seasonings

One stalk, white part only, bruised and sliced

Lemongrass

1 tbsp

Garlic chili sauce

optional

Sea Salt and Pepper to taste
Directions
Hello Vietnam! I just love Vietnamese Beef Vermicelli, and get so excited whenever I present this to my guests. Because everyone thinks i'm some kind of highly skilled asian chef.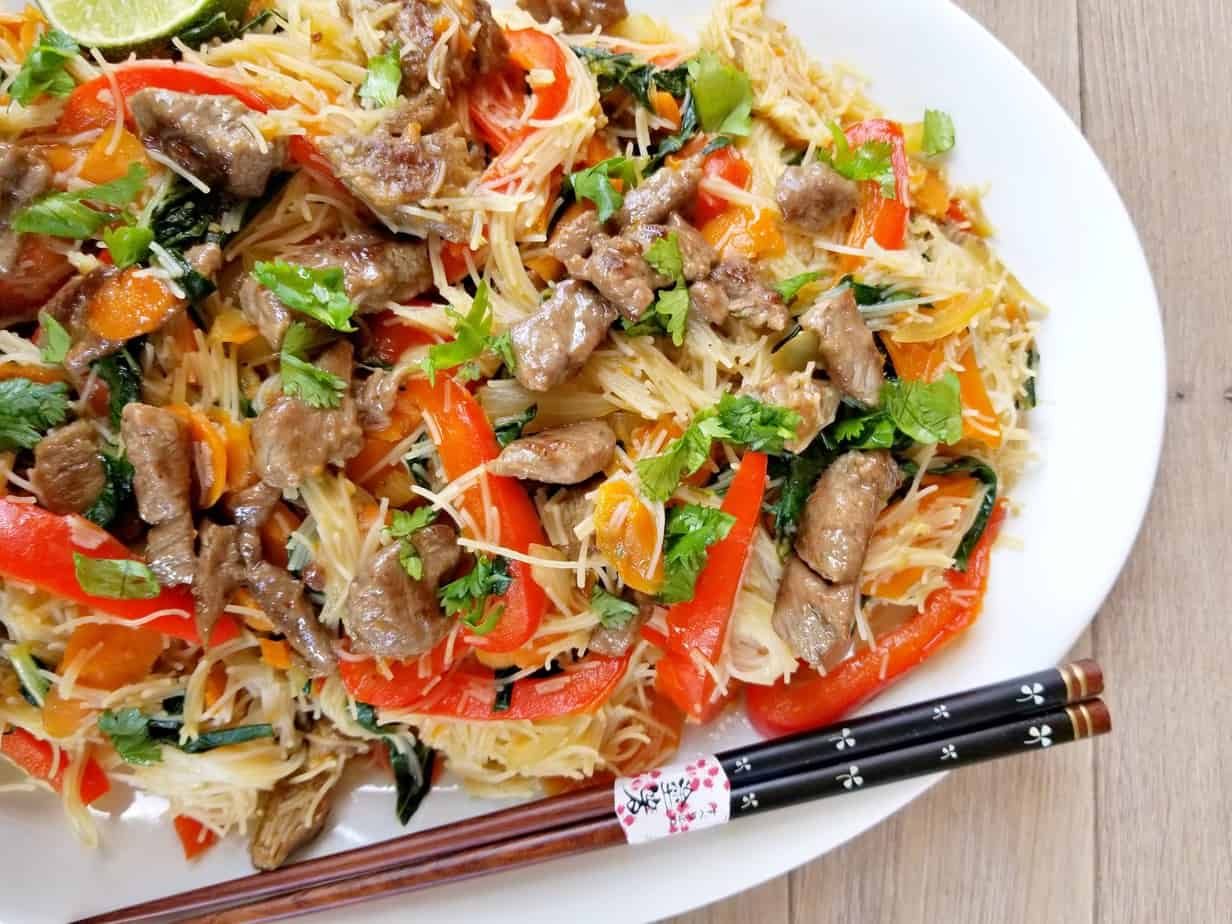 This dish is very easy to prepare and has red and yellow peppers along with bok choy in it among some other very important ingrediants. I used to order this often from my local vietnamese restaurant, now I make it myself.
Today you can find many different types of ways to prepare this popular dish, this is my take on this delicious recipe. I hope you give it a try and let me know what you and your family think. 
Some people like to make this dish with shrimp, chicken or pork. And others like it purely vegetarian, which is good also. So do what works best for you, after all it's your meal. 
You will want to start marinating the beef first and while its marinating you can then soak the vermicelli noodles. Also preparing the vegetables around this time is perfect too. Since the actually cooking part takes less than 15 minutes.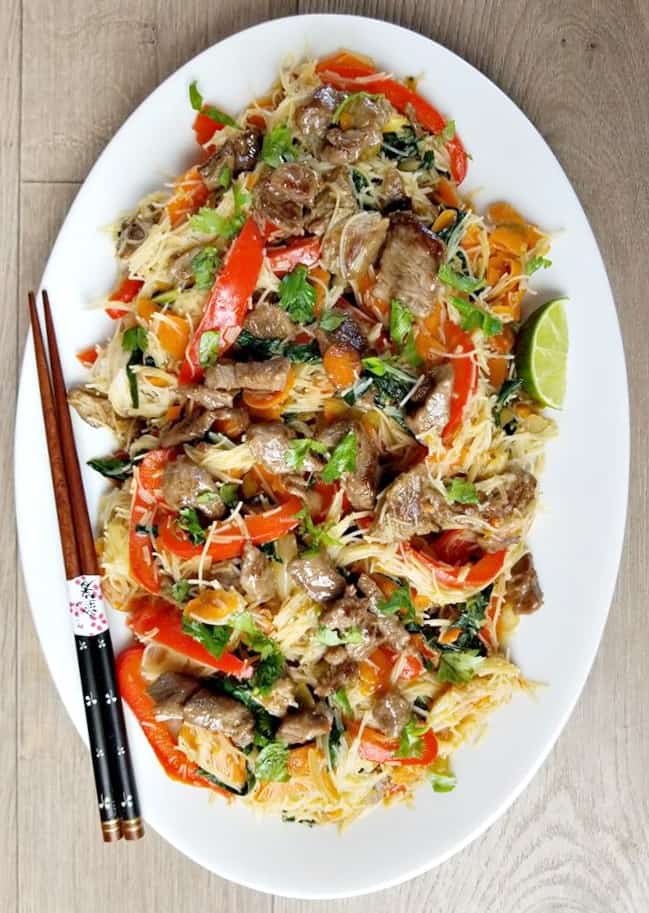 To me this vegetable mixture is perfect, peppers and bok choy works so well. The only traditional ingredient I didn't add here was thai basil which you can top this dish with at the end if you'd like.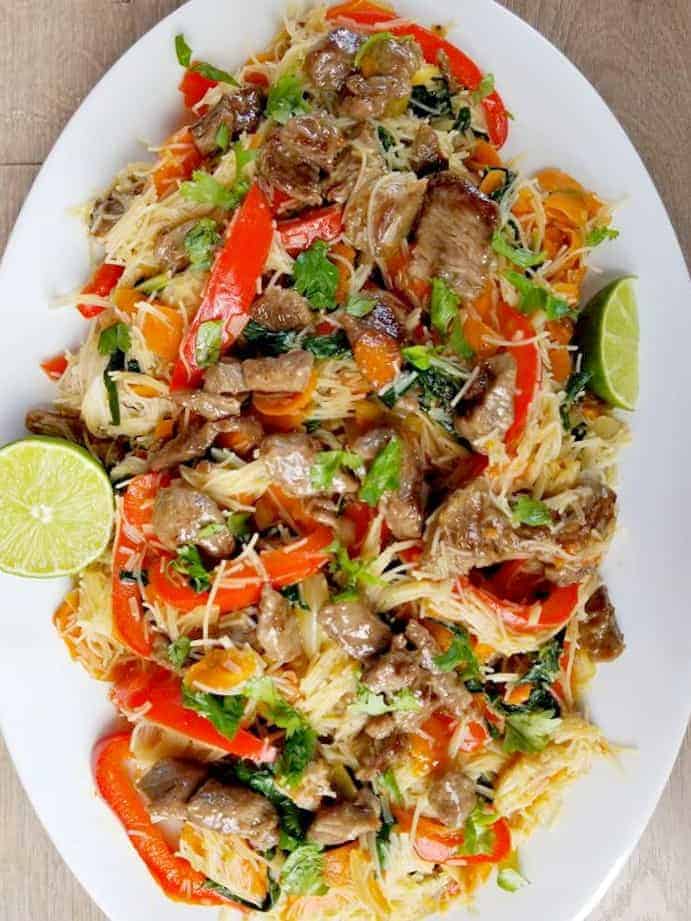 You can always substitute Thai basil leaves for regular fresh basil leaves. I didn't have any on hand today so I used cilantro instead which works good too.
Also I like to use Garlic chili sauce, which gives it the right amount of heat vs cutting up fresh whole thai red chilies.
They are just to hot for me to handle, and I always end up with burning hands. I like to add 2 tbsp of this Garlic chili sauce to my recipe, however for this one I used 1 tbsp in the ingredients section because I'm sure more people prefer a milder dish.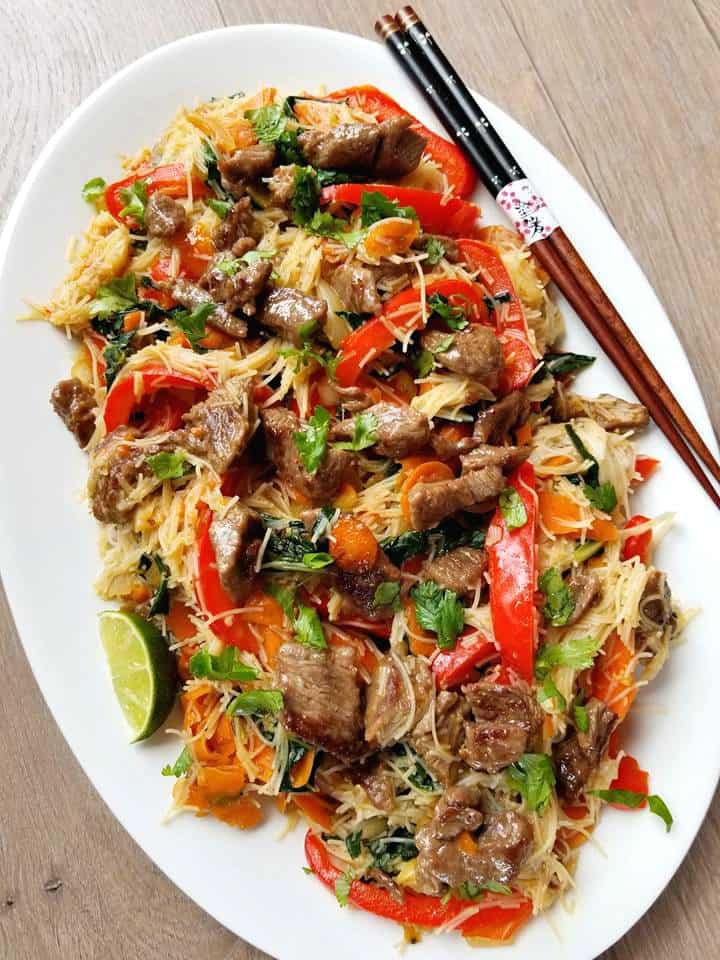 ENJOY!
I am so thrilled you are reading one of my recipes, if you made this recipe i'd love to hear about it! You can post a review, picture below or via Instagram and let me know how it turned out. And by doing so you will be automatically entered into our seasonal CONTEST to win one of our great prizes. Winner will be notified via email within a week after the contest closes. Thank you very much for reading and until next time see ya in the kitchen. Don't want to miss a recipe? Sign up for our NEWSLETTER delivered right to your inbox every Month!
PIN IT FOR LATER
The best way to get ahold of me is through the comments! I absolutely love hearing from my readers, and I respond to each and every comment I receive.
Steps
To make the

Start by slicing the flank steak against the grain into thin slices and marinade it in a bowl with 2 tbsp of cornstarch and 2 tbsp of water for 30 minutes. (It's best to slice the steak while semi frozen, makes for easier work)

MEANWHILE, chop, slice all the vegetables and mince the garlic and finely chop the lemongrass stalk only keeping the white part. Next boil some water, and then pour it over your vermicelli noodle. Allowing them to soak covered in a large bowl for 5 minutes till tender, rinse under cold water then drain and set aside.

In a large frying pan add 1 tbsp of oil and fry the beef till browned well, remove and set aside.

In the same pan add 1 tbsp of oil and the finely chopped lemongrass, chopped bok choy greens, yellow and orange peppers, green onion, salt and pepper, minced garlic, fish sauce and sugar. Saute for a few minutes till fragrant, before adding back in the cooked beef.

Serve on a large platter and top with chopped cilantro or fresh basil leaves.
And drizzle the juice of 1 lime overtop. Enjoy!