Directions
This

Mushroom Pasta without Cream

is a healthy option to making pasta that uses either milk or stock instead of heavy cream. Also it can be made vegan by using a vegan parmesan cheese if desired. Fettucine

You can also make this dish non vegan simply buy using regular parmesan cheese.
Made with tender sauteed portobello mushrooms along with fresh vegan parmesan cheese and parsley.
Your sure to find this dish absolutely delicious!
I'm so excited to share this delicious recipe with you guys today.
I made it a point to pick up some vegan parmesan cheese from whole foods yesterday, along with some these amazing Portobello Mushrooms.

Because I really wanted to make another vegan dish for my vegan readers out there. So I hope you give it a try and let me know what you think?
Now I will be honest, I prefer real parmesan cheese.
However for this dish I wanted to try the vegan variety, the kind I picked up is right below… and hats off to all you vegan eaters out there.
I could commit to eating this type of cheese substitute more often myself. It was pretty good and much better than I expected!
Also, I had my partner try this dish with the vegan cheese and he has given it a passing approval.
And he has even asked me to make it since then again for him so he could test it again! Ha and I know what that means. He loved it!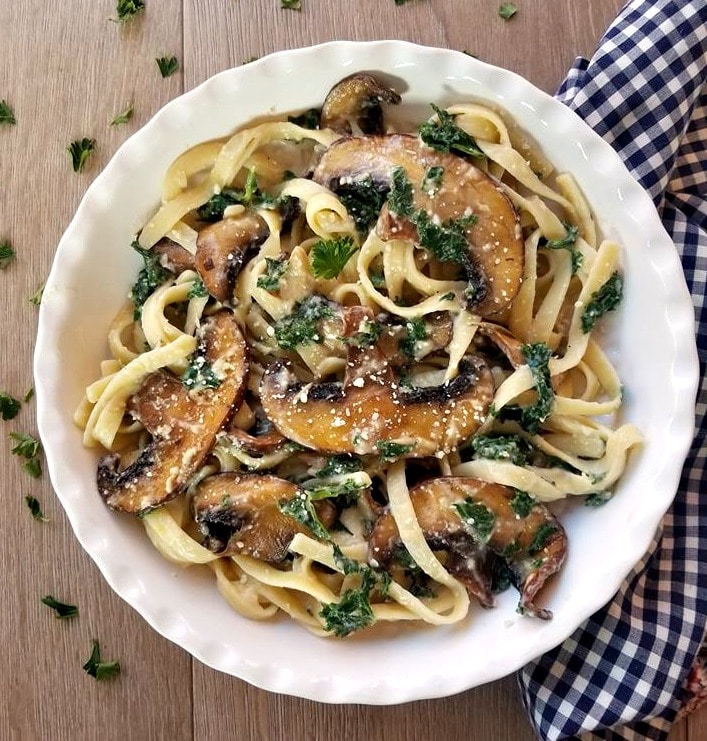 And for a meat eater that says a lot about how good this dish actually is.
Because there is no meat in here whatsoever. But don't be fooled it's filling and those mushrooms are super healthy for you.
Packed full of B-complex vitamins and riboflavin which are amazing minerals for maintaining healthy red blood cells. I hope you give this recipe a try because it is absolutely delicious!
You can always double up the recipes and make it into a few meal preps to enjoy throughout the week.
Just simply use my recipe adjuster above if you plan to make more than two dishes and it will calculate the ingredient ratio automatically for you.
In order to make this dish low fat and vegan, I will simmer this dish in a quality vegetable stock and then simply will season with salt and white pepper to taste.
However you could always add some cream to the stock as well, which will make it non vegan but very creamy.
Pretty simple one pot dish that is sure to impress!

Don't have Portabella Mushrooms on hand?
Go ahead and use regular instead and prepare them the same way. Almost any type of mushroom will go well with this dish. Bone Appetit!
I am so thrilled you are reading one of my recipes, if you made this recipe i'd love to hear about it! Thank you very much for reading and until next time see ya in the kitchen. Don't want to miss a recipe? Sign up for our NEWSLETTER delivered right to your inbox!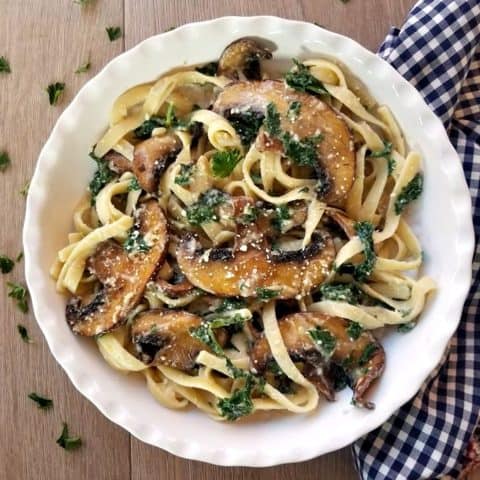 Mushroom Pasta without Cream
You don't have to be Vegan to enjoy this dish!
Ingredients
300 grams Fettuccine
2 large Portabella Mushrooms
2 tbsp Vegan butter or butter
1 tsp Minced Garlic
1 cup Vegan parmesan cheese or regular parmesan cheese
1/2 cup Vegetable stock or milk
4 tbsp Parsley
1 tsp Italian Seasoning
to taste White Pepper
to taste Kosher Salt
Instructions
In a large pot of boiling salted water, cook the fettuccine according to package instructions. Once cooked till al dente strain and set aside.
Meanwhile, in a large skillet over medium heat add in the butter then the sliced portobello mushrooms.
Sauté the mushrooms till they have browned, then add in the minced garlic, chopped parsley and seasonings.
Sauté another minute before adding in the fresh parmesan cheese and stock or milk and allow that to simmer on low for an additional 5 minutes.
Toss back in the cooked fettuccine, toss to coat. Serve and enjoy!
Nutrition Information:
Yield:

2
Serving Size:

1
Amount Per Serving:
Calories:

688
Total Fat:

36g
Saturated Fat:

16g
Trans Fat:

3g
Unsaturated Fat:

17g
Cholesterol:

70mg
Sodium:

1391mg
Carbohydrates:

64g
Fiber:

4g
Sugar:

9g
Protein:

29g
These calculations are based off Nutritionix