Ingredients
2 tbsp

Extra Virgin Olive Oil

2/3 cup dry = 540 mL

Black Beans

chopped into fours

Green Pepper

half chopped into fours

Onion

2 adobo

Chipotles in adobo sauce

chopped finely

Seasoning

Topping

chopped finely

Garden tomato
Directions
These Vegan Cuban Black Beans are my all time favorite vegan dish. We eat this weekly in my house and serve them with jasmine rice fresh cilantro and limes.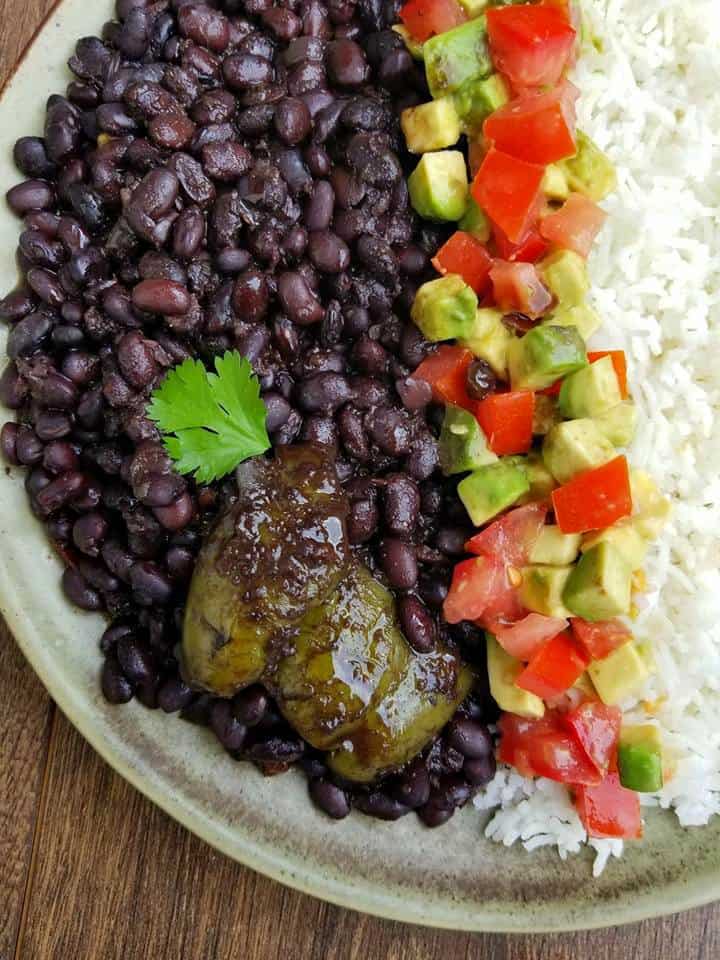 If you have never had this dish before then I encourage you to give it a try because it's super delicious and not to mention a healthy meal the whole family will enjoy!
In Cajun and Creole cuisine the hearty black bean has become a staple food and I can see why. It's meaty and jam packed with nutrients. When cooked right these black beans have a meaty flavor, making them a very popular bean in the vegan/vegetarian community.
If I have enough time, I prefer to use uncooked black beans for this recipe. So I will soak my beans overnight to ensure they cook properly the next day. To soak black beans you will want to cover them in about 10 inches or more of water overnight and place them in the fridge to ensure they don't ferment.
However soaking the beans is not necessary since you can always purchase pre cooked canned beans which work just as good. If you are soaking the beans overnight like I do, just make sure to rinse them several times before soaking. This is because you are going to want to use that bean water in the cooking process.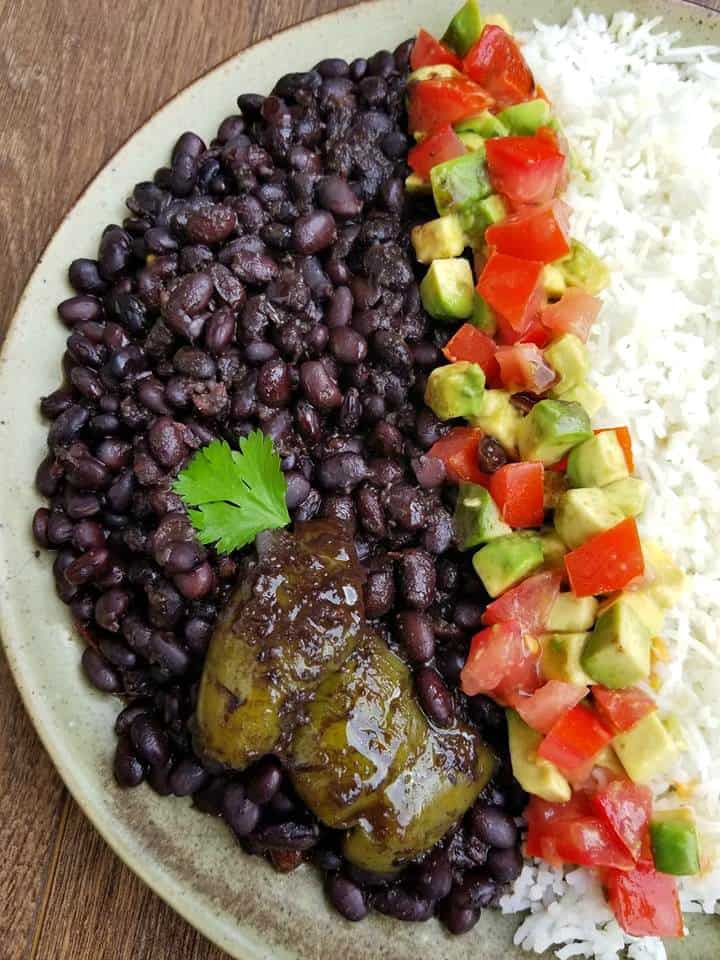 Serve with some chopped fresh tomato and avocado and make sure to sprinkle generously with salt before serving. This recipe is definitely something your going to want to add to your recipe book 🙂
Notes: If soaking uncooked beans overnight, be sure to place them in the fridge otherwise they may ferment on the counter and have to be discarded.
I use a non-stick wok to prepare this recipe see that product below.
Looking to use dry beans vs canned? Here is a quick Conversion chart


I am so thrilled you are reading one of my recipes, if you made this recipe i'd love to hear about it! You can post a review, picture below or via Instagram and let me know how it turned out. And by doing so you will be automatically entered into our seasonal CONTEST to win one of our great prizes. Winner will be notified via email within a week after the contest closes. Thank you very much for reading and until next time see ya in the kitchen. Don't want to miss a recipe? Sign up for our NEWSLETTER delivered right to your inbox every Month!
PIN IT FOR LATER
Steps
To make the Vegan Black Beans:

Pour in the black beans and the liquid that remains from soaking them overnight, otherwise add the liquid from the canned beans. Cover the beans with at least 6 inches of water for uncooked black beans and 3 inches for canned.
Add in all the seasoning sand chopped adobo peppers at this time as well. Simmer on low - heat for one hour the uncooked black beans till tender or 30 minutes for the canned beans.

Once the liquid has near evaporated and the beans are tender there done. Keep an eye on them since you may need to add more liquid if there not fully cooked.

Meanwhile, chop the tomato and avocado and cilantro season the avocado and tomato with salt and set aside.