Directions
Are you looking for a

Traditional Canadian Poutine

recipe that has homemade french fries & is smothered in a beef gravy along with white cheese curds? Well then you just found it!
Every so often I CRAVE a real Poutine!
And those fast food joints really fail at satisfying my craving.
So I will make these at home, the traditional way.
Which is super simple!
These fries are baked not fried and are super crispy on the outside, yet soft on the inside.
POUTINE CHEESE TYPE
An Authentic Canadian Poutine has white cheddar cheese curds melted into the fries.
WHO INVENTED THE POUTINE
Us Canadians invented this delicious dish. And it is one of my all time favorite things to eat!
WHERE POUTINE WAS INVENTED
Specifically the Québécois came up with it and since then it has become very popular across Canada and into the Northeastern United States.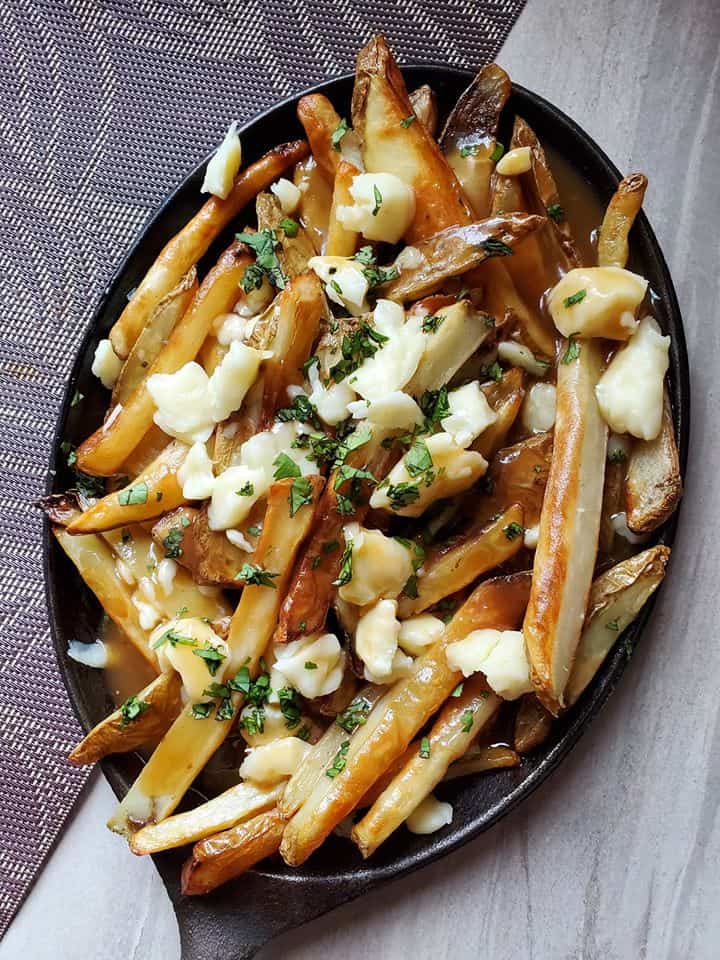 HOW TO MAKE OVEN FRENCH FRIES CRISPY
You will want to start with a cast iron skillet, it heats up perfectly and helps the fries to crisp up faster.
Then you will want to dice the fries on a large cutting board and place them into a large bowl of cold water.
Leave the fries in the water for 30 minutes to ensure the starch is removed as much as possible from the fries. This helps the fries to be more crispy too.
Next, dry the fries with a paper towel or kitchen towel.
Place the fries onto a cast iron skillet or cooking sheet and season with pepper and a little olive oil.
Bake at 375 f for roughly 20 minutes or until golden brown.
Then once the fries have cooked, add the cheese curds and pour over the canned BEEF gravy.
Place back in the oven at 400 f for 10 minutes more minutes or until the cheese has melted.
WHAT KIND OF FRIES FOR POUTINE
Rule of thumb is to use "Russet potatoes" they are the best for french fries across the board.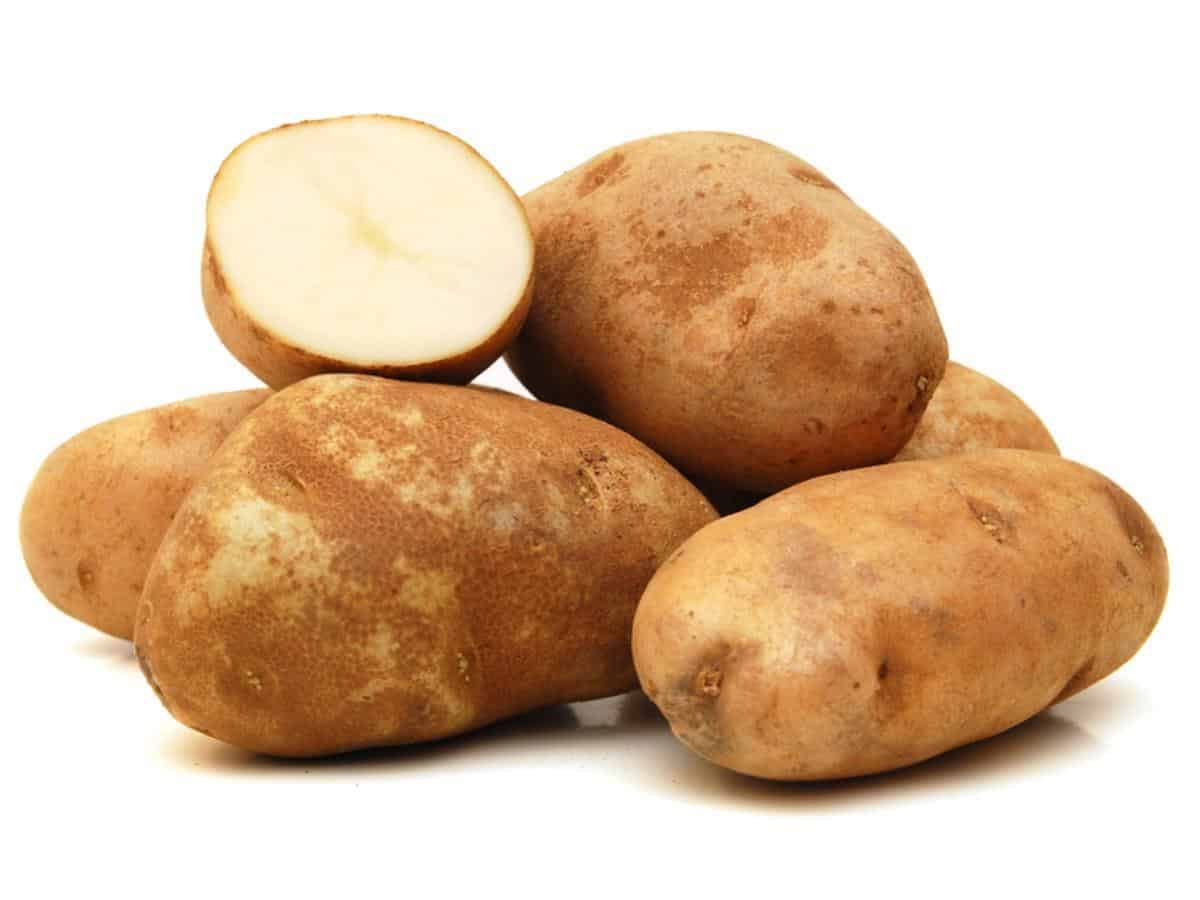 ARE POUTINES HEALTHY
YES, they can be. Depending on what kind of diet plan you may be on. You may want to look for a low sodium gravy. Being it is baked not fried, the fries are really good for you.
If you have never used an air fryer, now is the best time to start. Because they are more affordable now than ever before.
HOW LONG BAKE POUTINE
General rule of thumb for a conventional oven is setting it to 375 f and cooking the fries for 30 minutes.
40 for extra crispy
35 minutes for crispy fries
25 for more soft
CAN POUTINE BE REHEATED
Yes, and it is tastes just the same the next day!
Beef Gravy is MUST!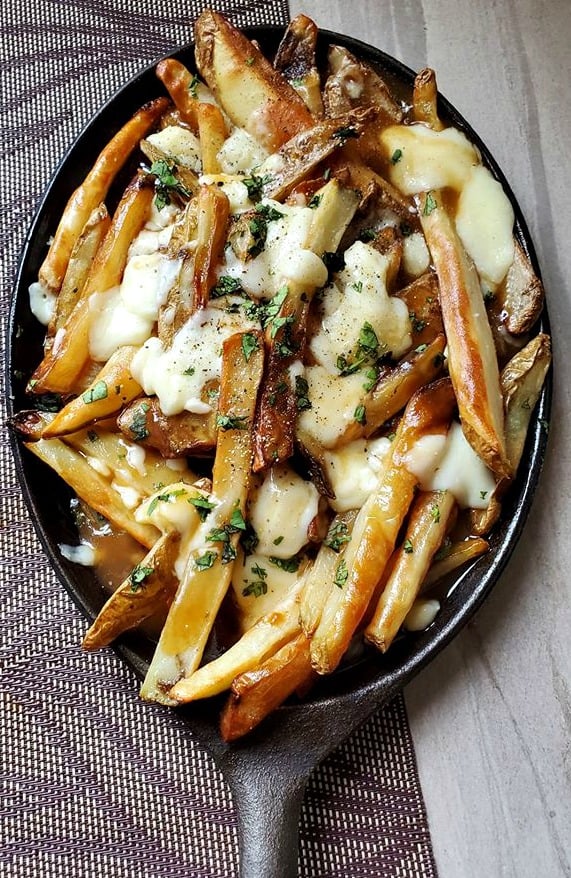 I am so thrilled you are reading one of my recipes, if you made this, I want to see! Follow Canadian Cooking Adventures Instagram, snap a photo, and tag and hashtag it with @canadiancookingadventures and #canadiancookingadventures.
Stay connected and follow along on Facebook, Pinterest, and Instagram for all of my latest recipes!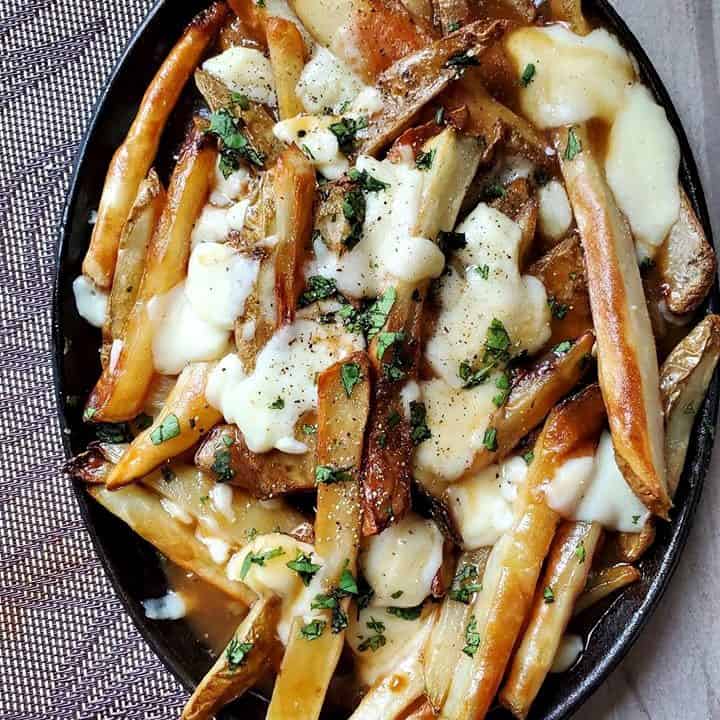 Canadian Poutine
Ingredients
2 large russet potatoes
2 tbsp olive oil
1 cup of cheese curds
1 can of beef gravy
1 tbsp of fresh chopped parsley
1/2 tsp of pepper
Instructions
Start by slicing the Russet Potatoes into french fries.
Place the fries into a bowl covered with water and soak for 30 minutes.
Strain the water and pour the fries on top of a tablecloth and pat dry.
Place the dried potatoes onto a cast iron skillet and season with pepper.
Bake at 375 f for 20 minutes.
Remove and top with the cheese curds and canned gravy.
Place back in the oven at 400 f for 10 minutes.
Top with fresh chopped parsley and enjoy!
Nutrition Information:
Yield:

1
Serving Size:

1
Amount Per Serving:
Calories:

1473
Total Fat:

76g
Saturated Fat:

30g
Trans Fat:

1g
Unsaturated Fat:

39g
Cholesterol:

130mg
Sodium:

2516mg
Carbohydrates:

147g
Fiber:

15g
Sugar:

8g
Protein:

55g
These calculations are based off Nutritionix