Directions
This

Smoked Salmon Gnocchi

is made with real salmon and smoked salmon cream cheese and hits all the creamy notes.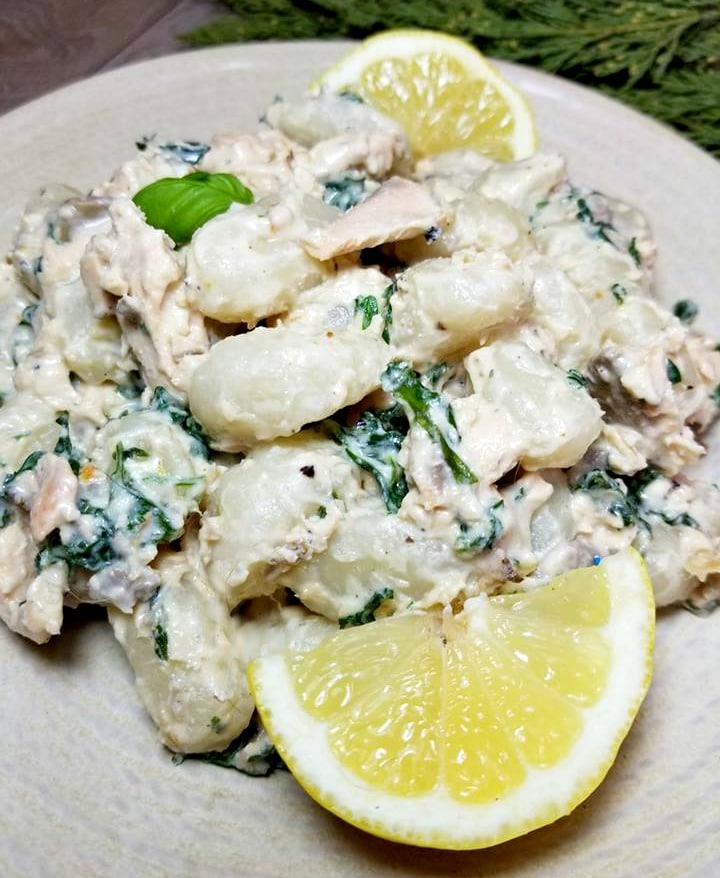 My Smoked Salmon Gnocchi is made with fresh basil, parsley, lemon juice and whole milk. I prefer to use milk instead of cream because the cream cheese is creamy enough.
SALMON GNOCCHI
Think VALENTINES or DATE night with this one!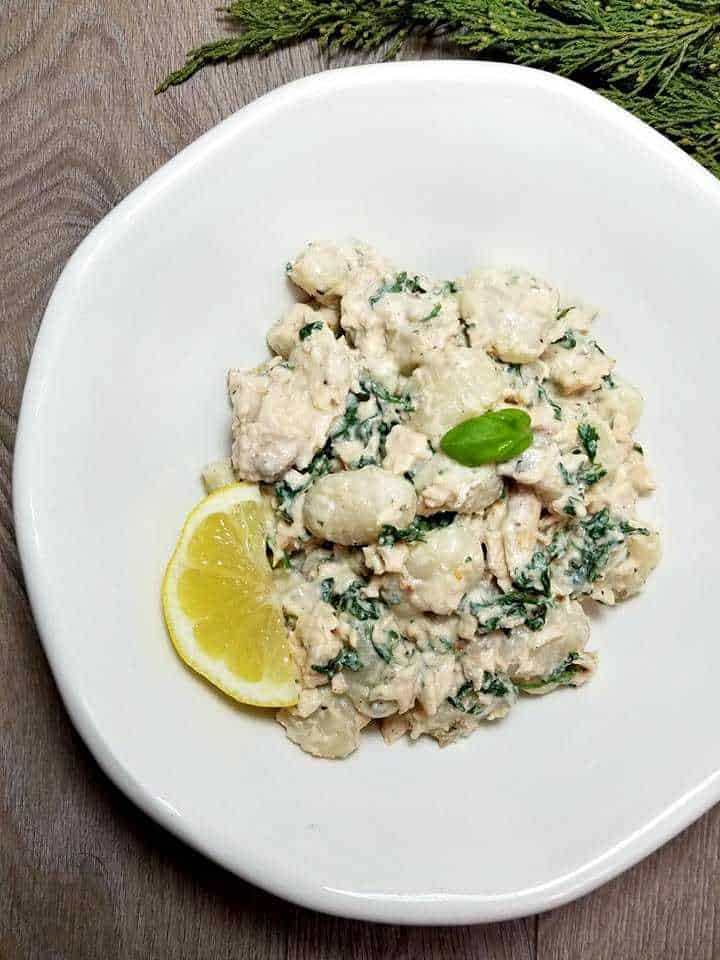 Since Valentines is just around the corner, I could not help myself but share this recipe with you all. The first time I had Salmon Gnocchi was actually on Valentines day a few years back.
I was in the lower mainland and the restaurant my partner took me to was serving it as there special for the evening.
Along with white wine and the most amazing dessert! It was a memorable dinner for me and it was definitely worth the cost.
However, I have found a way to make it at home for a fraction of the cost. Now we can enjoy it whenever and not just on those special occasions!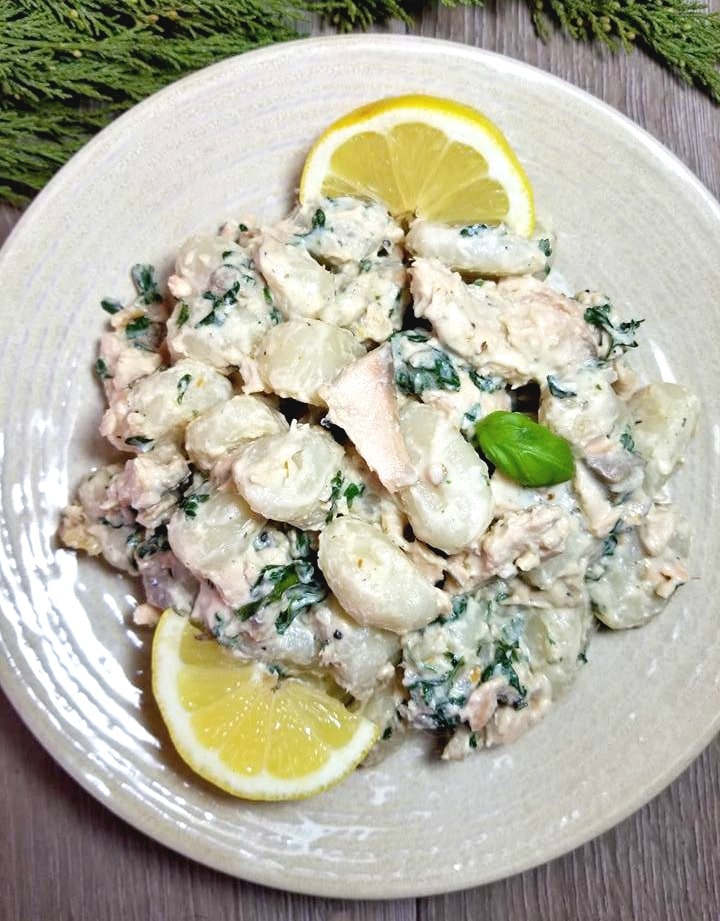 SMOKED SALMON GNOCCHI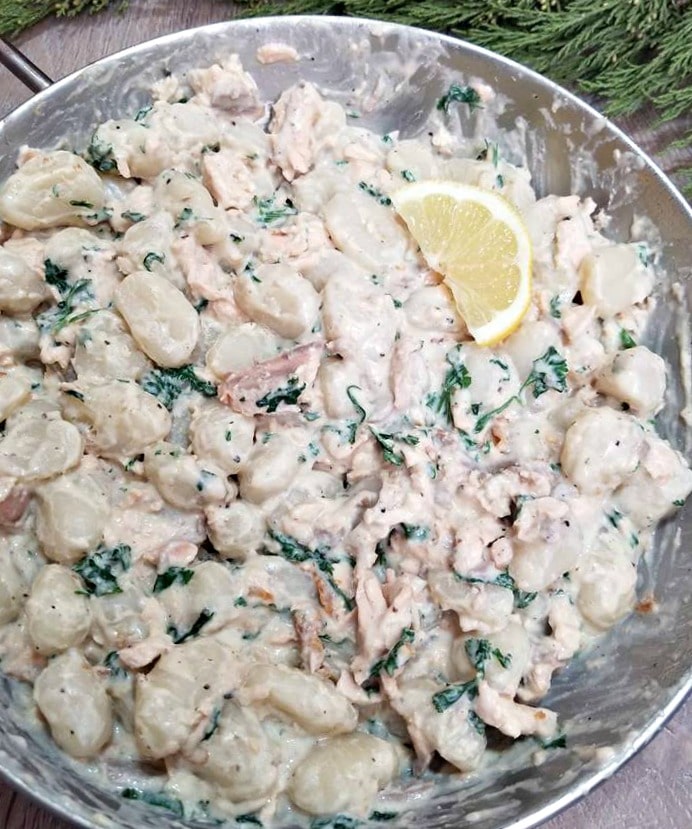 You can choose to make it without the salmon fillets if desired, however I find they are a nice addition and make this more of a meal. I also love the addition of the "Smoked Salmon Cream Cheese" in this dish.
I was hesitant at first to add it, but I experimented a few times and found that 3 tbsp is the perfect amount that gives this dish the extra flavor it needs.
It really does add an extra element of flavor so be sure not to skip it. Also by adding the cream cheese you can omit the cream and replace it for a lower calorie milk option.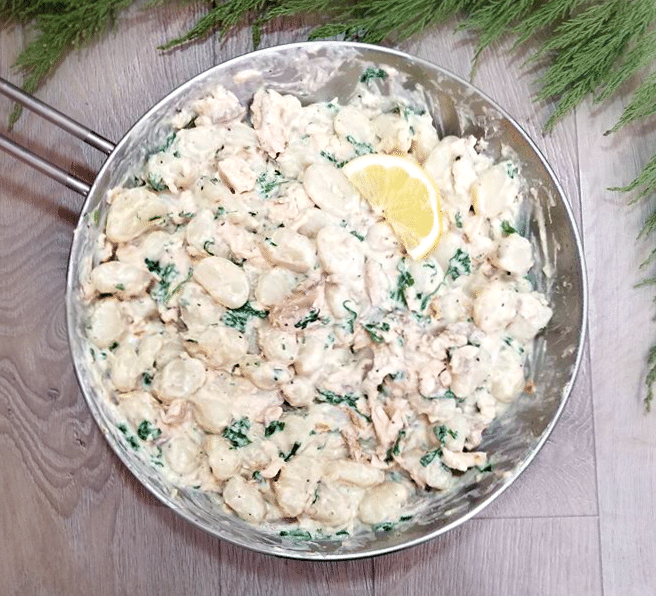 Serve it in a BOWL or on a PLATE whatever tickles your FANCY!
Me having fun with the plating, don't this look lovely!
Bon appetite!
Other Gnocchi recipes that you're sure to love!
Will you give this recipe a go?
Notes: If there is skin on the salmon remove it gently once the salmon has seared.
I am so thrilled you are reading one of my recipes, if you made this recipe I'd love to hear about it! You can post a review, picture below or via Instagram and let me know how it turned out. ADon't want to miss a recipe? Sign up for our NEWSLETTER delivered right to your inbox!
Smoked Salmon Gnocchi
You can make the "Gnocchi" from scratch or buy a premade package. 
Ingredients
TO MAKE THE GNOCCI
2 Potatoes
1 Egg
1 1/2 cups Flour
OR PACKAGED
500 g Pre-made potato gnocchi
2 Salmon Fillets
CREAMY SAUCE
3 tbsp Salmon Cream Cheese
1/2 cup 2% milk
1/2 tsp black pepper
3 tbsp Parlsey
2 tbsp Fresh Basil
1/2 Fresh lemon juice
Instructions
Making the Gnocchi from scratch:
Bring a large saucepan of salted water to a boil.
Prepare your potatoes, by peeling them then adding the to saltwater. Making sure there submersed fully.
Cook for about 15-20 minutes till tender, strain, cool and mash.
Combine 1 cup mashed potato, flour and egg in a large bowl and mix. till well combined.
Knead the dough to form a round ball. Then on a floured surface roll the ball out with your hands into a long snake like shape. And simply cut the snake into half inch pieces to create the gnocchi.
Or use pre-made Gnocchi
Drop into a pot of salted boiling water, and once the gnocchi rises to the top it has cooked.
Remove from the water and drain in a strainer and set aside.
Meanwhile, add 1 tbsp of butter to a frying pan and sear the salmon fillets on either side for 4 minutes till almost cooked. "but not fully because it will be overcooked since your going to be adding it back to the pan near the end". Once it's near cooked remove and set aside. If there is skin on the salmon remove it gently once the salmon has seared.
For the Creamy Sauce:
In a saucepan, add your Salmon Cream Cheese, milk and stir over low heat till melted.
Add in your parsley and basil then your drained gnocchi, stir for 2 minutes and season with salt and pepper to taste. Squeeze the juice from a fresh lemon over top and enjoy!