Directions
Have you ever tried Laksa Soup? It is a spicy noodle soup that has been one of the most popular soups from Singapore to Thailand and throughout Malaysia for centuries.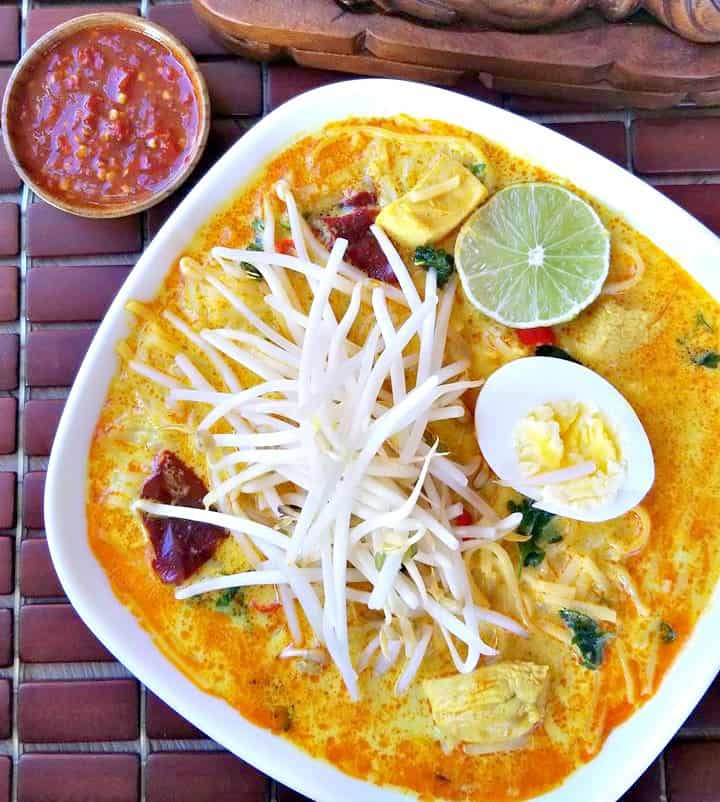 And today has become very popular throughout europe and the west!
What gives it its unique taste is the fresh tamarind and dried shrimp.
If your not sure what that is follow along, it's pretty simple to find now a days in a simple pre made package.
Once you get familiar with the basic ingredients of thai cooking, you will be shocked at how easy it is to prepare these at home.
Literally you can have this dish on the table in under 20 minutes.
Keep in mind a good coconut milk, will be half solid a half watery.
One that is all watery does not work as well for this dish, so be sure to buy a full fat one and organic if possible as I always find that to be the best.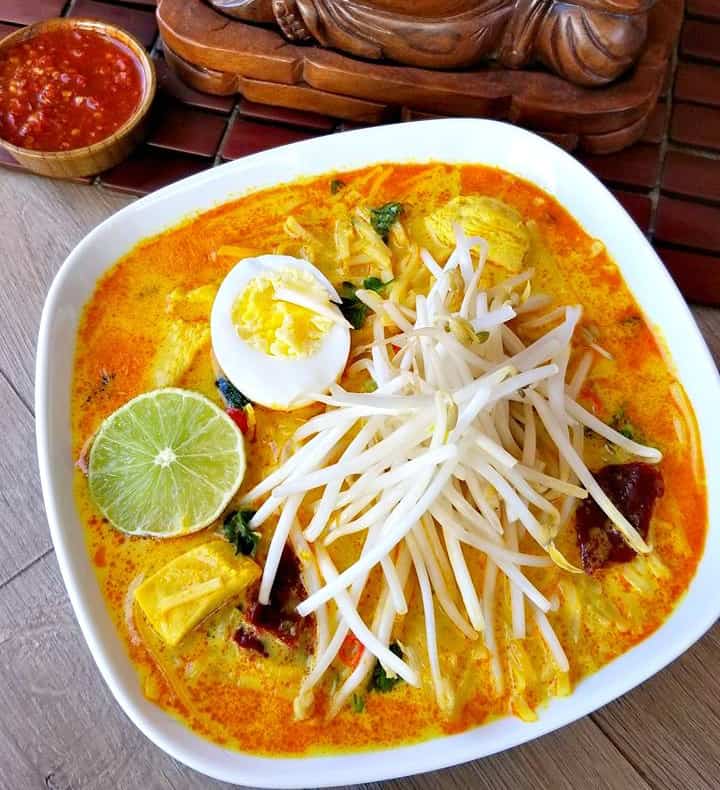 Whenever I say I'm making fresh homemade Laksa soup for dinner I get those frantic calls from my partner to remind me that he's fast on his way home and will be making no pit stops along the way.
I guess he loves me so very much, no really he loves me and this soup equally very much ha!
Before I learned to make homemade laksa soup we would go out pretty often for a big bowl at our local dinner.
WHAT IS IN SINGAPORE LAKSA SOUP
Traditional Laksa soup has
Tamarind paste
Dried shrimp
Galangal
Lemongrass and some other Thai ingredients.
You can always go to your local asian store and find those ingredients and add them one by one or you can just use the premade paste which has it all in it! Saving you a ton of time and effort.
This is my favorite Singapore Laksa paste, serves 2-3 people!
HOW TO MAKE SINGAPORE LAKSA SOUP
My soup is made with:
Singapore Laksa Spice Paste
One fresh Chicken breast
An egg
Creamy coconut milk
A few kaffir lime leaves
Vermicelli rice noodles
Fresh bean sprouts
Lime and Cilantro.
This soup is sure to satisfy even the pickiest of Laksa soup lovers out there.
Also feel free to add shrimp to this as well if desired.
Even though we use the premade "Laksa paste" in this recipe, which has all the ingredients one needs. I also like to add a few Kaffir lime leaves because I love that tangy lime taste, if you have any on hand feel free.
I always have Kaffir lime leaves in my freezer for whenever I'm making anything Thai.
I find it really enhances this dish even more, however this is optional as the lime juice at the end does a good job to adding that similar taste.
Also be sure to only squeeze the juice of a lime in at the end, you do not want to cook the lime. It will ruin the flavor of the soup.
Notes: Things to keep in mind 🙂
Look for a good solid coconut milk, you do not want to use any low fat variety. One that is all watery does not work as well for this dish, typically organic or traditional Thai coconut milk varieties have the best products.
"Lemongrass", "Galangal" and "Kaffir lime leaves" can be found in most Asian stores. But the paste that I use has all those ingredients in it.
Add in the lime last, you do not want to cook the lime because it will ruin the flavor.
Do not eat the "Kaffir lime leaves" there just for flavoring, if you're going to use these for added flavor. Make sure to bruise each leaf before adding to the pot.
Want more heat, simply serve some red chili paste on the side like I do. I try to stay away from fresh thai chilies for this soup, because those babies are super hot and can burn the eyes and hands if not handle properly.
I'm thrilled you are reading one of my recipes, if you made this recipe i'd love to hear about it! Thank you and until next time see ya in the kitchen. Don't want to miss a recipe? Sign up for our NEWSLETTER delivered right to your inbox!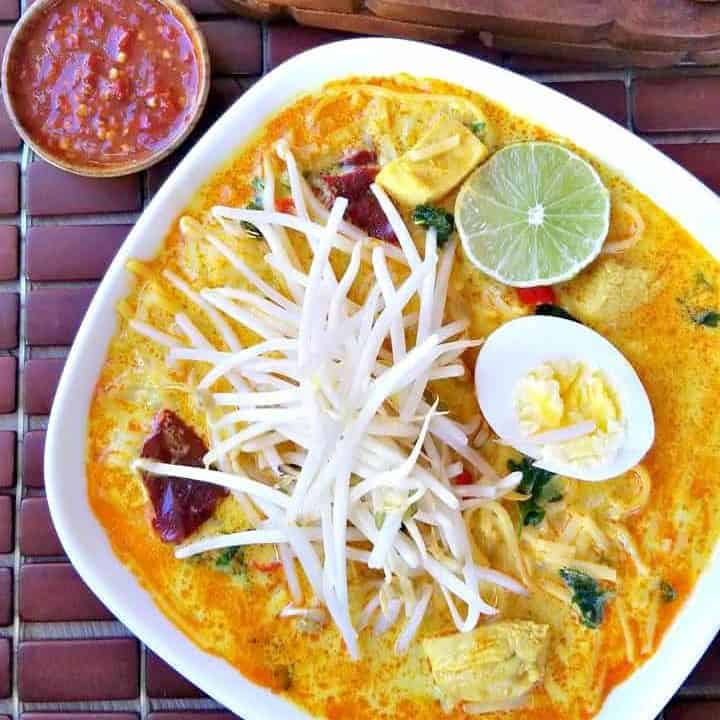 Singapore Laksa Soup
Ingredients
1 package Singapore Laksa Paste
2 Boneless chicken breasts
1 can Whole Organic Coconut Milk
1 cup Water
125 grams Vermicelli
1 Egg
1 large Dried California Chili Pepper
2 Kaffir lime leaves
1 cup Bean Sprouts
1 Lime
2 tbsp Cilantro
1 tsp Salt
Instructions
Wash and chop the chicken breasts and in a non stick saucepan heat the oil over medium to low heat and add the chicken along with the "Singapore Laksa Paste" and California red chilis.
Add in a can of coconut milk and the water, simmer on medium to low heat for 5 minutes.
Meanwhile, boil some water and pour it over a shatterproof bowl of dried vermicelli noodles. Give them a couple minutes to tenderize, then drain and add them to the soup. Stir the soup and then turn off the heat!
As the soup is cooling down some, in another small pot boil up some water and cook an egg for about 5 minutes. Once the egg is cooked rinse it over cold water, crack off the shell and divide in half and split into separate bowls.
Ladle into two separate bowls, garnish with fresh bean sprouts and fresh cilantro. Then squeeze the juice from half a lime over each bowl. Enjoy!
Nutrition Information:
Yield:

2
Serving Size:

1
Amount Per Serving:
Calories:

1062
Total Fat:

65g
Saturated Fat:

48g
Trans Fat:

0g
Unsaturated Fat:

13g
Cholesterol:

234mg
Sodium:

2556mg
Carbohydrates:

65g
Fiber:

5g
Sugar:

12g
Protein:

62g