Directions
These
Simple Swedish Meatballs

are served over a bed of egg noodles in a creamy low fat sauce. A recipe that you and your family are sure to love.
WHO SELLS SWEDISH MEATBALLS
Costco does but so does President's Choice.
So what does that mean? It means you can have creamy Swedish Meatballs on the table in less than 20 minutes!
That is the reason I call these Simple Swedish Meatballs because really there is no fuss when it comes to making this popular recipe.
You can literally have this whole dinner on the table in less than 30 minutes!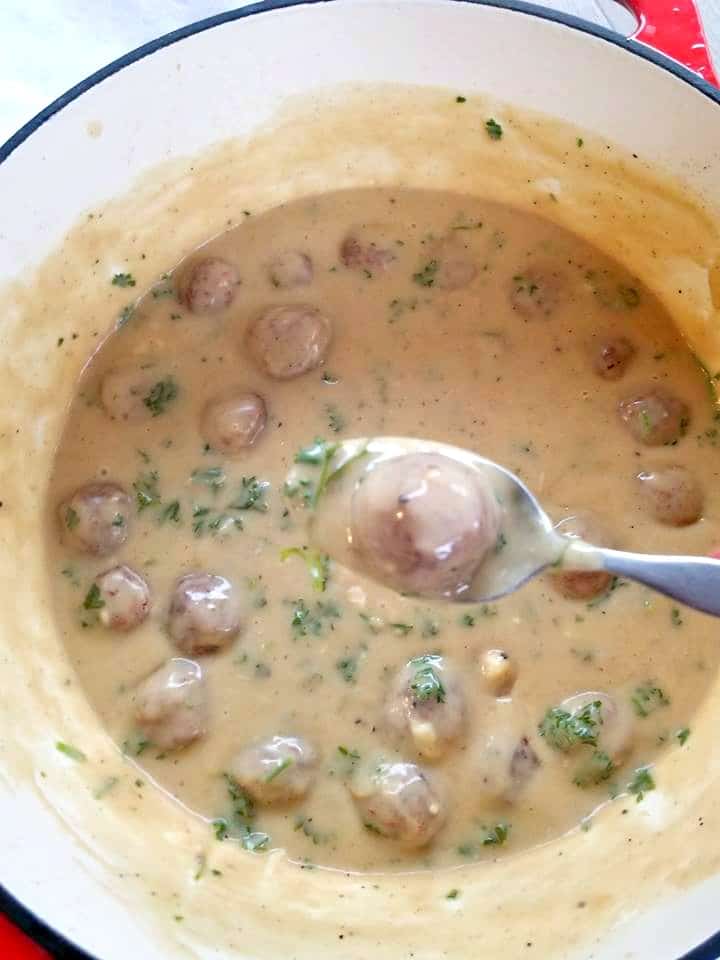 Making swedish meatballs this way becomes a weeknight meal savor if you ask me. Because instead of making these meatballs from scratch which take a fair bit of time and technique.
Your simply using some pre made meatballs that are fail proof and do not need to be baked.
Your going to love this really inexpensive dinner option, trust me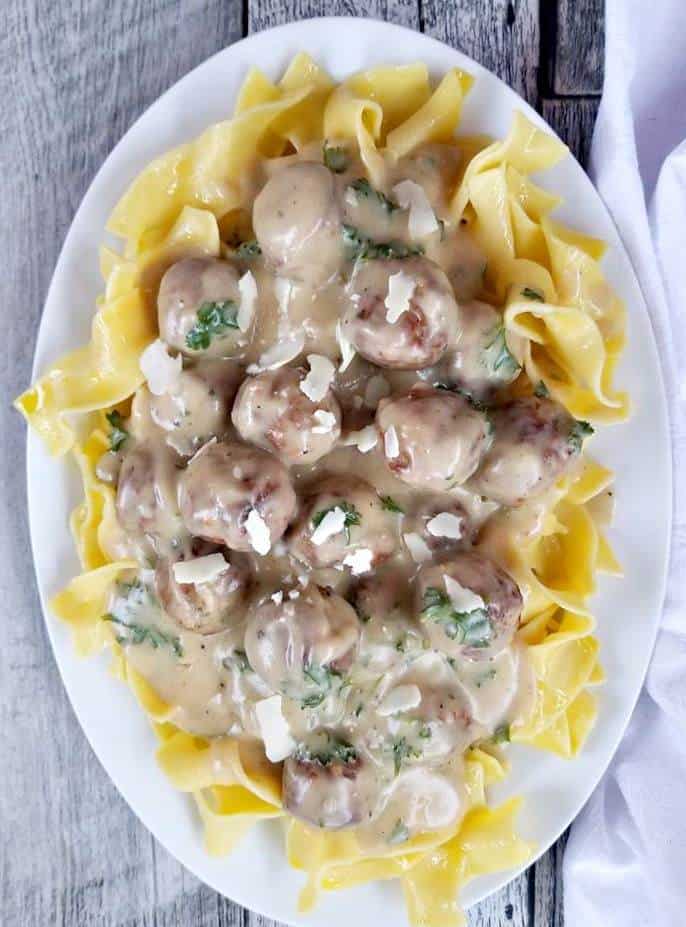 This recipe serves a family of four or you can use my easy to use recipe adjuster and make it for more people if you like.
Your family will think you where slaving in the kitchen all day making meatballs when really you were doing other important things 😉
Keep in mind those pre made meatballs come in a package that has 907 grams. I only used 650 grams of those meatballs and that alone feeds four people. So taking that into consideration this recipe is also frugal!
The brand that I like to use is President's Choice Swedish Meatballs. You can use your favorite pre made meatballs of course and even opt for a chicken or a vegan variety, totally up to you.
Swedish Meatballs are the ultimate comfort food and typically are served overtop a bed of large egg noodles, however you can serve them over mash potatoes as well if desired.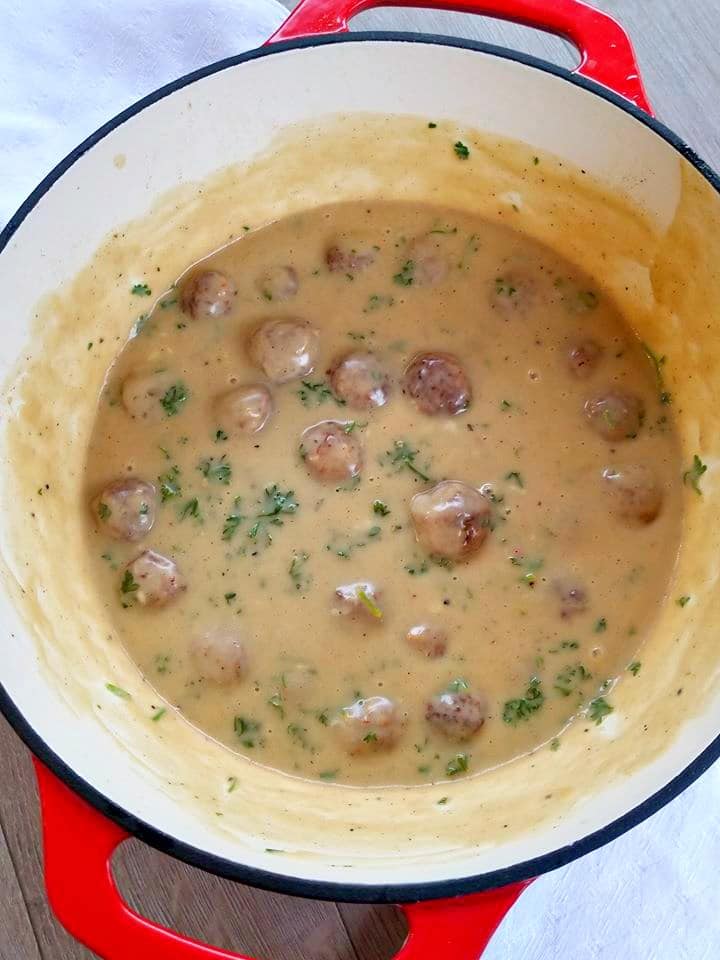 I like to saute the meatballs in butter and oil first which helps bring out the flavor more.
Then I will use that same butter and oil to make a roux for the sauce that turns into the most delicious gravy ever.
Also since I typically just cook for me and my partner, I often tend to make dinner for two, three or four people. This recipe will feed four people easily and get this.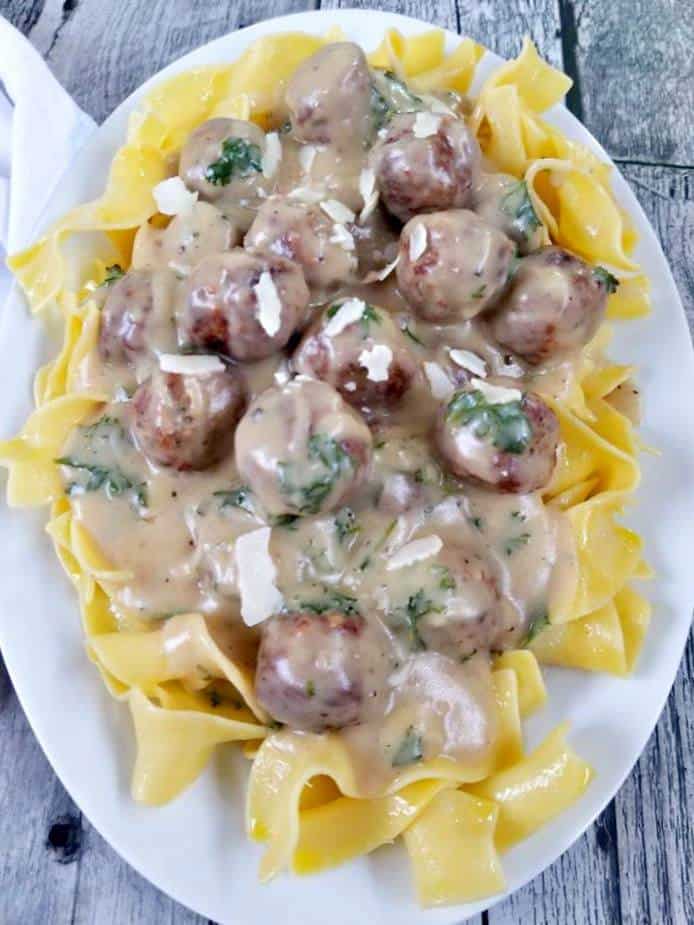 Are you cooking for a larger crowd? or perhaps having to provide something for an upcoming potluck?
Then this recipe is sure to be a hit and everyone would be think that you spent a lot of time at it.
If you have a little more time and want to make your meatballs from scratch, I recommend following this recipe for making Classic Baked Swedish Meatballs.
Just be aware that it does take some time and technique, as sometimes they do fall apart while searing them. So cooking them in the oven is best if you are to make them from scratch.
Go ahead and indulge you

deserve

it!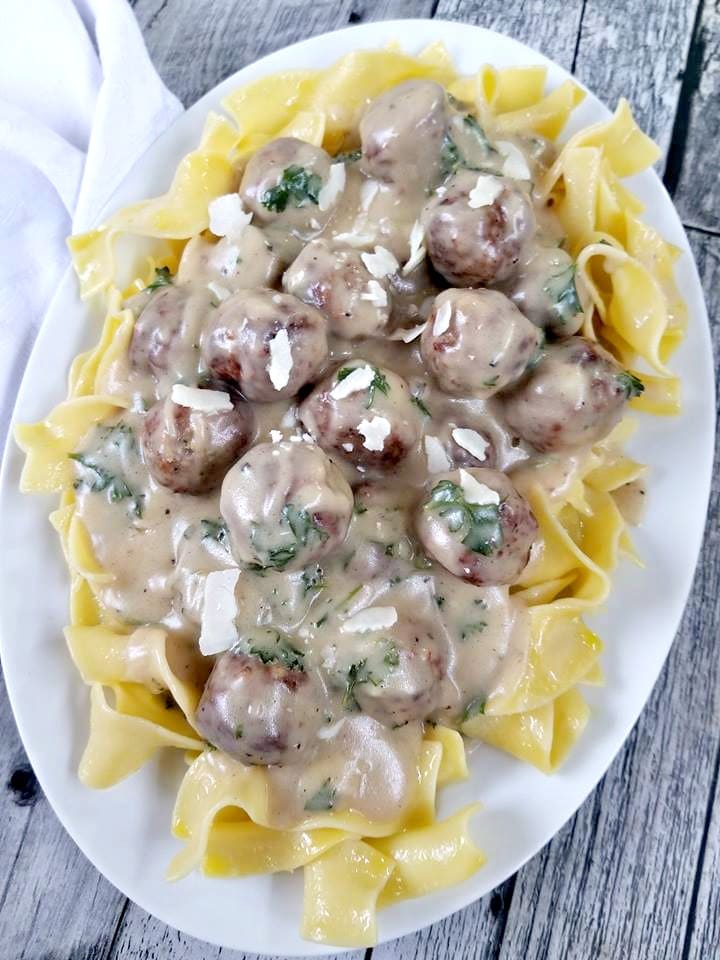 Note: You can add 1/2 cup of cream to this dish around the time you add in the beef stock if desired.
Adapted: Jo Cooks
I'm thrilled you are reading one of my recipes, if you made this recipe i'd love to hear about it! Thank you and until next time see ya in the kitchen. Don't want to miss a recipe? Sign up for our NEWSLETTER delivered right to your inbox!
Simple Swedish Meatballs
Quickest way to make this dish!
Ingredients
4 tbsp Butter
4 tbsp Olive oil
650 grams President's Choice beef swedish meatballs
4 cups Beef stock
1/4 cup All purpose flour
3 tbsp Worcestershire sauce
1 tbsp Dijion Mustard
3 heaping tbsp Sour Cream, Full fat
SEASONINGS
1 tsp Onion powder
1 tsp black pepper
1/2 cup Fresh chopped parsley
Salt to taste
OPTIONAL
Instructions
Bring a large pot of lightly salted water to a boil and cook the egg noodles till soft. Remove the egg noodles strain and set aside.
Then in the same pot add the olive oil and butter and turn the heat to medium high, once the butter has fully melted add in your pre-cooked meatballs and simmer tossing regularly for 5 minutes. Once the meatballs have heated through and slightly browned remove from the pot and set aside.
In the same pot "save the remaining oil/butter" and add in the flour and whisk for 2 minutes till the flour has combined and cooked some. Then add in the beef stock, worcestershire sauce, red wine vinegar, dijon mustard, onion powder and pepper.
Saute for 5 minutes on medium heat before adding back in the cooked meatballs and simmer for another 5 minutes before adding in the sour cream, parsley and parmesan cheese.
Simmer another 5 minutes, then taste to see if any salt is needed and season to taste.
Remove from the heat and allow the sauce to thicken up a bit before serving over a bed of egg noodles. Enjoy!
Stir in meatballs and cook, stirring occasionally, until heated through and thickened, about 8-10 minutes.
Serve immediately, garnished with parsley, if desired.
Nutrition Information:
Yield:

4
Serving Size:

1
Amount Per Serving:
Calories:

1016
Total Fat:

67g
Saturated Fat:

26g
Trans Fat:

1g
Unsaturated Fat:

34g
Cholesterol:

236mg
Sodium:

1227mg
Carbohydrates:

42g
Fiber:

2g
Sugar:

4g
Protein:

59g