Directions
This

Sausage Gnocchi Soup

recipe is similar to the Italian Gardens recipe for Zuppa Toscana!
This Sausage Gnocchi Soup recipe is one of those soups that you will want to make a big old pot of and enjoy over a few days.
Want more recipes that call for Sausages? Try my Sausage and potatoes
Zuppa Toscana is one of the Olive Garden's most popular soups. This recipe is very similar other than instead of using spinach I used kale as that was what I had on hand. And trust me it is just as good if not better!
I really like to use "medium Italian sausage" for this recipe. However if your wanting a more spicy soup feel free to add a spicer sausage.
So if your craving a soup to warm you up, but also want a hearty meal. Then this Gnocchi Sausage Kale Soup will hit the spot!
I have always loved Italian type soups and have been testing out a few of these popular gnocchi soups for some time now.
I found that the key to making it more like a soup rather that just a pasta dish is to use "Mini Gnocchi" for the soup, rather than regular sized gnocchi.
If you are wondering what those look like, see this spoonful below.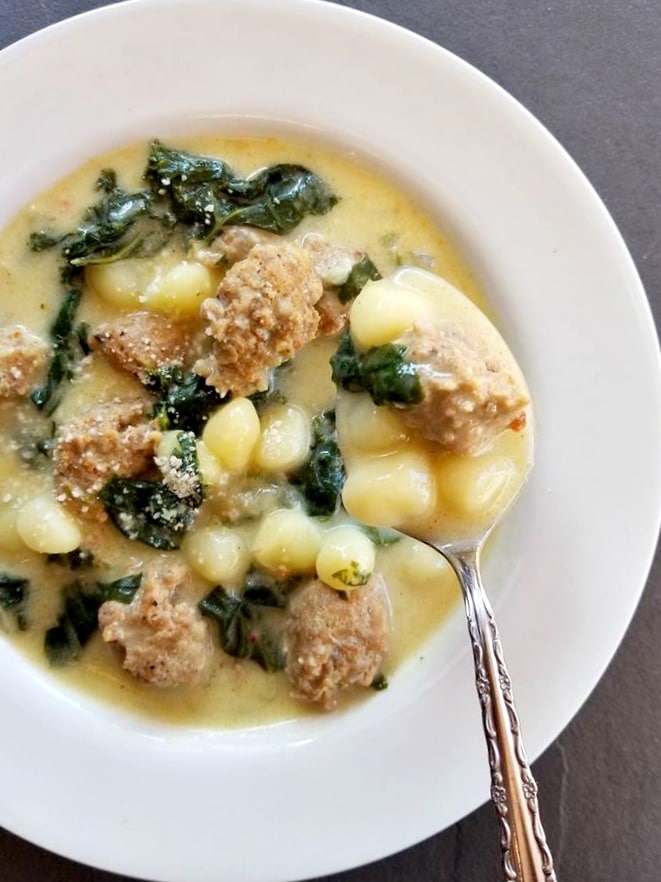 My soup utilizes Kale and makes for one healthy hearty meal! You can always use spinach instead if desired!
I decided to finally share my favorite version of it with you today! Mine is pretty similar to allot of those Italian Tortellini soup recipes you will find out there.
However mine has a few differences such as mine will use kale instead of spinach and celery instead of the carrots.
Not to sure why almost all Italian tortellini soups call for carrots these days, but to me that is so wrong.
Oh and mine also has a fair amount of parmesan cheese and absolutely "no cream". The tomatoes and cheese will make it creamy enough!
I like to use sour cream vs heavy cream as it helps to make this soup super creamy without all the extra fat. That sour cream is mixed with chicken stock or vegetable whichever you prefer to use.
If you are planning to enjoy this soup over a couple of days, then you will want to add one more cup of stock in the soup. Since the Gnocchi tends to soak it up overnight. Believe it or not but this soup tastes even better on the second day.
If you loved this soup? you will also love the following recipes below.
Notes: Also keep in mind, as with all my recipes. If you want to make more or less of this soup, simple adjust the serving size in the ingredients section above and the servings will automatically adjust for you. This soup can store in the fridge for up to 3 days and or freeze for up to 3 months.
I am so thrilled you are reading one of my recipes, if you made this recipe I'd love to hear about it! Thank you very much for reading and until next time see ya in the kitchen. Don't want to miss a recipe? Sign up for our NEWSLETTER delivered right to your inbox every Month!

Sausage Gnocchi Soup
Yield: 4

Cook Time: 30 minutes

Total Time: 30 minutes

Just like the Popular Italian Soup Zuppa Toscana!
Ingredients
1 tbsp Olive oil
1 medium Onion
2 large Italian sausage
2 cloves Garlic
3 tbsp Fresh Parmesan cheese
4 tbsp Sour Cream, Full fat
5 cups Chicken Stock
2 cups Chopped Kale
White Pepper
500 grams Mini Gnocchi
1 tsp Djion Mustard
Instructions
Cook the Italian sausage and red pepper flakes in a Dutch oven over medium-high heat until crumbly, browned, and no longer pink, 10 to 15 minutes. Drain and set aside.
Cook the bacon in the same Dutch oven over medium heat until crisp, about 10 minutes. Drain, leaving a few tablespoons of drippings with the bacon in the bottom of the Dutch oven. Stir in the onions and garlic; cook until onions are soft and translucent, about 5 minutes.
Pour the chicken broth into the Dutch oven with the bacon and onion mixture; bring to a boil over high heat. Add the potatoes, and boil until fork tender, about 20 minutes. Reduce the heat to medium and stir in the heavy cream and the cooked sausage; heat through. Mix the spinach into the soup just before serving.
Nutrition Information:
Yield: 4 Serving Size: 1
Amount Per Serving: Calories: 590Total Fat: 22gSaturated Fat: 7gTrans Fat: 0gUnsaturated Fat: 15gCholesterol: 77mgSodium: 826mgCarbohydrates: 71gFiber: 4gSugar: 9gProtein: 25g

These calculations are based off Nutritionix

© CanadianCookingAdventures. All images and content are COPYRIGHT PROTECTED. Please do not use any images without prior permission. Please do not republish this recipe. If you want to reference this recipe, link directly back to this post. Thank you, Jacqueline