Directions
This
Leftover Rotisserie Chicken Soup Recipe

is something I like to make after making a whole chicken.

Start by making a Whole Chicken recipe you can find that recipe here.
WHAT TO DO WITH ROTISSERIE CHICKEN LEFTOVER
Make this soup 🙂 This soup utilizes the bones of your leftover Rotisserie chicken to make a chicken bone broth for the most amazing soup.
Whenever I or someone I love gets sick with a cold. The first thing I do is make a large batch of homemade chicken soup.
And the best way and cheapest way to make this soup too, is to use the meat and bones from a leftover rotisserie chicken from the night before.
Two meals in one. IT'S A WIN WIN!
ROTISSERIE CHICKEN SOUP WITHOUT NOODLES
There are a few versions of this kind of of soup out there, this one is a little different as it uses the leftover bones for the chicken broth. And has no noodles in it, of course you can add them if you'd like.
Just make sure your adding more stock or very little noodles to this particular recipe.
And as you may know bone broth is said to be nature's pharmacy.
And so this soup has everything you need in it to ward off any type of cold or flu.
It defiantly will help your body rests and works to get better.
WHAT IS IN ROTISSERIE CHICKEN SOUP
This soup is packed with garlic, ginger, curry, turmeric, cinnamon, cayenne and paprika spices that are sure to make you feel better feel.
The benefits soon after sipping this warm soup will be felt all over.
Serve alongside with a lemon wedges if desired for an extra punch of vitamin C, I hope feel so good after sipping this warm bowl of soup!
This is real soup, not that over processed stuff that comes from a can.
How To Make Rotisserie Chicken Soup
Start by shredding the cooked chicken breasts with two forks and set aside.
Next chop 2 green onions into bite size pieces and set aside
Mince the garlic from 3 garlic and set aside.
Mince the ginger and set aside.
Next remove all the meat left on your Rotisserie chicken and then place the chicken carcass into a large stock pot and add 8 cups of water along with your minced garlic and ginger.
Simmer on low heat for 45 minutes turning a few times to allow the stock to develop.
Once the stock has developed, discard the carcass and place the stock aside in a large bowl.
In the same -pot add in all the spices, soya sauce and simmer on medium – low for 15 minutes.
Season with salt and enjoy warm, allowing your body to heal itself.
You can add more vegetables you like, such as:
ROTISSERIE CHICKEN SOUP WITH RICE
Yes, go ahead and add rice or noodles during the cooking process if you'd like.
Just make sure that you are following the directions on the package for the cooking times. And do not add more than 1/2 a cup otherwise the liquid will be all gone.
I have plenty of soup of other soups on this site that would help anyone to feel better. One of which is my Vegetable Egg drop soup. It is absolutely delicious and healthy for you as well.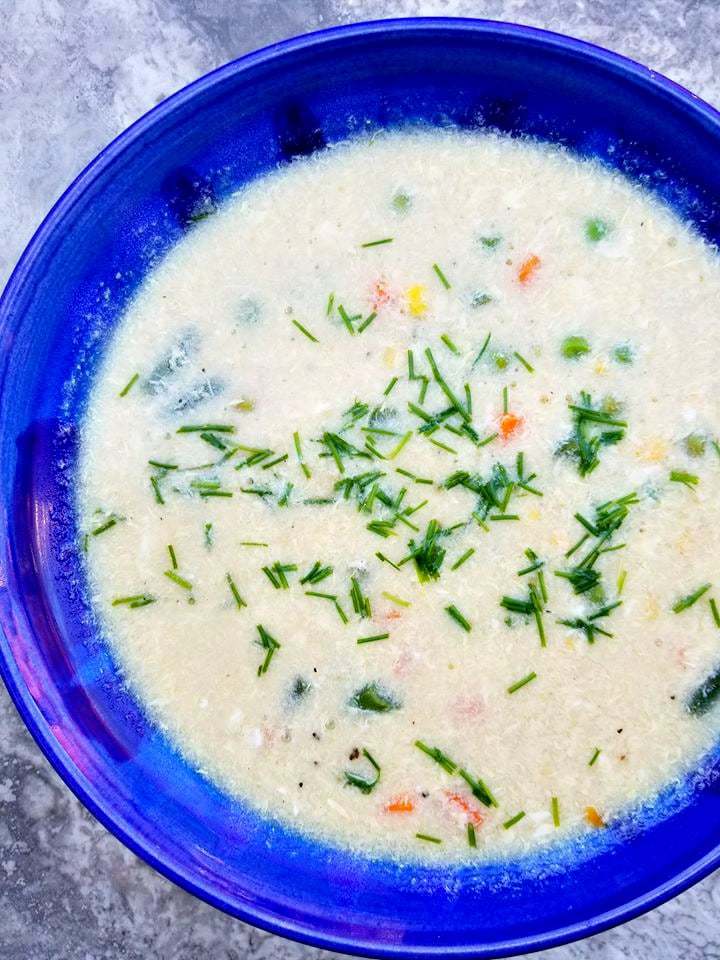 And my Duck Pho Soup
Bok Choy Chicken Garlic (Flu-Fighter) Soup
I am so thrilled you are reading one of my recipes, if you made this recipe i'd love to hear how it turned out! Thank you very much for reading and until next time see ya in the kitchen. Don't want to miss a recipe? Sign up for our NEWSLETTER delivered right to your inbox!
Leftover Rotisserie Chicken Soup Recipe
Ingredients
8 - 10 cups of Water
Carcass of two Rotisserie chickens
2 chicken breasts, shredded
1 cup of cherry tomatoes, halved
3 celery, diced
1 large carrot, diced
1 cup of dried macaroni
2 tbsp Butter
1 large onion, diced
1 tsp Fresh Ginger Root
5 cloves Garlic, minced
SPICES
1 tbsp Italian seasoning
1 tbsp Turmeric powder
1 tbsp fresh parsley
1 chicken stock cube
Instructions
Start by placing the 2 chicken carcass into a large stock pot and add 8 cups of water or to cover the bones completely.
Simmer on low to medium heat covered for 45 minutes.
Discard the bones and carcass and then add in your raw chicken breasts if using those. Or your left over cooked chicken if you have on hand.
If using fresh chicken breasts, allow them to cook in the stock till cooked.
Then shred them on a large cutting board with two forks and set aside.
Meanwhile, chop the celery, onions, garlic, ginger and saute in butter till translucent fragrant
In the same -pot add in turmeric and other spices, soya sauce, macaroni and cherry tomatoes.
Simmer on medium – low for the remaining 10 minutes.
Enjoy warm, allowing your body to heal itself.
Recommended Products
As an Amazon Associate and member of other affiliate programs, I earn from qualifying purchases.
Nutrition Information:
Yield:

4
Serving Size:

1
Amount Per Serving:
Calories:

331
Total Fat:

11g
Saturated Fat:

5g
Trans Fat:

0g
Unsaturated Fat:

4g
Cholesterol:

98mg
Sodium:

592mg
Carbohydrates:

23g
Fiber:

4g
Sugar:

5g
Protein:

35g
These calculations are based off Nutritionix