Directions
These Mussels are simmered on the stove top in a Red Wine Tomato sauce and are super simple to make.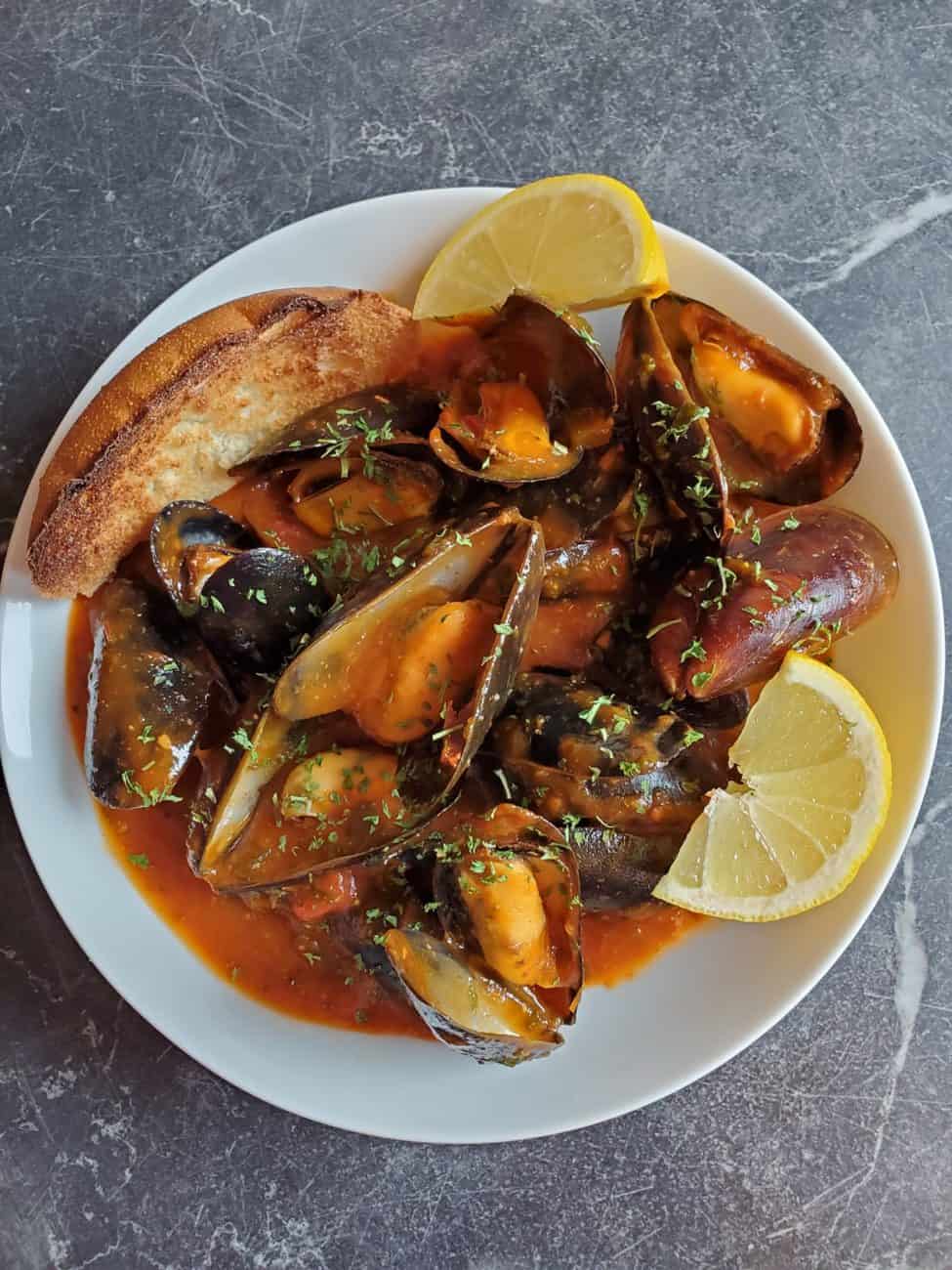 I just love seafood and mussels are defiantly one of those favorite seafoods that I love to cook with.
These mussels here are cooked in a basic red wine and tomato sauce that is sure to be a hit with those you love.
MUSSLE RECIPE WITH TOMATO SAUCE
They type of tomato sauce you want to use is something basic and simple.
Think passata sauce, which is basically just stewed tomatoes and is very popular ingredients used in many Italian dishes.
HOW TO COOK MUSSELS RED WINE
You will simply want to cook down the red wine for 1o minutes before adding in the tomatoes for the last 10 then the mussels for the last 5 minutes.
what red wine goes with mussels
WHAT RED WINE GOES WITH MUSSELS
I like to use a dry red wine sauce when cooking mussels.
BEST RED WINE FOR MUSSELS
Any Cabernet Sauvignon, Pinot Noir, and Merlot are good options.
Serve these mussels with some garlic toast or onto a bed of your favorite pasta.
Oh and don't forget the fresh lemon it really helps enhance this dish.
PASTAS THAT GOES WELL WITH MUSSELS
Penne pasta
Linguine
Fettuccini
Other recipes that could be served alongside or after this dish!
Red Wine Tomato Mussels Recipe
Ingredients
4 pounds mussels, scrubbed and debearded
1 cup of red wine
1 cup of plain tomato sauce
3 tbsp of olive oil
1 tbsp of butter
1 tsp garlic powder
1 tsp onion powder
2 tbsp dried parsley
1 tbsp Italian Seasoning
Pinch black pepper
Pinch salt and pepper to taste
Instructions
In a large pot, heat the oil and butter over a medium heat.
Add the red wine and simmer covered for 5 minutes on low heat.
Reduce the heat to a low - medium and add in the tomato sauce and seasonings. Allowing it all to simmer for the remaining 10 minutes covered with the lid slightly off.
Stir every 5 minutes.
Toss in the mussels and remove the lid cooking for 5 more minutes.
Once the mussels have opened simmer one more mixture.
Discarding any mussels that have not opened as those are bad.
Serve with fresh parsley as a garnish.
Notes
Serve with garlic toast or over a bed of your favorite paste.
Nutrition Information:
Yield:

3
Serving Size:

1
Amount Per Serving:
Calories:

1294
Total Fat:

45g
Saturated Fat:

10g
Trans Fat:

0g
Unsaturated Fat:

26g
Cholesterol:

349mg
Sodium:

2684mg
Carbohydrates:

54g
Fiber:

2g
Sugar:

4g
Protein:

146g
These calculations are based off Nutritionix