Directions
This Prosciutto and Spicy Capocollo Pizza is for the meat lovers out there OR those who typically order pepperoni pizza.
If you have tried my other homemade pizza recipes and liked them than I'm certain you will like this one.
This Prosciutto and Spicy Capocollo Pizza is for those who are pepperoni pizza lovers, however this recipe is much much better than a plain old pepperoni pizza.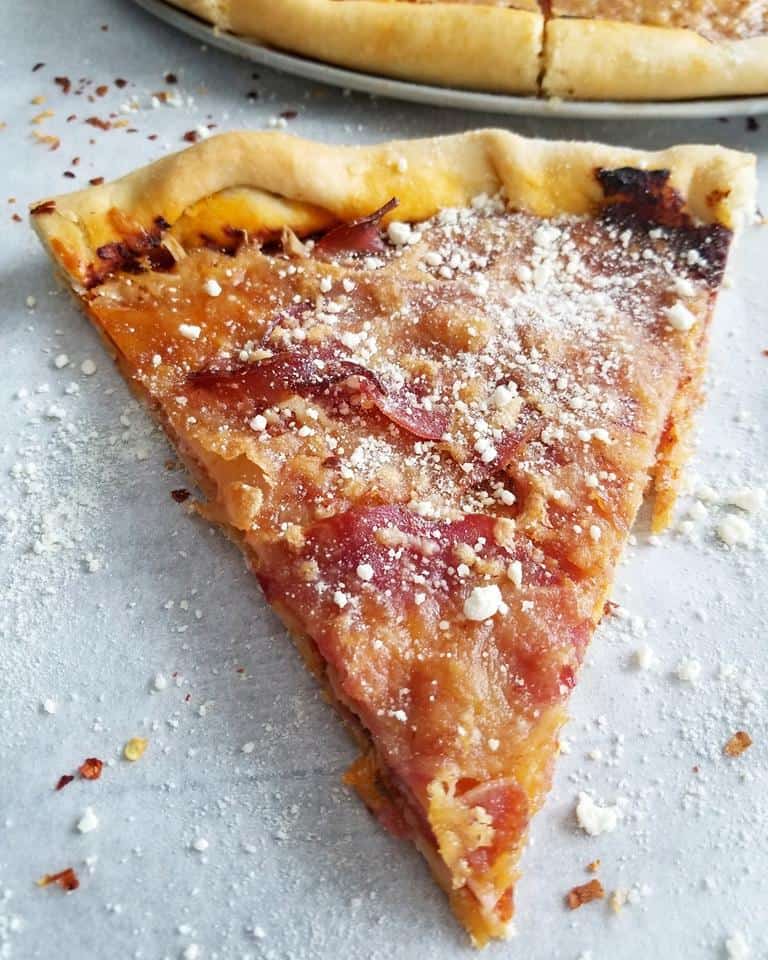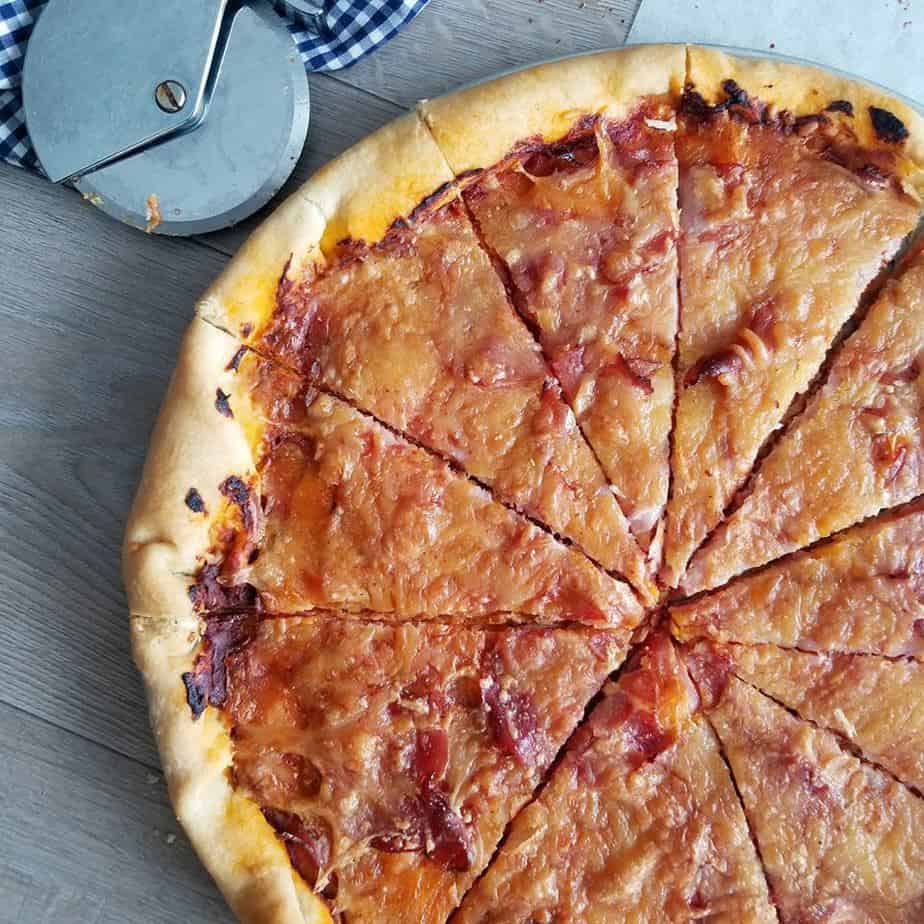 Since it has intense flavor and that comes from the spicy capicola that is balanced off just right by the prosciutto.
You can always add some veggies if you like, however I like to keep it simple sometimes and this recipe does just that.
The crust is always done the same way, adding just a little bit of sugar which really makes a huge difference to how the pizza turns out, so please don't leave that step out.
Give it a try, you may never go back to plain old pepperoni ever again.
Once you learn to make homemade pizza yourself you will not want to go back to ordering takeout everytime, or settling for that plain old frozen box stuff either.
This recipe makes a large 14 inch thin crust pizza or a medium 12 inch, wanting to feed more people?
Then just double the recipe up and cut the dough in half to make more pizzas. Serve with Parmesan Cheese and a side salad if desired.
STEP 1 & 2: First make sure you have the DOUGH and SAUCE part figured out. Either make both from scratch (recipes provided below) OR buy them pre-made.
And there you have it the tasty meat lover pizza, ready to enjoy!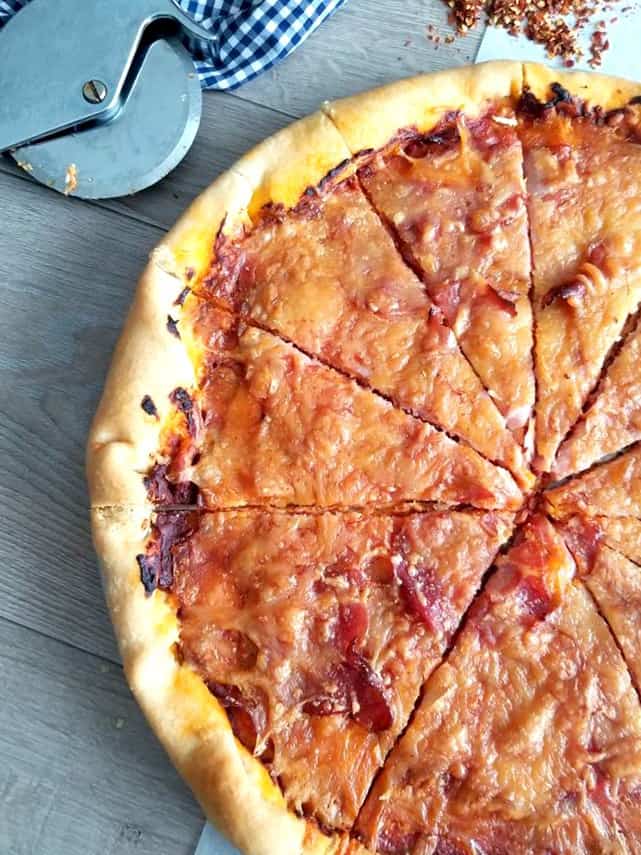 Notes: Do you want some extra heat? Simply sprinkle some hot red chili peppers over the sauce. And cook the pizza on a pan to ensure even cooking, if you don't have a cooking pan then cook your pizza on the bottom rack.
Also you can double or triple up the dough ingredients, and freeze the dough for use within the month. Don't forget the sugar, the yeast feeds off it and that allows it to rise properly.
I am so thrilled you are reading one of my recipes, if you made this recipe i'd love to hear about it! Thank you very much for reading and until next time see ya in the kitchen. Don't want to miss a recipe? Sign up for our NEWSLETTER delivered right to your inbox!
Prosciutto and Spicy Capocollo Pizza
Total Time:
1 hour
30 minutes
Ingredients
200 grams Prosciutto
150 grams Spicy Capicola
2 cups Shredded Old Cheddar Cheese
1 cup Shredded Fresh Mozzarella cheese
1/2 cup Pizza sauce
Instructions
DOUGH (SEE RECIPE in notes)
SAUCE (SEE RECIPE in notes)
If your following my recipe above. I suggest giving yourself 2 hours in advance, because you will want that dough to rise properly. Then use your favorite pizza sauce, or see my recipe above for that also.
PULLING IT ALL TOGETHER:
POnce your dough has risen, sprinkle your pizza pan with Semolina to avoid it from sticking to the pan or you can use olive oil in replace.
Using your hands, place the rolled out dough on top your pizza pan. Lift the dough and turn it sideways some and allow it to stretch, turning it around in a circle as it stretches from side to side and cover the whole pan. Then form the crust shape on the outside with your hands, nothing fancy needed.
Cover the base of the pizza with your premade pizza sauce.
Now top your pizza, start with the a little bit of old fort cheese, then Prosciutto, then more old fort cheese, then Spicy Capicola and top with Mozzarella cheese.
Preheat your oven to 425 degrees and bake for 15 minutes, or till it looks done. The time will depend on the thickness of the dough and your oven. Allow the pizza to cook for 10 minutes before slicing, enjoy!
Nutrition Information:
Yield:

4
Serving Size:

1
Amount Per Serving:
Calories:

572
Total Fat:

41g
Saturated Fat:

20g
Trans Fat:

1g
Unsaturated Fat:

16g
Cholesterol:

151mg
Sodium:

2685mg
Carbohydrates:

6g
Fiber:

1g
Sugar:

2g
Protein:

43g