Ingredients
4 tbsp

Extra Virgin Olive Oil
Directions
This simple Lemon Parmesan Garlic Spaghetti is made with fresh parmesan cheese, garlic and parsley then it's coated in a oily lemon sauce.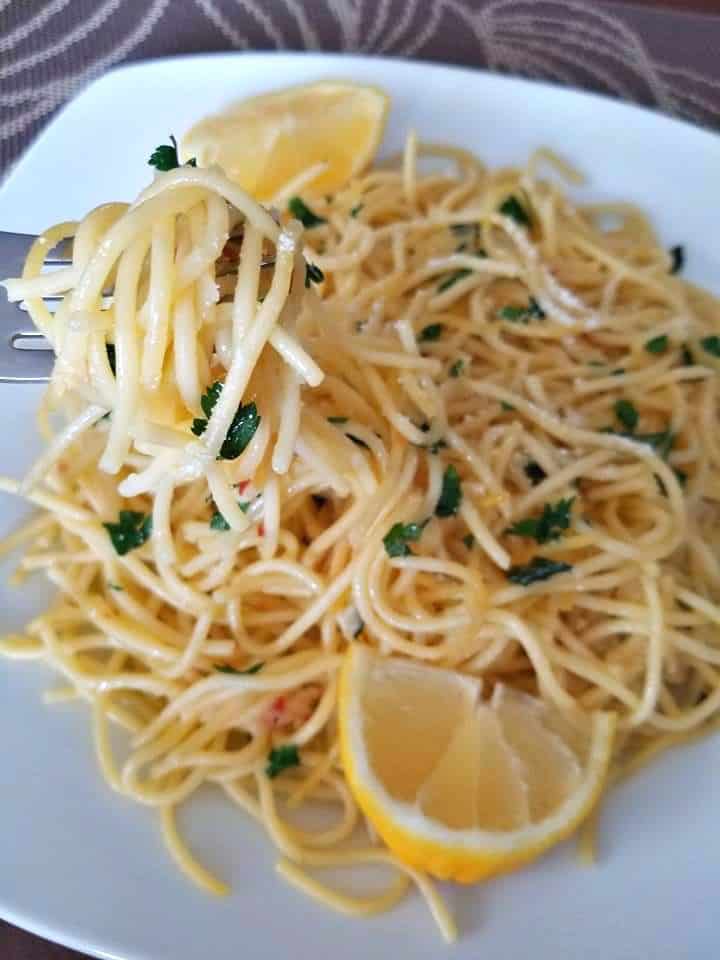 The great thing about this recipe is that you can have it on the table in less than 30 minutes. Feel free to add some sliced chicken breasts or shrimp on top if desired.
I like this recipe for those times where I am just craving some good pasta. Just make sure your using a good quality spaghetti as it will make a world of difference in how this plate tastes.
Also, you can go ahead and fancy this dish up a bit and serve it alongside a nice caesar salad and a glass of white wine. Who said eating good had to be expensive?
Looking for a gluten free option? Simply find a package that is 100% gluten free and your good to go. Who said those with Gluten allergies could not enjoy a good pasta dish too!
You can also add cooked chicken breasts or shrimp on top this pasta as well. Sometimes I will add cherry tomatoes and spinach as well.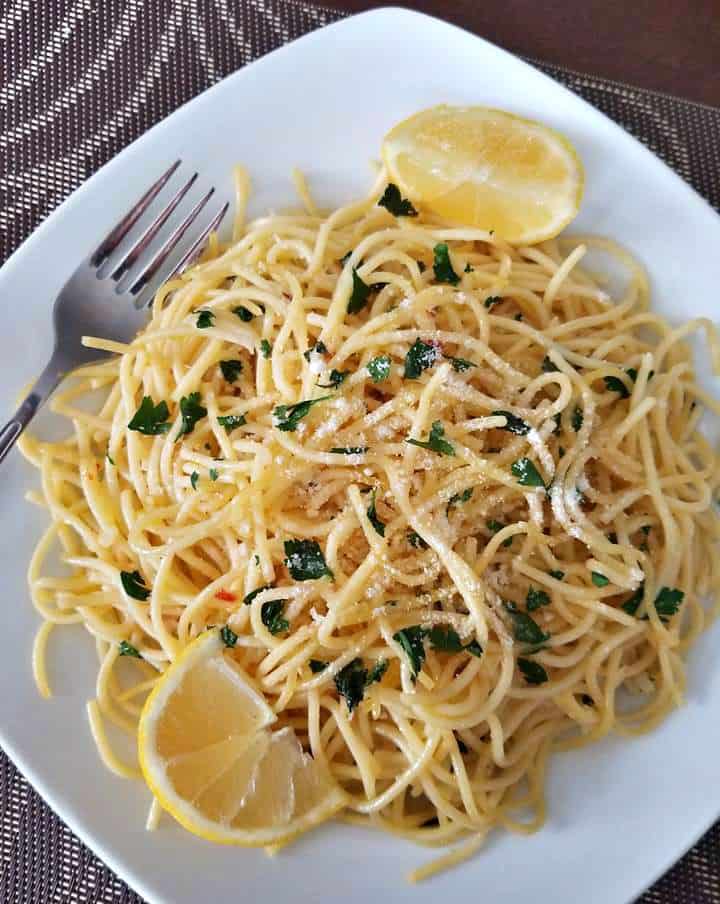 Also be sure you are using a lot of fresh cheese and lemons and you will be eating like the Italians in Abruzzo. Osseo apperito!
Do you love pasta as much as me? Then you're sure to love my Chicken Pea Pasta Salad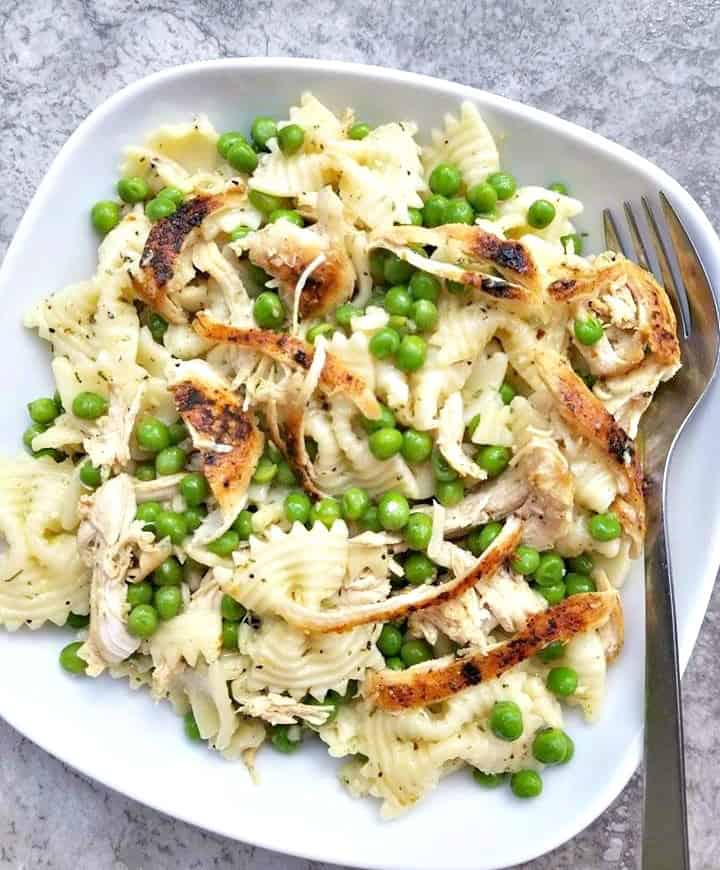 Or my Ranch Caprese Pasta Salad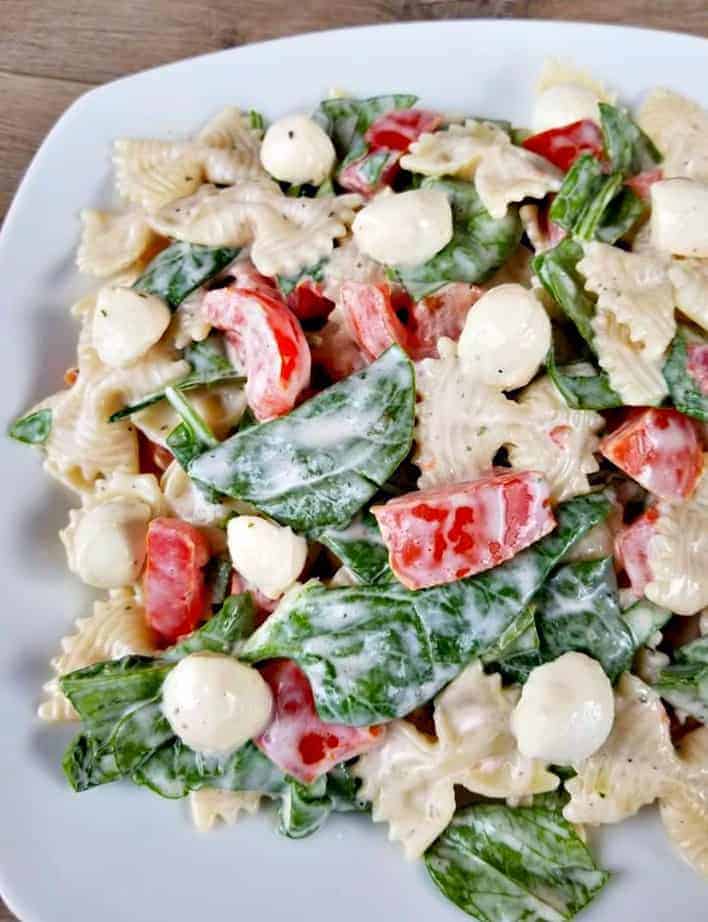 I'm thrilled you are reading one of my recipes, if you made this recipe i'd love to hear about it! You can post a review, picture below or via Instagram and by doing so you will be automatically entered into our seasonal CONTEST to win one of our great prizes. Winner will be notified via email within a week after the contest closes. Thank you and until next time see ya in the kitchen. Don't want to miss a recipe? Sign up for our NEWSLETTER delivered right to your inbox!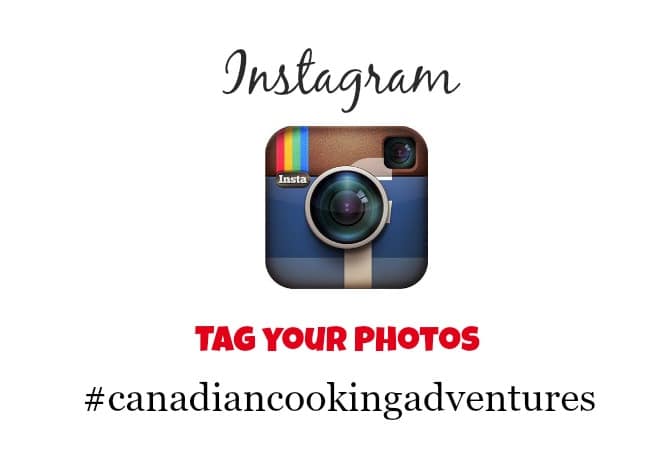 Print Recipe
Lemon Parmesan Garlic Spaghetti
This delicious pasta can be ready in under 30 minutes!
Ingredients
455

Grams

Spaghetti

1/2

cup

Parmesan cheese

4

tbsp

Extra Virgin Olive Oil

4

tbsp

Fresh Parsley

Fresh Lemon Juice

5

cloves

Garlic

1

tbsp

Garlic Powder
Instructions
Start by boiling a large pot of salted water and add your pasta to it, cook according to package directions.

Save 1/4 cup of the pasta water and discard the rest.

In the same pot, heat the olive oil in a large, non stick pan over medium heat and add your fresh minced garlic. Cook for a few minutes till fragrant and then add your lemon juice to the pan reserved water and cooked pasta.

Cook tossing regularly till heated through and drizzle with 1 tbsp olive oil before you sprinkle the Parmesan cheese, garlic powder and fresh parsley and toss to coat. Enjoy!
PIN IT FOR LATER